Rite of Passage: Child of the Forest Collector's Edition
Exclusive
The town of Willow Ridge has long lived under everlasting night. Surrounded by a violent, dark forest, its only protection is the Great Lighthouse, which keeps the nightmarish trees at bay. Your husband Alan has been haunted by dreams of a ghostly woman beckoning him, believing she knows how to save the town. As he goes to investigate, a fire consumes the lighthouse! Was it sabotaged from inside the town - or by some darker force? Your search for answers will uncover the history of your town and the Forest Rite that has been a tradition for countless generations. Hold onto the light in Rite of Passage: Child of the Forest, a fantastic Hidden-Object Puzzle Adventure game!

This is a special Collector's Edition release full of exclusive extras you won't find in the standard version. As a bonus, Collector's Edition purchases count toward three stamps on your Monthly Game Club Punch Card!

The Collector's Edition includes:
Achievements & collectible acorns
Downloadable wallpapers and soundtrack
Bonus mini-games and concept art gallery
Bonus game play chapter featuring an epilogue
Game System Requirements:
OS:

10.8/10.7/10.6

CPU:

1.4 GHz (INTEL ONLY)

RAM:

1024 MB

Hard Drive:

951 MB
Game Manager System Requirements:
Browser:

Safari 4.0 or later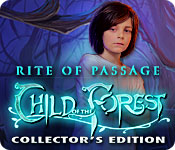 The Big Fish Guarantee:
Quality tested and virus free.
No ads, no adware, no spyware.

Reviews at a Glance

Rite of Passage: Child of the Forest Collector's Edition
0
out of
5 (
0
Reviews
Review
)
Customer Reviews
Rite of Passage: Child of the Forest Collector's Edition
192
192
A great and highly entertaining game, no doubt about it.
"Rite of Passage: Child of the Forest" was a very fun and delightful game to play. Practically everything about it was good! Pros: Great graphics/artwork. Crisp, detailed and clear. The hidden objects scenes were a pleasure to play. They were varied and fun. Great replayability. Lots of achievements, lots of collectibles, posters to assemble and, of course, the bonus chapter. The bonus chapter was quite short, but I really liked it because you get to help Ethan with his rite. Great music. My favorite track, Ethan's song, unfortunately, wasn't in the soundtrack... :( I love assembling objects, and there was a lot of that, so I loved it too. Very entertaining game, overall. It's a pleasure and also very relaxing to play, and there's lots of stuff for you to do. It also helps, of course, to be really good looking! However, I won't give it a 5 stars rating because the setting (forests and whatnot) and the storyline (rituals and children in peril) aren't exactly my cup of tea. I'm sure most people will love it, though!
May 30, 2013
Great Game Ruined By Bonus
This was a great game, loved it! However, the Bonus Content challenge nearly ruined the fun I'd had. The game doesn't let you know what items you have to collect to unlock the Bonus Content, so I failed at collecting the house numbers and all of the fruit. I didn't know until I was looking through the strategy guide halfway into the game. At the end, I acquired 33 of 34 acorns but was so busy trying to defeat the final boss - very difficult! - that I didn't have time to look for the last acorn. Now? I can't unlock some of the Bonus Content! And I cannot go back and finish searching. Once you progress far enough in the game, it won't let you go back to collect what you've forgotten of the numbers and fruit. Once you defeat the boss at the end, you cannot get the final acorn. I patiently sought out the acorns and it was for nothing. I loved the game overall, but I am so angry now after completing it because of the Bonus segment, I can't enjoy the aftermath. I am torn between giving this game 3 stars or 4. I don't want to rate based on how I'm feeling at this moment, but I know it certainly doesn't deserve a 5 star due to this disappointment. This portion of the game was inconsiderate and not well thought out. The design of the game itself is genius, however. I am really impressed with the customizable difficulty settings, and I think it was a nice touch to name our little friend. The music was beautiful throughout and I found myself wanting to play longer just to listen. The mini-games were great! I hate games that have too many of the same old hidden object areas. This was anything but your average HOG! I've never seen them like this, and I would be more enthusiastic about HOGs if more were like the ones in this game. There simply was nothing boring about any of the HOG scenes. There were even mini-games built into the HOG scenes. Just amazing! Overall, I am still highly disappointed in the Bonus requirements. I believe there should have been a clearer understanding of what needed to be found, as was the acorn at the corner, and I believe we should have been allowed to return to collect what we passed over. Had I known the game would do this, I wouldn't have bothered being distracted by that part and would have gone on to enjoy the main area of the game. I would recommend this game with a disclaimer: Follow the Strategy Guide TO THE LETTER from the very first scene in the game. Never leave a scene until you've consulted the pages of the Guide that direct you to the Bonus objects.
May 29, 2013
Trees Attack
The story sparked my interest so I downloaded the trial. It was awesome! The graphics, the cutscenes are fabulous and fit the thoughtful story perfectly. The haunting and moody music kept my attenton. Having 4 options of difficulty is quite unique and made my game more exciting because the puzzles weren't so challenging for me in casual mode but I could change their difficulty during the game. However, there weren't so many puzzles, I'ld love to play more. I also enjoyed the different types of HOS. The best idea was the hamster. I made him free, then I played a HOS and got him into the inventory. His artwork and voiceover was so cute!
May 27, 2013
Puzzles Within Puzzles
I really like Mad Head games. This one had so many levels. The story is intricate. As you go along there are not only HO puzzles, but interactive puzzles that have a few levels. I was particularly fond of the little "dioramas" that moved the story along but also had a "seek and find" component. There were achievements, items to collect, and morphing objects (a personal favorite in any game) in the bonus chapter. The one thing I haven't figured out (haven't finished the bonus chapter so perhaps all will be revealed) is why there was a locked door that I could never open in the main game. This was also very well drawn and the music was a nice surprise. Some of it was quite lovely and not annoying as in so many games. Really loved this and went back to re-play immediately which I never do. Highly recommended.
May 25, 2013
Watch out for the trees
This was a fun game. The artwork was so beautiful. The story was not bad. But the trees were kind of dorky. Fair challenge and worth the price.
May 23, 2013
Okay game.
Kind of sucks that we need to gather acorns to get to the secret part in the bonus but I guess that's to add replay value. Not a bad game though it would have been better if we had known some back ground about the town we're in at the start. All in all, not bad but the bonus game ending was too short and didn't show if the boy woke up.
May 23, 2013
Another Complete Original!
The story was the best of all, the game it self doesn't give an introduction to how things started and it starts with a blast of adrenaline. I loved the HOS (which can be played in three kinds), it was easy and has great, bright graphics. The mini-games were challenging and makes you really think. The game has a jump-in map that really helps and a whole not one but three whole set of achievements. It's kinda sad though that you can't unlock a part of the bonus content if you didn't collect all the acorns nevertheless the whole game was a blast. A REAL GAME TO ADD TO YOUR COLLECTION!
May 22, 2013
REVIEW OF COMPLETED GAME
I hugely appreciated the exquisite and beautifully polished graphics in this game, as well as the iHOS with their very unique twist, and the sweet story of the Child of the forest. The jump map was great and the controls smooth as silk. The game play was fun and interesting and the puzzles not too hard for the most part, with some brand new ones on the artistic side that I really enjoyed. I also really liked the music. Unfortunately, on my computer, and from reading the tech thread, quite a few other players, the black and white movie still puzzles would not work, and there are a lot of them. You are supposed to find different items in them and use them on different aspects of the puzzles to solve it. My cursor had a question mark attached and every time I tried to click anywhere in the scene, the game paused and said click to continue. Well, clicking to continue started the puzzles again, but I still could not click on any of the items, without the game pausing yet again, repeatedly. This is all that would happen. I could do nothing else. This would not have been that bad per se, if it were not for the skip button. The screen was definitely freezing up during these puzzles and thus the skip button would take up to 10 mins to activate and in a couple of them, even longer. I tried to send the game down to my task bar in order to do something else while the skip button filled, but it would not stay there and kept popping open again. Thus I spent a huge amount of time just sitting waiting. Not fun. For this reason I cannot say how long it took me to play the main game, but I am reasonably sure it is a fair length. The main game ended well and luckily the BC did not have any of those move puzzles so I had no problems with it. It is a lovely chapter, based on another aspect of the dilemma of the Child of the Forest, who is still having problems with the villain and the colours and graphics were a delight yet again, in different locations and was just over 1 hr long. Because of this problem I cannot recommend this game, but I will not tick No either because it is a lovely game. None of these movie puzzles are in the demo yet, so there is no way to know how they will react on other computers and if it is safe to buy the game, so I would not like to lead anyone into buying something that may or may not play well enough for them. Sorry, devs, but you did make a truly gorgeous game and I commend you for that. Your graphics and game play are right up there with the best and if it had not been for these agonizing movie puzzles I would have given you a 5 star rating.
May 18, 2013
Starts out absolutely fantastic...Ends flat
I loved this game in the beginning. I loved the graphics, storyline, and even the sounds in the game were fantastic. The game was on track to being my favorite BFG, ever. However, as the game progressed, it fell into the same old, same old routine. It became nothing but fillers (Hidden Object Scenes and Puzzles). The HOS's became more and more frequent and one of the worst kind (find 5 of these, find 3 of these, etc.) I would love to give this game 5 stars. I really would. This game really did try to be different with the puzzles and HOS's, but there were just way, way, way too many of them. If you're a big fan of puzzles and HOS's, get the Collector's Edition. The extra bonus play is packed with these. If not, save your money and wait for the SE. I still recommend this game. If you can stomach the puzzles and HOS's, this is a fantastic game.
June 21, 2013
Mixed bag
Completed the whole game, plus bonus. First off I must say that this game had every bell and whistle you could want. Acorns in the main game, morphing objects in the bonus chapter, thought provoking puzzles, different twists on HOS, gorgeous graphics, extremely good music, great adventure, good storyline flow. Why the 3-star rating? Two things: the mini-movies/films/cutscenes, and the achievements. I had the same problem quite a few others had with those blasted mini-movies/films/cutscenes. They froze up, they paused, they inched along at a rate that was slower than slow. I am thankful they didn't lock my computer, and I was joyous for the skip button because that enabled me to eventually continue play the game. I actually got quite good at positioning my mouse so that I wouldn't have to wait for the next "freeze frame" to see if it was positioned correctly. Then I had to click repeatedly on the skip button (or the item I was trying to get) so that when the screen moved again, that action would take effect. That was extremely irritating. Once out of the cutscene, everything else was smooth. Not sure what that was all about, but developers: take note because that's a killer. When I see this developer's name again, I will think of these cutscenes and it will give me pause as to whether or not I'll play/purchase the game. Next the achievements. I like achievements and I usually take a peek at what there is to get (in the main menu) before I start so I can know what to do during the game. This set of achievements was extensive, and some were for the bonus game. 'Course you didn't know that, so you spent lots of main game time looking for morphing objects... hmmmm. Then there were 'mystery' achievements - I generally find those to be off-putting and challenging at the same time. Can't really do/get them if you don't know what they are, but the challenge is trying everything and then find out in the end if you got them. Can't say I am a real fan of them, and in this game even the ones I knew about had to be left undone. Gold, Silver, Bronze levels of achievements? Lose that. Didn't understand the Old Lady's bonus thing. Apparently, I missed an acorn or something somewhere that tied into getting to that bonus. Frustrating - why spend the money if you can't enjoy all of what you pay for? One review said to follow the SG all the way through the game word for word...but what type of gaming experience would that give? Generally, I am not a "re-player" once I solve/finish/defeat something I'm done with it. This game, however, left me rather unsatisfied and it may warrant a replay just to get all the parts I missed. Great ideas, however bad execution in some places. Other than those scenes & some achievements, the game was simply phenominal. I liked the concept drawings that came with explanation - I appreciate the work that goes into making these games, so it's always good to be able to see behind the scenes. I will recommend the game - my frustrations aside. There is plenty of help in the hint and SG systems, and if you don't have problems with the mini-films/cutscenes, then you are good to go. You'll surely be challenged and you'll find the flow of the game to be very good with quite satisfying endings in both the main game and bonus chapter.
June 1, 2013
The Apple logo is a trademark of Apple Computer, Inc.
The Windows logo is a trademark of Microsoft, Inc.