Farm Up
Jennifer inherits her family's farm but will she be able to make it a successful venture? Fix up the ruined farm and restore it to its former glory in Farm Up!




Visit your farms today for:
NEW CHARACTER WITH ROULETTE ADDED!
BONUSES, UPGRADES, AND QUESTS!
UNLOCK FLOURISHING ACHIEVEMENTS!
CUTE ANIMALS AND AWESOME PLANTS!
Game System Requirements:
OS:

Windows XP/Windows Vista/Windows 7/Windows 8

CPU:

1.2 GHz

RAM:

512 MB

DirectX:

8.0

Hard Drive:

220 MB
Game Manager System Requirements:
Browser:

Internet Explorer 7 or later
Please note that items you purchase in Facebook, Mac, or mobile versions of this game will not be available in the PC version.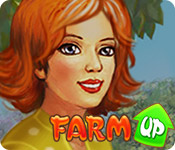 Top In-Game Purchases
1.

450 Gold Coins & 10 Energy

$ 9.99

2.

200 Gold Coins & 5 Energy

$ 4.99

3.

2500 Gold Coins & 99 Energy

$ 49.99

4.

70 Gold Coins & 2 Energy

$ 1.99

5.

40000 Silver Coins and 10 Energy

$ 9.99
Game Club members
SAVE 30% on
in-game items.
The Big Fish Guarantee:
Quality tested and virus free.
No ads, no adware, no spyware.

Reviews at a Glance

Farm Up
0
out of
5 (
0
Reviews
Review
)
Customer Reviews
Controls almost nonexistant for me!
This game looks good as far as graphics go,and from surroundings looks like there would be great quests to do, but there is no tutorial and I cannot place items like the planting plots or wooden walkway blocks where I want them to go. Can't even figure out when I can water or harvest.This game leaves too much to gueswork,and my cursor continually flashes which is annoying. Would love it, if your energy didn't drain almost immediately and if controls were easier to manage. The way it is now,I don't recommend it. :(
May 9, 2013
Not Impressed
I have played a lot of farm games but I really didn't get this one. Jennifer standing around was a waste. Plus I didn't see the icon to exit out of the game. That is how fast I wanted to get out, lol. So I deleted it through my computer.
May 18, 2013
Micro Transaction Game
Wasn't expecting a micro transaction game that just takes the fun out of it for me.
October 8, 2013
Locks Up
I loved playing the game, that's why I downloaded it several times. But each time after spending a lot of money on it, it would lock up and not let me back in. So if you want to play it, don't invest money into it because it will be lost.
August 7, 2014
not free you buy the farm
after getting hooked this was the biggest let down game I've ever experienced. just charge 2.99 and save us all. this stupid game owes me!!
June 3, 2014
The cows and sheeps are not producing anything (anymore)
That make's the game not nice anymore. Any tips to get them running again? would be welcom. Otherwise I will delete the game.
February 20, 2014
It was fine until it stopped working - very buggy.. lost all my progress... not doing all of that again.. sorry .. disappointed
Doesn't really work right now.
June 3, 2013
Disappointing
I love Time Management and strategy based games, so I was over joyed when I came across this one. However my joy soon turned to annoyance when I realised that the developers had gone the same way as Facebook games and you have to pay if you want to actually play the game for any length of time. I did come back for a second day to try again, believing that I needed to give the game the benefit of the doubt, as the idea and context behind the initial "pay to play" idea is wonderful. I came back to a farm of wilted produce and upon harvesting these was out of my 17 energy points and could do nothing else. No offense to Big Fish Games, but I know I stopped playing games on Facebook because of sheer frustration of not being able to get anywhere with the limitation of energy usage. If those games on Facebook are your favourite type, then I guess you will enjoy this game, but for me, I will not be recommending it to anyone, and actually felt compelled to write a review stating my reasons why.
May 15, 2013
No help available
I like farms or gardens. But I also like instructions. There is no help button or tutorial. There are lots of button icons on the screen, but when you mouse over them, no name comes up, so you have to try every button to find out what it does. I tried one button several times and I still have no clue what it is supposed to be for. While I was still on level one, the dude who gives you quests (or whatever they are called in this game) told me to make more vegetable patches, but didn't say how to do this. I clicked here and there. I tried various buttons. I looked around everywhere I could think of. Nothing. My frustration level grew quickly. I looked for help online, including the developer's website. There were lots of complaints about bugs or questions on how to do this or that, but very few answers. I don't need this. I've already uninstalled it from my computer.
May 26, 2013
So bad it compelled me to review for 1st time
I've NEVER reviewed a game or anything online. I got to level 15+ two times, but about the same level each time, it just lost all of my progress. The game is so slow (so you know how long it took to get to those levels then have it all disappear for no reason#, Don't ask me why I did it twice - I was on medical leave and boring monotony in a game must have been what I needed. But, until you want "quests" that would be too easy and boring for a toddler, only being able to play for 2 - 3 min at a time if you want to keep it free #more energy/mouse clicks if you pay to play), and having to start over when you finally get to anything remotely interesting. This isn't a comment on technical issues, but on the game structure and design and the types of "quests" both of which make watching reality tv seem interesting
August 17, 2013