Farm Up
Jennifer inherits her family's farm but will she be able to make it a successful venture? Fix up the ruined farm and restore it to its former glory in Farm Up!




Visit your farms today for:
NEW CHARACTER WITH ROULETTE ADDED!
BONUSES, UPGRADES, AND QUESTS!
UNLOCK FLOURISHING ACHIEVEMENTS!
CUTE ANIMALS AND AWESOME PLANTS!
Game System Requirements:
OS:

Windows XP/Windows Vista/Windows 7/Windows 8

CPU:

1.2 GHz

RAM:

512 MB

DirectX:

8.0

Hard Drive:

220 MB
Game Manager System Requirements:
Browser:

Internet Explorer 7 or later
Please note that items you purchase in Facebook, Mac, or mobile versions of this game will not be available in the PC version.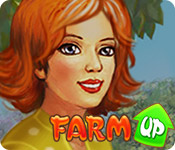 Top In-Game Purchases
1.

450 Gold Coins & 10 Energy

$ 9.99

2.

200 Gold Coins & 5 Energy

$ 4.99

3.

2500 Gold Coins & 99 Energy

$ 49.99

4.

70 Gold Coins & 2 Energy

$ 1.99

5.

40000 Silver Coins and 10 Energy

$ 9.99
Game Club members
SAVE 30% on
in-game items.
The Big Fish Guarantee:
Quality tested and virus free.
No ads, no adware, no spyware.

Reviews at a Glance

Farm Up
0
out of
5 (
0
Reviews
Review
)
Customer Reviews
The cows and sheeps are not producing anything (anymore)
That make's the game not nice anymore. Any tips to get them running again? would be welcom. Otherwise I will delete the game.
February 20, 2014
Disappointing
I love Time Management and strategy based games, so I was over joyed when I came across this one. However my joy soon turned to annoyance when I realised that the developers had gone the same way as Facebook games and you have to pay if you want to actually play the game for any length of time. I did come back for a second day to try again, believing that I needed to give the game the benefit of the doubt, as the idea and context behind the initial "pay to play" idea is wonderful. I came back to a farm of wilted produce and upon harvesting these was out of my 17 energy points and could do nothing else. No offense to Big Fish Games, but I know I stopped playing games on Facebook because of sheer frustration of not being able to get anywhere with the limitation of energy usage. If those games on Facebook are your favourite type, then I guess you will enjoy this game, but for me, I will not be recommending it to anyone, and actually felt compelled to write a review stating my reasons why.
May 15, 2013
It was fine until it stopped working - very buggy.. lost all my progress... not doing all of that again.. sorry .. disappointed
Doesn't really work right now.
June 3, 2013
No help available
I like farms or gardens. But I also like instructions. There is no help button or tutorial. There are lots of button icons on the screen, but when you mouse over them, no name comes up, so you have to try every button to find out what it does. I tried one button several times and I still have no clue what it is supposed to be for. While I was still on level one, the dude who gives you quests (or whatever they are called in this game) told me to make more vegetable patches, but didn't say how to do this. I clicked here and there. I tried various buttons. I looked around everywhere I could think of. Nothing. My frustration level grew quickly. I looked for help online, including the developer's website. There were lots of complaints about bugs or questions on how to do this or that, but very few answers. I don't need this. I've already uninstalled it from my computer.
May 26, 2013
So bad it compelled me to review for 1st time
I've NEVER reviewed a game or anything online. I got to level 15+ two times, but about the same level each time, it just lost all of my progress. The game is so slow (so you know how long it took to get to those levels then have it all disappear for no reason#, Don't ask me why I did it twice - I was on medical leave and boring monotony in a game must have been what I needed. But, until you want "quests" that would be too easy and boring for a toddler, only being able to play for 2 - 3 min at a time if you want to keep it free #more energy/mouse clicks if you pay to play), and having to start over when you finally get to anything remotely interesting. This isn't a comment on technical issues, but on the game structure and design and the types of "quests" both of which make watching reality tv seem interesting
August 17, 2013
Skip it.
I've played these "free games" before and they can be playable without actually paying real cash. This one is not one of those games. I found that I was playing for five minutes and stopped because I couldn't go any further without pulling out the credit card. To get more energy I'd either have to wait or pay real money. I waited. Came back to see what was up and the crops I planted died, lost money and within five minutes there was no energy. This game is a blatant rip off, period. It has the real potential to be a very fun farming game but with all of these limits and requirements it irritated me nonetheless. I like BigFish games because the price for games is just right with a membership. The graphics are modest, the playability lasts around a week and I feel that it's worth the price. When one of these games advertises that I can have unlimited play for over $50 - FORGET IT. That's greedy and not worth the money. If BigFish is reading this, I'd hope you'd release a paid game instead of this blatant rip off. This is really a big disservice to your members/fans. Recommendation - If it says it's free, it's not! Don't download.
May 13, 2013
game does not work
On two occasions the game has failed by not allowing player to continue at or about level 23. For those who are yet to play, to get to this level will take you two weeks, say playing for 4 hours daily. Big fish know this happens but still advertise the game for play. Don't waste your time. On complaining advice is given but none of their fixes works. Bad for Big Fish
October 26, 2013
not so great
I really liked this game and played it often without any issues but then I updated the game and it is nothing but junk now. Most of the time it will not load up but it always resides in memory preventing me to start another game without restarting the computer. Bottom LIne... DO NOT UPDATE THE GAME!!!!!
August 9, 2013
free is a loose term and its like watching paint dry
If monotony and waiting are for you this is your game. This game is free if you have ten years, if not, its gonna cost ya. I truly hate this type of trend. Plot is thin at best click butterflies click gopher mole thing click fish plant plants clean yard tend animals. wait for family forever repeat. Yep...that's pretty much it.
May 24, 2013
waste of money
this game is some what fun but youll end up spending tons of money buying gold because there is nothing that makes gold so you actually have to buy it with cash al most ervery day. Don't buy this game!!!!!!!!
June 19, 2013