Farm Up
Jennifer inherits her family's farm but will she be able to make it a successful venture? Fix up the ruined farm and restore it to its former glory in Farm Up!




JUST UPDATED! See what's new on the farm:
ADVANCED TRAINING AVAILABLE!
ADDED QUESTS
GREAT FOOD FOR YOUR ANIMALS
SPECIAL BONUSES
Game System Requirements:
OS:

Windows XP/Windows Vista/Windows 7/Windows 8

CPU:

1.2 GHz

RAM:

512 MB

DirectX:

8.0

Hard Drive:

226 MB
Game Manager System Requirements:
Browser:

Internet Explorer 7 or later
Please note that items you purchase in Facebook, Mac, or mobile versions of this game will not be available in the PC version.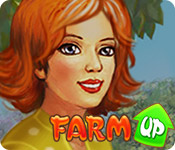 Top In-Game Purchases
1.

450 Gold Coins & 10 Energy

$ 9.99

2.

200 Gold Coins & 5 Energy

$ 4.99

3.

2500 Gold Coins & 99 Energy

$ 49.99

4.

70 Gold Coins & 2 Energy

$ 1.99

5.

40000 Silver Coins and 10 Energy

$ 9.99
Game Club members
SAVE 30% on
in-game items.
The Big Fish Guarantee:
Quality tested and virus free.
No ads, no adware, no spyware.

Reviews at a Glance

Farm Up
0
out of
5 (
0
Reviews
Review
)
Customer Reviews
So bad it compelled me to review for 1st time
I've NEVER reviewed a game or anything online. I got to level 15+ two times, but about the same level each time, it just lost all of my progress. The game is so slow (so you know how long it took to get to those levels then have it all disappear for no reason#, Don't ask me why I did it twice - I was on medical leave and boring monotony in a game must have been what I needed. But, until you want "quests" that would be too easy and boring for a toddler, only being able to play for 2 - 3 min at a time if you want to keep it free #more energy/mouse clicks if you pay to play), and having to start over when you finally get to anything remotely interesting. This isn't a comment on technical issues, but on the game structure and design and the types of "quests" both of which make watching reality tv seem interesting
August 17, 2013
Worst Game Ever Especially After Update
Played this game for over a year because I enjoyed raising animals, planting/harvesting, upgrading farm, etc., but now with the new update, you can pretty much forget about accomplishing anything. They've made it nearly impossible to do any of those things now. Epic fail on the developers part. It was a good game...now it's total garbage.
November 11, 2014
game does not work
On two occasions the game has failed by not allowing player to continue at or about level 23. For those who are yet to play, to get to this level will take you two weeks, say playing for 4 hours daily. Big fish know this happens but still advertise the game for play. Don't waste your time. On complaining advice is given but none of their fixes works. Bad for Big Fish
October 26, 2013
not so great
I really liked this game and played it often without any issues but then I updated the game and it is nothing but junk now. Most of the time it will not load up but it always resides in memory preventing me to start another game without restarting the computer. Bottom LIne... DO NOT UPDATE THE GAME!!!!!
August 9, 2013
Skip it.
I've played these "free games" before and they can be playable without actually paying real cash. This one is not one of those games. I found that I was playing for five minutes and stopped because I couldn't go any further without pulling out the credit card. To get more energy I'd either have to wait or pay real money. I waited. Came back to see what was up and the crops I planted died, lost money and within five minutes there was no energy. This game is a blatant rip off, period. It has the real potential to be a very fun farming game but with all of these limits and requirements it irritated me nonetheless. I like BigFish games because the price for games is just right with a membership. The graphics are modest, the playability lasts around a week and I feel that it's worth the price. When one of these games advertises that I can have unlimited play for over $50 - FORGET IT. That's greedy and not worth the money. If BigFish is reading this, I'd hope you'd release a paid game instead of this blatant rip off. This is really a big disservice to your members/fans. Recommendation - If it says it's free, it's not! Don't download.
May 13, 2013
free is a loose term and its like watching paint dry
If monotony and waiting are for you this is your game. This game is free if you have ten years, if not, its gonna cost ya. I truly hate this type of trend. Plot is thin at best click butterflies click gopher mole thing click fish plant plants clean yard tend animals. wait for family forever repeat. Yep...that's pretty much it.
May 24, 2013
waste of money
this game is some what fun but youll end up spending tons of money buying gold because there is nothing that makes gold so you actually have to buy it with cash al most ervery day. Don't buy this game!!!!!!!!
June 19, 2013
Ruined game after the last update!
I was a lovely game, I was enjoying with my animals and quests until BF updated the game. This is really epic failure, especially for you guys!
November 14, 2014
New updates took the fun out of everthing
I've been playing this game for a couple of months and up until today I really liked it. The storyline was good, there was a variety of tasks/quests, and the goals were challenging but not impossible. I especially liked the fact that even though I could only play for a few minutes and few times a day I could still make a good deal of progress. In fact, until today the only complaint I had was the real world dollars they tried to get you to spend. Then today they came out with these new updates which they claimed would add new items and quests. That may very well be true, but these updates also changed the production times for certain items, and not in a good way. Before the updates things like eggs, wool, and milk took between 30 minutes and 1 hour depending on the item. Now? 6+ DAYS for these same items. You better hope none of your quests involve eggs, wool, or milk. If they do you're going to be at it a while. Or be forced to spend real world dollars for in-game gold to speed up the process. Productions times on other things don't seem to have changed, so why these? If the developers/Big Fish were smart they'd claim this whole thing was an early April Fool's joke and go back to the way things were. I give it a couple of more days, a week tops, before this game ends up in the trash folder. My advice to newcomers? Don't bother. It's not worth it.
November 13, 2014
Update
Why do I have to wait a full week just to collect wool from one sheep when it only took 45 minutes before I updated this game? This is ridiculous. Now I cant complete any of my tasks because of the new update. I'm not recommending this game to anyone until they do something about the new update.
November 21, 2014