Mysteries of the Undead
Explore the zombie island and break an ancient curse in Mysteries of the Undead! What caused the disaster? Was it a virus or magic? Many years ago a dark blight turned the citizens of a small island into bloodthirsty zombies. A research team from the floating laboratory Perseus is the only one capable of eliminating the threat of an epidemic.
40 different game locations
Unique and eerie setting
Thrilling action story
Exciting and dangerous adventure
Game System Requirements:
OS:

Windows XP/Windows Vista/Windows 7/Windows 8

CPU:

1.4 GHz

RAM:

1024 MB

DirectX:

9.0

Hard Drive:

598 MB
Game Manager System Requirements:
Browser:

Internet Explorer 7 or later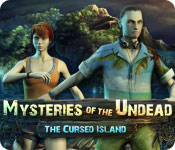 NEW299
The Big Fish Guarantee:
Quality tested and virus free.
No ads, no adware, no spyware.

Reviews at a Glance

Mysteries of the Undead
0
out of
5 (
0
Reviews
Review
)
Customer Reviews
Mysteries of the Undead
47
47
Unique!
I don't understand why this game is getting so many bad reviews. Someone even said there was too much hand holding. Maybe they forgot to say no to the tutorial because I haven't had any help at all. I am not a beginner, I'v been playing these games for years and I go through most games without having to use the hint. I haven't used the hint yet in this game, but I did have to do some searching to figure out where to go and what to do. Not once did any dialog or text tell me what to do. It's a great game so far! The graphics are just my style. I love these kinds of games, they are different and they don't bombard you with HO scenes. If you like games like the Twisted Lands series or Top Secret Finders, you might like this one. The puzzles so far are the usual, and are on the easier end of moderate difficulty. The HO scenes are clear and not too dark. They are somewhat interactive & some objects are pretty well hidden. The controls are smooth and the game runs very well. I'm really interested by the unique story line. I have never even heard of a HO Adventure Game with Zombies in it! That so great. Don't take the negative reviews too seriously. A lot of people dislike these kinds of games just because of the graphics. So they don't notice how good the game is. Try it out yourself. Give it a fair shot. Don't expect to hate it from the git-go. You might just love it like I do. Or you'll hate it like the others. Just be fair. I'm really excited about playing this game. I can hardly wait til tomorrow to get it. I don't want to get it now and waste a punch on my card. :)
April 30, 2013
ANOTHER Truly Excellent HO Adventure Game
BASED ON FULL HOUR DEMO Do you like CRYSTAL CLEAR REALISTIC GRAPHICS, a minimum of SOUND effects, background noise and SUBTLE MUSIC, with sliders to allow you to set the levels you want? Do you want to play an adventure where the GAMEPLAY is STRAIGHTFORWARD and doesn?t involve crazy uses for odd objects, where some doors are unlocked, and NO COMPLEX PUZZLES are keeping you away from your goal? Do you want to visit HO SCENES with a slight interactive component, but most of all, beautiful EASY-TO-SEE OBJECTS? This game is for you. ?Mysteries Of The Undead? has a STORY which lets our imagination run free. A mysterious illness has befallen an island in the Pacific (= GREAT LOCATIONS), and people are turning into blood thirsty monsters. Your team is coming to the rescue, but are shipwrecked on the way in. Now you must not only survive, but find your team mates as well. The game is a bit of a HANDHOLDER (not for the expert crowd), there is an INTERACTIVE JUMP MAP to tell you where to go next. HINT is helpful outside the HO scenes. The HO scenes are the clincher here, they are SUPERB. They involve a LIST where the total number of items is larger than the panel, so you have to keep checking back. I like that added layer of difficulty. There are a large number of interactive items in each list. The last, inventory, item is highlighted at the end. My only complaint is the ?sheathed sword? needed in an otherwise totally modern environment. There have also been a good variety of locations for the scenes already. My room, the beach, an office, underwater... There was only ONE PUZZLE, near the end of the hour, and that was a very easy one, even for me, and SKIP took literally 15 SECS. There are 10 ARTIFACTS TO COLLECT, and these interact with specially marked places to give you a needed item. This game is a brilliantly designed game for those HO players who want a class act with some purpose to the action, without the stress and trials of a full HO Puzzle Adventure. There is more to it than other HO games but not complex enough to frustrate. Seems someone finally listened to the HO players! Excellent job!
April 30, 2013
An underrated gem
I almost did not buy this game because of a preponderance of negative reviews from credible reviewers, but I am certainly glad I did buy it, for it is truly outstanding. Let me list some of the things I really liked about this completed game and then discuss others' legitimate criticisms. LIKES 1. Tension. Avoid the zombies, save the crew, and escape. There is just enough urgency to rivet the player's attention, yet just enough casualness to allow a player to contemplate without feeling pressured to click wildly. We are all aware of how these games go: in spite of being reminded to hurry, we know the game is triggered not by a timer but by events, so it is to the developers' credit that they can achieve the right amount of tension. 2. The entire plot is divided into four or five twelve-scene episodes. This minimizes backtracking and keeps a manageable number of scenes in play. The "Awakening" series of games did this sort of thing to advantage as well. 3. Graphics are impressively detailed and subtly colorful. Although people are blobby and generic, objects and structures are gorgeous. 4. This game has the best map I have ever seen. The map includes a thumbnail view of every scene in an episode, how the "room" can be accessed, whether there is an action or hidden object puzzle available in the room, and a jump link to any unlocked room. 5. Games dealing with monsters like the undead can be bloodbaths, but not this one, which accords respect to its antagonists and sidesteps them when practical. CRITICISMS 1. While some report the game has flat, 2D graphics, the artwork is nevertheless detailed, and there is use of lighting to give scenes vibrancy. For me, the graphics were well above average. 2. Items in HO lists are sometimes misnamed. Boy, are they! I was content to think of HO scenes as an extension to the puzzle: What might an item be called if it were not named by a native English-speaker? Answers were more amusing than annoying. Sure enough, an umbrella was a "cup"(?!), and a concertina was a "harmonica", but then a "cream spray" turned out to be what I guessed, a can of whipped cream. As always, the hint button resolves minor difficulties. In short, I did not allow minor defects from preventing me from enjoying a really fine game. Sometimes "quality with a few hiccups" is more fun than slick, flawless games without heart. If you try it for yourself, I think you will know within ten minutes whether this one is for you.
June 7, 2013
Good Game!
This is a pretty decent games and I do not think it is a 2 star game! I like the story-line, and that there are zombies,(finally a game with zombies in it).The graphics are good.It is as clear as any game, works well and even the music is great. I do recommend this game!
May 2, 2013
Demo only review
I played through the demo and liked the game. It was a bit more challenging than others because it doesn't tell you what you are looking for so you find yourself randomly clicking on things at first. Like.. Oh there is a rope maybe I will need that *click* yup, but I have to find something to cut said rope... ah I see... Active zones do not sparkle which is great for me because I like trying to figure out the mystery behind what I am supposed to do. It adds to the challenge. Definitely not a game for the newbies. Graphics are nice and clear in most settings. I did however only run into one zombie I think and a whole bunch of skeletons, but then again I did only play for an hour, so the creepy black mist was the bad guy in the game for as far as I got. :) Some would not like this game because it doesn't tell you outright what you have to do all the time and there is some figuring out to do on the part of the clicker... but I liked that aspect of the game.
May 9, 2013
A Great Game ... But Glitchy & Badly Finished
Good Game Graphics, Effects And Sound. The Sound Track Was A Bit Reminiscent Of The Resident Evil Movie At Times ... Sadly This Game Is Full Off Annoying Little Bugs ... But None The Less Enjoyable ... Worth Giving Up A Voucher Or Waiting For It To Appear On Deal Of The Day ...
May 3, 2013
In to the game!!!
I was into the game, when time ran out. It was not to boring, for me. Not the usual 10 stars if it were possible, for most of the games I play. If it were possible to give. I will purchase, but not right now. Give it a try, and don't be hasty saying no.
April 30, 2013
A Good Little Game!
I decided to delve into an off the beat game than my usual well known series of games I normally wait for with each release. This game is a good game for beginners. It's HOs are well lit, no dark corners, and interactive. Some things were a little annoying like the HO scenes may have a popup on an object that won't be in the list of things to find until you return to the same HO scene again later. But that builds memory skills. But I wish when I moused over them no comments since they aren't needed on the lists until you return. I only played the demo, and got pretty far. There is a map and you can use it to jump from one scene to the next. No penalities for clicking willy nilly and somewhat bothersome only one mode of play, which means if you are just taking in the scenery for a moment things are going to get highlighted to let you know to click them. Also, I did skip the tutorial since things are pretty straight forward in these type games. But things still got hightlighted or sparkled etc. And just a note, the cursor doesn't always change to a magnifying glass on purpose so click everything when searching for clues, you might miss something you will have to come back to later. It is a fun game, the mystery is interesting, and worth a game club credit if you are tired of very long games, with too many rewards and not enough gameplay like most of my fav. series CE games of late. The only things some may not like is the repeat of the same HO scenes but I don't mind that since things are added to the new lists.
June 11, 2013
pretty good game
played casual, low sound. skips charged incredibly fast. hints a little slower not bad though. have to really think because there is not walkthrough at this time. there is a gps to help you with locations and a diary. i usually need walkthroughs for most games but i used the forum here and thought a lot and got through the game. patience, patience. you on an island to find out what happened and why the residents are now zombie-like creatures.
May 28, 2013
PLEASANT UNDEAD STORY
Who doesn't love the undead? So I was excited to see an adventure/HOG with them. An island has been infiltrated by them and your team needs to rescue the island from their grasp. You have a journal with the story and an interactive map showing locations to search for useful objects and scenes with actions to be performed. Very helpful if you get stuck. Locations have twinkles to highlight where the next action is. I couldn't find a way to shut it off. Gameplay appears to be somewhat linear in that objects twinkle after you perform some other action - clicking the object before that action seem to have no effect. Not a real biggie, but I like to be able to collect objects as I encounter them. On the other hand, you can use objects as you collect them (my preference over having to first collect an entire set). Graphics are average for a game of this nature. You can select the written dialogue to some extent. Although not an outstanding game, you should have a pleasant afternoon of play.
April 30, 2013