Mysteries of the Undead
Explore the zombie island and break an ancient curse in Mysteries of the Undead! What caused the disaster? Was it a virus or magic? Many years ago a dark blight turned the citizens of a small island into bloodthirsty zombies. A research team from the floating laboratory Perseus is the only one capable of eliminating the threat of an epidemic.
40 different game locations
Unique and eerie setting
Thrilling action story
Exciting and dangerous adventure
Game System Requirements:
OS:

Windows XP/Windows Vista/Windows 7/Windows 8

CPU:

1.4 GHz

RAM:

1024 MB

DirectX:

9.0

Hard Drive:

598 MB
Game Manager System Requirements:
Browser:

Internet Explorer 7 or later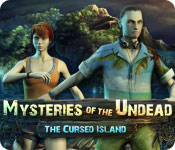 NEW299
The Big Fish Guarantee:
Quality tested and virus free.
No ads, no adware, no spyware.

Reviews at a Glance

Mysteries of the Undead
0
out of
5 (
0
Reviews
Review
)
Customer Reviews
Mysteries of the Undead
47
47
WHERE'S ALL THE UNDEAD?
First of all I only saw 2 zombies one was at the beginning as just a brief flash and the other chained up on the pier, that's all I get in one hour? Now onto the game, it really isn't that bad. The graphics are awesomely clear, somewhat repetitive music that sounded similar to the Halloween movie. The problem is that you have to click on pointer to get a game cursor during settings and when you scan over items pay close attention to the cursor it will barely indicate something needs to be picked up. Then in the HOS the items in blue are somewhat difficult to find because from what I can tell there is no indication to click on a pillow so it moves to reveal beads, and a ventilator is a fan? They also double up HOS going back to the same area twice. Nothing much in the mini game sections, place gears correctly so they all move or figuring out a safe combination. The game does however sparkle in areas you need to go, a putoff to some. I'm on the fence with this one I think it's worth a credit, Enjoy!
April 30, 2013
Could Have Been Great!
Mysteries of the Undead Cursed Island has an interesting storyline, which is a good thing because the game itself lacks some of the newer technology that would make the game a lot better. As it is, I don?t think it will generate much interest from seasoned gamers who have come to expect the high-end features that are incorporated into most HOPA games today. The game has no voiceovers ? only written dialog, and if you don?t read fast it disappears before you finish. The music and ambient sounds are very good and fit the creepy atmosphere of the game. There is option for selecting modes of gameplay. The game did open automatically in widescreen without any adjustment required. I don?t like large arrows showing up for navigation from one scene to the next and did find them a bit irritating. The graphics are excellent so it is disappointing that the developer didn?t take the extra effort to incorporate voiceovers. I also found in one scene that the coding for a graphic appeared rather than the description of the item. There is a jumpable map that does show locations where something needs to be done. IMHO, the game could have used some editing before coming to market. The game is a fairly basic HOPA that would great for beginning gamers who haven?t experienced some of the more recent higher-end games. The HO scenes lacked the indicators that let me know whether an item needed some interaction in order to find an object, so I did a lot of clicking around to stumble on something I might need. Unless there is a walkthrough available, the game might prove frustrating for some gamers. The puzzles are fairly basic and easy. Given the interesting story, the game is worth the demo.
April 30, 2013
On The Fence
REVIEW BASED ON DEMO Story of a group of people going to an island to investigate why everyone has turned into bloodthirsty zombies Game opened in widescreen for me, a big plus for me, clear defined graphics. Space for 5 new profiles, just click player 1's profile name to bring up space for more. No voiceovers, written text, when you talk to someone a box comes up with the text and you have to click on your reply to continue You get a journal, jumpable map, hints take about a minute to refill, puzzle skip buttons only take about 30 seconds or less. On the left is an Statue or Artifact that has a place to put runes, when you place a rune you get a 'Revelation'. The first rune I placed gave me back a symbol that is used to open a secret place Couple of good scares that made me jump in the time I played. Hidden Objects are sometimes misnamed e.g. hammer turned out to be a mallet, casket was a small box, ladder rung was the whole ladder, there wasn't any click penalty. From gameplay it looks like the Hidden Object Scenes will be revisited The main reason I'm not buying this game is this : When I enter a new area I like to look around before I begin to play, after about 30 seconds or less a glint or spark appeared showing me an item I needed to click on, if I wanted to know what to do I would click the hint button, this became so annoying during the demo Music was nearly nothing much, sounded like a drone sort of noise also there was ticking noise that annoyed me, but you can turn the music or ambience right down, so not really a problem While I won't buy this game now, maybe I can get over the glint thing, for the above reason [which is a shame because I quite liked it] I think it would be a good IHOG/Light Adventure game for beginners
April 30, 2013
Ok Game...Will Test Your Game Playing Skills
I played the entire demo. I would encourage everyone to give it a try. As another reviewer indicated, not all games are for everyone. My Likes -- The game really test your game play knowledge. Why? Because it does not give you a lot of directions. So you have to rely on your knowledge of game play to figure the game out. The hidden object scenes were OK. You will play the scenes more than once. This can be tricky because not all the objects are played at the same time. There are interactions in the hidden scenes and you have to guess them by trail and error. The map lets you jump to areas where you have task to perform. My Not Like So Much -- In the hidden object scenes, there are a errors. For example an object says "crab in a can" when in fact, it was "crab in a jar." You also have to do a lot of clicking to figure out if something is hidden or not. I recommend this game as a "try it for yourself." It's in my "maybe" bucket for a rainy day.
April 30, 2013
Fun game, kept me entertained.
The pros: Good graphics in scenes and HO areas. Music is not overtaking. Good storyline. Hint option is helpful. Smooth and fast transfers between scenes/screen. Map lets you jump from one location to another. The cons: Name of objects sometimes don't fit their real name. example: spyglass is not glasses. No collectibles. No extras. Very linear game. Written dialogues. Overall I enjoyed the game, but it is not superb therefore I will purchase it when on sale.
April 30, 2013
Sitting on the fence
Based on the demo I played, I don't really know how I feel about this game, to be honest. I kind of liked it, but I didn't. Storyline - as a fan of the macabre, anything with the word "zombie" or "undead" tends to grab my interest. Like another game I've just reviewed, the storyline probably kept me playing longer than I would have done otherwise. There seemed to be a fair bit of hand-holding in some respects, and then none in others - it was quite random. Sometimes the screen gave you visual hints about what needed doing, other times you found things only by clicking around. Certainly the jump map made it super-easy to leap around locations to whatever needed doing next. Some of the interactive Hidden Object scenes, however, I found a bit tricky to start with because you don't get any 'sparkles' and sometimes have to click about, but once I got the hang of it I found it much easier. You visited each scene twice, so something that appeared interactive the first time, but wasn't on the list, would crop up the next time you "visited". I found that, second time around, I could find the objects in super-quick time because I'd seen them the first time. The puzzles I came across in the demo weren't too tricky - I actually can't remember them except for the "place the gears" one. For me, the graphics were OK - I had no problem with them. The biggest issue I had with this game was the English. It was appalling - truly awful! I can forgive a little slip here and there, but the entire game had clearly never been proofed by someone with decent English skills and it came across as just shoddy. It also described the mysterious cloud that swarmed out of people as "a clot"! Hmmmm. I might use a PCC on this one eventually, but the terrible English and the fact it makes my computer whine while it's running have me sitting firmly on the fence at the moment.
May 1, 2013
Mysteries of the Undead Is Dying
I had high hopes for Mysteries of the Undead. The storyline of being wrecked on an island inhabited by zombies and having to rescue your friend is definately not a new one, but having bought this one on sight I was a bit disappointed in it. The game is cumbersome and runs too slowly. It takes too much time between scenes to load. It was not my computer causing this. Also, I tend to play most games with the volume off, and every time I opened the game, I had to reset the volume as it did not keep my settings. There was also a bad issue of language barrier in the HOG scenes with many items not being called by their correct names. It resulted in having to click on random items. There were also a couple of items that were click sensitive, meaning you had to click on a certain part of them to make it work. I frankly got tired of this. When I finished the game, it did not load end credits and I had to bail out via the game manager to get out of it. I was relieved to delete this. Its a shame it has many issues as this would or could have been awesome if it weren't so sluggish and clumsy.
May 6, 2013
not great...but it is okay
I read the other reviews and am grateful for their impute. However, even though the game is not on a par with better games, it is entertaining. I didn't find the trial that troublesome, and do think that it is a good rainy day game. As I've said before, not everyone will like a game that's put out by BF, but there are those who do enjoy a little light excursion into simplicity. The game wasn't as easy as I thought. I did like the graphics, but as stated, they are stale. Since it was the end of the month, and there was a discount, I did purchase the game. I probably would not have if I had to pay the full price. So please, try a game before you blindly accept the review of an "expert."
April 30, 2013
Hey! Not bad at all.
I too am surprised at the negative reviews here. This is a good little game with an interesting story line and a variety of puzzles. There are various locations in the adventure from land on to a vessel and then a jungle type location. HOS scenes weren't too difficult but not impossible either. I think there are a few too many annoying bugs though. Though they don't damage the game play too much, cosmetically it just seems a little sloppy. I do expect a polished product though and that's why this doesn't rate four stars from me.
May 1, 2013
Zombie alert!!!! :)
Eerie atmosphere. Disgusting Zombies? You need to like this, otherwise it?s a waste of time and money. No difficulties to choose. But in my opinion this is a casual mode: We have a lot of handholding through the game, like glitter and glimmer where action is available. We have a map, which shows you open tasks and allows you to transport. Hint is direction giving and refills quite fast. No voice-overs. Lots of hidden object scenes (from list), slightly interactive and played more than once. We also have some very good to solve minigames, nothing special. But what really annoyed me was the fact, that this game seems to be not ready developed yet. There is a lot of clicking around, as you couldn?t rely on the cursor to change into a magnifying glass. Some important areas/ items where glimmering, some not. No, could be better. This time I finished after the trial? :)
April 30, 2013