The Saint: Abyss of Despair
An ex-priest, who believes the Evil One lives in him, becomes entangled in a nightmare scenario when he travels to Africa to investigate an alleged demonic possession. Guide this tortured soul as he works feverishly to solve a horrifying supernatural mystery and save the life of an innocent child! Compelling and highly playable, The Saint: Abyss of Despair will draw you in with its intense opening monologue and hold you in its grip until you've experienced every breathtaking moment!
Learn-as-you-play tutorial
Casual and Expert modes
Solve the mystery!
Game System Requirements:
OS:

10.8/10.7/10.6

CPU:

1.4 GHz (INTEL ONLY)

RAM:

1024 MB

Hard Drive:

496 MB
Game Manager System Requirements:
Browser:

Safari 4.0 or later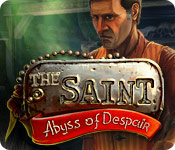 NEW299
The Big Fish Guarantee:
Quality tested and virus free.
No ads, no adware, no spyware.

Reviews at a Glance

The Saint: Abyss of Despair
0
out of
5 (
0
Reviews
Review
)
Customer Reviews
The Saint: Abyss of Despair
30
30
Ordinary story in an unusual atmosphere
I liked that the game uses a different campaign setting than a typical game. It is not complicated and some puzzles pass too easily. But in general, the game exciting. Enough for me to buy a SE!
April 5, 2013
Great Game - But A Little Short
Good Graphics, Sound, Story, Game Play And An Enjoyable Introduction With Narratives To Follow ... HOGS & Puzzles Were Fun ... A Very Well Put Together Game ... Just A Little Short ...
April 12, 2013
GOOD HAUNTING STORY
STORYLINE, GRAPHIC, VOICEOVER, PUZZLES, BACKTRACKING NOT TOO BAD, ALL GOOD.
April 6, 2013
beautiful picture and fun gameplay
5!5!5!5!5!5!5!5!5!5!5!5!5!5!5!5!5!5!5!5!5!5!5!5!
April 8, 2013
Odd But Refreshing
BASED ON FULL DEMO ONLY This has got to be one of the strangest games I?ve ever tried, but should not be written off because of that. Set in Africa, with wonderful ambiance music and sounds, and visuals that match the dry dusty environment, it is a story of demonic possession (we think), of a small girl who appears to be fine ? some of the time, and you are an ex-soldier and ex-priest who is himself possessed (he thinks). The story of how THAT all came about is yet to be fully revealed. The story?s pulled me in already. It?s different, set in an unusual location, within an exotic culture, and a whole lot of mystery going on. The game would have to be a lot worse to stop me seeing it to the end. And with all the demons we hear about in these games, we rarely hear from the other team ? those whose job it is to stop evil in all its forms. I admit, the game is no masterpiece. First of all, the intro to the character and story go on way too long, with a lot of information that doesn?t appear relevant, but at least some of it certainly is, based on what I saw in the trial. The cutscenes are good, the graphics too, and all of it very different to what we?re used to. Certainly not difficult to see, and much to explore. My verdict on visuals; a little better than okay. The game has 35 locations, I think they said, and about 4 puzzles to 1 HOS. Puzzles so far are easy, again with a different take, HOS particularly interesting because they are set in an environment full of unfamiliar objects. There are some delightful touches of authenticity that impress me. Like not dipping directly into the fresh water barrel. I like too that ?it?s impolite to go through people?s wardrobes.? The purists will be pleased to know that even on easy mode, you have to be looking for the sparkles to see them, and I actually missed a few until I got a handle on it. The demo took me 53 minutes on easy with some time out for fiddling with the options. There?s choice of 2 game modes, and an aspect ratio toggle, full screen, and music and sound sliders. I suggest you take advantage of the sound slider because there?s one thing I?m holding back. The voiceovers are THE worst I?ve ever heard. They sound like someone who cannot read trying to tell a bedside story to a child who does not speak English. Yup, that bad. However, luckily the music gives you enough atmosphere that you can ?silence the voices?, and the dialogue?s written down and skippable as well. It is a pity to do that though, because ironically, the little girl?s voice is excellent. Usually they?re ones most horribly done. So with some trepidation I am looking forward to my African adventure and finding out just who is possessed by what and what needs to be done about it. And I hope you'll join me.
April 5, 2013
cute fun and easy
This would be a good game for beginners. Cute and fun with no real challenge. The hint button works well if needed. Good flow with not to much running around at all. The HOS are easy and so are the puzzles. Just a fun game. The talking and reading is slow.
May 20, 2013
A Good Haunting Storyline!
This game gets a big thumbs up from me because of the very interesting storyline. I played the full demo and I'm still curious as to "what's going to happen next?" The art work/visual could be a little clearer, but does not take away from the storyline. A former priest out to say a young girl. My kind of story. -- An interactive map --The mint recharges fairly quickly and guides you to the next area --Hidden objects scenes and puzzles are not difficult --Length. I not sure how many chapters are in the game. I'm off to purchase to finish the story.
April 5, 2013
Well worth a free game token based on Demo
A good game if you're not in a hurry. The actions are very measured - you have to pause before you place a puzzle piece, or before you get your prize from the HO scenes. You can't just grab it! I know the HOs aren't interactive, but they're not bad and it's not a CE. The map is supposed to be interactive, but I didn't use it. I just used the hint button to navigate. The story is silly, sometimes startling, and different, and mildly intriguing - just use skip of it gets too much(I did). The accents are weird and don't match the people speaking. I.have.never.heard.anyone.speak.like.the.opening.one... and he's supposed to be an African! However that said I found myself wanting to play on at the end of the demo, so I'll use a free token to get the game. It's entertaining, and would pass the time nicely, thank you.
April 9, 2013
A good Game
A nice change to have a game set in Africa The storyline was a bit different 2 brothers one a doctor one an ex priest come togeather to fight for the life of a young girl The hidden objects were not too often or difficult the mini games were varied and moved the story along The only thing that irritated me was when I found items of interest they stayed on screen a bit too long before going in the inventory but not enough to spoil my enjoyment . Overall this is a game with some surprises and voodooism as a main theme and definately a game I would be happy to play over again and again
April 13, 2013
It's different in a way
This is an easy game with adventure, interactive hidden object scenes and original mini games. I enjoyed this exotic adventure and just loved the touches they added to the African setting. Much to my surprise, I want to play it again which is quite an accomplishment, lol. The story was pretty good and complete. It includes voodoo, if that is an issue for you. I didn't expect some of the things that happened in the game, so that was an interesting surprise. About game play, some people say they get stuck, but you need to think about what you have in your inventory and how these things will work for you. You also need to look in different places to find what you need. Both of these things are pretty common in these types of games. There is a slight pause when you click things but that doesn't really bother me. The game is of average length for this type of game. Warning, if you uninstall it from your Big Fish Game Manager, the game will start over.
April 12, 2013
The Apple logo is a trademark of Apple Computer, Inc.
The Windows logo is a trademark of Microsoft, Inc.