Island of Death: Demons and Despair
When they decided to spend their honeymoon on a wonderful island retreat, Natalie and John could not imagine the terrible experiments that would be conducted on them. Right when the couple arrived at the island, demons broke out and attacked the island's inhabitants and infected everyone with a mysterious disease! Fortunately, Natalie managed to avoid infection. Help Natalie find a way to cure John and save the island in Island of Death: Demons and Despair!
Gloomy atmosphere
Tons of mini-games
Find a cure and save John!
Game System Requirements:
OS:

Windows XP/Windows Vista/Windows 7/Windows 8

CPU:

1.6 GHz

RAM:

1024 MB

DirectX:

9.0

Hard Drive:

422 MB
Game Manager System Requirements:
Browser:

Internet Explorer 7 or later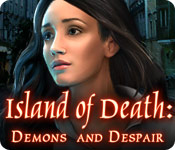 NEW299
The Big Fish Guarantee:
Quality tested and virus free.
No ads, no adware, no spyware.

Reviews at a Glance

Island of Death: Demons and Despair
0
out of
5 (
0
Reviews
Review
)
Customer Reviews
Island of Death: Demons and Despair
44
44
WHY ALL THE NEGATIVES
Game was relatively easy for me - but I play an awful lot of adventure/HOGs so most games are fairly easy. Still it was fun. Nice storyline. Graphics weren't spectacular but quite adequate and nice. Limited locations, so you don't get lost. Hints were very helpful. If you don't want help figuring out where to go or what to do, play hardcore (or at least advanced) or don't use the hints. HOGs were crowded, a little on the darkish side, a little interactive, but not impossible. Achievements were really easy to get, so there could certainly be more. Production standards were good, though not outstanding. A fun little game. Maybe I'll play it in the dark.
May 1, 2013
LOVE anything Zombie
Storyline about the newlywed couple on their honeymoon, she wakes up and finds him outside for a walk, only to go outside and all of a sudden he is a zombie...Lot to leave for the imagination, but it does story does get better...Like that the "rain" keeps them at bay!...Visuals are fairly good, not extreme in depth but still good...HO's are great--objects not too tiny and not so many items that it's overwhelming...Hint button is good---mini games are good and skip is fairly quick..All in all a really good game!
May 1, 2013
Fun, Casual, And A Deadly Epidemic
I enjoyed this despite it being quite easy.... There was no map, but it was not needed as the entire game is spent in the same 15-16 locations, and they are in a small area. There is good graphics, and an alright storyline. The HOS are as expected, nothing bad or great. Some of the HOS are interactive, and the puzzles are not too difficult. The objects are very easy to place and you wont have a hard time trying to remember where something belonged, because, like I said....small locations. It was a fast game, but other than that, it was an 8/10. Happy gaming gamers!!
June 27, 2013
A fun HOG
This is great medium difficulty game. For experts in hidden object games the challenge might not be enough, but for passing some time this is a great game. The graphics is well done, lot of HOGs, good music. I recommend this game if you are a beginner.
May 3, 2013
Pretty Good Zombie Game
I liked this game pretty good from what I could tell about the shortish demo. You go on a honeymoon and there is a Zombie virus outbreak. Graphics are good and so is the sound. My only real complaint is some areas when you are inside and go outside, or outside but then go in a building, there is a black screen for a short time, at least on my computer anyways, I have Windows 8 so unsure if that is the issue or if its the game itself. Overall I did enjoy the demo and will use one of my free game codes for it. But I probably would still buy it even if I didnt have a few free game codes piled up.
May 2, 2013
Loved the Game
I played the trial hour and I found I really like the game! The story line is a bit linear and has a satisfying conclusion . HO scenes are good and not dark, some of the objects really challenging to locate. Puzzles are fun and not overly hard. Sounds is a little bit annoying so I switched them off. I?ll put it on my ?to buy? list.
May 2, 2013
Fun zombie game
Graphics: Good! Sound: 50/50 Story Line: there was a real story line. A little bit linear and lack of secondary characters, but I like it. Play: This is a great game for beginners. Not difficult but not boring. Good combination for just plain fun. There are a lof of hidden objects.
May 2, 2013
confuse to colouring the flower to be a yellow one
i really enjoy this game but i stuck at the cafe stage. I can't change the red flower into yellow. Help me.....
February 18, 2014
zombies and demons are cool
It wasn't the greatest game but sooner or later i'll buy it. I enjoyed playing the game but it's not on the top of my list to buy. It's about # 5 on my list. Graphics were fair. Story line was pretty good. Objects in the scene were scattered around but not to hard to find. Thanks Ronald
May 18, 2013
You Want Zombies? I Got Plennnty Zombies!
BASED ON DEMO It?s your honeymoon, but it?s about to turn real ugly. The beautiful island getaway becomes a trap when you discover everyone else on the island, including your just-wedded husband has been taken ill with something that is turning everyone into ZOMBIES. Excuse me, didn?t I write up this story yesterday? If you were a bit disappointed by the scarcity of actual zombies in yesterday?s game, you?ll be pleased to know, in this one, they are everywhere, moaning, whining, wrecking stuff. In fact they?d be a real danger to your health, except for one weakness. They can?t abide water ? and it?s raining. First time I have been glad to see that in a spooky game. But you will still require ingenuity to move around safely indoors. This game has marvellous FUN POTENTIAL, and if you can overlook quite POOR PRODUCTION STANDARDS, you?ll probably love it. The GRAPHICS at first appear good, but there is more than one occasion when the seams between image cuts are visible, SLOPPY. There are black screens between scenes. Likewise, the names of items are sometimes completely wrong. Dall for a diary, or is it a doll picture on a diary? You see the problem. There is also weirdness such as: shoot the small sack hanging from the street light to get the car key. Once again, it?s NOT FOR THE EXPERT crowd. But it IS a HO Puzzle Adventure, there are as many PUZZLES as HO scenes (which are slightly INTERACTIVE LIST), but they are all EASY so far. Each HO scene is visited twice. Items are sometimes quite small. We have NO MAP, but we do have DIRECTIONAL HINT, and a JOURNAL it?s a good idea to check, as it helps make the story make more sense. We have ACHIEVEMENTS, of the necessary-for-game kind. They can be seen from the menu and there are only about 8 of them. MUSIC is very dramatic and does add flavour to the tense and urgent atmosphere. VO was okay. The demo took me 30 minutes, and I?m a slow player, but what I did I had fun with. So, I am having difficulty rating this one. It?s definitely B GRADE, but I enjoyed it. Guess that makes it an ideal punchcard filler!
May 1, 2013