Island of Death: Demons and Despair
When they decided to spend their honeymoon on a wonderful island retreat, Natalie and John could not imagine the terrible experiments that would be conducted on them. Right when the couple arrived at the island, demons broke out and attacked the island's inhabitants and infected everyone with a mysterious disease! Fortunately, Natalie managed to avoid infection. Help Natalie find a way to cure John and save the island in Island of Death: Demons and Despair!
Gloomy atmosphere
Tons of mini-games
Find a cure and save John!
Game System Requirements:
OS:

Windows XP/Windows Vista/Windows 7/Windows 8

CPU:

1.6 GHz

RAM:

1024 MB

DirectX:

9.0

Hard Drive:

422 MB
Game Manager System Requirements:
Browser:

Internet Explorer 7 or later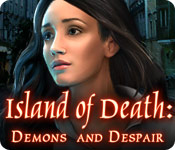 NEW299
The Big Fish Guarantee:
Quality tested and virus free.
No ads, no adware, no spyware.

Reviews at a Glance

Island of Death: Demons and Despair
0
out of
5 (
0
Reviews
Review
)
Customer Reviews
Island of Death: Demons and Despair
44
44
Oh Despair!
I thought this sounded like an interesting game and it could have been but, IMHO, didn?t quite make it. The story seemed interesting but somehow got lost in translation. It looks like the developer possibly wanted to release the game as a CE but never quite reached that goal. There is no strategy guide but I did find an achievements area, which makes me think this may have been intended as a CE. I really wish I could get past some of the distractions that seem to get in the way of making Island of Death enjoyable because there is just a hint that this could be a really good game. Although the graphics are very crisp and there are voiceovers, the game itself just didn?t ring my bell. There was no option for widescreen but we were offered three modes of gameplay. The music is really okay but there is just SO MUCH rain ? constantly. Anyone ever hear of water torture? Island of Death has interactive HO scenes but the first one was so agonizing that I used the hint button just to get through the thing. Objects were tiny and dark in a junk heap. Although some items were interactive, it was difficult to find where to use them since items are tiny and seemed to fade into the background. I think game developers would do far better with marketing their games if the first HO scene was at least passable. There are mini puzzles in the game that seem promising and fun. All in all Island of Death seems to miss the mark. That being said, I might use a free punch and get the game just to see if it improves. Please note, I am only recommending that you try the game to see it you might like it.
May 1, 2013
What an awful honeymoon !!!!
The gist of this game begins with a scientist who creates a vaccine to cure all the world's ills. Except it turns people into zombies instead. You and your new husband are on your honeymoon on an island. You go to sleep because you are just so exhausted while he goes out for a walk, and BAM, he is turned into a zombie... along with the rest of the town. The zombies do not like rain. Thus, you need to un-zombify your husband and save yourself. The graphics are ehhh, ok. There is dialogue to read. You do get a journal. No map, but the journal is helpful. There are HOS aplenty. Not too difficult. No misclick penalty either, yay. The puzzles are elementary. You do get pauses between scenes where the screen blacks out. Many objects in the HOS are misnamed. Your cursor is easily visible, as far as picking up inventory items. You need to be spot on when you perform certain combining tasks or it just doesn't work. Although I'd like to find out how this story unfolds, this is a B game. It needs work and frankly I'm not one to buy a game that is released in such a sloppy way. Some may like it. I wouldn't buy it, but I recommend you try it for yourself :)))
May 1, 2013
Could have been a great little game
This game had potential, and could have been so much more. The start of the story was funny but good - you've just arrived on honeymoon and fall asleep, leaving your new husband on his own (great start to *that* marriage LOL). You wake up, apparently in the morning, yet when you venture outside it's dark. Your husband, clearly in a huff at the lack of honeymoon excitement thus far, has joined a local gang of 'zombies', and is standing outside your hotel with what appears to be a feather duster in his hand (!). Oh no! You have to save him! What I did like about this game was the scenery, and the potential storyline. It probably kept me playing for a lot longer than I otherwise would have done. I thought the graphics were OK, really, I have no gripes there. Now to what I didn't like. Although this is a Hidden Object Game, there were so many HO's, and "busy", HO's at that, it got tiring - it would have been more effective if they were used sparingly, although I get the feeling they were there to help "pad" the game out. And, like yesterday's 'zombie' game (although not quite as bad, as the narration here was OK), many items were wrongly labelled. Like others have said, what is a "dall"? A spyglass is *not* "glasses". Developers should realise that, for many, this is a major, major turn-off. The few puzzles I came across were incredibly simple - in one of them I had to swap around just 6 pieces to "make the picture". Not challenging enough for me, unfortunately. Finally, the game also felt 'clunky', particularly in the few seconds of blank screen between scenes. This *could* have been an interesting and fun game, had more attention been paid to the language issue, and a bit more thought given to the storyline instead of using HO's to pad it out. It might be OK if you have nothing else to play, or want to use up a PCC.
May 1, 2013
Fun if you like old style games.
Reminded me of Escape the Museum and certainly better than yesterdays zombie game. The HOs were enjoyable (dall included), with one or two interactive finds per, puzzles easy to somewhat "puzzling", the game ran smoothly and graphics were colorful, if smallish. Sparkles take a few seconds to point out areas of interest so player has a little time to figure it out for himself. An OK game, but cannot compete with the good ones.
May 1, 2013
SLOW AND TEDIOUS
I really wanted to like this game. Review based on about 3 hours gameplay. Animation - All I saw moving were the zombies. VOS - At the beginning of the game. IHOS - Dark scenes true to storyline. Constant rain did nothing to improve brightness. Very small objects. Hard to locate. Repeated. Hint - Fast charge, gives clues and directions. Map - None Random Click Penalty - None Diary - Contains photos, clues, story, etc. Game was slow to load. More IHOS than anything else. Puzzles/Mini-Games - Not very many in the short time I played. Great deal of location hopping so get those running shoes out.
June 28, 2013
Meh
I found that the plot didn't "gel" for me. I used the hint button a zillion times just trying to find my way around; I couldn't logically work my way from scene to scene otherwise. I think that the hidden object scenes and mini games would have been quite easy were it not for the illogical instructions on some of the mini games and very weird names given to some objects in the hidden object scenes. According to the game designers, an oil can is, in fact, a butter dish. If you like a challenge, navigating through this game without using the hints will do it for ya. Otherwise, it's not up to the high standards I have come to expect from games marketed through Big Fish.
May 9, 2013
Despair is Right
Finally a developer has found a use for all that rain that's in this type of game. (besides making us miserable) That is the best that can be said about this demo. If I hadn't read the reviews I never would have found the dall. Doesn't anyone check translations or spellcheck these things? In a HOG the hidden things MUST be named correctly & spelled correctly. Otherwise they are not worth paying money for. I'm despairing of having more well written, spelled, thought out games. This isn't one of them. I got it with a free game coupon.
May 1, 2013
A Great Game ... But Glitchy & Badly Finished
Graphics, Sound & Story OK With An Above Average Challenge ... But No Widescreen ... A Very Buggy Game That Received A Fix For A Missing Item, And Sadly The Developers Still Hadn't Tested It Properly ... Far Too Many Items With Oddball Names, But The Game Was Still Enjoyable ... Worth A Free Game Voucher Or Deal Of The Day.
May 11, 2013
Demo only review
Overall it was an ok game. The opening cut scene grates on the nerves a little, even though it is a speaking part it is a little annoying. Like the speaker was trying to overdo emotion or something. I almost skipped it but it was over soon enough. It also had some dramatic pauses too, whether or not they were going for that or if it was the game hesitating/loading. :) Storyline is good, zombie type people looming everywhere you turn, making you wonder if its going to stop raining.*they are afraid of water* Graphics are ok, crystal clear in some parts and in others blurry. I had trouble reading the note left by her hubby until it was in my notebook/diary. Some of the HO scenes had some blurry parts to it but it didn't affect the game play. This one was a very short demo for me, I finished the demo in about 40 minutes so on the challenge level I think its a little easy but the game was quite enjoyable just the same. A relaxing although creepy HO game :)
May 9, 2013
Had potential
Could have been a great game. Same problems as others with items in HO's not having proper name. Found myself not know what to do next a lot. So had to use the hint button. Would be good for a rainy day special.
May 2, 2013