Nightmare Realm: In the End... Collector's Edition
Exclusive
When your daughter, Emily, is suddenly seized by a mysterious force, you must journey to the Nightmare Realm to search for a cure. But nothing could have prepared you for what you find there… You soon find yourself trapped, racing against time to save your family. Can you track down the creature that cursed your daughter and uncover the secrets behind the Nightmare Realm before it's too late?

This is a special Collector's Edition release full of exclusive extras you won't find in the standard version. As a bonus, Collector's Edition purchases count toward three stamps on your Monthly Game Club Punch Card!

The Collector's Edition includes:
Bonus gameplay
Stunning wallpapers and concept art
Downloadable music tracks
An integrated Strategy Guide
Game System Requirements:
OS:

10.8/10.7/10.6

CPU:

1.0 GHz (INTEL ONLY)

RAM:

512 MB

Hard Drive:

980 MB
Game Manager System Requirements:
Browser:

Safari 4.0 or later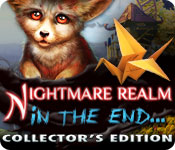 The Big Fish Guarantee:
Quality tested and virus free.
No ads, no adware, no spyware.

Reviews at a Glance

Nightmare Realm: In the End... Collector's Edition
0
out of
5 (
0
Reviews
Review
)
Customer Reviews
Nightmare Realm: In the End... Collector's Edition
97
97
Not as good as the first game - bonus review at bottom (mainly an adventure game)
REVIEW ON FINISHED GAMEPLAY ON HARDEST MODE This is a sequel to nightmare realm which you have to play first or I think you would be lost. The other strange world which you can go into because your child dreams and paints pictures. Your child is now grown up (although doesn?t look it) and you play as the mother again. Comparing between the two, the first one wins hands down in plot, even graphics and enjoyment factor. I can?t quite put my finger on it but this is missing the spark of the first and I think it is to do with plot. I don?t like saying anything about the plot as it?s a spoiler but I miss the suspense, charm of the first game. This is a far darker game than the first one, with more references to demons although the other realm was to do with more evil men and imaginings. I felt there was a lot more grey scenes in this compared to the first game which I always remember as being a visually lovely game in the dark scenes. If you have played drawn then you understand the concept and gameplay although both games don?t measure to drawn although the first one came very close. It plays as an adventure game, with some puzzles (21) and only 4 HOS in main game. I did enjoy a lot of this game ? it had some very good adventure aspects to it along with a wide range of puzzles although most were on the easy side. On the hardest setting of three (which I played) there is no hint button but there is a skip button. There is a map indicating things to do but it?s not a transporter map. I liked that the inventory bar you can unlock it so when you don?t need it?s not in view. 4 HOS All were list and one you repeated. They were very interactive and some nearly every item you had to do things with. No tiny items, I thought most were clear ? the first one in the forest was the least clear of all of them. There is a random click penalty but it is very forgiving. 21 puzzles (has a skip button on it) I loved a lot of the puzzles, even some easier ones if it?s interesting, different and fun I enjoy them. Wide range of hardness. I do class puzzles that are harder in a HOPA if it takes me a while to do it and it?s not super easy. So on that note there were a couple ?hard? ones but not ones you would never work out, it just took time. As usual (for some reason) all the puzzles at the beginning were easy. I loved some of the puzzles ? the multi layered ones especially, as it?s more interesting. Some of the types of puzzles ? Hanoi tower (which I hate as done it so often), tangram, rotate ring, move people across river, 2 jigsaw types, balance puzzle, arcade, move water around between bottles/ 3x3 slider, photo fit, paint puzzle, mosaic swap tiles. CE extras and bonus Extras ? 36 origami which you collect in main game 15 (?) music 17 wallpaper 20 concept art SG It did annoy me that I did get all collectables but I expected I could go into my journal or I could go somewhere to get a screenshot of them but it flashed so quickly I did miss it. Bonus play Plot like the last game is all tied up and SE players will be very satisfied that there isn?t loose ends (well for me there wasn?t.) The plot is very dark and goes back in time to explain the ?why? of the ?baddie.? Not wanting to give anything away this alone was the reason why I didn?t like the plot in the bonus or even the ending in the main game. That being said all the graphics bar the opening horrible scene was the most bright and colourful in the whole game, really beautiful and the most whimsical of all the worlds. So that aspect of it ? gameplay and setting was pure fun. All of it was in new area which made a huge difference and I loved the HOS and everything ? even more than main game apart from the plot. The 3 paintings in the bonus was all HOS and the goal in each was to quiet each list object so not to wake up the sleeping child. Every single item was highly interactive and I thought some quite hard. There was also 7 puzzles - swap tiles to form picture, rotate rings, move tiles from one side to another amongst others. TIME ? main game - 4hrs 40 mins (on hardest, no tips, but I did skip one puzzle as didn't like the type. I was playing quite relaxed (slower) ) Bonus ? 1hr 20 mins (I was very slow on the HOS!) I am recommending the CE due to collectables and good length and quality bonus and fun gameplay (in bonus) but I really didn?t like the plot especially in the bonus -if you are an adventure lover and don?t mind the very dark theme and like something different. It?s only getting 3 stars as I was disappointed in compared to the first game, felt it was darker (in theme and looks) and thought the plot was very poor but I did like some puzzles and thought the gameplay overall was good.
December 30, 2012
just do not understand the hints
Looks like a cool game a little creepy but good. Hint button is not that good tells you what to do but I can not find where to go. SO I'm done with this game.
May 3, 2013
REVIEW OF COMPLETED GAME
I had a love/hate relationship with this game. It is so vastly different from the first one that I failed to make any connection. I did not like the first one, but this one is simply outstanding in all respects, bar one, because the cut scenes are programmed to run so painfully slowly, they were excruciating. I am not alone either, though I read that the majority did not comment on this, so I assume it either did not bother them or they did not experience it. How this could be will ever remain a mystery to me. I have just recently done a huge amount of clean-up and up-dates on my laptop and Norton told me "Your computer is running great" so I am at a loss. I suspect this was done deliberately to make the game longer, but if so, it is a terrible ruse, failed miserably to give that impression, and is rather offensive. But honestly, I just do not know. I got to the point where I could no longer sit through them, and there are a LOT of them. I had to leave the room for 5 minutes and let them play through, because there was no option for clicking through them or skipping them, they just had to be endured. Also, they were completely out of synch with the spoken dialogue, which was in turn out of synch with the written dialogue. Sometimes 5 minutes was not enough time and they were still doing their slow motion, jerky, stop/start thing when I came back. During the demo I did notice that they played at a rather relaxed pace, but I thought nothing of it. Little did I know how much worse they were to become. My frustration level was through the roof. If not for that I could quite easily have given this game top marks for everything about it. It was truly one of the most beautiful, artistic and creative games I have ever played. The music was superb. I think I counted at least 10 tracks, all of them hauntingly lovely. The story was amazing - so original and wonderfully told, the way it unfolded with all the surprises and innovations. The characters were so delicately drawn and so life-like. These devs have some outstanding artists on their payroll. There were small creatures as well, cute and helpful. It did remind me of Drawn a little bit because of the paintings. It was when I went into my first painting during the demo that I was hooked, lined and sinkered. It was a thing of beauty to behold and all thoughts of cut scenes left my mind. I just had to have this game. There is only a standard map but it shows where to go next and because the game plays out in segments which close down after you move on and are no longer shown on the map, I never got lost or confused. It was extremely easy to find my way around and because the navigation was well done, it was no problem getting around. The SG was really good - it follows the game so I was always on the page I needed, which was a reall boon. I hate having to flick through pages and pages to find what I need. There were demons, one giant snake and a small spider, maybe two, for those who wish to avoid these. There were only a handful of iHOS, unfortunately for some, but they were wildly interactive, to a degree I cannot remember before. Like games within games, sort of. Loved them. I really feel sorry for people when I read some only played for 10 mins or 15 mins and got bored. All games start off slowly, with cut scenes and introductions to the stories and characters. Yes, this game also did not leap out at me at first, giving no indication of the wonders to come. That is why we are given a 1 hr demo. It is a well established fact that demos can be and often are, very misleading, either way and sometimes even the 1 hr does not give an accurate impression. But 10 minutes is really doing oneself a disservice. There were collectibles and mini games, a lot of which were a-maz-ing! No run of the mill, seen it before puzzles for these guys. Terrific. The hint button gives written instructions at the top of the screen that are very clear and concise. And strangly polite, somehow. Rather amusing. The skip button was either a little too slow or too long, about 75% of the width of the screen. Unnecessary. The main game took me 7 hrs because of the cut scenes, but if people do not experience this, probably is only about 6 hrs. It ends conclusively. The BC took me 1hr 45 mins but there are no cut scenes in it, it is just simply long, beautiful, fun and has a marvellous story behind it that I adored. Anyway devs, I think your game is tremendously good, but something about your programming needs to be seen to. Should I see your name again I will be especially attentive to the cut scenes and if they are still like this, I simply cannot buy your games. The cut scenes were like watching lava flow down a mountainside. Actually, they lava would be a lot faster. Once was enough, despite the excellence of your game. Too, too, too annoying.
December 31, 2012
Different??!!?
This game was just too cheesy for me to enjoy. True the gameplay was a bit different than most games, but not necessarily better. The only thing I liked was the feature of finding origami items throughout the game, I didn't even finish the demo!
January 6, 2013
Weird Game
This review is based on the "One hour sample". This father has been missing for years and you find out that he has been in this dark other world, to save your daughter, you need his tears, so you go into this dark world and the usual HO's and puzzles help you get what you need to save your daughter. For me it was just plan weird! Not my kind of game. The visuals are outstanding, but the storyline was not for me.
January 1, 2013
Unsure
Played the demo and it was less than 45 minutes long. I am so unsure about this game. It has nice music but the story is odd. It is a dark game until you save one person, than you get some color, not much though. There was not a lot of HO to find. After the demo I cannot say I would continue to play or buy it.
December 31, 2012
Not a very positive game
I enjoyed the first Nightmare Realm, and was excited to see this one. I did end up purchasing the Collector's Edition. Gameplay for the most part was great, didn't have any lags like some of the other reviewers have mentioned. The storyline in this one is absurd and way too far out of any realm of logic. Yes, fantasy has logic, it's what makes some fantasy stories so great. Emily looked and acted really wonky this time around as well. Two biggest beefs: swinging the mace over and over and over again to get it to cut off the head of a statue before you could progress. Who even thought this was a good idea? Secondly: why would you kill off one of the characters who is central to the story and then LEAVE HIS DOG to mourn him??? I know this is just a game, but having the main character casually mention "poor fellow" and then go about her way, is not going to set well with anyone who loves animals. There were no happy endings. Although it was engaging, it didn't leave me with any sort of satisfied feeling at the end of it. I'm kind of depressed about the lonesome dog and all the people who suffered without getting any sort of happy ending for themselves.
January 12, 2013
It's nice.. but..
Lots of cutscenes, and they are simple... but nicely done. In whole demo there is only one HO, to be honest I don't like too much HO in game, but it is HOPA game isn't it? Scenes are pretty and colorful. My biggest minus for this game is hint! Oh my God, I was so confused... OK it's challenging, but I played casual game. It's frustrating! It's like you want hint - you'll get it, and that is that... Sound is.. I don't know.. poor... and my rating of 4 is not for the sound it is for the visual effect.
June 30, 2013
Might be good...
... but I, too (as I've looked at other reviews) have a problem with the cut scenes and dialogue running excruciatingly slow. I suspect it's probably the video card in my slightly older computer. Slightly meaning a few years old. I, too (as another reviewer noted) have an up-to-date system, regularly maintained, with very little on it other than BFGs and some documents. My tech specs are consistent with the stated game requirements. But the cut scenes were so slow, and then the spoken dialogue was heard and two minutes later, that spoken dialogue was then visible on screen, so there is a sync problem with my system as well as playback speed or complete lack thereof. As for the game, I agree that it's visually intriguing, and more creative than the usual offering. I have a vague memory of playing the first one, and perhaps not liking it very much. I played the demo with an open mind, given the good reviews. I did not notice that the hour demo was about to end, so I was immersed in it. It's pretty darned dreary, for sure. Perhaps if someone handed me $$ and said I could get the game for nothing, I would play it and endure the dysfunction with my system and probably enjoy myself. When the demo ended, I was happily engaged in a puzzle challenge, for example. But -- it doesn't work on my machine. If this is something where the devs are looking to the latest and greatest video cards (as if we all have them), that's too bad. Oh, and I haven't had this issue with any other game that I can remember, over the past 2 years, including one of the Pachyderm games released last month (that I played yesterday).
January 14, 2013
BORING !!
This game was just plain boring. I couldn't wait for it to be over.
January 12, 2013
The Apple logo is a trademark of Apple Computer, Inc.
The Windows logo is a trademark of Microsoft, Inc.