Fear For Sale: Nightmare Cinema
Exclusive
Uncover the secrets of a spooky old theater in Fear For Sale: Nightmare Cinema! When the entire audience disappears from a film screening at an old theater downtown, you must go behind the scenes to find out who is responsible for the crime. But things quickly go from weird to worse when you finally realize where the missing audience members went. You'll need all of your investigatory skills to solve this case and escape the Nightmare Cinema before the screen goes dark forever!
Game System Requirements:
OS:

Windows XP/Windows Vista/Windows 7/Windows 8

CPU:

1.6 GHz

RAM:

1024 MB

DirectX:

8.0

Hard Drive:

872 MB
Game Manager System Requirements:
Browser:

Internet Explorer 7 or later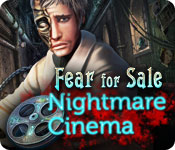 NEW299
The Big Fish Guarantee:
Quality tested and virus free.
No ads, no adware, no spyware.

Reviews at a Glance

Fear For Sale: Nightmare Cinema
0
out of
5 (
0
Reviews
Review
)
Customer Reviews
Fear For Sale: Nightmare Cinema
21
21
Still an exciting adventure!!!! :)
Review is based on playing the complete CE and the demo of this one. As a reporter for the ?Fear for Sale?- Magazine, your investigations are leading you to an old cinema, where the whole audience disappeared? Story is very thrilling, graphics are a bit old fashioned, but wellmade, clear and detailed. 4 modes to choose from: casual, normal, hard and custom (love that!). We have an interactive (jump) map, showing you active areas, a direction giving hint and a detailed journal. Inventory can be locked. 31 interesting, some new, not too challenging minigames and 25 slightly interactive hidden object scenes, can be switched into a jigsaw. Playing this game, you will miss the following CE-Extras: Beside the wellknown bonus-chapter and the strategy-guide we can search for: 66 beyond objects (also hidden in the HOS) and all sorts of collectables, such as 5 fortune teller cards, 5 origamis, 5 toy soldiers, 5 runes, 5 snowgazers, 5 butterflies and 5 sweets. AND we can earn lots of achievements!! We have 7 chapters to play. Main game seems to end conclusively after 3,5 hrs - normal mode. Though I won?t miss the CE?s bonus-chapter? If you don?t care of all those mentioned CE-Extras, this game is a superb adventure hidden object game!!! :)
May 3, 2013
Solid Entertainment
BASED ON COMPLETED CE GAME I really enjoyed the CE of this one, and after looking at the SE version, I still think it?s the better deal. But that doesn?t make this second rate by any measure. If you can stand to forgo the exciting tidbits (MORPHING OBJECTS, COLLECTIONS & ACHIEVEMENTS), this is an excellent game. You won?t be sorry you bought it. The game is jammed with interactive list HOs and PUZZLES. There?s so much to do in each scene! Everything is relatively easy, so you don?t get slowed down by lengthy puzzles. Stuck on that one last item in the HOs? Switch to JIGSAW to complete it without a hint. The jigsaws are fun, too, scenes from the game cut into all kind of weird shapes. The story?s fun. Viewers at an old cinema are entering, never to be seen again. Now a workmate?s gone too and it?s time for you to find out what?s happening. We run into an old ?friend? in the course of our investigation, and that makes it all the more intriguing. One thing I didn?t understand was the grainy GRAPHICS. I mean, they looked high quality, it was not a definition issue (I think). Was that deliberate? Is that what the film noir info was about maybe? You can alter the volume on the SOUND, as well as voice, environment and music. But none of these things actually get very loud. There is not a lot of voiceover, but it is good. Lips aren?t synced though. The ?Fear For Sale? series has always provided solid entertainment, and this one is no different.
May 3, 2013
Shh! The Movie is Starting!
Besides being wonderfully creeptastic, this game has the unique feature of being able to customize game experience. You can choose how fast the hint and skip buttons charge, if suspicious areas should sparkle or not and if you would like to toggle the HO penalty button. You can also switch to puzzle mode during a HOS....but who in the heck would want to do that? :P ~ Instant teleport map featuring green footprints for current location and red exclamation marks for available tasks. ~ Helpful Hint button. ~ Journal Verdict: A pretty decent game that has been added to my wish list.
May 3, 2013
Quite good but...
I had problems with gameplay, a lot of hinting, some not intuitive actions. I played only demo, I need to think if I'm going to buy it.
August 9, 2013
Creepy
At first the game was really jumpy but then it fixed itself. The hos were very creepy as was the story. I found it really fun and i'm not usually a big hog person. The originality of them made it so much more fun and challenging.
August 1, 2013
Pretty good!
I own McInroy Manor but skip Sunnyvalle, but the good reviews from this made me buy this third game in their series. One thing I like best from this game is that the story is nice, quite original, I might say, and have nice voice overs. The HOG scenes are quite interactive, and easy to find. The puzzles also not that difficult although I can say I skip many. The map is very useful and I almost don't have to use walkthrough because the map tells you where you should go and do next. I can say this one restores back the goodness of the first Fear for Sale and I might try Sunnyvale next.
June 3, 2013
GOOD, BUT NOT GREAT GAME.
Played the SE and found this game to be the usual fare. The demo and first-half graphics and puzzles are better than the second part which becomes a little gray and lacking in detail and the story sort of fizzles out. This player is a consumer with little knowledge of how these games come to be, but it seems that there are two teams developing most games; the 'A' team for the demo and first half of the game and the 'B' team for the completion of the game. This seems to be true for so many games. Recommend if you don't expect too much. As usual, try before you buy. But, we can't always trust the demo to accurately represent the entire game.
May 9, 2013
COMPLETE GAME REVIEW of CE & Bonus Chptr
Played both the main game and bonus 'chapter'... The game is quite short for a CE, and has NO MAP but LOTS of back and forth from place to place #go here get this, now go BACK to where you were and use it, then repeat#. This took up LOTS of time/gameplay, rather than actually doing something, which got both boring and repetitive. The graphics were good, the HOS were ok, nothing spectacular. BEST FEATURE to me was the additional things to find/collect as you played. There were 'morphing' objects throughout the game and bonus to be found. PLUS, there were items to collect which changed--5 butterflies, 5 tin soldiers, 5 snow globes; etc. This added a lot to the game, but was almost too much...the morphing objects were enough in my opinion. Overall, it was just ok to me, and certainly NOT WORTH the CE price of $13.99, due to the shortness of the game and the gameplay and lack of map.
May 7, 2013
Not Pleased: Very Drab Game; Very Short
I actually purchased the CE version of this game and now wished I hadn't. The game-play was okay; there was quite a bit of buzz about this game when it was first released as a CE due to all of the 'collectibles' and the scattered 'achievements'. To be honest, it didn't add that much to what is a formulaic and rather drab game. The storyline is really weak. I have played the previous games in the series (which I enjoyed) and this one is just terrible. Perhaps it's time for this series to be laid to rest. The graphics are of rather poor quality and the story is just interesting enough that I plodded along to the finish line; however, I played most of this game on auto-pilot and actually felt relieved when I was finished. Very little challenge; very little excitement. Bland storyline. For those that purchased the SE; smart move. I do not recommend the CE version. I completed the main storyline in 4 hours and this includes me taking my time, not skipping anything, reading the journal, hunting down all the collectibles and taking breaks here and there. It is not a long game by any means, with the bonus chapter in the CE version only adding 'maybe' an additional 30-45 minutes. As I spent much time looking for the added collectibles; without those to look for I could have easily finished this game in 2.5 hours tops. I'm assuming the SE version does not include the collectibles so yes, a very short game not up to CE standards and short even for a SE offering. What really made me downgrade this game from 3 stars to 2 stars is the ending of the main story. *This does NOT contain a spoiler*. Those that purchased the SE version are left without much of an ending. The CE bonus game is really an extended ending to the main game; without it, the game doesn't make much sense. In the SE version, it just...ends. No real conclusion to anything. In fact, I was certain I must have skipped a step in the main story because it ended so quickly. It was only when I began the 'Bonus Chapter' that I realized that the CE bonus chapter IS the ending. Despite the fact that I was able to get a decent ending having played the CE version, I do not appreciate developers leaving SE players without an appropriate ending. Every SE version of what was once a CE should include a decent ending for ALL players to enjoy. So be forewarned before you play; you most likely will be disappointed in the very abrupt conclusion. Other than that; the game is sub-par and due to that, the lack of ending, and the shortness of the game, I can only recommend this as a DD or if you have a game coupon about to expire. Otherwise, I recommend a pass. Nothing special here.
August 1, 2013
Nice game, but...
I liked this game. The puzzles were a bit different. Graphics were good. HO scenes were interactive. I like that the map shows where there are things to do so I can get a nudge without an outright hint. But the game was waaaaay too short. I got through the demo in 45 minutes. The demo ends 1/3 through the game. So that means that in an hour, you're almost half way (44% of the game). A two hour and a bit game isn't worth the money however good it is.
May 3, 2013