Castle: Never Judge a Book by Its Cover
The dynamic duo of Richard Castle and Kate Beckett are at it again and they need your help. You will be tasked with tracking down a killer responsible for killing innocent victims that are oddly connected. However, this isn't any ordinary killer. The crime scenes are unique and dynamic, and designed to lead you off course. With each crime, things begin to hit closer to home. Eventually an eerie pattern becomes clear during the investigation. Will you be able to find the killer before there is another victim?
Spot items and places from the TV show!
Fantastic interactive HOG scenes will keep you engaged
Engaging storyline written with the creators of the show!
Game System Requirements:
OS:

Windows XP/Windows Vista/Windows 7/Windows 8

CPU:

1.2 GHz

RAM:

512 MB

DirectX:

9.0

Hard Drive:

363 MB
Game Manager System Requirements:
Browser:

Internet Explorer 7 or later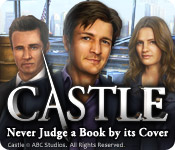 NEW299
The Big Fish Guarantee:
Quality tested and virus free.
No ads, no adware, no spyware.

Reviews at a Glance

Castle: Never Judge a Book by Its Cover
0
out of
5 (
0
Reviews
Review
)
Customer Reviews
Castle: Never Judge a Book by Its Cover
117
117
I really tried to like it
I played the demo of this game and being a fan of the show, I was vested in the outcome. I was enjoying the demo, bought the game and realized after 20 more minutes that I had made a mistake. The game grows repetitious quickly with repeatedly having to click something with an object before it "catches" and having to go back and forth from one crime scene to another without flow from one chapter to the next. I felt the game was too short and could have done with some added adventure instead of simple point and click. Others may like it, for me it was a snooze.
June 1, 2013
A very quick game
This game was OK. A little like games from the 90's where characters have no real voice. None the less I enjoyed the game,(up to a point) so purchased it and was really disappointed to discover how short it was ..... I finished the game in two short bursts. Come on Big Fish, this was made for pure profit off the TV series, nothing else. I would not recommend this game for purchase!
May 28, 2013
Just ok..
I never heard this story but I bought this game (deal), played it and I already delete it from my pc. It's an OK game. I'm not really a big fan of hidden object game. This game is a mix between hidden object and puzzle. Oh, and mystery! I really love the puzzles though there are some that I skip. It would be great if I can play the puzzles on mini game tab on the main menu. Overall, the graphic is great and so realistic. I really enjoyed the graphic. The main reason I bought this game. xx ps: How I'm glad that I figure the suspect before that writer guy. I love detective story.
May 21, 2013
Average (sigh)
The best I can say about this HO is that it is average. The graphics/art is good, I don't like all the dark gloomy scenes that a lot of the games have currently. But, all of the HO games are the same type, and the mini-games are too long & hard. The story line was good but after the first 3 chapters the other 2 was just more of the same. I'd recommend this to a HO beginner.
May 9, 2013
For Beginners Only
Who doesn't love Richard Castle? I am absolutely a fan but not enough to buy this game. Graphics are substandard, no voice-over and your basic IHOG with alot of point and click. The only redeeming part of the game is the storyline which begins with a gruesome murder. Richard and CO. are in pursuit of a sadistic killer with a taste for ritualistic murder as he leaves behind his victims staged to look like characters from literary classics. A classic who-dun-it with Castle and Kate roaming around crime scenes, picking up evidence for the Evidence Board, playign HO scenes that are junk-piled and mildly interactive and solving the simple mini-games just to make things a bit more interesting. The operative word here is SIMPLE and I suppose those who are new to HOGs may enjoy this. HOG Fans and astle Fans may find this game somewhat entertainin, I however did not. I guess I will stick to the Television this time.
May 4, 2013
sigh...
I love everything Castle. He is and always will be my "Ruggedly Handsome Guy". I almost bought this game without trying the demo first. I'm so glad I didn't. A 1/4 of the way through the demo I almost fell asleep. The graphics and mini games are OK and the storyline isn't bad, but it's SO SLOW AND BORING. Other reviewers commented on the banter between characters being realistic. I did't think so. It just didn't have the flow. I don't know, maybe I'm in a bad mood today, but as much as I want to love this game I can't.
May 7, 2013
For "Castle" fans only alright.
I thought I was going to enjoy this game, as I usually do with other games of the criminal investigation type, like "Women's Murder Club" and "Special Enquiry Detail", which both series are just amazing, but I didn't liked this one. I didn't finished it, I only played till the part where the second body showed up. I'm pretty sure this game can only be liked by fans of the tv-show only and since I'm not one... Pros: - Nice, polished graphics. Very modern; - Nice music. Typical of a criminal game, but nice; - Nice character artwork and very similar with the actors of the show; Cons: - Boring pace. - Typical criminal tv-show storyline. - Typical puzzles. I've done them all before; Nothing else to add here. I just didn't liked it. Just like criminal series television, it's all been done before and what you get, unless you are a fan of "Castle", is a very boring experience. I will still recommend it just because of that.
May 5, 2013
This Book Should Have Stayed on the Shelf
Castle Don?t Judge a Book by its Cover is a mystery type game based on the TV series. Our story starts with a murder where the victim is posed to depict a novel, the first one being Mary Shelly?s Frankenstein. The game opened automatically in widescreen. There are no voiceovers. Although the graphics are very good, the game seems so dated. There are not many options except for two modes of gameplay ? rookie and veteran. There is an interactive map but no journal. We do have an evidence board. This game might be great for beginning players but it is a fairly basic HOPA game. There is some interaction in the HO scenes but again, very basic junk piles. Mini puzzles are not too exciting. I guess this game will be good for addicted HOPA lovers who have nothing else to play and just need a filler game to get them through.
May 4, 2013
Yawn
I am a huge fan of Castle and was hoping to like this game. While there is nothing new or unique about this game, there are a lot of great games that offer nothing new other than the story line. All good stories require a great hook. This story doesn't have even a poor one. Fortunately, the conversations are skippable or the tedium would be unbearable. Even the HOGs and puzzles are boring. The artwork, however, is simple, clear and bright which many fishies will appreciate.
May 7, 2013
dislike sound
i think they should be able to talk just like on t.v no bubbles. hard to see some of the stuff trail time goes by to fast
May 5, 2013