Castle: Never Judge a Book by Its Cover
The dynamic duo of Richard Castle and Kate Beckett are at it again and they need your help. You will be tasked with tracking down a killer responsible for killing innocent victims that are oddly connected. However, this isn't any ordinary killer. The crime scenes are unique and dynamic, and designed to lead you off course. With each crime, things begin to hit closer to home. Eventually an eerie pattern becomes clear during the investigation. Will you be able to find the killer before there is another victim?
Spot items and places from the TV show!
Fantastic interactive HOG scenes will keep you engaged
Engaging storyline written with the creators of the show!
Game System Requirements:
OS:

10.8/10.7/10.6

CPU:

1.2 GHz (INTEL ONLY)

RAM:

512 MB

Hard Drive:

315 MB
Game Manager System Requirements:
Browser:

Safari 4.0 or later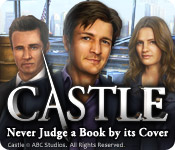 NEW299
The Big Fish Guarantee:
Quality tested and virus free.
No ads, no adware, no spyware.

Reviews at a Glance

Castle: Never Judge a Book by Its Cover
0
out of
5 (
0
Reviews
Review
)
Customer Reviews
Castle: Never Judge a Book by Its Cover
136
136
Good hidden object game, especially for Castle fans
I'm a big fan of Castle, so I was excited to play this game. I found the puzzles challenging but not really hard (there's any easier mode if you have a hard time with puzzles). The story was great, definitely felt like an episode of Castle. The only thing that would have made it a lot better was having the actual Castle theme & music play during the game.
May 13, 2013
Oh Castle. How Do You Do It
This is based on the full game, which I did enjoy, because I am a Castle fan. If you are not a Castle fan or one who desires hours upon hours of searching for objects and playing Mensa type mini games, ya ain't gonna like it. I love it. The fun for me was, as I said, I am a Castle fan. The developers did a great job in capturing the nature of the TV show and having the blessing of ABC I'm sure didn't hurt. The fun wasn't so much in the game itself as in the nature of the characters on TV that they imitated so well. The banter, the seriousness, the fun of the chase is all here. The visuals were really well done. The Hidden Object Scenes were very clear and accurate. That is a nice way of saying they were easy. The only thing I didn't care for was the music. It did get irritating after a while. I just wish they had used voice overs instead of the bubbles, but I suppose it could have been the costs involved, but it sure would have make the game a bit more enjoyable. As I alluded, the game is easy. The HOS are simple and the minis even more so. For me to say minis were easy, they were easy. So the level of challenge was not the purpose I bought the game. I bought the game for the storyline. It was well put together with a beginning, middle and an ending that was pretty predictable, but entertaining as well. So, if you are a Castle fan, or if you are just looking for a way to pass a few hours, this is a great game and I recommend it.
May 10, 2013
Fun Game For Fans of the Show
For fans of the show, this is a fun game. I do wish that there were voiceovers rather than having to read the dialogue, but I can hear the characters in my head, so it's not a huge deal. That said, though, for people who aren't fans of the show, that's a definite downside. Regardless, I enjoyed the game itself and the storyline (which read like an episode of the show). It's not super challenging, but it's not a cakewalk either. Overall, a fun game.
May 8, 2013
Warning: For Castle Fans Only!
If you are a fan of the TV show, you might enjoy the typical banter between the characters, which is very well done. Voice overs would have made this great but would have been prohibitively expensive to pull off, so we have conversation bubbles instead. Character likenesses are bang on. To my surprise the demo went by quickly. Will purchase. The graphics are great, there?s an interactive map with task list, a murder board for clues, quickly recharging hint, slightly interactive HOS (lists) and easy puzzles. Challenging gameplay is totally absent, along with ambient sound effects, and the music is repetitive enough that I finally had to turn it off. If you are a fan and have a free coupon available, go for it. Otherwise, save your pennies!
May 4, 2013
Verdict From A Non-Fan
BASED ON FULL DEMO I don?t watch TV, so I?ve never seen the series this game is based on, and I am judging this one strictly as a stand-alone game. I also am not a fan of REALISTIC VISUALS and MAP-DRIVEN GAMEPLAY. By that I mean, no point and click adventure, you move to new scenes with a simple ?jump? on the map. So all things considered, you?re getting a tough reviewer here. And I thought it was okay. The GRAPHICS were EXCEPTIONALLY CLEAR for this sort of game. Which means the ugliness I normally associate with this style of graphics was absent. HO scenes were well-lit and the items clearly visible, also a step better than usual. Everything was very professionally done. The GAMEPLAY was EQUALLY DIVIDED between HOS and PUZZLES. You visit the HOs twice. They are fairly static, with a little interaction. There were puzzles and mini-games that were new to me, and every act involving an electronic device triggers some kind of puzzle, so there were quite a few. Not knowing the show, there were aspects of the STORY that made no sense to me, like the interaction between Castle and his family, and why a writer is a partner with a homicide detective. All else was STANDARD MURDER MYSTERY fare, very much similar to the James Patterson Women?s Murder Club game series. I felt the game was a little slow, by the end of the hour, I didn?t feel I?d achieved much and I still had no idea where this was heading. Still, it is a mystery after all. I would imagine this game will be enjoyable not only to Castle fans, but also to those gamers who enjoy realistic stories in realistic settings, but I don?t think it will set the world on fire.
May 4, 2013
old type of HOG
Do not know when it was made but this is how they were years age. No voice over, graphics are ok, music is fair. Same old detective story. The HOS are ok. Some items are harder to find. Did not see any puzzles because I got too bored to play on. Hint button gives you an arrow on where to go next if needed. Game is real easy and has a flow in using the items you find and you do not have to go far to use them. Just too many great games out there for me to waste my time on this one.
May 4, 2013
If you like Crime Scene Investigation...
Only played the demo (casual) and found it a bit tame: * Puzzles fairly straightforward * HOS very cluttered with some interaction on the first visit, fairly logical *Map flashes when it's time to move on, or your phone rings. Map tells you where to go or phone caller tells you to meet them somewhere Didn't really grab me but if you like crime mysteries over fantasy style then this will be for you. Try the demo and see what you think.
May 4, 2013
Review of Completed Game...
When I first bought this game, I had no idea what the show Castle was. I had never watched it or heard of it. However, I really liked the gameplay so I bought the game because I love murder mysteries. Well, I also decided to watch a few episodes of castle so I would be familiar with the characters before I played this and I totally fell in love with the show and watched all 5 seasons over the summer and am now into season 6...But now that I have watched this show and am such an avid fan, I have a whole other perspective on the game and hindsight being 20/20...I probably would have enjoyed this game more had I not watched the tv show and had no idea what to expect... The game has 5 chapters and an epilogue of 30 seconds. It is your standard hidden object fare with a little adventure thrown in but plays like an older hidden object game like the james patterson games give or take. There are interactive hidden object scenes and some of the same ol puzzles we usually see that have a pretty easy to medium difficulty to them. I really don't believe a walkthrough is necessary in this game. The map tells you with a badge if there is something to do in the scene and the game is very linear. Clicking the hint button shows you what item you need and where to use it as well. Since I watched the show, I really couldn't stand the fact this didn't have voiceovers. I could hear kate and castle's voices in my head! And because of that, it drove me nuts that I couldn't hear them. IF I had played this game not knowing a thing about it, I wouldn't have known any differently so I would have overpassed this. However, knowing it changed my perception of it. It did have a good story line that kept you guessing just like the tv show. All the usual characters were there. Alexis, Gramms, kate etc etc It has the woman captain, not the man from the previous seasons. I heard the writer of the show, wrote this game's story especially for this game which was a good story line. But overall I felt the game was a little slow and once it started to pick up, it was over. Kind of short although because of the slowness it did take me awhile to play it due to having to stop for a few days out of sheer boredom. I love the show and I completely recommend it but does this game live up to the show? NO and had I not watched the show...I would have had no expectations...SO if you watch the show, try it out you may like it! IF you haven't watched the show, you will probably love it so don't watch the show before you play! Its not essential to it and will probably just let you down!
December 15, 2013
Dialogue was Spot-On
While there are no voice-overs, if you watch the television show, you will hear the actors' voices in your imagination because the dialogue could have been taken directly from the show. This is an old-fashioned, linear HOPA, but the story was pretty good and some of the puzzles were difficult enough that I had to skip them to proceed. The game is a little glitchy and cursor placement has to be right on target in some cases which makes it seem like you aren't using the right tool when, in reality, you just haven't hit the sweet spot that the game will accept. In one case, the clue was dead wrong, but since there were only 10 options, I was able to figure out the answer. I've grown tired of all of the demonic, creepy games. I really miss the occasional Dream Day type of positive game. While this game includes murder, it's murder by a human at least. This is a decent enough game to spend a punch card credit on it or wait until it is a DD or COTW.
May 4, 2013
A simple game
If you like led by the hand and lots to read, this game is for you. It is an easy storyline to follow and the demo went by quite quickly. So not a bad game over all. The graphics and its playability are fine but some of the HO screens are a bit cluttered, though not dark. The music began to get to me after a bit. Just a bit to dated so not a buy for me.
May 4, 2013
The Apple logo is a trademark of Apple Computer, Inc.
The Windows logo is a trademark of Microsoft, Inc.