Skeleton Pirates
Get ready for the ultimate battle in Skeleton Pirates! The pirates are after your treasure maps that are well-hidden on your ship! Defend your ship and protect your maps using an armory of cannons, catapults, bombs and other obstacles. Don't let the pirates enter your chambers to steal your treasure or lay their scrawny hands on your precious maps! Be warned, the longer you defend your loot, the more aggressive these pirates become. They will use every trick in the book, from bombarding your ship to using ropes to board; they'll even play magic tricks in an effort to reach their goal! Can you protect your ship and crew from these boney bandits?
3 unique game modes
120 different levels in adventure mode
40 weapons to choose from
Game System Requirements:
OS:

Windows XP/Windows Vista/Windows 7/Windows 8

CPU:

1.0 GHz

RAM:

1024 MB

DirectX:

9.0

Hard Drive:

92 MB
Game Manager System Requirements:
Browser:

Internet Explorer 7 or later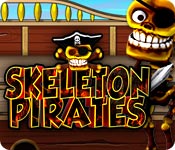 NEW299
The Big Fish Guarantee:
Quality tested and virus free.
No ads, no adware, no spyware.

Reviews at a Glance

Skeleton Pirates
0
out of
5 (
0
Reviews
Review
)
Customer Reviews
Plants vs. Zombies Wanna-be
It's a decent clone, but it definitely lacks the charm and humor of it's mentor. However, it's challenging, and I'm already planning to buy it.
July 29, 2013
Good fun game, maybe a little silly :)
Good game, but normal progressive defense battle field game. Smooth game play and fun weapons to figure out, overall good game, if you like defensive military style time management games you will like this one. Best all, MIke
July 29, 2013
Plants vs Zombie clone
I really enjoyed plants vs Zombies, but my game kept crashing (about three quarters of the way through). I followed the online help a couple of times, but gave up after that. This game is virtually the same thing, without the crashes. I'm enjoying it a lot. The level is just right.. sometimes the ghost pirates get me and sometimes I kick their butts! Recommend it to other people who liked plants vs zombies
August 30, 2013
Very challenging by the end!
Starts easy and gradually becomes quite difficult! I like a challenge. Wish there was a walkthrough for those later levels All in all it is highly playable.
August 10, 2013
Plants vs. Zombies clone, with pirates
My name is JadedBlonde and I am a Plants vs. Zombies addict. Hopelessly. That said, it is impossible to review this game without making PvZ references, as everything in this game has an exact part, title or feature that PvZ has. Exactly, down to even the set up of the playing field, the inventory, the catalog of weapons and the slots to place items you use for each round. This review is based on the entire demo. During that time I got to level 1-10. They don't give you a heck of a lot as far as info until you get going, so the beginning is mostly a tutorial as you're introduced to the weapons and features one at a time. It is slow going, so playing for an hour didn't make much of a dent in the game but is good to learn on. You have a ship and Zombie Pirate Skeletons are invading it, trying to steal your Stuff. What you have to work with - you need coins - gold ones and silver ones. Cute Little birds fly by at random times dropping coins to you which you collect (during the Daylight Round), and you buy chests to put on the deck which burp up gold or silver coins. Silver coins are your currency to buy items, gold coins buy your ammo - each time one of your weapons fires, you're deducted a gold coins. As far as I played, I had plenty at all times, though that might change in later levels. The silver coins go away at the end of the round; the gold coins accumulate and carry over. I ran into 4 types of Nasty Pirates during the trial that have varying levels of tenacity and endurance but it wasn't until the demo was almost over that you get a catalog to explain the traits of what you have so far. There is also a Pirate Parrot who also flys by at random times, dropping little bombs on your stuff, trying to destroy it. You hit him on the head with a mallet and then get his head. Yes, his head. When you collect 10 heads, you get a new weapon in the next round and Level "up" As with PvZ, you get to choose the weapons you want to use for each round, tailoring them to your level of play. There are, all told, 40 weapons, 13 types of Zombie Pirates and 2 Helper Birds. I assume from the screen shots there is a fog level, rain level, etc, just like PvZ. Other things you can choose to fight your battle are: planks to cover bomb holes that appear before some rounds; barrels or crates to block and slow the Skeletons as they walk; a shovel to dig up things you want to replace; a catapult, a cannon, a mini cannon, a bomb that blows up a 3x3 area. There is one song for the music which gets tedious fast. There's a progress bar at the bottom which shows how long each round is, but it lacks any indication of when a "wave" of skeletons is headed your way. The other thing I found really lacking was any indication as to how much damage you've done to each skeleton Thing- they walk towards your Stuff but you don't know if they are almost defeated, merely slightly wounded, or how much "life" they have in them yet. All of a sudden they just collapse, deader than dead, but you have no way to tell how the time is passing or battle is going. I think, makes it hard to plan where to place your things to reinforce or defeat them. I had to install this game twice, the first time it locked up solid. There were 2 little black "DOS" screens that loaded in the back and closed. Just mentioning this in case yo uhave a problem, it seems others are too so you might just want to try again if you do. The second time worked fine. This is a fun game, I'm sure many will like it. I am ruined by the ever-changing complexity and humor and levels of PvZ but this game is fun, and for sure worth a PCC or rainy day time passer. I would have given this game one more star but I'm not sure taking an awesome existing game, copying everything about it and making an exact clone merits getting overly excited about but it's nice to have another game in this genre.
July 29, 2013
exactly like plants vs. zombies
it is exactly like plants verse zombies even though it is ok will never be as good
July 30, 2013
Lame clone of Plants vs. Zombies
Mediocre clone of Plants vs. Zombies, lacks the levels and supporting earned extras of PvZ. Had potential as a theme, but, released too soon.
July 31, 2013
Too HARD for me.
I loved the game! But I couldn't get past level 1-7. :( I can't recommend this game to ALL.
July 29, 2013
Yes, just like PvZ, but not quite as good
When I found this game, I was thrilled. PvZ is one of my all-time favorite games. I immediately downloaded and bought this game. Now, I'm kinda sorry I did. I had a lot of fun until I got to level 2.1 when the rain started. When the rain starts, the birds go away UNLESS you can afford to pay for them. Well, if you don't have enough money, you can't buy them. If you can't buy them, you have to earn enough stars simply by getting treasure chests and hoping they produce enough stars in order for you to get your weaponry. Well, I didn't have enough money for the birds, and it took WAY too long to gather enough stars, so I became discouraged and uninstalled the game. This game truly is fun and will keep you entertain, but make sure that you get as much money earned so you can purchase what you need at the store. If not, it's hard to win.
August 10, 2013
Lagging badly
I really liked the game..was challenging but when I got to level 2-1 it lagged so badly I couldn't control my curser. Needless to say I kept losing because I couldn't do anything. Also the boxes that give you stars take forever. You just sit there waiting and waiting for a bird to fly over and give you a star to purchase ammon..oh but then, when it rains,the birds don't come out so you are left at the mercy of the boxes! Nice try but no...got a refund.
August 9, 2013
The Apple logo is a trademark of Apple Computer, Inc.