Dark Dimensions: City of Ash Collector's Edition
Exclusive
You've been studying the supernatural phenomenon known as dark dimensions since you were very young, hoping that they will eventually lead you to your missing family, but nothing has prepared you for the danger that awaits you in Phoenix Hill, California. Once a prosperous mining town in the 1950s, a volcanic eruption changed everything. Now its citizens are trapped as spirits of ash, unable to move on. Can you uncover the tragedy that caused this dark dimension to appear? While most of the inhabitants are friendly, one fiery ghost will do anything to stop you. Volcanic tremors are rumbling beneath your feet. Will the volcano erupt again? Watch your step in Dark Dimensions: City of Ash, a sizzling Hidden Object Puzzle Adventure game.

This is a special Collector's Edition release full of exclusive extras you won't find in the standard version. As a bonus, Collector's Edition purchases count toward three stamps on your Monthly Game Club Punch Card!

The Collector's Edition includes:
Bonus chapter exploring mysterious forces
Integrated Strategy Guide
Downloadable wallpaper and soundtrack
Help Phoenix Hill rise from the ashes!
Game System Requirements:
OS:

Windows XP/Windows Vista/Windows 7/Windows 8

CPU:

2.5 GHz

RAM:

1024 MB

DirectX:

9.0

Hard Drive:

1024 MB
Game Manager System Requirements:
Browser:

Internet Explorer 7 or later
Alcohol Reference
Tobacco Reference
Fantasy Violence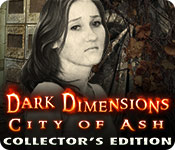 The Big Fish Guarantee:
Quality tested and virus free.
No ads, no adware, no spyware.

Reviews at a Glance

Dark Dimensions: City of Ash Collector's Edition
0
out of
5 (
0
Reviews
Review
)
Customer Reviews
Dark Dimensions: City of Ash Collector's Edition
52
52
Oh, come on!
I can't believe the creators pretty much forget their own story in the game! Our character wondering about their past has nothing to do with anything in this story or the bonus and the demo is as deep as the whole games plot goes. It's also way too short and we can apparently collect golden animal statues throughout the game but I missed most of that since it wasn't noticeable until I accidentally clicked on one. The voices and sound effects keep going out of sync and we don't get to know about any of the characters well enough to even care what's happening. The creators should look back at the wax museum game and take a few cues from there.
June 6, 2013
Too predictable and too easy
I've enjoyed the dark dimension series but as noted by another reviewer, this is truly a been there done that sequel. But worse than that is the overwhelming tendency to dumb up these games. You seldom backtrack for an item; almost always already have the tool you need or at the worst would get in one more scene. Pick up item, use item. Absolutely no challenge at all. Puzzles were easy; HOs simple, but a little too interactive.... they are supposed to be HIDDEN objects. I've bought too many disappointing games lately and this one will not capture me. Perhaps a coupon game later but I expect I'll even be sorry then.
June 3, 2013
Very disappointed.
I really enjoyed playing City of Fog, so I was expecting great things from this game. However, the graphics were poor, the storyline dull, almost non-existent, puzzles, such as they were, far too easy, and not very interesting.
August 16, 2014
Don't waste your money or game credits
Really a stupid game with a ridiculous story line. Puzzles were OK, but nothing to get excited about. Game was short and with added bonus content in CE, it was almost as long as a normal regular edition. Graphics were juvenile. Generally not worth the credits it will cost you - spend on something else instead
June 19, 2013
Worth Playing, Enjoyed the Demo.
It seems this developer just can?t wow me- They can make some good games sure, but not one of those thrillers than makes me want to buy it and complete the game. I did enjoy the demo, but not once did I consider buying. The problem I had with the first two games was that I didn?t know what my purpose was. This game was different as I knew what my purpose was from the start. The storyline was a little different, and I enjoyed it, but it didn?t suck me in. The storyline is very similar to the Mount Vesuvius disaster in Pompeii, so historians might enjoy this. The story takes a great turn towards the end of the demo, and I was really starting to like this evil character. I couldn?t help but notice how stupid some parts of this game were. For example, I picked up a valve and used it on something, then got it back to use something else. That never happens in other games, and I doubt it would happen in real-life. Also, during one of the HOS, one of my interactive items was pizza. You had to put pepperoni on the pizza to make it a complete object (stupid already- since when is pizza a Hidden Object) but to add to the stupidity, the ?pizza? was just rolled out dough. HAHAHAHAHAHA! I was spending all this time trying to find an actual pizza, only to discover that it was rolled out dough. While I?m on the subject of HOS, they appeared frequently, not too much, just frequent. I liked them, as they were a good challenge for me and included a number of extra step objects (one of which required two steps), so, kudos to the developer for the challenge there. The puzzles were a little different though. 2 of them were foolishly easy, (the coin one and the triangle one) and others were a little hard. Lucky for me, I had a Strategy Guide and quick recharging hint and my disposal. I must admit, the math one stumped me! The graphics were much improved from the first two games. The artwork was clear and well done, with the HOS being exceptionally clear. These graphics were outstanding. I can?t really fault the developer on those. The voice-overs were standard. The acting was standard, not over-done, which was good. The voice-overs were a good fit for this game. FEATURES - Hint and Skip- fast recharge. Hint is very helpful - 3 modes of difficulty- Casual, Advanced and Hard (I played casual) - Diary to keep track of events. Can flip between past and present, also contains spoilers for the other two games - Map, which is interactive and saves time backtracking. - Built in Strategy Guide (CE Exclusive)- This was great for solving puzzles. - There are Collections but there is no mention of what they are or how to get them - Bonus Chapter (Bonus Content, CE Exclusive) - Concept Art (Bonus Content, CE Exclusive) - Music (Bonus Content, CE Exclusive) - Wallpapers (Bonus Content, CE Exclusive) While this game has some great CE Extras, the game itself is not gripping. While I enjoyed the demo, I don?t think I will be buying this game. That being said, I?m happy to recommend it.
June 8, 2013
Predictable, save length.
When you get an hour demo you expect to get that hour or at least a majority of it. Not twenty-five minutes. The puzzles were okay, but they seemed rushed, like they spent more time adding many puzzles in instead of making decent ones. Quantity of quality. Unfortunately, again, this doesn't go for the length. When the length of the demo isn't even half of the time given, you start to realize that the chances are the game is relatively short. The movement was stiff, and that's saying a lot for a point and click. The scenery was quite bland and every scene began to resemble the previous one. The concept seems okay at first. A mining town led by a mayor who wants to continue mining even with the danger and the protests of his daughter is destroyed in a sudden and horrible event. You have to go back and free the trapped spirits from the same darkness that overtook the mayor. This is where the real problems set in. Let us forget that this is the tenth town I've seen this month overtaken by something dark. Being led by a ghost girl, now a staple in nearly every game, has turned this game from somewhat original content to barely different. i also must point out the many times she'll try to talk or throw something to you and the 'dark antagonist' will stop her. This would be an impacting moment if it didn't happen every five minutes; and I certainly counted, because there was only twenty-five. Cliches aside, the story wasn't very captivating. I have this feeling that this game was very rushed. This game has many, many similarities to the game Shiver: The Vanishing Hitchhiker. Following the girl, dark spirits, abandoned town from horrific event; the big difference is that it is obvious that Shiver tried to make it different. I'd make a pass. However, if you do purchase the game and don't enjoy it, then don't worry. It will be over very quickly.
June 7, 2013
Review of Game
This is the 3rd game in the Dark Dimensions series. We had fog, then wax, now ash. Game ran fine. HOS are ok-no misclick penalty and some variations. Puzzles were poorly described as far as directions. Music and VO were fine. Picture was kind of grainy-- I guess you'd call it. Wasn't sure if they were going for the ashy look :) The cursor always seemed a bit "off". Had a wide pixel area. You are set out to save the town that was turned to ash. Sadly, this turns out to be quite easy. The game has absolutely NO challenge at all. You find a hammer next to you, use the hammer in front of you, etc etc. There is a jump map which is small but fast. You also have a journal. The hint recharges quickly, although you probably won't need it. I've read reviews of the completed game. With the CE, the game totals 3.5 hours. So NOT CE material developers !!!!! Even as an SE, NO. I'm passing on this one due to the simplistic nature of the game and and length. A beginner could play this game and think it were easy.
June 1, 2013
The Game Was Alight, Not The Ending
The game itself was alright, but the ending left me hanging, both in the game and in the bonus. Layout of games was somewhat confusing, but once I caught the jest of where we were going with them, I learned to look elsewhere for answers. I was somewhat lulled to sleep with some of the game as the action so typical of BF games was lacking. For me, I would recommend this game to a beginner, but the more seasoned player may wish to have more depth to the game. Graphics were alright, but I would not call them outstanding. The story was good, but lacked continuity.
June 6, 2013
Disappointing, but recommended for beginners!
Okay, I have the first two DD games (City of Fog is the best) and was a little disappointed in this one. Graphics were okay, although a little washed out. Game play is nice, SG is nice, music and sound FX good. Hint system seemed a little slow on the return, but helpful when used. Very nice voice overs. Nice jump map (I like the way it is set up). There is a lot of talking, maybe to make the game seem longer than it is. I don't care for games that do not show you all the chapters in a demo, they are usually always short games and I won't pay that much for one. I do not like it when I click off the custom cursor and it doesn't return to the arrow...very irritating...why bother putting that option in the settings when it is useless. HOGs are a mix of straight HOG and "find me and use me with another item." Games are very simple. I did not find this game challenging at all and got bored with it very quickly. Don't know what the deal is lately, but we have had a rash of very poor games. This is not a bad game, but did not grab me and make me want to buy it to see what happens. I recommend this game as more of a beginner level. Not for me. As always, try it for yourself and see what you think. We all have different tastes in games and you may find this one to your liking. Thanks for the reviews.
June 1, 2013
One big yawn...
I've enjoyed the games in this series, but this one is a lame duck. Way too many HOS..one after the other after the other, and not very inspiring. Too much hand holding, and far too linear. The map was pretty useless; wonder why they bothered with it at all. Very disappointing. `Be okay for beginners maybe.
June 1, 2013
The Apple logo is a trademark of Apple Computer, Inc.