Dark Dimensions: City of Ash Collector's Edition
Exclusive
You've been studying the supernatural phenomenon known as dark dimensions since you were very young, hoping that they will eventually lead you to your missing family, but nothing has prepared you for the danger that awaits you in Phoenix Hill, California. Once a prosperous mining town in the 1950s, a volcanic eruption changed everything. Now its citizens are trapped as spirits of ash, unable to move on. Can you uncover the tragedy that caused this dark dimension to appear? While most of the inhabitants are friendly, one fiery ghost will do anything to stop you. Volcanic tremors are rumbling beneath your feet. Will the volcano erupt again? Watch your step in Dark Dimensions: City of Ash, a sizzling Hidden Object Puzzle Adventure game.

This is a special Collector's Edition release full of exclusive extras you won't find in the standard version. As a bonus, Collector's Edition purchases count toward three stamps on your Monthly Game Club Punch Card!

The Collector's Edition includes:
Bonus chapter exploring mysterious forces
Integrated Strategy Guide
Downloadable wallpaper and soundtrack
Help Phoenix Hill rise from the ashes!
Game System Requirements:
OS:

10.8/10.7/10.6/10.5

CPU:

2.5 GHz (INTEL ONLY)

RAM:

1024 MB

Hard Drive:

1001 MB
Game Manager System Requirements:
Browser:

Safari 4.0 or later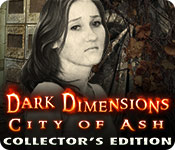 The Big Fish Guarantee:
Quality tested and virus free.
No ads, no adware, no spyware.

Reviews at a Glance

Dark Dimensions: City of Ash Collector's Edition
0
out of
5 (
0
Reviews
Review
)
Customer Reviews
Dark Dimensions: City of Ash Collector's Edition
52
52
Better than the first two...but very short for a CE!
In my opinion, this game is a vast improvement on the first two Dark Dimensions. I found the first two unplayable due to too many bad points, so I was pleased that I could play this and enjoy it all the way through. Although this is yet another 'tragedy' game, I did like the story. It was your job to find out why 'Phoenix Hill' now has a Dark Dimension and to rid the town of it. All the inhabitants of the town are made up of ash, so that's quite creepy in itself. This game was just so much easier to play and it didn't feel a chore. It was enjoyable and relaxed. I say relaxed mainly because it was quite easy. There are loads of puzzles and I only skipped two as they were slider puzzles which I just cannot tolerate because they are soooo frustrating! All other puzzles I solved easily. There are more HOS than puzzles though and these again were quite easy. All were interactive and alternated between listed items to find and sillouettes of items to find. The listed items were also interactive so for example, one item was used to find another, etc, which made it a bit more interesting. However, sometimes it was difficult to figure out what to use each item you found on next. The map was helpful, although because I found the gameplay fairly easy, I didn't refer to it much. It was interactive though and showed areas where things needed to be done. I like these types of maps as it helps a lot if you get stuck and don't know where to go next. Voiceovers generally good, however you don't meet many characters. Just the main character, Audrey, who guides you and helps you along the way. Her, and the Dark Dimension himself and two other characters are all you encounter. Music didn't intrude on your gameplay too much. I usually turn the music off as it gets annoying but this music seemed to fit well with the game and I left it on in the background. I was slightly disappointed that there weren't any Achievements that you tend to get in CE, but there were 15 golden animals to collect. Other than that, there was nothing else to obtain or collect. The biggest disappointment for me though was how short this game is. I normally check the Guide after a while of playing to see how far I am through a game, and I was dismayed to find that after only 1.5 hours of playing I was already over half way through. The bonus content also is very short. So overall, it only took me about 3 hours to complete the main and bonus game. I find that very short for a CE game. Nevertheless, the game is very enjoyable and I would recommend it.
June 9, 2013
Pretty good game
Pretty good game. Good story line with just enough contact with characters. Small bits of interaction with wild life. Easy puzzle. Good HO's Kept me busy and entertained. finished the demo 13 minutes before time was up. Has a map and I did not even use the hint button.
June 6, 2013
FINISHED THE TRIAL OFFER
BASED ON THAT ALONE I WILLNG TO BUY THE SE WHEN IT COMES OUT DON'T FEEL LIKE BUY THE CE.BUT SO FAR THE GAME MOVES FAST. VERY LITTLE BACKTRACKING. USE FIND ITEMS RIGHT AWAY. ITS A KEEPER.
June 4, 2013
I LIKED IT
I have enjoyed the other two Dark Dimensions and I enjoyed this one as well. The storyline is much like the others, helping the ones left behind after the destruction of the dark dimension. Didn't quite finish the demo due to checking out the strategy guide (doesn't move as you do#, the interactive map #it jumps#, the golden animals and the extras #normal). The visual was clear except where ash from the volcano was predominate, but the haziness fit into the story and storyline. The hos were fairly easy and the mini games were pretty standard. It was a nice way to spend an hour inside on this horribly hot and humid day.
June 1, 2013
An Enjoyable Game
I thought the game to be very enjoyable. Although not a dark mysterious game, non the less fun to play. The graphics were fine as well as the story line. The puzzles were not a big challenge to solve, but fun to play and a little different. The voice overs were fine also. Yes I will buy the CE even though it is not a large game. Every once in a while I like a game that I can relax with and take time to really enjoy. This is one of those game I can do that with. I find I do not always have to be kept on the edge of my seat all the time.
June 1, 2013
Ashes Ashes We All Fall Down
Travel back in time to 1956 to help solve the mystery of a mining town that was destroyed by a volcano. You meet the ghost of Audrey, the daughter of the mayor, who is trying to shut down the mine because it is making the town and the volcano unstable. Another ghost says that the mayor "got greedy". A strange man is trying to prevent you from discovering the truth. What does it all mean? Great balance of HOS and puzzles. The HOS were very challenging because most items on the list need to be found in pairs and used to acquire each other. * Bonus Content includes a bonus game, concept art, wallpapers and a collections page.
June 1, 2013
REVIEW OF COMPLETED GAME
While I do applaud the devs for a valiant effort and for incorporating so much, unfortunately this game missed the mark. The graphics are alright, if a little washed out, the voice overs are ok, the puzzles are pretty much par for the course, and the iHOS are rather dull and mostly just confusing, the way they have set them up. The story is fairly good but not exactly gripping. The music was nice enough, quite bearable. There are achievements and collectibles. It has a jump map that is well done and works fast. In advanced mode there are no sparkles and the hint and skip take a long time to fill. I found the instructions for a lot of the puzzles rather vague and had to resort to the SG (which is not bookmarked, but well executed), not for the solution but in an effort to try and understand what to do. The things that let this game down are that it has a rather amateurish feel to it, which it should not have as these are experienced devs, and the simple fact that it did not have much affect on me. It did not bore me as such, but it did not pull me in as it has no wow factor at all. Thirdly, the main game is only 3.30 hrs long, which really is not on for CE prices, although I was not really bothered in this particular case, as I was not being entertained. The main game ended in what I thought was a satisfactory way and will be fine for SE players. But, the BC belied this and introduced another aspect to the story and I found these two separate sides to be at odds with each other. Sorry to the devs for not being more enthusiastic but in all honesty, this is how it made me feel.
June 1, 2013
I Think I Played This Game Before!
This review is dedicated to Maggie Maze who reminded me that sometimes tough love is good for the soul. Here we have a case of Developers getting lazy and predictable. Can anyone say Deja Vu? The third installmet of the Dark Dimension series has arrived and for the life of me, I really dont understand why they bothered. All they really did was to change the storyline, alter the scenery and that really is about it. The first game had us fighting off a supernatural fog, the secod was avoiding turning into wax, now we have volcanic ash and seriously, could this game get any lamer? Phoenix Hill is the latest site to be struck by our infamous Dark Dimension. A volcano has erupt and the city is covered into ashes. A ghostly figure of a young girl beckons us and from the letters I have picked up, it seems her Father is behind this. Once again a game not worth a CE price tag. Substandard graphics, hazy at times and a mixture of blurred live footages and hand drawn sceneries. It looks like they couldnt decide on a look they wanted. There are voice overs and over dramatic music that I found rather annoying after a while. You have three play modes to choose from and the obligatory extras for those who enjoy the screen saver and what-nots. You have a diary and a map that only allows you to travel. There are also collectable which I have yet to come across and have no idea what I am looking for. My first complaint is TOO MANY Hidden object scenes and not enough adventure. Mini games were so far on the simple side and nothing we havent seen before. Absolutely no challenge what-so-ever and no extras to make this game remotely interesting. After Forty-five minutes , I got bored and decided that I really couldn't care less about the whys and hows of the storyline. Been there and Done that! Therefore O little town of Phoenix, you will have to wait for me when you arrive as a SE game.
June 1, 2013
Dark Dimensions 3 - Not up to past standarts.
The Dark Dimensions series normally is one of the most challenging series, but this one did not hit the spot. You are in a little town to uncover another Dark Dimension. The storyline is ok, but the ones in the first to games were better somehow. They were deeper and creepier. So the story here is ok, but I could be better. The graphics are great. Very detailed and very real looking. Great job here. The music and the sounds are good too. They fit onto the game and give it a good atmosphere. Now to the level of challenge. It's horrible easy. The first two Dark Dimensions games were so difficould, but this one is very easy. I solved every puzzle and the whole game without a single hint. I'm not very patient, so normally I need to use a hint in every game. After two hours I finished the game. That's definetly too short. The bonus game took me nearly an hour, so it was ok and long enough. In the game you have voiceovers, life actors, a collection of animals and the normal CE Content. The soundtrack has many tracks here. So overall this game is good for a SE, but the CE is not really worth the money. So I would recommend the SE more than the CE, but the game is good enough to recommend it. I hope that the next DD game will be better again, because These graphics have so many potential.
June 2, 2013
NOT TERRIBLY CHALLENGING :(
It has been said that this game, which starts with yet another car crash!!!, is quite short (about 3 hours for the main game has been the figure quoted by a few). I would guess that the reason is because the game, or at least what I demo'd, is not that challenging. Inventory items were used almost immediately - most times you knew exactly where to go and what to use the item on. I felt I was just going through the motions - there was nothing to excite me or make me have to think much. The demo took me 40 minutes to complete, and in that time I progressed through 9 scenes. There are a total of 27 in the main game (according to the map#, so you can work out the maths quite easily. If it continued at the same speed, I'd quite probably have the main game wrapped up in about 2 and a half hours! The "puzzles" I came across in the demo had not much 'puzzling' about them. In one, all I had to do was change ONE element to get the answer. I don't like puzzles that are overly difficult #a little bit of thought required suits me just fine#, but the ones I came across here are really pretty simple. Some people have also said the game is too "HOG-heavy". OK, there *are* quite a number of them, but then again - this *is* a hidden object game. Perhaps the quantity of HOGs is countered by the fact that they too aren't very difficult. I completed most of them in about 60-90 seconds, I'd guess. Items are pretty clear, and it's easy to work out by looking at the list which objects need to interact with others. I had no complaint about the graphics, which I liked, and the game automatically filled my 26" monitor without adjustment. The characters in the game were very realistic, which I liked. The scenery was much brighter and more colourful than previously - I've played the previous Dark Dimension games, and they were all much darker/sinister/gloomier-looking than this one. I know some people complain about 'doom and gloom' games, but, for me, it's hard to believe in sinister things happening when everything looks bright, rosy and cheerful! I didn't have to use the hint button at all, so I don't know how quickly it loads up. There is an interactive jump map, which I didn't need either, but it would be very useful if you did get stuck as it shows areas where there's still something to be done. I won't be buying this as a CE - there don't even appear to be many extras beyond the strategy guide and bonus chapter. I will probably pick it up as an SE at some point, though, maybe with a punch card credit or in a sale.
June 1, 2013
The Apple logo is a trademark of Apple Computer, Inc.
The Windows logo is a trademark of Microsoft, Inc.