Rescue Team 3
Save the day as the leader of the Rescue Team, a group of life-saving pros trained to swoop in and sweep up in the wake of a natural disaster! Figure out the quickest way to complete your goals, make good use your resources and unlock every achievement. Easy to play, challenging to master and packed with fun, Rescue Team 3 is the best one yet!
40 levels
Ten buildings
3 rescue assistants and kinds of transport
In-game tutorial
Game System Requirements:
OS:

Windows XP/Windows Vista/Windows 7/Windows 8

CPU:

1.0 GHz

RAM:

512 MB

DirectX:

8.0

Hard Drive:

55 MB
Game Manager System Requirements:
Browser:

Internet Explorer 7 or later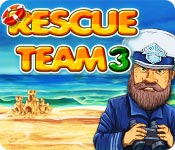 NEW299
The Big Fish Guarantee:
Quality tested and virus free.
No ads, no adware, no spyware.

Reviews at a Glance

Rescue Team 3
0
out of
5 (
0
Reviews
Review
)
Customer Reviews
A Different Twist
I really enjoyed the game. I find the games I like best are those I would 'replay' and this is one of them. I have played the 1st two versions and was looking forward to this 3rd version. I like the added complexity, with the fire/police stations, and that the rescuers don't go back to the base after every 'job', so you have to keep better track of where they are & how many you have. It also saves running time. I like that the rescued 'help out' for an extra 1 time supplies bonus for every time they work. Every bonus helps. It wasn't any more difficult though, which is fine. I also enjoyed the better graphics, sound & the twist in the storyline. The characters come more alive, and you got to admit, it's believable. I'm assuming the "to be continued" aspect refers to fixing the politics behind the storyline in the next version. I didn't like that the time clock starts right away, there's so much movement/activity it takes a few seconds just to 'see' the game board. I also found it way too short. Not even 50 levels, a bit skimpy. I definitely recommend trying it out, & if you find you're not yet 1/2 way through at the end of the hour, I think it's worth it to buy.
August 26, 2013
A real improvement
Added features to stop robbers and put out fires give a real spin to the latest title and offer a genuine challenge.
July 19, 2013
Fun Game
Fun Game.... I just wish there were more challenging levels.
June 1, 2013
Too short
I like these kinds of games. This one has a bit of a challenge to get gold level, but silver is easy. I enjoyed playing it, but it suddenly just finished.
May 11, 2013
Mixed review
I've got mixed feelings about this game. I was looking forward to the 3rd version of this game. But there are some negative aspects of it. Good points: great graphics, better than the first 2 in the series. Actions are chained, which should be in all games like this but aren't. I love how there are different workers now for actions, such as hospital workers and firefighters, that free up the main workers. In fact, there are times when the main workers are basically waiting around until the firefighters and the others do their thing, which is unusual for this type of game. Negatives: there is basically no tutorial. You have to know how the game is played, that is, you better have played at least Rescue 1, or you're going to be very confused as to how the game works. Definitely, not for beginners in the series. And what on earth is the point of the free workers in the various buildings, such as the burger cafe and the others? They don't seem to make the resources appear faster, and there is no explanation. It took me awhile to figure out that upgrading the buildings has nothing to do with the free workers plus sign over the buildings. (An arrow indicates the upgrade feature.) The game is very fast moving. I finished it yesterday and it didn't take much time to get there. And speaking of time, it starts before you even make a move, so there's no time to think about a strategy; just jump in and go. And some levels do require figuring out where you should go first to avoid getting stuck. There is also a lot of clicking to get resources, to get something going, to get to the victims, etc. Not a game if you really hate clicking. And when you finish it, it ends with "To Be Continued", so it doesn't really end. Unlike other games, there is no house to renovate, no garden to upgrade, etc. It just ends; a real disappointment. But the really negative part is these rescuers are not very likable. Who the heck invented their dialogue? They come across as mercenary and very callus, nearly as bad at the mayor who is supposed to be the bad guy. Really very strange to put into this game; I wouldn't recommend it to kids, as it's not very funny. Just play the game and ignore the dialogue.
May 11, 2013
Corruption, Greed, Bad storyline
Ok, I did like the added features from the previous 2 games, however the storyline is horrible. Would you help a corrupt mayor cover up all his wrongdoings? Of course not and this is not what we want our children to learn. I did go through it all in one day, although it wasn't gold on each level. I was disappointed in the end...could have put a bonus there or something? I just have an issue with a Rescue Team who are not heroes.
May 9, 2013
Hmm!
I have bought and played the other games in the series, but this one I am disappointed in. I seemed to whizz through the levels and was significantly through the game before the trial ran out. The gameplay is indicative to the series, boats, helicopters and buildings producing resources. You also have a hospital and a fire station in some levels, to help injured people or put out fires. Although the game is timed there seems to be plenty of time to finish the levels, and when finished you will be awarded a trophy on the game progress map. The story was alright, but very similar to other games, corrupt mayor, doing things that he shouldn't with money, trying to cover things up etc. The rescue crew should be good guys not bad guys. Plus it would've been nice to do up your house like in one of the other games, to break up the gameplay. Too simple and too short for myself. Maybe for a beginner to this sort of game it would be perfect.
May 8, 2013
Rescue ME from bad TM games
I own Rescue Team 1 and 2, and rarely play them because, frankly, they're quite horrible. I must say #3 is an improvement. There are more things to do, the timer seems a bit more lenient. You can click ahead in this game and it does show where you click... the previous games did not. It has 18 achievements you can earn. You can also hire rescued citizens for the houses, food stands, etc., although that kind of confused me. I'm not sure why I want to hire them. It doesn't really say why you'd want to do this. If you've played the other 2, the graphics are the same, just with some more water and vegetation laying around. The voices saying "wow", etc., are annoying. So another no go for me on a TM game. I keep hoping I come on BF one day and find a good one. Today is not the day.
May 8, 2013
Half a Game is Better Than None
I loved the first Rescue Team game. It was cheerful and fun, and I played it over and over till I had memorized all the levels. I almost didn't buy RT2, because of the creepy music and depressing atmosphere. "Rocking Around the Christmas Tree" played like a dirge? Really! It was depressing that injured people had to wait till I gathered enough gold to save them. But eventually I got used to it, bought it, and played it to death, too. Rescue Team 3 is a real disappointment. The first RT had 60 game levels. RT2 had 50 levels, but it was harder, so I didn't realize it was a smaller game. Rescue Team 3---besides having the VERY annoying dialog that you have to click through on every level to get the actual game===has only 41 levels. And those 41 levels feel like even fewer. To add insult to injury, the last scene says "To Be Continued". Yeah, I guess the developers will keep putting out smaller and smaller sequels as long as we keep buying them. I would not recommend buying this game unless/until you catch it on special for $2.99. It is worth just about that.
August 5, 2013
Not good or bad
Where Rescue Team 1 and 2 failed to get me to buy them and I did not like the play, Rescue Team 3 did get my money. It seems that this game finally got it close to right. I cannot call it anything more than a decent way to kill time, but as a way to fill time until something better comes along, it worked for me. Not too bad.
July 3, 2013
The Apple logo is a trademark of Apple Computer, Inc.