Fairway Solitaire: Tee to Play
Exclusive
Fairway Solitaire™: Tee To Play is an award-winning combination of solitaire and golf. Each "hole" is a unique solitaire layout that can include sand traps, rough cards, and even water hazards. Play sequential cards to create long drives. Long drives make better scores! Use irons from your golf bag to keep a long drive going. Clear all of the cards for a perfect score!

Play this game for free and enhance your experience by purchasing additional gameplay, virtual items, powerups, or other fun extras within the game!
100s of handcrafted layouts
Earn Golf Bucks to spend in the Golf Shop
Dozens of power ups and trophies
Long Drive and Putt-Putt mini games
Game System Requirements:
OS:

Windows XP/Windows Vista/Windows 7/Windows 8

CPU:

1.0 GHz

RAM:

1024 MB

DirectX:

8.0

Hard Drive:

361 MB
Game Manager System Requirements:
Browser:

Internet Explorer 7 or later
Please note that items you purchase in Facebook, Mac, or mobile versions of this game will not be available in the PC version.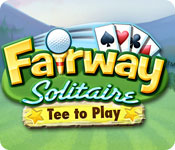 Top In-Game Purchases
1.

Midas Touch

$ 0.99

2.

Pro Pack

$ 9.99

3.

Legends Pack

$ 49.99

4.

Iron Factory

$ 9.99

5.

Mulligan Card

$ 0.99
Game Club members
SAVE 30% on
in-game items.
The Big Fish Guarantee:
Quality tested and virus free.
No ads, no adware, no spyware.

Reviews at a Glance

Fairway Solitaire: Tee to Play
0
out of
5 (
0
Reviews
Review
)
Customer Reviews
Fairway Solitaire: Tee to Play
207
207
I'm not sure I'll be spending time on the qualifying rounds
I have the "regular" Fairway games and enjoyed those, but I'm not sure this is really my cup of "tee". I love the gopher: he is hysterical! The play is fun, but then I only played the first six courses. By the fifth and sixth courses I was getting a very distinct feeling that for anyone who progresses further, it would be a lot less fun if you don't invest some real-world cash to buy bonuses. I simply refuse to play games that are not a one-time purchase, but rather a money drain that just keeps on going. I also did not like the fact that the options did not include full screen. I hate playing in a little window in the middle of my monitor. Someone should have evened out the sound levels - the voice in the intro is very, very soft, then as you have the volume on your speakers turned up, the music practically rattles your teeth. I tried this since it was a "Sneak Peek", but I would usually never waste my time downloading a game that is anything but "Free to Play". I really wish Big Fish was above getting into this tacky sector of the computer game business.
June 4, 2013
As good as the game gets.
I really enjoy the Fairway golf games, and I enjoyed this "free to play" version, for the most part. I played through three courses. Game play is the same as all of the other Fairway games. The tutorial is good for those who have never played the game. The graphics were clever, the cut scenes were good, and the voice-overs were well done. The game did not give me the option to play full-screen, which was disappointing. The playing screen was adequate, but would have been more enjoyable in full-screen. I never use "real" money on free-to-play games. I did like the "golf bucks" you could use to purchase items like irons - the "wild" clubs you would come across in the regular decks in the other Fairway games. All in all, it was okay - nothing remarkable - just a nice way to kill some time playing solitaire, with a gopher that wants revenge. THAT was fun!
June 4, 2013
Not much different from original Fairway, except more expensive
Let me say that Fairway Solitaire is a great game. The solitaire is challenging but doable, the power ups help make the game more fun. The gopher is hysterical. And I really like the golf commentators. That being said, this version of Fairway is not much different from the original, except they want you to pay money for certain power ups. I think not. Also, there is a deafening surf and wind sound that plagues certain courses. Go to settings and turn off the bird icon, that seems to help. I enjoyed this solitaire but I warn you to be careful which icon you press, you just may be spending money. If you want a fun, golf solitaire, buy the original and give this one a pass.
June 4, 2013
Small screen size
I really enjoy the Fairway golf games, However, it is a shame that you can not make this game go into full screen. I find it very annoying playing this version.
June 5, 2013
Pay for Play?
This game is the exact same game as the Fairways CE game with a few differences. The graphics are improved but the gopher cut scenes & commentator chatter remains the same. Agree with the others that not having the game as a full screen is VERY annoying. The "pay to play" aspect borders on the greedy. At least it's free & you really don't have to spend any real money on the game to play it. If you haven't played any of the other Fairway games I say go for it. The price is right!!
June 5, 2013
The next Fairway Solitaire
This game was ok, my favorite was the first one though. This game is similar to the second in the series, and has a new feature that I found helpful is achieving three stars on each level, you can buy a bag full of clubs as well as getting them throughout the game play. i didn't really care for the video "story" going through the game. Although a couple of the scenes were humorous. This is a good game if you don't want to have to think too hard, or race through timed games.
June 5, 2013
Glitches & gimmicks galore
Good fun with a lot of gimmicks, most of which you must buy, and full of glitches that the other golf game did not have like not giving proper credit with a 30 card shot or the 3 star award etc. I also found it odd that it was very easy to do well on all the holes but you really didn't get rewarded for doing well.
June 29, 2013
Won't Be Buying It
The game itself is fun, but it's not so much fun that I would purchase a game where you have to spend more money to buy extra clubs and rounds. There are some rounds where the background noise was so loud and distracting that I turned off my speakers. I'm really disappointed that BFG would hawk a game that tries to get more money out of its members.
June 28, 2013
If Only....
I have the CE Fairway and love it! I was expecting this to be more of the same only with great new stuff. I'm really struggling with how to rate this one; I can't give it 4 or 5 stars as much as I love the concept of Fairway. I was pleasantly surprised to see a "free"? version so downloaded it and tried it out. Like just about every one else, I was hugely disappointed that it isn't a full screen game! I don't think there are many who enjoy playing their favorite games in a windowed mode in this day of bigger and better, it's a real detractor. The game play is much the same as Fairway, and it is a really great game except for this "free to play" version.... Having to purchase upgrade packs can be expensive and not at all appealing to me...another turn off, I dislike that. So, it's not totally "free".... and that seems a little misleading. It's a way I guess to try out Fairway to see if it's a game you want to keep in your favorites...then purchase the CE which gives plenty of bang for the buck! I'm glad I bought Fairway CE. One price, Once. Great Game.
June 26, 2013
Is it just me ....?
I was so looking forward to this game after having played the first FS over and over. When it appeared I was really happy. Well, I could live with the whole cash for items thing, that is being done everywhere these days (just look at games for mobile phones, they are virtually always free at first ...). Here is a thing though (and that might just be me ...) : why can I not get out of windowed mode to Full Screen ? I looked at the settings and cannot seem to find it. With that my rating drops a good two stars. If Full Screen were achievable itwould be a full house.
June 8, 2013