Silent Scream II: The Bride
Exclusive
Jessica would never imagine that her big day would turn out to be a nightmare; they had an accident and Jonathan McNealy, her husband, is missing. Things just got more and more bizarre when she encountered a mysterious girl who seemed to be leading her to Jonathan. Jessica had a feeling that the girl was connected to Jonathan. Did she cause the car accident in the first place? Return to the abandoned mansion and search for clues in Silent Scream II : The Bride.
Re-playable cut scenes
Engaging Mini-Games
Interactive tutorial
Hints/tips for every puzzle
Twisted storyline
Game System Requirements:
OS:

10.8/10.7/10.6/10.5

CPU:

2.0 GHz (INTEL ONLY)

RAM:

512 MB

Hard Drive:

288 MB
Game Manager System Requirements:
Browser:

Safari 4.0 or later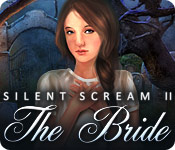 NEW299
The Big Fish Guarantee:
Quality tested and virus free.
No ads, no adware, no spyware.

Reviews at a Glance

Silent Scream II: The Bride
0
out of
5 (
0
Reviews
Review
)
Customer Reviews
Silent Scream II: The Bride
78
78
If you love hidden object scenes... This one's for you!! :)
Very strange things occur during your search for your husband... A very disturbing and thrilling story... 2 modes to choose from. We have a detailed journal, but no map. Together with the inventory we have an objective list. Some items from the inventory have to be combined, before they can be used. A huge amount of HOS! We play all HOS at least twice, but with different items listed. We also find some nice, more or less challenging minigames with the possibility to use hint and skip. I would give this game 3,5 stars, if I could. For me there are too many Hidden Object Scenes in this game... But maybe this is exactly your cup of tea, then give it a try!:)
February 23, 2013
A Game Soon To Be Forgotten!
Before I begin, a quick hello to jquick from NC. I agree, the time zone makes it hard for everyone to write reviews at the same time. I have to compete with Australia and the Far East; nevertheless, I do look forward to reading your reviews. I vaguely recall having played Silent Scream: The Dancer which tells me that it did not leave an impression on me. After having played the demo for The Bride, I can safely say that this suffer the same outcome. The storyline, while having some spooky elements in it, is somewhat familiar and predictable. Needless to say, the ghostly child that pops up quite unexpectedly does provide mild spooky entertainment. On her wedding day, what was suppose to be a perfect day of pure bliss suddenly takes an unusual turn when Jessica finds herself trapped in a car and her groom missing. Well we all know what happens next and we soon find ourselves playing one Hidden Object scene after another while we click away to pick up some inventory items and play some mini-games along the way. I personally did not like the graphics, compared to what we see, this game looks old and rather awkward. There are only two playmodes to choose and the harder mode offers no sparkles, no hints and no skip option. Still, gameplay was relatively easy. Game features a journal and that really is about it. This game should be catagorised as a HOG where you have a series of Hidden Object scenes, back to back which are played more than once and are mildy interactive. There is a mild adventure play that involves basically clicking away to locate your inventory items and some are combined when needed. Although not very challenging, gameplay doesoffer some interesting moments and I found that the story was really the driving force. I am somewhat interested to learn what happened to Jonathan and what is up with the child. As there is a sale on club credits today, I will take advantage of this. HOG fans will no doubt enjoy this game and beginners will enjoy the mild adventure play. Like the first Silent Scream, this will offer a couple of hours of mild entertainment and like its predessesor, will soon belong to a list of games forgotten .
February 23, 2013
Not Inspiring, But Not Bad Either
Story: As the blurb says, Jessica?s trouble starts on her wedding day, with a car accident caused by an apparition, a husband who disappears, leaving her wounded to fend for herself in an unknown forest. Which she does admirably and eventually ends up at her husband?s family mansion, where things really start getting strange! :) The demo took me 45 minutes of relaxed and pleasant play, and in that time I did a heap of slightly interactive HOs, so I?m guessing that the emphasis will be on those. The HOs are exceptionally clear, large and bright, which didn?t stop me needing a hint now and then. As others have mentioned, this doesn?t seem like it will be memorable, but I do believe it will be enjoyable and reasonably interesting. The story for the length of the demo went very slowly admittedly, little actually happened, so it may not be edge-of-your-seat stuff. It will go on my ?punchcard filler? list, which means I?ll buy it eventually. Game is ideal for lovers of HOs who still want some purpose to their seeking. FOR THE RECORD THE ORIGINAL SILENT SCREAM WAS ABSOLUTELY NOTHING LIKE THIS and absolutely awful to play.
February 23, 2013
Hmmm, could have been better
I just finished playing this game. I bought it a couple of months ago and didn't remember much of the comments. So I started playing without an idea of what to expect. I liked the storyline, but thought it was an older game of 2010-2011. Graphics are so-so, voiceovers very strange, only in parts of the game, cutscenes were silent... I thought that to be weird. Loads, and I do mean loads, of HOS, all lists, sometimes an interactive object. Very junkpiley and all visited twice! Puzzles are very well known and really simple, and very far apart. Nothing challenging there. Very little action in the scenes. In some scenes you are just passing through, nothing to do. So what a surprise it was to see this is an 2013 game! In that aspect it's really not up to par! But if you like a relaxing game without much challenge and loads of HOS, this is the game for you. But I do recommend you try before you buy! Enjoy!
December 29, 2013
Didn't Enjoy As Much As First Silent Scream Review Of Completed Game
Well I'll start by saying: If you haven't played the first Silent Scream game well there is no need to do so before playing this one as this stands alone on it's own. This has absolutely nothing to do with the first game so why it's called Silent Scream II is beyond me. There is a journal. Also tells you objectives that need to be completed. There is no map. 2 play modes: Thrill and Nightmare mode. The Thrill mode is what I played. Does have sparkles and black bar tips. The Nightmare mode states no help at all no sparkles, black bar tips, hints or skips. What kept me from playing the Nightmare mode was no hint or skip as I do like that available if needed. Hint is also helpful outside of HOS as it will direct you were to go. Charge up pretty quick. Skip is slow in my opinion taking about a couple of minutes. HOS: Lots of scenes here. More than 20. Sorry I didn't count this time. Usually I do. I did 10 during the hour demo time. There is some interaction here. Also a find so many tomatoes and carrots scene. You also revisit the same scenes at least twice though there are quite a few different locations to go to. You also find different items however some are the same as you found before on the list. Inventory: You do have to combine some items to use them and some are pretty much used right away some not. At times I had quite a few in inventory. Puzzles: Not a whole lot of puzzles to this game and nothing I would call really new from other games. Game length: Just about 4 hours. May be more or less for you. My overall impression: I thought the graphics were quite nice, crisp and clear however I wish the developer would of stuck with the hand painted cartoon/hand drawn like in the first game. I really liked those. Voice overs not bad but not great. Jessica I found a little annoying. I'll also say the game play was much more user friendly I guess you'd call it than the first Silent Scream as you're able to pick up items and not have to wait until they are needed like in the first game. I did find the sparkles a bit overkill in this game. I just wish all developers would give a hint/skip button and let the game player decide when/if they need it. This game also could of used a map in my opinion as I did get hung up a couple of times where to go/do next. The HOS no problem here as I located most of them pretty easily and this part of the game moved right along. Only a couple of hints cause the items were towards the edge of the screen. Some may consider this Sanford & Son junkyard pile however I don't. The puzzles I did them all but 2. I could of did without the "trap the rat" and the bug puzzle. I found these downright annoying especially the rat since I do have a rat/mice phobia. I couldn't skip this one fast enough. The story line itself I had no problem with though yes it's been done before however as I moved along just didn't make much sense to me. Also no where near as eerie as the first Silent Scream. I honestly couldn't wait for it to be over and 4 hours was definitely long enough for me. I kept hoping it would get better but for me no it didn't. I would only recommend it at the Daily Deal/Catch of the Week $2.99 or if you have a punch card coupon code that is about ready to expire is how I purchased this game - a punch card coupon. Thanks Big Fish and Developer. Overall 3 stars from me. Not a horrible game but not great in my opinion. I enjoyed the first Silent Scream game much more than this one. As always, definitely give it a whirl and decide for yourself.
February 23, 2013
Same story, different day...
Well, I don't remember the first game and since I don't have it in my "collection," I must not have cared for it. This game isn't bad, not exceptional, but not bad. Graphics were a bit fuzzy and very choppy, cartoon like movements. Game play was nice, but could have moved a little faster. Music was very annoying very quickly (this is why I turn down the music in the beginning, so I only hear it as a light background sound). Voice overs nice, but very few and far between. Hint button not bad and fills fairly quickly. HOGs very simple and a bit messy, but easy to find items (who puts dog food and seashells in their bathroom cabinet?). Games typical, but skip button is extremely slow to fill (can't stand the "move this from this side to that side" game). There is a lot of unnecessary running back and forth for one item. Saw what others were talking about with the rat, but you don't know that it was killed. I choose to think he got away...even though I hate rats! This game is not challenging at all for a seasoned gamer, but would be nice for a beginner, or someone who just wants a "ho-hum" game for a change, which I do occasionally, and this is the only reason I am recommending this game. For what it is, this is not a bad game and since I have a pile of credits to get rid of, I will use one for this game. As always, try it for yourself and see what you think. We all have different tastes in games and you may find it completely to your liking. Thanks for the reviews.
February 23, 2013
Yawn!
This game is boring, Thought the story would be better-too many unanswered questions. Graphics pretty good, HOS good but sooo many. Ending was a big disappointment.
May 5, 2013
Disappointing
First of all, this is in no way related to the first Silent Scream which I really enjoyed. In some ways this game is better but although the graphics may have improved I preferred the old animation. The story is a little dark but doesn't have the great creepiness the other had. There are lots of areas to explore but often there is nothing of interest in a room. What a waste of space. Mostly you do lots of HOS to find items to use in you environment with a few simple puzzles. There is no map. The Hint button helps with navigation. That I like. The back and forth isn't nearly as bad as some. I found the story started slow but it began to pick up in time for it to be over. Overall I did have fun playing. I waited for this sequel but I'm afraid it disappoints.
April 3, 2013
Way too short
First, the good: Lovely scenes and HOS's. Pretty okay puzzles, and a good storyline. Good effects. Sadly, the scenes were not fully used, and other than HO's and a very few places where you get to use something to complete a scene, most of it was wasted. Very short game. I would NOT have spent my money on this had I known how little enjoyment I would get from it.
March 4, 2013
Piercing Scream of Irritation
Remember the first Silent Scream? I do, I played it a couple of times just for the great graphics. Now put it from your mind because the first part of the title is the only thing these screams have in common. The graphics here have been dragged through sludge--probably in the opening obligatory car wreck--then run over several times to get that flattened, grainy effect beloved of gamers. That would be forgivable if not for hidden object scenes in which objects have been cleverly hidden mostly off the screen and a couple of minigames I like to call no fun at all coupled with enough time to take a shower and make coffee before the skip button is ready. The story may turn out to be intriguing, but the demo ends just as it promises to get interesting and by that time I was terrified there might be lurking in the depths of the mansion a minigame waiting to suck more fun out of my life.
February 23, 2013
The Apple logo is a trademark of Apple Computer, Inc.
The Windows logo is a trademark of Microsoft, Inc.