Love Chronicles: Salvation Collector's Edition
Exclusive
The evil Alura is back and this time she's attacking your homeland! You've got the chance to undo her fate, but can the witch be redeemed? Behind her evil is the one who caused it all – a dark lord by the name of Zander. Stop him and undo the damage he dealt to Alura's restless spirit!

This is a special Collector's Edition release full of exclusive extras you won't find in the standard version. As a bonus, Collector's Edition purchases count toward three stamps on your Monthly Game Club Punch Card!

The Collector's Edition includes:
Play the bonus game to uncover more secrets
Download soundtracks, wallpapers, screensavers and concept art
Integrated Strategy Guide
Game System Requirements:
OS:

Windows XP/Windows Vista/Windows 7/Windows 8

CPU:

1.4 GHz

RAM:

1024 MB

DirectX:

9.0

Hard Drive:

849 MB
Game Manager System Requirements:
Browser:

Internet Explorer 7 or later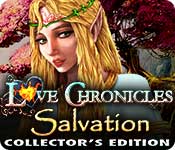 The Big Fish Guarantee:
Quality tested and virus free.
No ads, no adware, no spyware.

Reviews at a Glance

Love Chronicles: Salvation Collector's Edition
0
out of
5 (
0
Reviews
Review
)
Customer Reviews
Love Chronicles: Salvation Collector's Edition
47
47
What a great game!
First of all, the graphics and voiceovers were amazing. The colors were incredibly bright and combined with the effects going on around you at the same time made the overall experience great. The hint button regenerated in a rather different way than we are all used to and that can prove difficult. The storyline was so incredible! This is a game, however, I would only recommend for the more experienced intermediate and expert players. But give the Free Trial a whirl, that's why it's there. I can't say more because it was so difficult that I really didn't get as far as I'd like. But it's truly a great ending to the series.
May 25, 2013
Thoroughly enjoyable, lovely graphics & music, relaxed gameplay
TITLE Love Chronicles: Salvation Collector's Edition full game (about 5 hours) bonus adventure (a little over an hour) DEVELOPER Vendel Games produced by Big Fish Games GENRE Interactive Hidden Object Puzzle Adventure good v evil fairy tale STORY Finally, after saving two kingdoms from the dastardly doings of the evil Alura, you're on your way home. But it's not over yet! She's attacking your kingdom now! Lucio, the good wizard, sends you back in time to prevent the dark wizard Zander from turning Alura's heart to the dark side, thus preventing the attack on your kingdom. And, presumably, on the kingdoms you already saved. I know?time travel is so confusing. Bonus Adventure: You and Alura return to your kingdom, but the backlash from Zander's evil has turned Lucio to stone. Travel to the Elf Kingdom to save him. GAMEPLAY Inventory-driven adventure with iHOs, puzzles, and mini-games. The iHOs are of three types: (1) List, and a few items are interactive, (2) Sequential Silhouette, where you find items and use them in the scene, and (3) FROG Silhouette. There are a LOT of iHOs, but the graphics are so beautiful and the music so relaxing that even I, who normally detest HO-heavy games, enjoyed them. Puzzles and mini-games are mostly familiar and range from simple to difficult, a nice mix. INTERFACE ? Map - shows active areas and transports ? Journal - gathers clues and tracks storyline ? Hint - identifies object in iHOs ? Black Bar Tips - gives clues in casual mode ? Other - jewelry chest holds amulets EXTRAS ? Collectibles ? Achievements ? Morphing Objects ? Bonus Adventure ? Replay Puzzles ? Replay Hidden Object Scenes ? Strategy Guide ? Wallpapers ? Screen Savers ? Concept Art ? Music SETTINGS ? Sound Effects Volume ? Music Volume ? Voiceover Volume ? Fullscreen ? Widescreen ? Aspect Ratio ? Custom Cursor ? Toggle Active Area Sparkles ? Toggle Navigation Sparkles 3 Difficulty Modes GRAPHICS & ANIMATION The graphics are just lovely. Beautiful use of color, light and shadow, perspective, and texture to create scenes both enchanting and terrifying. Both in-game and cutscene animations are smooth and lip-synching is quite well done. MUSIC & SOUND & VOICEOVERS The music?ah, the music. It's ethereal and ambient and everything game music should be, and it adds greatly to the player's immersion. Game sounds are appropriate, short, and non-intrusive. Ambient sounds are well done. Voiceovers are excellent. Really, the audio team deserves an award. CONCLUSION I highly recommend Salvation. It's a departure from the previous two in the Love Chronicles series, but well worth it. For those who prefer to wait for the SE, the main game does end conclusively, and the CE does not have the bells and whistles most fishies expect, like morphing objects. However, I thought it was worth it for the bonus adventure and music alone.
June 18, 2013
WE MUST SAVE ALURA!
Not a bad game, beautiful fantasy graphics, soothing music and a good continuing saga story. The only problem I have with this game is holy cow how do you catch those fireflies? The HOS are interactive and they are a mixture of list finds, fragmented piece finds and find 10 feathers etc. I really enjoyed the puzzles they were just the right difficulty and some old some new, I liked the orbs you had to turn to connect them to the center piece so that all of them were lit. Some of the items you come across took a little bit to figure out such as the stove top where you put in the correct element and then you had to turn the handle but most of the items are easy to figure out what and where they go. Certainly worth a credit. Enjoy!
May 29, 2013
Very attractive, entertaining and ungrim
Despite the series title (which is off-putting), this latest entry is really very good. Lots to explore and do with a goodly number of HOS. The mini-games vary wildly between perfectly straightforward to "hmm, not sure what to do here". Graphics charmed me and the storyline is engaging, rather than intrusively sentimental. The plot is satisfying and has an appealing twist at the end. I have played and enjoyed the other two episodes, but this stands alone quite happily. Transporter map is helpful, although it does occasionally insist there is something to do when there isn't. I'm not sorry to have purchased the CE, but in honesty, although I enjoyed the bonus chapter, it doesn't really fill the bill as far as bells and whistles go. Not a huge amount of replay value, unless you enjoyed the story enough - which I did, but that may not be enough for some of you. My quibble is that there are some odd mis-labels in the HOS scenes (please note, a Sunflower and a Snowdrop are not that much alike). Also "figure" is unhelpful in the extreme, particularly in a scene containing many, many items that could be regarded as a figure. Resorting to hint and finding they meant a chess piece was irritating. That aside, this is a thoroughly enjoyable game. I recommend, but would suggest waiting for the SE unless you regard a bonus chapter as enough reward. Do note that the bonus chapter is not needed to end the story conclusively and well.
May 27, 2013
WHERE'S THE LOVE?
A prince returns to his kingdom to find it has been ruined by an evil witch and must travel back in time to stop a young girl from becoming that witch. GOOD: Clever and somewhat involved ways to trigger HOS Heavy on 3 types of HOS: interactive; fragment and putting objects back into the scene Nicely done fun puzzles with good graphics, but they take a backseat to the HOS Unintrusive new-age music Good-looking graphics of different types from hand-drawn to 3D (or is it 2D?) Whimsical characters, particularly animals Items are in the past that did not exist at the time Interactive map NOT SO GOOD: CE has few worthwhile extras ? only a bonus chapter, music tracks and artwork. Title is a misnomer ? there is no romance. Storyline has been done before several times and isn?t the most cohesive. SUMMARY: go with the SE.
November 7, 2013
Enchanting fairytale type game
This game will please all those liking fairytale stories as it has all the right ingredients in it. 3 game modes, lovely fairytalish graphics, good voice overs, fight of good against evil. The mini games are fun and not too hard to figure out with the skip button activating pretty quickly, the HOS a little different than the usual type. Good map and diary. The fun bit for me was trying to catch the fireflies in order to recharge the hint button.
May 25, 2013
Review of completed Game CE
Enjoyed the game! Like the fact it was fairy tale and not vampires, wolves or monsters lol. The game did keep me wanting to go on and see what happens next. Art was nice, liked the story line, music was nice.. Map was ok, wish it was interactive. No journal. Did not give a good explanation of some of the items you collected that made the hint button fill faster. You do not need the bonus chapter to finish the story line. Bonus features are ok, Bonus chapter has different story, but same concept as main game. I bought this on buy one get one that is why I bought the CE. IF the promo was not available I would recommend waiting for the SE.
May 26, 2013
Not exceptional, but nice...
Got the first two LC games and really liked them. This one is pretty much the same as far as graphics and game play (nice). Games are simple. A lot of cut scenes, but you can click through them. You spend a lot of time and good shoe leather running back and forth quite a lot. I liked the mixture of HOGs (silhouettes...too many, list of objects and "put item back"), but the color was a bit washed out and some items difficult to see. Gets frustrating when you find an object but can't pick it up until you find something else first. I like a challenge, but not when it becomes frustrating and "not so much fun anymore." Music not bad. Hint system nice, fills fairly quickly, but I did not care for the catching of the fireflies. They aren't that difficult to catch, just seemed like an useless step since the hint fills anyway. The fireflies just make it fill faster. Map wasn't bad, at least it was a jump..good thing since you ran around in circles quite a lot. This was a somewhat challenging game, nothing extra or special. It did not make me want to run out and get it as soon as the demo ended. I would hope that this is the end of this series. As I have said numerous times, I am trying not to buy CE games, unless there is a real hot special. That said, since it is buy one get one free, I will get this game to add to my collection, along with the Dark Parables CE I passed on earlier this week. As always, try it for yourself and see what you think. We all have different tastes in games and you may not care for this one at all. Thanks for the reviews.
May 25, 2013
Thoughtful
First a tip of the cap to a couple of reviewers who spoke my mind: "purring ginger kitty folks", "Sanford and Son junkpile" (nice analogy), and to Reviewer Nilosh, who wondered rather forlornly at the quality of today's CE's. Caused me to pause and think - yes, CE's should be more than just the "standard" stop-drop-and-roll of wallpapers, music, concept art, and (sometimes anemic) bonus play, though that was not the case in this game. Having said that, I purchased the CE (heh) and I found it quite delightful. I loved the colors - they did fine on my compy and weren't "washed out". I was especially taken with the colorful animals and attention to detail. Extremely creative and well thought out. It is clear that the developers took some time with this offering. Game play itself was fine. Very smooth, no hiccups, and the music was gorgeous. The best I've heard in quite some time. For the reviewer who wanted to hear about what others thought of the end of the game: The end of the main game was done well. I wasn't left hanging and *having* to go to the BC to find out what happened (I don't like that either). Concerning the BC, I thought the story direction itself was quite good, however, I found it to be a bit short and the end to be a little abrupt (I would have liked to have freed my friend myself). I was a little sad that they wrapped all the loose ends up and handed me the package. Less programming that way, though.... By the way, I noticed that someone forgot to translate a direction - it was still in...Russian? Forgive me, I have a hard enough time with Englsh! :oD It had to do with getting into a door I believe and when you click on it to see what you needed to open it, the explaining text appeared in ...err...that other language. That only happened once, and I figured out I needed some sort of amulet or something to get the door to open. ;o) Overall, this game was very good and I am glad that I purchased it. This set of reviews, though, is quite thought provoking and I hope that all developers take note.
May 27, 2013
A nice game
A nice fairytale game. Good graphics, mixed Hos and okay puzzles. What let the game down for me was firstly that I had to uninstall and reinstall 4 times at various intervals because the game kept freezing and secondly that the bonus chapter was pretty short and filled out with as many Hos as you found in the whole of the main game (prob not..but seemed that way!). Therefore....4 stars overall.
June 2, 2013
The Apple logo is a trademark of Apple Computer, Inc.