Love Chronicles: Salvation Collector's Edition
Exclusive
The evil Alura is back and this time she's attacking your homeland! You've got the chance to undo her fate, but can the witch be redeemed? Behind her evil is the one who caused it all – a dark lord by the name of Zander. Stop him and undo the damage he dealt to Alura's restless spirit!

This is a special Collector's Edition release full of exclusive extras you won't find in the standard version. As a bonus, Collector's Edition purchases count toward three stamps on your Monthly Game Club Punch Card!

The Collector's Edition includes:
Play the bonus game to uncover more secrets
Download soundtracks, wallpapers, screensavers and concept art
Integrated Strategy Guide
Game System Requirements:
OS:

Windows XP/Windows Vista/Windows 7/Windows 8

CPU:

1.4 GHz

RAM:

1024 MB

DirectX:

9.0

Hard Drive:

849 MB
Game Manager System Requirements:
Browser:

Internet Explorer 7 or later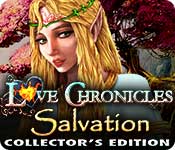 The Big Fish Guarantee:
Quality tested and virus free.
No ads, no adware, no spyware.

Reviews at a Glance

Love Chronicles: Salvation Collector's Edition
0
out of
5 (
0
Reviews
Review
)
Customer Reviews
Love Chronicles: Salvation Collector's Edition
46
46
At Long Last The Prince Returns
After years of fighting the evil witch Alura, you return home to find that she has also devastated your lands as well. Now you must find a way to put an end to her evil for all time. There are 3 modes of gameplay ? casual, advanced and hard. The game opened automatically in widescreen on my Windows8 laptop. The graphics are good as are the voiceovers and musical score for the game. I love games with colorful graphics that add to my enjoyment of a game, and this game certainly has plenty of color although it is not over the top, which is good. Even though some scenes appear misty, overall the graphics are still very nice. You have a diary located on the bottom right and an icon for the interactive map on the left but you can also access the map in the diary. I think the developer has included every type of HOS possible so they are varied. We also have mini puzzle that are not too difficult but some seem frustrating because they are spin this and then something else moves. Quite frankly, those are not my favorite type of mini puzzle so fortunately they are not all like that. As far as CE content goes we have a bonus game and a strategy guide along with a bunch of useless extras, so many of you might want to wait for the SE. IMHO, having a strategy guide is nice but not something I use unless I am extremely stuck. There are no achievements or morphing objects. I purchased the CE only because there was a sale this weekend. It is a nice game but IMHO, not really worthy of being a CE. If you don?t want or expect too much in a CE game, it is still a very nice game.
May 26, 2013
Enjoyable!!!
I did the trail period. So, really wasn't sure if, it would be a purchase for me. There are curtain things I look for in a game. I am always looking, for awesome. Sometime I purchase then, I am sorry because of the trail. So, this is that kind of game.
May 25, 2013
Nice Ending to Trilogy
Well, I wouldn't pay for the Collector's Edition, but I did like the game. Though, wowza, was that dark.
May 31, 2013
WHERE'S THE LOVE?
A prince returns to his kingdom to find it has been ruined by an evil witch and must travel back in time to stop a young girl from becoming that witch. GOOD: Clever and somewhat involved ways to trigger HOS Heavy on 3 types of HOS: interactive; fragment and putting objects back into the scene Nicely done fun puzzles with good graphics, but they take a backseat to the HOS Unintrusive new-age music Good-looking graphics of different types from hand-drawn to 3D (or is it 2D?) Whimsical characters, particularly animals Items are in the past that did not exist at the time Interactive map NOT SO GOOD: CE has few worthwhile extras ? only a bonus chapter, music tracks and artwork. Title is a misnomer ? there is no romance. Storyline has been done before several times and isn?t the most cohesive. SUMMARY: go with the SE.
November 7, 2013
Could Have Been Much Better
Another favorite series brings us the third chapter of Love Chronicles where evil Alura is back with a vegence. After years of battling the forces of evil (game one and two), our handsome Prince returns home only to find his Kingdom under attack by Alura. Our Prince has only one chance to stop her and for that he must travel to the past and change her fate by stopping a dark lord by the name of Zander who is responsible for transforming Alura over to the dark side. At first glance I was terribly disappointed with the sounds and visuals, Graphics are washed out and blurred, especially the cut scenes. The Main menu offers three play modes and game features include voice-overs, a journal and a map that allows you to travel to areas of interests. What I did like about this third installment is that it offers an interesting adventure gameplay along with Hidden object scenes that vary in style and mini-games that are entertaining and somewhat challenging. There are three types of HO scenes that I have came across during the trial: interactive, using one object on another and reverse where you place objects back into the scene; all very clever and some even challenging which made this game fun. Adventure includes collecting inventory objects, whisking up potions and finding jewels for your box of amulets required to free Alura. Mini games were well conceptualized and relatively easy to solve. Alas, there were no extras like collectable, MOs or achievements which was a let down for me. Along with the substandard Graphics, I find myself torn as whether this third chapter is in actuality worth a CE price tag. I have enjoyed the series so far and feeling somewhat dismayed, the inventive HO scenes and the storyline just do not tempt me enough to rush out and buy it unless I take advatage of the sale today. Just to share a thought, as a game reviewer, I usually base all my ratings on my own personal likes and dislikes and try to uphold a certain set of standards when rating a game. At times, I am unpopular and I suppose I will be amongst a minority of gamers who may think the same. lately I feel I am forced to drop my standards when rating games. Once upon a time, my expectations from a CE game were high and a 5 star rating involved top notch graphics, great sound and visual effects, intricate storylines that evoked an emotional response to characters and held my attention for the duration of the game, game mechanics that presented me with some challenge and a desire to replay the game because I just simply loved it. HOPA games are a personal favorite of mine and I do love adventures where I require the use of some analytical skills to solve as well as HO scenes that are creative and fun to play. Mini-games should be interesting and entertaining as well not to mention challenging just to prolong the overall gaming experience. However lately, I sense that game developers have also dropped their own standards and are producing CE games that to me, look like glorified Standard Edition games. I am perplexed that many game reviewers are awarding 5 stars to games that are not up to former standards that we were once familiar with. It use to be the CE games meant more that 6 hours of game play and offered us more that just wallpapers and screensavers. To be honest, this game is not worth 5 stars nor is it worth a CE price tag. It could have been much better and could have offered more than just 5 chapters and a bonus game. The graphics could have been sharper and cut scenes could have been clearer. Voice overs could have been more animated and the technical aplications could have been more up to date. Over all I do not give this game a 5 star and even a 4 is a bit of a reach. However I will recomend it merely because it does offer a an entertaining gaming experience and is what I think, the final chapter to our story. It really comes down to your own budget. I myself will either take advatage of the sale or wait for the SE version to come out.
May 25, 2013
Not worthy to be called a "CE"
Typical fairy tale game. Colors and graphics appeared washed out. Puzzles were not very challenging at all. Interesting were the 3 different types of HOS I came across. I believe they were this games saving grace along with some adventure. I must agree with reviewer Nilosh. I do not believe that every new game that comes out deserves 5 star ratings. This game in particular, for a CE, offered little bonus game play, no collectibles, and was short for a CE offering. A 5 star game, to me, is one that knocks me off my feet, is lengthy, offers a decent amount of bonus gameplay, and collectibles. I believe as frequent 5 star ratings increase amongst reviewers, developers are putting less effort into games. The puzzles should be challenging and the game should offer some sort of usage of the grey cells. Sadly, this game falls very short. To me, it is just another cookie cutter game and by no means rates 5 stars.
May 25, 2013
Not my favorite game
Well, I thought I would like this one, and I do like the artwork, and colorful backgrounds to. But the game falls short by a lot! First - I HATE the strategy guide! I only needed it a few times, thank goodness, because it was just awful to get to - menu-extras-strategy guide - chapters etc. Come on, put the darn thing on the main page! The story wasn't very interesting either - it was a sort of mixed up fairly tale that really didn't work. And, it was a disappointment as a CE - really nothing to grab you with - no achievements, and really irritating music - I kept trying to turn it down, and it would still be VERY loud! I'm sure some will like this,but I wished I just passed it by or waited for the SE. That is really what your getting here in mho anyway.
June 6, 2013
A Very Good Game However Not CE Worthy - Review Based On Hour Demo
Story: You take on the role of a prince on a mission to save the witch and to take back your homeland. This game has 5 chapters plus the Bonus chapter. There are 3 gameplay modes: Casual, Advanced, Hard. You can change at any time during the game. I played the hard mode. There is voice-over. There is widescreen at least for me. No problem filling my 20 inch monitor. There is a journal. Transporter map that shows where you are and where there are things to do. CE extras: Strategy Guide: I didn't use it but checked it out and stays where you last left it. There's also wallpapers and sound tracks. HOS: There's a bit going on here. Some found by word list or silhouette, placing some back into the scene, find so many of an item along with some interaction to them. Puzzles: The usual run of the mill found in many games as I didn't come across anything new here. Hint/Skip: Since I played the harder mode slow on charge up. I only used it twice for the HOS. No comment on its helpfulness outside of HOS since I didn't use it for this part. I also didn't skip any of the puzzles. My overall impression: I have not played the others in this series, but had no trouble following the plot. It was obvious I was missing some back story, but didn't feel like I needed to play the others in this series to follow along. The graphics to this game I found to be just beautifully done. I also liked the characters and thought the voice overs were very good. I had no problem with them. The story line is also good. I thought the game what I've played of it had a nice balance of HOS which I found to be very well done as I didn't find them to be Sanford & Son junkyard piles, puzzles and adventure (traveling back/forth). I also had no problem with the map mentioned in some reviews. For playing this in the hard mode however too easy as there are some black bar tips telling you what you need to do. I didn't come across any sparkles however. Overall 3 stars from me. While this is a good game but since this is a collectors edition and I'm paying twice as much well I expect all the bells and whistles with it so to speak like the collectibles, achievements, morphing objects, etc. This definitely would of made the game even more interesting. Should be there for a CE as I hold CE versions to a higher standard than SE games and my reason I deducted 2 stars and rated it 3 stars. Thanks Big Fish and developer but I won't be buying the CE. I'll await the SE version plus I'd like to see if the SE is actually the complete story cause I won't support buying the CE and the so called bonus chapter be to "get the rest of the story." The bonus chapter I expect to be that a "bonus" chapter. As always definitely give it a whirl and decide for yourself.
May 26, 2013
Polished SE, but poor CE
I wholeheartedly support those reviewers, who suggest putting off the purchase till SE. I do not think this installment is worth the CE price. Well, I am not being down on the game. I am suggesting that lately CEs give up quality and challenge to quantity, thus losing a bit on the users. Anyway the game itself is very much enjoyable. I am a huge HOS lover, and Love Chronicles boasts a variety of them: silhouette, interactive and reverse type. Mini-games were less challenging, anyway inventive and fun to play. The hint system works perfect and fast, useful outside HOS. The music and voice overs were professionally done, supported the general impression of the game, and were not intrusive or repetitive. I adored the graphics of the game: amazing artwork and very clear colors. Unfortunately there are no achievements and no collectibles within the game (my favorite feature in CEs). The level of challenge did not leave up to my expectations, even in the hardest mode. To sum up, I will recommend the game to the fans of the series or those who don?t care about the great challenge.
June 22, 2013
not my style
It has all the bells and whistles that earn oohs and aahs in most reviews, but for me just too over the top with gimmicks and tiny hos interactives to keep me interested in overall story or gameplay. Just gets tedious and uninteresting. Didn't even bother to finish the demo.
May 25, 2013
The Apple logo is a trademark of Apple Computer, Inc.