Reveries: Sisterly Love Collector's Edition
Exclusive
Celebrate ERS Game Studios' 50th game with Big Fish by taking a journey to a magical world!

Save your twin from a nefarious witch in Reveries: Sisterly Love! In order to save your life, your sister, Monica, traded her soul to a witch. You watched helplessly as Monica grew old before your very eyes and then disappeared through a strange mirror. But you're not feeling so helpless anymore! Monica's sacrifice has given you the strength to venture through the looking glass to rescue your twin. Can you defeat the villainess and save Monica before her soul is lost forever? Find out as you journey through a whimsical fantasy world in this exciting Hidden Object adventure!

This is a special Collector's Edition release full of exclusive extras you won't find in the standard version. As a bonus, Collector's Edition purchases count toward three stamps on your Monthly Game Club Punch Card!

The Collector's Edition includes:
Bonus game revealing Dreamland's new villain!
Beautiful wallpapers and concept art
Music tracks and screensavers
Integrated strategy guide
Game System Requirements:
OS:

10.8/10.7/10.6/10.5

CPU:

1.6 GHz (INTEL ONLY)

RAM:

1024 MB

Hard Drive:

851 MB
Game Manager System Requirements:
Browser:

Safari 4.0 or later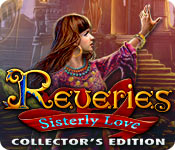 The Big Fish Guarantee:
Quality tested and virus free.
No ads, no adware, no spyware.

Reviews at a Glance

Reveries: Sisterly Love Collector's Edition
0
out of
5 (
0
Reviews
Review
)
Customer Reviews
Reveries: Sisterly Love Collector's Edition
73
73
GREAT HIDDEN OBJECT GAME
This game has ALL the Quality and fun you would want out of a hidden object game. I loved it.
May 30, 2013
Very fun game!!
I liked every thing about this game! Congrats to ERF!!
May 31, 2013
it was a very good game i enjoyed it very much
the scenes was great and the chacters in it was great it was a realley fun game
May 30, 2013
My Perfect Game
Beautiful graphics, funny characters. Hidden object scenes with a difference, not just find the object. I really enjoyed this games and can't wait for the next one.
February 25, 2014
HAS IT ALL
Wonderful storyline of saving your sister. Meet fabulously unique characters in a fantasy dreamland. Graphics and music are very good and voice overs are exceptional. Interactive map, showing which locations have been completed and which have outstanding activities. Logical fairly straightforward gameplay - experienced players could probably play without the strategy guide. Game seems to have it all. Lots of extras in the CE including ability to replay HOS and minigames, concept art (always interesting). Achievements. Collect golden nuts for "fortune cookie" sayings. 3 modes of play. Very well put together. Didn't give it 5 stars because I think there is something missing in the graphics that didn't grab me (which, given the rest of the game, I would expect to be more glamorous-looking).
May 30, 2013
Where is my Twin???
Your sister has sold her soul and youth to the wicked witch to cure you of your sickness. Now that you are all better, you hop out of your sick bed to find your sister. This is a brightly colored fairy tale game. There are achievements galore, bonus play, wallpaper, collectibles in the form of golden nuts, etc. Very nice for a CE. The puzzles I came across in the demo were simplistic. HOS are different... find items that go together, silhouette. You receive an amulet to collect powers to help fight evil fog, etc. The hint, in casual, recharges quickly. There is a map, but I did not use it. You also have a journal. Apparently ERS is celebrating their 50th game. Kudos to them :) You also collect or meet cute little animals. Some you keep to help you, others you help and they leave. I am rating this game on the game itself. It is bright, cute music, cute animals, a typical fairy tale. Personally, I'm not a big fan of fairy tales or games by this developer. Besides for the HOS, which are different, you can insert different characters and basically have the same game over and over. But again, that's just my opinion. If you are a fan of fairy tales and talking animals, etc, I recommend this game. My forte are the dark, scary, mysterious games. Enjoy :)))
May 30, 2013
You try to rescue you twin sister who gave her soul to save you
Played nearly the whole demo, casual - 3 modes, casual, advanced, hard, you can swap from one to another while playing - ERS game - Voice overs - Integrated SG, bottom left of your screen which only shows 2 chapters in the sample - Diary bottom left of your Screen - Interactive map, included in the diary, it's sometimes better not to use it straight away to change places as you can miss an action... (for me, missed the wolf cub) - Shortly after playing, you get an amulet with the 4 elements, you get them as you meet people in the game, you find it bottom left of your screen - Through out the game you find fortune cookies (which in fact are nuts), you get a casket for them, bottom right of your screen - You get different achievements for performing actions, they can be seen top left of your screen - Hint is a ballerina which you get shortly after starting the game, it's useful outside H0. refills quickly casual - H0, you have to find related pairs, or silhouettes, you then have to put the item back into the scene - Min games not over difficult up to what I played - There are animals all over the place, some of them go in your inventory and help you in tricky situations - Skip button fills quickly casual - Good graphics -- Extras : Wallpapers, concept art, screen saver, H0, mini games, movies, music, calendar Your twin sister is very ill, to save her, you give your soul to an evil witch, Your sister then follows the witch through a mirror to try and rescue you. Lots of animals, a rather sugary Prince, a very funny dwarf (he saved the game for me !). I played the beta a while ago and wasn't over thrilled, that's why I played nearly the whole demo to give the game a fair chance. I'm still not too keen.....
May 30, 2013
FAST PACED FUN & HARPIES GALORE
BASED ON COMPLETED GAME + BONUS CHAPTER, in Advanced, 2nd of 3 modes. At start we are told the Bunny (ERS) is celebrating their 50th game with "Reveries". This game is beautifully designed and implemented with a fantasy-fairy-tale kingdom motif. The lush and ornate artwork combined with top-notch, beautifully rendered graphics make for some truly great sight-seeing. In the MAIN GAME, the player plunges through the portal-looking glass into a fairy-tale kingdom to rescue her sister from a youth sucking witch. The BONUS CHAPTER was lengthy, a very fitting continuation of the main storyline, and retained the quality, attention to detail, and fun-factor on high until the very end. This is the best BONUS PLAY I have come across. The creatures were terrific, with IMHO the BEST HARPIES to be found anywhere. Yikes! Imagine one of those feathery and furious beasties in your face before that first cup of coffee in the morning! For me the game started slowly and when early on I came across a dazzling scene bordering on the gaudy (heavily bejeweled pathway, choked with flowers and greenery) that I feared the worst. Was this going to be one of those fantasy games that oozes into being about sticky-syrupy cuteness? --NOPE. False Alarm on all fronts. After the initial scenes, the sparkling primary colors splashed everywhere gets toned down to the beautiful while at the same time the pace of the game starts hopping. Each scene is packed with a lot to see, do, and find which made me glad for the jump map as I needed to back track from time to time retrieving overlooked items. There was a lot of VARIETY and FRESHNESS in the beautifully designed HOS and MINI-GAMES. The HOS included interactive list and progressive-silhouette. The MINI-GAMES were well integrated with the theme. Some I had seen before, some were new, but all cleverly designed, fun to play, and for the most part pretty easy. COLLECTIBLES were in the form of Golden Fortune-Telling Walnuts that can reviewed at any point. However, the standout for me was in presentation of the achievements. The ACHIEVEMENTS were accessible at any time showing a sapphire colored globe as a dance floor with each award a highly stylized Art Deco period woman in dramatic pose or a dancing couple. This was really lovely and unique. Dislikes were few ? Applying objects from inventory was at times all about location, location, location. It could prove aggravating getting the cursor in jjjjuuussssttttt the right place so the item is accepted. Sigh. Nice to haves would include ability to customize game mode in order to turn off black bar hints, and confine sprinkles Another nicety would be no distracting drop downs congratulating me for completing a portion of the game successfully. These would have made for a 5 star game.
June 10, 2013
ERS is back in the game! Reveries is dreamy!
TITLE Reveries: Sisterly Love Collector's Edition full game + bonus adventure DEVELOPER ERS Game Studios produced by Big Fish Games GENRE Interactive Hidden Object Puzzle Adventure fantasy meets reality STORY Your twin sister Monica traded her soul and her youth to a witch in order to save your life. Now you must journey through the looking glass to rescue her and free an alternate universe from the witch's iron rule. (Bonus Adventure: One of the witch's minions is attempting to take over the fantasy realm through the dreams of its inhabitants. It's up to you to fulfill their dreams and stop her.) GAMEPLAY Standard point 'n' click, inventory-driven adventure interspersed with iHOs, puzzles, and mini-games. The iHOs include list and serial silhouette. Many of the puzzles and mini-games are new, and those that are not have been presented in new ways. INTERFACE The map show where you have objectives and is a jump map. Your journal records your adventure. I can't speak to the hint function outside the iHOs, as I use the SG when I'm stuck. The SG is not real time, but is divided into chapters. My only complaint is that the map is inside the journal, requiring an unnecessary and annoying step. EXTRAS Collect 24 golden fortune nuts during the main game. The bonus adventure is lengthy and involved, not a mere throwaway. You can replay both the mini-games and the iHOs. And there are the standard offerings of wallpapers, art, music, etc. SETTINGS Three difficulty levels. Music, ambient sound, and voiceover volumes can be set separately. Full and wide screen settings, as well as custom cursor are available. GRAPHICS & ANIMATION We asked; they answered. Both graphics and animation have been stepped up quite a bit. No more washed out pastels and blurred outlines. Instead, we have lovely bright colors and crisp lines?with a touch of blurring that hints to depth of field nicely. Animation of characters is well done and adds to the immersion. MUSIC & SOUND & VOICEOVERS Finally, that one composition we've been tortured with is gone! Hopefully, it's been buried in an unmarked grave, and the ground salted! Instead, we have more ambient music that is non-intrusive and totally appropriate. Both game and environmental sounds were good, and voiceovers were excellent. CONCLUSION ERS has stepped up its game! From storyline to graphics to music to gameplay, each and every area of development has improve drastically in the last few games I've bought from them, and Reveries is no exception. This is a thoroughly enjoyable game in all aspects, and I recommend it.
June 6, 2013
Stunning CE Worth Every Extra Cent! (Full Rating 4.5)
This is ERS? 50th Game and can almost be considered the greatest one. I really enjoyed every minute of the demo and am seriously considering playing on! The storyline is one of the most gripping, yet cutest, storyline I have ever seen. It?s Narnia meets Once Upon A Time, and you earn a lot of animal helpers on the way. The main story centres around an evil witch, who has taken your sister after she sacrifices her soul to save you. You, of course, are having none of it and are desperate to get your sister back. This to me promises a brilliant ending, a showdown between the witch and you to get your sister back, and I can?t wait to see our heroine take down the evil witch! The HOS, or HOP?s as the game calls them, were a lot harder than I expected! They were a serious challenge for me, and there were 3 types. The first was your classic junkpile HOS (although in this one you have to find large groups of things), Silhouette HOS (finding things based on their pictures and adding them to things to get another item and so forth) and a new one, Pairing HOS (pairing one item with another). All 3 were challenging, but the junkpile was the easiest. The graphics, as always, were fantastic. Artwork is fantastic, and the graphics are clear. Voice-overs were great too: Cute, funny etc. FEATURES - Hint and Skip- both recharged quickly and the hint was very useful. - Diary to keep track of events - Map is interactive, and can be found inside the Diary. - Built in Strategy Guide (CE Exclusive) - Fortune Nuts, which I thought were extremely cute. As you collect them, they give you funny little fortunes. (I am praying this isn?t a CE Exclusive. Everyone deserves these no matter what their budget!) - Bonus Chapter (CE Exclusive- Unlocked at the end of the game) - Wallpapers (CE Exclusive- Unlocked at the end of the game) - Screensavers (CE Exclusive- Unlocked at the end of the game) - Calendars (New. CE Exclusive- Unlocked at the end of the game) - Ability to replay HOS (CE Exclusive- Unlocked at the end of the game) - Ability to replay Puzzles (CE Exclusive- Unlocked at the end of the game) - Music player which plays all music in the game (CE Exclusive- Unlocked at the end of the game) - Achievements- Ranging from HOS achievements, puzzle achievements, nut achievements, to various in game achievements. (CE Exclusive- Unlocked at the end of the game) - Movie viewer, which plays all movies seen in the game. (CE Exclusive- Unlocked at the end of the game) - Concept Art (CE Exclusive- Unlocked at the end of the game) This CE is jam-packed full of extras, and I?d say is well worth the extra money. The game in itself is an absolute cracker and will be a joy for all fairytale lovers (especially those who like Narnia and Once Upon A Time) and fairytale haters alike, with the only reason it misses out on a 5 being because I had to use the hint so much. No matter which version you get, you are sure to love this!
May 31, 2013
The Apple logo is a trademark of Apple Computer, Inc.
The Windows logo is a trademark of Microsoft, Inc.