Small Town Terrors: Pilgrim's Hook
The only person that could bring you back to Pilgrim's Hook has called you out of the blue. Return to your childhood home and save your twin brother from the dark forces that have invaded this coastal village. The few remaining residents of Pilgrim's Hook appear slightly mad and something strange is happening to those that resist the call of the sea. You are the last hope in this decades long struggle between good and evil, sand and surf, and land and sea. Do you have the strength to defeat this evil that lurks beneath the ocean? Find out in Small Town Terrors: Pilgrim's Hook.
Game System Requirements:
OS:

10.8/10.7/10.6

CPU:

1.2 GHz (INTEL ONLY)

RAM:

256 MB

Hard Drive:

609 MB
Game Manager System Requirements:
Browser:

Safari 4.0 or later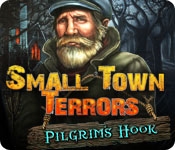 NEW299
The Big Fish Guarantee:
Quality tested and virus free.
No ads, no adware, no spyware.

Reviews at a Glance

Small Town Terrors: Pilgrim's Hook
0
out of
5 (
0
Reviews
Review
)
Customer Reviews
Small Town Terrors: Pilgrim's Hook
27
27
Best Game Of Year 2013 Contender
BASED ON COMPLETED CE GAME Yes, this game really is that good. It?s got something to please everyone. The story though superficially familiar is far more interesting than that. Just exploring the island, talking to the remaining inhabitants and trying to figure out what?s going on is involving. The game looks great, bright, clear, misty within context. And I particularly love that though the town was deserted, it was not all old and ugly. Some parts of the town had been attended to up until very recently. The voiceovers were wonderful. Beautiful well spoken speeches exhibiting appropriate emotions. That?s a rare treat. Music okay and background noises very good at establishing atmosphere. There are times in the game where you are walking about alone and the sense of eerie emptiness is inescapable. The HOs are not very hard, a little interactive, and of two list types, giving us a little variety. The puzzles are well explained and are fairly easy ? I only needed the SG twice. Experienced players will want to play on hard core (level 3), but I suspect even then this may a bit easy. For intermediate me, it was perfect. Is the CE worth the extra money? I?m glad I bought it. The bonus games were fun, I actually found a wallpaper worth putting on my desktop and there are morphing objects and achievements. The main game is self-contained and finishes properly, so I don?t think this is a lesser game. It is still well worth the money at SE prices.
May 12, 2013
good fun lots to do
great game. Has great graphics, good voice over and music. Has a map and hint button works good if needed which is not that often. Has achievement and the game is not that hard. Has a great deal of places to visit finding things. Lots of places. Now you have to remember where to use all the items you find. The HOS are easy and the puzzles are some easy some not. You want adventure then play this game.
May 12, 2013
Yes !!!!
Oh happy day :) I have been waiting for the SE of this game. One game I have totally enjoyed of late. Not too difficult, so you may want to play on a harder challenge level. I love the seaside atmosphere. The HOS are clear and fine. The puzzles are slightly challenging. I may be missing a bonus chapter or achievements by not buying the CE, however, I have moved away from CE as they don't deliver enough to be double the price of an SE. I highly recommend this game. Great graphics and sound.
May 12, 2013
ONLY THE ONE AS TWO CAN SAVE US NOW!
What a great game, although I prefer the CE because I love the added features of morphing objects (or morphing sea creatures) as well as achievements. On the other hand, the SE game is definitely worth the buy because the story is great the graphics are eerie and the atmosphere will leave you feeling as though you are alone on an island desperately searching for your twin brother against evil forces. The HOS are well done, with lot's of interaction and in both list finds as well as find 4 frogs, 4 spiders etc. The mini games are good and not difficult such as 4 discs with wire lines that you must match up to allow electricity to travel from the center to the outside light bulbs through the wires. There is a map for traveling as well as indicating an area of interest by glowing and the hint system is excellent and the arrow will continue to show you the path to take through each scene until it reaches the point of interest and then shows you what inventory item to use. This is a great game for Mother's Day and I would like to say Thank You to all the mother's of the world who made us all what we are today! Happy Mother's Day, enjoy!
May 12, 2013
LOVE LOVE LOVE THIS GAME BUY IT!
This is one of the most beautiful and scary hidden object games! Perfect for Halloween, hope big fish comes out with more like these. Graphics is crazy good, especially the burning wicker man in front of the church, gives it an errie but beautiful scene. I like the dark moonlit skies, and don't get scared finding your way through this excellent game! Love that small town feel! Been in the pond feels like forever and this games is better than sleepy hollow and you won't be disappointed! Bought a Samsung monitor! I had an HP forever and I'm crying happy tears, the graphics in this game are so real, you can touch the hidden objects! :)
May 13, 2013
He searches...hunter of the shadows is rising
TITLE?Small Town Terrors: Pilgrim's Hook VERSION?Standard Edition (full game) DEVELOPER?Gunnar Games (produced by Big Fish Games) GENRE?Interactive Hidden Object Puzzle Adventure STORYLINE?You swore to never return to Pilgrim's Hook. But on your 34th birthday, your fraternal twin Arthur calls you after years of estrangement. Dark forces are at work in your island hometown, and you're about to be a pivotal player an ages old battle between good and evil. Do you have the strength to save Arthur and the remaining citizens of Pilgrim's Hook from the immortal call of the sea? OVERVIEW?Yes, ok, this is another "dark" game in which you're off to save a relative from some evil force. However, this is not a throwaway game developed to take advantage of a fad. There are geographical and literary references throughout the game that indicate the story is woven from research. The balance of iHOs, puzzles, mini-games, and adventure is perfect. Not too much of any one type. The atmosphere is immersive through the graphics, music, and ambient sound. This is a thoroughly enjoyable game to play. Creepy, but fun. GAMEPLAY?Point 'n' click adventure with iHOs, puzzles, and mini-games interspersed about equally. The iHOs are all of the list type, but some are 12 different items and some are four each of three different items. The puzzles and mini-games, while mostly familiar, are presented in unique formats and are, for the most part, challenging. INTERFACE?JOURNAL: Notes clues and keeps track of the story. MAP: Notes active areas and transports, but rather than placing you in an exact location, it places you in an area with a group of locations, so you're not led around by the hand?very nice. HINTS: In the HOs, a hint shows you an object on the list. In adventure mode, it leads you to where you can do something. SETTINGS?Effects, ambient sound, voice, and music volumes can all be set separately. There are three levels of difficulty. Widescreen and custom cursor are available. Sadly, the inventory panel could not be locked open, a feature I wish developers would all include. GRAPHICS?Excellent. Realistic and artistic. Not photo-realistic. Nice use of texture and color to enhance the mood and immersiveness. CUTSCENES?Beautiful 3D rendering brings the animation to life. The water was especially well done. The only fault was in the lip synching but, to be fair, it's really difficult to do realistic lip synching. MUSIC?Moody and in the background with appropriate crescendos. SOUND?Creepily appropriate. VOICEOVER?Very well done. The villain's voice exudes evil through quiet confidence which is much more frightening than any effect. The citizens' voices switch effortlessly between madness and sanity. And the good guys' voices evoke decency. SUMMARY?I highly recommend Pilgrim's Hook, and wish I had gotten the Collector's Edition.
May 15, 2013
Small Town Terrors: Pilgrim's Hook
Excellent storyline and the puzzles were challenging enough not to be too easy yet make you think.
May 12, 2013
Shiver me timbers! I love this game!
I'll leave the explanation of the storyline to those great reviewers who take the time to do so. With that said, I bought the standard edition and I'm about half-way through the game. At first I hesitated in buying it because of the dreary scenes, but I thought, 'what the heck', I'll take the plunge, and I'm glad I did. Though you're all over the place, you do have a map (and a great hint button, too), and let me tell you, the characters are extremely interesting and some very humorous, too, like the lady tour guide in the Town Hall who is deathly afraid of a so-called beast lurking in the building! We must find food for it or otherwise, we'll get eaten!! The VOS/acting is incredible and that alone is a plus for me. There is text along with everything else. Lot of great thought into the story and the characters. Very clever game plan even though the objects in your inventory aren't used for a while in some cases. Dark and dreary scenes but the artwork is excellent; sound effects are great; music is very good. At first there didn't seem to be any rhyme or reason for some of the riddles but as a result they did make sense. So get the game. Take your time. No sweet, fairy-land flavor to this game. I highly recommend it.
September 15, 2013
Stellar Graphics
I have always cared more about graphics than I have storyline, but this game was an A+ in both categories. I'm not crazy about games that insist on including obsessive HO scenes, and this game got it right on all counts. This is the best game I have played in quite some time.
June 27, 2013
Fun game
Fun game, not too easy, good graphics, good voices and acting. Not perfect, but I definitely recommend it!
June 5, 2013
The Apple logo is a trademark of Apple Computer, Inc.
The Windows logo is a trademark of Microsoft, Inc.