Brink of Consciousness: The Lonely Hearts Murders
Exclusive
How far will you go to save your only daughter's life? Is there a limit? Help Owen Wright rescue his daughter from the clutches of the Lonely Hearts Killer, the mysterious figure who kidnaps and murders people who have suffered a love gone wrong. Unravel the intrigue, put a stop to the whirlwind of crime that has paralyzed this late 19th century British city. Olivia must live! The killer must be brought to justice! Only you can do it!
Game System Requirements:
OS:

10.8/10.7/10.6

CPU:

2.0 GHz (INTEL ONLY)

RAM:

512 MB

Hard Drive:

806 MB
Game Manager System Requirements:
Browser:

Safari 4.0 or later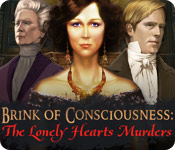 NEW299
The Big Fish Guarantee:
Quality tested and virus free.
No ads, no adware, no spyware.

Reviews at a Glance

Brink of Consciousness: The Lonely Hearts Murders
0
out of
5 (
0
Reviews
Review
)
Customer Reviews
Brink of Consciousness: The Lonely Hearts Murders
59
59
SO MUCH TO OFFER
Game is even better than the first Brink of Consciousness. This is one game where the voice overs are terrific and movements of the characters appear natural. I think V/Os are one of gamers? pet peeves and the production team has to be specially commended for this effort. Graphics are spectacular; music relaxing. Storyline is so intriguing that you can?t put the game away until you find out what happened. Very nice blend of adventure, HOS and puzzles. HOS are crisp and clear. Wide variety of puzzles that vary in difficulty. Map, although not interactive, shows you the areas of interest as well as where your current objective can be met. Volume controls for special effects, music, voice and the environment. You can also control ?film grain? but I didn?t notice any difference in appearance. Extremely polished and well thought out game. Well above-average production values in every phase. This will be one of my favs. It's a large file, but thankfully I have a lot of room still on my computer.
December 14, 2012
Fantastic Game
If you have never played a large File Adventure Game, now is your chance to get a small taste of it. Hard core Adventure fans will definitely love this game and beginners, although they may find the excess dialogue and backtracking frustrating, my advice is to be patient and try to just enjoy this fantastic game that not only offers a fascinating story but has terrific game features that give you just as much satisfaction as if you were watching a great movie. Brink of Consiousness introduces us to the notorious serial killer called the Lonely Broken Heart Killer. His MO is to kidnap victims that all have one thing in common; a broken heart from love gone bad. After 30 days, he leaves their lifeless body on public display with their hearts removed and replaced with a yellow lotus flower. The 19th century British version of our CSI team take on the case, Comamander Logan Green and his once upon a time mentor, Owen Wirght who has just discovered that his missing daughter Olivia is possibly the next victim. Now the two must race against the clock to rescue her from a gruesome death and catch this Psycho. The graphics are simply stunning and I especially loved that you can add a grainy look to scenes from your option menu. The voice-overs are excellent and very well acted. There is alot of dialogue to cover which may put off some people. But they are important as you do get alot of clues and background information. My only concern was the lack of any journal or notebook, so be prepared to take down notes. There are alot of witnesses to interogate and alot of information to get. There are three modes to choose and only hardcore mode offers no sparkles whatsoever. Game mechanics run like a Large File game where you have characters moving around your screen. There is alot of seek and find of inventory objects and alot of backtracking to do. My advice, take down notes in order to keep track of your tasks that need to be done. However, unlike adventure games, there are HO scenes that are interactive and junk-piled. I loved some of the interactions in them and thought they were great fun. Mini-games are not terribly hard to solve but I do compliment the developers on how well some were designed. I ran across some unique puzzles that were absolutely fun to play. Game mechanics were easy and if you do choose to play casual or easy mode, you do have a map that will outline your progress. I recommend this game to everyone, especially for those who have not yet ventured into the large file genre; this game is simple to play without the complexities involved in a Large File adventure game. Lonely Hearts Murders was definitely worth every penny as a CE but the bonus section was more of an epilogue that could lead us to a sequel. I think if you passed, the SE version will do just as good. Seriously, do not be put off by the dialogues and the tracking, think of this as a great novel or interactive film you are in. It was a brilliant game with fantastic plot, graphics and sound. Kudos to the developers on their latest venture.
December 14, 2012
Game of the Year? - A Guy's Review
*Review based on completing the full CE version of the game, re-posted here in the interest of the release of the SE version, slightly modified* This must be a strong contender for the "Game of the year" here at Big Fish, and among the very best casual games I've had the pleasure of playing so far. You play the character Owen Wright that together with a local police officer/detective try to locate your missing daughter that is in the hands of a serial killer. This is set in what seems to be 19th century Britain and plays very much like a Sherlock Holmes type story. Among casual games today I believe this is the most thought through story so far. We are talking high quality writing that lay the foundation of an equally high quality game experience. The graphics are top notch all the way. The locations are highly detailed, sharp and interesting. This developer is lucky to have such a talented graphic artist/s. There is only praise to give to the animation department as well. Everything from cinematic cut-scenes to how the animated characters move and act is extremely well done when you compare to similar games in the casual scene. The characters are drawn (3d-modeled) and not real actors, and I think that is great for games like this. They look like 3d characters too, but as mentioned already they are done really well. Every character is voiced too. And they have done a brilliant job. It might be the best voice-overs I've come by in casual games. They are believable and react well to what is happening around them. Your character is voiced as well, which makes you feel included in the storyline. The best part is that you communicate with the characters you meet here, and wherever you meet them they have something new to say. Not necessarily anything vital to the story, but still. It makes the game feel very alive compared to running around deserted places like most other games. There is a lot of dialog, and I know some people don't care for that. I, on the other hand, like that as it creates a fuller story and you get to know the characters around you and their motivation to do what they do. In some ways this game feels like an interactive movie. For those who likes less talk and more "walk" they have added a skip button on all dialog. I recommend to listen to it though, as it really creates a good chunk of the experience in this game. The music is jazzy and cinematic and suits the game well. Sound effects and ambient sounds are brilliant. As an adventure fan I sit left with a big smile after finishing the game. This game plays very much like an adventure game. And it is done so in a very nice way. It has a lot of the typical, but also adds its own touches to it. Of course it creates some back and forth movement through locations, but the developer has been clever and sectioned off parts, so it never become tedious and long stretched. You also have a nice selection of cleverly made puzzles. Many of them seemed quite original (at least to me). Most of them were actually quite fun to solve, and several demands some time and attention. Non of them seemed unsolvable or very hard, but neither did they seem too easy. They also threw in a couple of mini-games for good measure that further added to the fun and variety. What I particularly noticed was how well the mechanics were in these puzzles. Nothing felt clunky and awkward. Good work. There are of course the obligatory HO scenes too. And they look stunning, each and every one of them. Highly detailed, crisp and clear, and brighter than what we're used to in other games. At least in the main game, as there are some darker scenes in the bonus chapter. Some items are on the smaller side, but they are never difficult to identify. They have some very creative interactive elements to them that makes them even more interesting. You do have to do each one twice, but new interactive elements are put in the second time you are there. That keeps it fresh. They have also been more creative with items to find. There are some typical ones (compass, snail), but many not so common items to find. I.E. I did not have to find one single feather (if my memory serves me right) There are three difficulty levels to choose from: Casual: -Quick recharge of hint/skip -Sparkles on active zones/objects -Map shows all points of interests Normal: -Slow recharge of hint/skip -Sparkles on active zones/objects -Map shows only basic info Expert: -No hints/skips -No sparkles -Map not available I played on normal because i wanted to have the map there. I wish they'd cut the sparkles in that mode as well as I prefer no sparkles. Luckily they weren't too annoying, but they do make it less challenging. Either that, or have had the map with no info in the hard mode. In the end I found out that it is not really necessary to have the map as areas are sectioned off in smaller chunks, but there is no way of knowing that until after playing the game. The map in itself is quite brilliant and is a good guide to have. It is not interactive (transport able). It is partly ever present in the corner of the screen, which I found brilliant. There is no journal here, but it is not really needed either. The mechanics of the game are perfect. Most everything is smooth sailings. There might be some loading between few of the locations, but not enough to get annoying. The game feels lengthy enough, but probably does that in part due to a lot of dialog and cut scenes. Still I really feel I'm getting my money's worth and then some from this game. Bonus: The CE has an extra chapter of game play that seems quite lengthy compared to many other CE's. It has an equally interesting story, but this time you play as Logan (the detective). They play out in new locations with new HO scenes and puzzles. Other than the game play you get concept art, wallpapers and a lengthy interview with the developers. There are no morphing objects or other collectibles and neither any achievements. There is only one thing to say about this game. Buy it now. Throw money at these developers so they keep bringing us high quality games like this. I hope that they will carry on with the Brink of Consciousness series, but will probably be interested in whatever this developer puts out there. Can't wait! If you can afford the extra credit you should consider the CE. For the guys: You play as a male character in this game, so it is quite fitting for us guys. The story is intriguing and should suit all. I'd even recommend it for your dog ;o) TJ
December 15, 2012
This is the best game of 2012 !!!
I do not normally buy CE versions but after the trial of Brink I had to have it straight away. Brink is a combo of HOG and adventure. The characters when they move from place to place do not have a wooden clunky motion so prevalent in adventure and large file games. This is a major plus. The best part of the game, although some people might be put off by it , is the length of the dialogue among the characters. The game is very British and in playing it I feel like I'm watching a really good murder mystery on the telly. The upside is I get to assist the detective by finding things and doing tasks to make progress in solving the crime. The HOG scenes are well done with some items in the list cleverly hidden. The minigames and puzzles are all doable without any hair pulling exasperation. I have yet to play the bonus chapter so I cannot comment on it's value. I have been playing PC games for 7 yrs. My alltime favorite is Return to Ravenhearst. Brink of Consciousness: Lonely Hearts now ranks as a very close second. Brink is a very brilliant diamond which should be in the repetoire of all gamers who enjoy HOG style games.
December 14, 2012
An Unprecedented Sophistication
GAME COMPLETED SEVERAL TIMES Story: A serial killer is on the loose and has your daughter! Known as the Lonely Hearts Killer, the madman kills his victims, all of whom have suffered recent romantic loss, 30 days after they first disappear. The police of your 19th century town are without clues and time is running out. Developer: Magicindie Softworks Release Date: Dec 2012 Extras: Interactive Map, Film Grain Option The first game in this series was well worth its five star rating, but this sequel makes it look like a trial run. What makes this game so special? Let?s start with its story ? no magic or ghosts ? just a genuinely scary human monster. Although beautifully presented, there is nothing ?cute? about this game. The atmosphere is unrelentingly grown up, the characters, and the tension, feel real. Our interaction with the detective is superbly presented, with cutscenes as good as any I?ve seen. And what a treat to ?give voice? with professionally acted voiceovers ? including our own middle-aged pompous self! Needless to say, all the visuals are extremely well done and thoroughly professional, the HO scenes are beautiful, interactive and imaginative. The balance between HOs and puzzles ?felt? right, although I was far too involved in the gameplay to be counting. Gets my vote for the ?Oscar?.
March 14, 2013
Excellent game
I was hesitant at first but once I started to get into the story I was hooked. Yes there is a lot of talking, but that is needed to understand the story. It kind of pulls you in and is funny at times. The graphics are crisp and the Hogs are a lot of fun to play, since some sections are interactive. Minigames are all new to me and also a lot of fun to play. Not too hard but you need your logic for most of them. It is a pretty long game, which I always appreciate. It is made up in sections and you never have to hold on to your objects for long. Try it, I absolutely loved this game. Need more of this kind.
December 16, 2012
Magnificent. Every second almost perfect.
REVIEW BASED ON GAME COMPLETED IN EXPERT MODE First of all, the story line is amazingly new and exciting. That to me is the most important part of any game. The characters are constantly interacting with you and relaying the story via voice conversations. The graphics were gorgeous with many different scenes and locations giving you the feeling that you really were chasing a tricky, elusive killer. The music changes mood and often adds exclamatory chords during significant events and finds. I had no trouble figuring out where to go when suddenly I'd be out of objects. Sometimes a few of the hidden objects made me scratch my head, but in a good way that made me say "got ya!" when I figured it out. Very satisfying. I'm a huge mystery book fan and this game let me feel as if I had stepped into one of my favorite ones. Although in Expert mode there are no hints or maps (I don't know if there are in the casual modes,) I did not have to go back and forth too much because I always found a new IHOS. Although moving back and forth is usually a pet peeve of mine, this game moves forward a few chapters and then "locks"....you can't go backward once into a new scene. That's good because it lets you know that if you're going backward to look for an object, you don't have to run around aimlessly back to the very beginning. It restricts you to the area in which you need to search. My ONLY complaint, if I were to complain --- and I'm not, would be that the police detective who is helping you always says he'll meet you somewhere and leaves you to solve the crime. BUT if he didn't, you'd have no game to play. It just made me giggle and at times utter, "sure I'll do your job for you." This game is massively fun. Loved it.
July 6, 2013
Historically Beautiful
Wonderful game in every way. Very exciting, visually stunning, You feel like you're there and involved in the plot; I totally recommend this to everyone.
December 15, 2012
LOVE this Victorian murder mystery !!!! Encore Encore
What a breath of fresh air and a lucky find on this one. LOVE all the dialogue as I love Victorian murder mysteries. All the excellent reviews have described how you go along to solve the mystery.. with you doing all the work, of course. The map isn't transportable but with each new "chapter" come a new map which isn't that large to back track. Love puzzles that aren't too difficult and so I can get on with the investigation and these fit my needs perfectly. IMO it's better than the first Brink ! Loved every minute and want to see MORE of this detective who needs my help to solve other murders! BRAVO
January 24, 2013
Atmospheric game
Your daughter has been kidnapped (again) but possibly by a serial killer. You have to help the police find her and arrest the murderer but have only 30 days!!! HOGs and puzzles not too difficult But graphics extremely good. Looks and feels like Victorian England. Lots of walking around the playing area and very good cut scenes which, if you hang about, can give you some intersting insight into the characters Played the demo but decided before it was finished that I would buy this
December 14, 2012
The Apple logo is a trademark of Apple Computer, Inc.
The Windows logo is a trademark of Microsoft, Inc.