Brink of Consciousness: The Lonely Hearts Murders
Exclusive
How far will you go to save your only daughter's life? Is there a limit? Help Owen Wright rescue his daughter from the clutches of the Lonely Hearts Killer, the mysterious figure who kidnaps and murders people who have suffered a love gone wrong. Unravel the intrigue, put a stop to the whirlwind of crime that has paralyzed this late 19th century British city. Olivia must live! The killer must be brought to justice! Only you can do it!
Game System Requirements:
OS:

10.8/10.7/10.6

CPU:

2.0 GHz (INTEL ONLY)

RAM:

512 MB

Hard Drive:

806 MB
Game Manager System Requirements:
Browser:

Safari 4.0 or later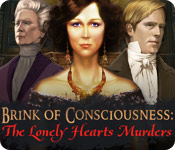 NEW299
The Big Fish Guarantee:
Quality tested and virus free.
No ads, no adware, no spyware.

Reviews at a Glance

Brink of Consciousness: The Lonely Hearts Murders
0
out of
5 (
0
Reviews
Review
)
Customer Reviews
Brink of Consciousness: The Lonely Hearts Murders
64
64
Wow what a great story!
I really enjoyed this one! The story was terrific with its twists and turns, and I just love a good story that stays true to itself. This one has you as a helper to the main detective, and your own daughter is missing, so it is very involving. I mean, you are really part of what is happening, and I even had a few heart pounding moments, as I really was within the story. Caught me up! The puzzles are fairly easy, but fun, and the HOS are very clear and not too difficult. It is not super long, but I feel it was a good length because it took long enough to get to my kid. A truly breath-taking game, very nice voice overs and cut scenes. This game grabs you like no other I have played, and the ending was satisfying. Absolutely recommended!
December 21, 2012
Sets a new standard!
I?ve played over 100 games this year, and this gets my vote for the best of 2012. I loved Dorian Gray Syndrome, so I was really excited to play this one. Dorian Gray was fantastic, but Lonely Hearts takes the HOPA genre to a whole new level. I?ve been feeling a bit dismayed lately and turned off by the current crop of HOPAs. So often, I feel like developers rush through a game to get it out on the market ? that they don?t really care much about how a game turns out so long as it works. I?ve played so many in a row this way that I?d almost given up. But it?s clear with Lonely Hearts that the developers actually cared about making this game something special. For one, nothing is out of place in this game, which gives it such good flow. The story is engrossing, the adventure is logical, the hint button is useful if you need it, and the HOS scenes are charming and perfectly timed (you run across them when you?d be moving through an area anyway.) But what sets this game apart isn?t just how well the game plays (although that alone would have made me happy): the animation, the story, the music, the voice acting, and especially the characters are all a testament to how much time and effort the developers put into this game? I felt like I was watching a movie and became lost in it. I didn?t even skip any dialogue, which is unusual for me. I wanted to hear the characters speak, not only because the voice acting was superb, but also because I cared about the story. Fortunately, too, the ending for the standard edition is solid and doesn't feel too abrupt. It's a wonderful thing for a standard edition to have a good ending.. even though I'm planning on purchasing the collector's edition for the bonus chapter. A sincere thank you to the developers for making a game that surpasses the rest. I?m looking forward to more games from these guys, and hope that other HOPA creators are taking notes.
December 21, 2012
Great!
Wow, I decided to play this game in the most difficult mode and it turned out to be a challenge. Not sorry for that chose. I swear I wanted to shoot Logan. My hat is off to the development team. Great artwork, cut scenes, dialogue and programming and testing. I wore out shoe leather and I loved the HOG scenes.
December 19, 2012
Great Game
Much better than the average hidden object. Great story too.
December 19, 2012
Nice enjoyable game
I usally don't write reviews but this one is different. The music was different and it was a combo of 2 games in 1. Ended up buying before the demo was finished.
December 16, 2012
Elementary my dear Watson!
This game reminds me of a kind of a Watson and Holmes scenario. The game feel has an old English world charm, and the voice acting supports this. This is born out in the fact that one of the first challenges is to make a cup of tea (I think it the world over England is synonymous with its tea-drinking. Considering this was the SE edition, the voice acting was good, as was the music both really carrying the story. The puzzles were 'different' but sometimes a bit too abstract for me (this is based purely on the free trial). One slight negative (though this may have been a fault on my computer), was that sometimes there was a delay when accessing the 'inventory' or going from scene to scene. Though I know I would get a more 'rounded' game feel in the CE I think I will use a 'punch' and get this for free. One thing I will say though is that I usually play the 'Middle' version (not casual, not expert (can be called different things in different games), this usually means no objects are highlighted for pick-up and no HO zones are highlighted, this had both and whilst other things had a greater degree of difficulty (such as limited map help), it did for me detract slightly from the game-play level I assumed I had chosen (from playing many many other HO games). Though it did detract slightly not enough to not make me want to buy it, just point I thought I ought to mention. Good game would recommend if you like the Sherlock Holmes style of game-play.
December 14, 2012
Sherlock Holmes feeling....
A very well made adventure, with lots of dialogues, which should not be skipped, as they are essential for the game... Thrilling story! I Loved the graphics: Everything?s very clear. There are lots of interactive HOS, aswell as some brandnew (but not very challenging) minigames. 3 modes to play. And we have a notebook and a map (not interactive). I recommend this standard version, as for me there are no interesting extras in the CE. A good opportunity to spend one of your coupon codes!!
December 14, 2012
great mystery hog
There is a lot of talking that slows down the game process, but if you have patience the theme of the game is very interesting.puzzles are fairly easy to figure out. Graphics are great.
December 14, 2012
Interesting game play and logical sequences
Usually HOG can make you feel bizarre at how certain tools can open or repair some items but this one feels really logical so it doesn't make you wonder what one should do with each tool. The dialogues can be skipped through. Puzzles can be a little too easy. Skip button recharges at appropriate intervals. Additional steps in HOG screens are really interesting!
December 15, 2012
A Brilliant Murder Mystery
NOTE: Review is of complete game ~~~~~~~~~~~~~~~~~~~~~~~~~~~~~~~~~~~~~~~~~~~~~~~ Wow, I? I?m speechless. That was such a great story! I played the demo and knew I had to play to the end, so I bought this on sale. I don?t regret it at all. This was brilliant! The story floored me from start to finish. The amount of twists it had was amazing. Each twist added that extra bit of excitement to the story, and it ends brilliantly. I?m a sucker for murder mysteries, but because of that, I judge them harshly. This one went above and beyond my expectations. I congratulate the developer on their effort. Yes, this isn?t the most fun game in the world, but the story is brilliant. Don?t be put off by the demo just because it isn?t ?fun.? Also, there are quite a lot of cutscenes in this game, so those who don?t like too many cutscenes might be a little hesitant, but I assure you every cutscene is necessary to the story! For those wondering, the game has 4 chapters. Don?t let that fool you, these chapters are LONG. Each chapter took me about an hour, adding up to 4 hours gameplay. Like I said before, this game is far from the most fun game I?ve ever played. Although this was easier than Dorian Gray, I still found it to be rather challenging. I was constantly having to use the hint and constantly having to skip puzzles, but that?s what you get when you buy a game from Magicindie; a really good challenge. HOS and puzzles are fairly evenly spaced out, although there seemed to be more puzzles than HOS. The HOS had some extra step items and were fun to play. What I loved about them, though, was that the hint let you choose which item you wanted to be revealed! Yes, you heard me right! You have NO IDEA how long I?ve been waiting for that! It was such a joy. Ideas like this erase the annoyance we players get when the one item we need help with is not the item that gets revealed when we use a hint! Developers need to use ideas like this. It will make their games so much better. The puzzles were quite challenging for me. I skipped a lot of them, but at least I was able to solve some. I don?t mind skipping the puzzles, because I don?t like puzzles anyway, but I like having some that I can solve. Overall, good work to the developer on the gameplay. The graphics were good but could?ve used a small bit of extra work. What I mean was, the graphics did not amaze me, but they weren?t horrible either. Everything was clear, especially the HOS, so I have no complaints on the graphics. I have one comment about the voice-overs- there were different accents (British, not the usual American), which was a nice change. Other than that, nothing really stands out for the voice-overs. They weren?t amazing, but weren?t horrible either. FEATURES - No journal. - There is a map, but it is not interactive and not very helpful at all. - 3 modes of difficulty: Casual, Advanced and Hard. I played Casual. The only difference is hint recharge and sparkles. - Hint and Skip- both recharged fast on Casual and the hint is extremely helpful outside HOS. This game is not meant to be fun; it?s meant to be thrilling. I did not have fun with the game, but I was sucked in by the storyline. If you?re wondering whether to choose the SE or CE, I 100% recommend you choose the SE. The game ends conclusively and you do not miss out on much. Plus, the game is rather long, at approx. 4 hours on Casual mode, so the extra length of the CE is not needed for me. I was happy with the SE.
August 22, 2013
The Apple logo is a trademark of Apple Computer, Inc.
The Windows logo is a trademark of Microsoft, Inc.