Brink of Consciousness: The Lonely Hearts Murders
Exclusive
How far will you go to save your only daughter's life? Is there a limit? Help Owen Wright rescue his daughter from the clutches of the Lonely Hearts Killer, the mysterious figure who kidnaps and murders people who have suffered a love gone wrong. Unravel the intrigue, put a stop to the whirlwind of crime that has paralyzed this late 19th century British city. Olivia must live! The killer must be brought to justice! Only you can do it!
Game System Requirements:
OS:

10.8/10.7/10.6

CPU:

2.0 GHz (INTEL ONLY)

RAM:

512 MB

Hard Drive:

806 MB
Game Manager System Requirements:
Browser:

Safari 4.0 or later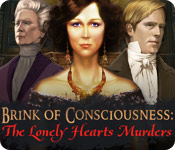 NEW299
The Big Fish Guarantee:
Quality tested and virus free.
No ads, no adware, no spyware.

Reviews at a Glance

Brink of Consciousness: The Lonely Hearts Murders
0
out of
5 (
0
Reviews
Review
)
Customer Reviews
Brink of Consciousness: The Lonely Hearts Murders
69
69
a good game to play...
the game was pretty good with good music n graphics...i loved the story line and the characters... the characters were quite real with good dialogues...its like watching an animated film...the level of challenges in this game were very easy. in short i loved playing this game n i recommend it...
June 10, 2013
Very good addition to the series
This game does have the level of challenge its predecessor had, but I have to say that it didn't quite reach the calibre Dorian Grey has. The voice acting was very good, but was somewhat annoying in places and I'm still not sure how I feel about the character that represents the player in the game. However, the graphics and soundtrack is fitting to the game and does enable you to become immersed in the storyline.
January 28, 2013
Long and detailed detective story
In this game you really will be inside a detective story, very much like they are seen in TV and extremely close to Sherlock Holmes style. Compared to some other, fast-paced games, at least I had to find a different state of mind for this game, starting to focus to the story and all the details. During the gameplay I found myself getting too tired to concentrate and had to continue another day - there really is so much to search and when playing in the expert mode without any hints there are moments when you have to figure out where a missing piece can be found for the story to proceed. Excellent! There is only one reason why not to give 5* for this game: the dialogue can only be skipped and not browsed through line by line. There was SO much lengthy dialogue my patience did not take it - I would have liked to know how the story proceeds but listening several minutes of dialogue every other corner was just too much. I decided to skip about half of the dialogue which I'm sure took away a part of the experience. This game was very long in duration, had manageable map size without too much backtracking - each chapter was limited to one or two main areas which were big enough for challenge but not too big for convenience. There are a lot of items to search, plenty of hidden object scenes and puzzles to solve. Puzzles were not too difficult but had a good level of challenge. I will definitely recommend this game for everyone who likes detective style adventures.
December 31, 2012
Good Game
This is a very well produced game with good artwork, characterizations and VO. Some have complained about its movie-like qualities, but I liked that since it allowed the story to be told well and the story is good. The main character's "acting" is a little over the top, but the rest are good. The HINT button works well during game play, so you don't need an SE or walkthrough. The HOS are good with some IA. There is a map, but it is mostly useless. It is not needed anyway. There isn't a diary, but, again, not needed. There is a lot of running around, so get out your running shoes. All in all, this is a very enjoyable game.
December 23, 2012
Just not for me
This game is boring. Have to keep going all over the place to find clues. The screen is to dark to find items and the music is putting me to sleep. To much talking also. Not my cup of tea.
December 19, 2012
Playable but not their best
After Dorien Gray Syndrome was so magnificent, I got Lonely Hearts expecting much of the same, but somehow the makers have taken what made Dorien so stand-out amazing and completely flipped it. To be honest, I'm not sure why the two are considered part of the same series - there's no correlation! You're playing the father of a young woman who is believed to be the latest victim of a killer. The problem is, the devs have tried to combine the pathos (loved-one-in-danger# genre with the detective genre, which means you're led from scene to scene by the detective. Fair enough, says I, seeing as plenty of Sherlock games - among others - have used this mechanic quite well. But your companion serves little purpose other than to make the game excruciatingly long. Each time you follow him to the end of a zone, you get an incredibly long series of speech. This can only be skipped as a chunk, as opposed to speed-reading and clicking onwards. Other people have mentioned this but I had to reiterate - by maybe halfway through I felt like I was playing an interactive novel game, not a HO. Not to mention that the characters all have things to say outside of the cutscenes too, and if you accidentally interact with something while they're talking you cut them off and have to start over. I'm sad to say that by the time I found out who the killer was I'd stopped caring Compare this to Dorien, wherein all the dialogue was 'recorded' to be played back at leisure in your diary #something this game lacks entirely# and was vivid and even entertaining. The playstyle was also abnormally basic. Simple puzzles, occasional HOs; this was mostly a game of finding an item, travelling around, using it to get another item. Wash rinse and repeat. The challenge it offered was minimal, but the tedious backtracking was plentiful. Now I'm not saying this is a totally worthless game. It is beautifully created and it's clear that a lot of care went into the artwork #which is perhaps why you are forced to watch the looong cutscenes - so that you have to appreciate all that hard work as you examine each scenery out of sheer boredom!#. And if you don't mind the excess of cutscenes or the novel-esque quality then it's very enjoyable. Indeed, if I'd been intending to play an interactive novel, I think I would have truly enjoyed this. But I played it because I was in the mood for a puzzle HO like Dorien, and in that it severely failed. If only they had not placed this in the same series... All up I'd say that this is playable, if you're prepared for what it truly is, and have a couple credits to spare. But I can honestly say I won't be re-playing it and for me that makes it a non-reccomend.
December 19, 2012
Shut up already
This isn't a game, it is a movie. Way too much chit chat and very slow. Plus you can't read the comment and continue. You either have to suffer through the whole dialogue or skip completely. Otherwise, this looks like it would be a fun game. More of a Sherlock Holmes style mystery. Not for me though.
December 15, 2012
Like Playing in a Movie??
If the writer had made the one doing all the work, (you) the main character who does all the work and it goes on unappreciated by the ignorant Sargent, and everyone else in the game then it would have made a game to be appreciated. The hint button told you everything that you needed to do next. Too easy, and way too much dialogue. Try the free version before purchasing and decide for yourself. This may be your cup of tea!! :)
December 17, 2012
Who writes this stuff?
It breaks my heart with so many talented writers out there that the creators of this game couldn't come up with one person who could string some dialog together that might reflect the time and place. Using words like "break-up" and "ticked off" makes it sound like it was written by teenagers. So bad. The plot is very weak and predicated on obvious dialog. It was generally a feeling of "Why don't you just tell me everything you know and how it relates to everything else?"
December 18, 2013
Just About the Worst Ever!
I finished the "game" if you can really call it that. I probably spent 5 hours on this "game." Most of that time was spent listening to and reading dialog. Endless dialog. Did I say "endless dialog?" Let me say it again. And for all that endless dialog, there isn't much of a story. Somebody's running around killing people, and we don't know who. That's about it. The visuals are nice, particularly the animation, but that also takes too long. The many, many cut scenes often begin with the detective s-l-o-w-ly walking into the scene and end with him even more s--l--o--w--l--y walking out of the scene. You can't take any action until he clears the scene. FRUSTRATION! That parts that were actually a game were OK for me, generally pretty easy, and the games were fun - only one I couldn't solve, which is good for me. And there is some interaction in the HOS which is also fun, but there's not enough of anything game-like. Oh, yeah, and like the first game in this series, there is endless traipsing back and forth 7-8 clicks in each direction, repeatedly. Sorry, but no recommendation here.
January 12, 2014
The Apple logo is a trademark of Apple Computer, Inc.
The Windows logo is a trademark of Microsoft, Inc.