Redemption Cemetery: Salvation of the Lost
Exclusive
Escape from a mystical cemetery in Redemption Cemetery: Salvation of the Lost! A late-night subway takes a bizarre turn when you suddenly find yourself in a strange cemetery. An otherworldly entity has summoned you to free the cemetery's lost souls. And to make sure you finish the job, she's holding your dog hostage! To earn your freedom, you must help three spirits resolve some unfinished business from the past. Will you succeed, or is this the end of the line? Find out in this thrilling Hidden Object game!
Game System Requirements:
OS:

Windows XP/Windows Vista/Windows 7/Windows 8

CPU:

1.6 GHz

RAM:

1024 MB

DirectX:

9.0

Hard Drive:

627 MB
Game Manager System Requirements:
Browser:

Internet Explorer 7 or later
Mild Blood
Mild Violence
Tobacco Reference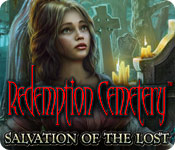 NEW299
The Big Fish Guarantee:
Quality tested and virus free.
No ads, no adware, no spyware.

Reviews at a Glance

Redemption Cemetery: Salvation of the Lost
0
out of
5 (
0
Reviews
Review
)
Customer Reviews
Redemption Cemetery: Salvation of the Lost
36
36
another ers great game
Cool game and ERS has added new ideas to this one. Has a map and hint button works good. Good voice over and graphics. Music is also good, not distracting. Has a good flow with not too much going from one seen to another. Has a map which helps. You have to find things also for the dog. Some of the puzzles are harder than others. I did not find too many HOS but they are normal. I have all the redemption cemetery games and they are all good, this one I think could be the best. You have a crow that will also help you. Again good game.
May 17, 2013
Great Fun!!! :)
Review is based on completed CE version and playing the demo of this one. If you?ve played the previous ?Redemption Cemetery? games, you know already what to do? If not: You have been chosen to help the restless souls here on the cemetery to find their peace - only then, you (and your puppy) can return home? Wow, again great stuff!! Graphics, as from ERS expected, artwork is very clear and detailed. And what I really appreciate - characters are drawn, not real actors!! :) 3 modes to choose from, direction giving hint, inventory can be locked, 7 chapters, 26 puzzles/ minigames, 15 hidden object scenes, map with objectives allows you to ?jump?. Hidden object scenes are slightly interactive. (list, silhouettes and searching for a certain amount of similar objects) Unique minigames, lots of new ones, not too difficult, providing a lot of fun!! Again we have a raven compagnion, helping us to gather things that are out of reach. But this time, we are able to unlock 4 abilities during the game: air, earth, fire and water. Game ending is conclusively. Took me 3,5 hrs in the 2nd mode. The Bonus-chapter of the Collector?s Edition is an additional story with new areas to explore and another 8 HOS and 6 minigames and took me 1 hour. Still high recommendable as a Standard Edition!! :)
May 17, 2013
Redemption Cemetery Ups The Ante
BASED ON CE GAME & WALKTHROUGH Now all games are going to be measured by this standard, and the other most recent triumphs of ingenuity we have seen from these developers. Redemption Cemetery is one of my all-time favourite series. The simple structure of gaining your release from the cemetery by saving 3 lost souls works very well. It is really 3 STORIES in one. The entity behind your sudden abduction seems to be different for each game, and the help you receive is different too, but there are similarities. In this game, the ?spirit of the cemetery? is personified by Hina, who not only traps you, but also kidnaps your dog! Our buddy the raven is here again too, however he now has special abilities which you must recharge by solving an EASY yet INTERESTING PUZZLE. And that is the best description of the game in general ? EASY yet INTERESTING. There are plenty of both MINI-GAMES and HO SCENES. The HO SCENES are VARIED, there are 4 different types. GRAPHICS are the famous WATER COLOURED HAND DRAWN that you either love or hate ? with less pastel and more vitality, it seemed to me. The opening scene with the train is great. There is a higher than usual COMPLEXITY in GAMEPLAY, not because individual TASKS were particularly difficult, but because there was so much to do and see. There is a MAP, limited to the locale you are in, HINT & SKIP are both quick (on the easiest level anyway), and you have a journal. How does it compare with the CE? Well, as a rule, I prefer to get the SE. Not in this case. If you can at all afford it, my advice would be go with the CE. As well as the usual extra play and SG, you have ACHIEVEMENTS, COLLECTIBLES, and a PLAY ROOM for your puppy, and games you can play with it that are not a part of the main game. So it really is a different way to play. This is still a very fun game, and I wouldn?t hesitate to buy it if CE games are not your thing.
May 19, 2013
SAVE THE ETERNALLY RESTLESS SOULS!
Another quality game and a good Redemption Cemetery saga! You are on your way home with your faithful companion when you realize something's not quite right on the train, the passengers are strange and the last stop isn't your usual stop..... Welcome to the Redemption Cemetery, you have been chosen to help those poor restless souls by the keeper of the cemetery and she is holding your adorable puppy hostage until you complete your mission! Good story, right? The quality of this game is great, the developers have spent a year working on this one to make you feel like you are actually the one helping all those people. The HOS are well done and even though some of the scenes are dark you will still be able to find the items without using the hint button. The HOS are interactive on one HOS you actually have to find matches to light the torches before being able to see. The mini games are fun like adjusting numbered discs under mechanical birds to make all of the birds sing at once, adjusting each disc and pressing the play button until the correct number is reached to achieve the goal. The keeper will give you a crow to help you with your quest. You must get elements from the people you are helping such as air, earth, fire etc. Once you get an element you must charge the element by completing a puzzle such as switching colored puzzle pieces until all three corners of a triangle are the same color and disappears, then you can use the element of air for flight or earth for digging etc. I think you will enjoy this game and is well worth your time in either CE or SE. Enjoy!
May 17, 2013
ABSOLUTELY LOVED IT
After reading the so-so ratings on the CE, I was afraid to buy this game, so I waited until I had earned a free one. I think this game rocks!!! I enjoyed it from start to finish, as I have all of the Redemption Cemetery series games. As a dog lover, I enjoyed having the dog as the central focus and working to release him. The train is amazing....gives you a spooky feel. The games were, at times, a little challenging but I didn't need a hint to get through this game although I played it in advanced mode. I loved the interactive map which saved having to go to and fro like so many other games. Also, having the use of the Raven during my journey made things very interesting. The story line followed a logical path which made it, with some creativity, relatively easy to keep from getting stuck. Some of the HOS are interactive which I thoroughly enjoyed. I have nothing negative to say about this game except I wish it would go on for days and days.
May 18, 2013
another great game
I truly love these games and this one does not disapoint. your raven is with you to help, a great map that tells you where to go and lets you jump there. challenging games , some of which I skipped because they were a bit too hard but overall great and you are saving both souls and your dog. what could be better I don't use sound so can't rate that.I got the regular se version, didn't need the collectors which is nice once in a while. overall a great game.
May 18, 2013
PUTTING TORTURED SOULS TO REST.
Another good-looking game from ERS. Have all the Redemption Cemetery games and like them all including this latest. Could have done without the rechargable raven and feel that the whole animal helper thing is over used. The puzzles (my favorite part of HO games) are mostly challenging though some are tedious with clicking, turning, switching, clicking, turning and more clicking. Must admit that I slipped several half way through rather than continue clicking, clicking ....... If player likes the rest of the series, he/she will probably like this one. If not, this game will probably be just more of the same. (The worker tied in the power plant looks like the young founder of Facebook?) Five stars for a good series.
May 23, 2013
ANOTHER REDEMPTION!
I love the redemption games...Had been waiting for one to come out...This is a great game..Beautiful sceneries. Hope to have another redemption out soon!!...Great job devs!!
May 20, 2013
Not Long Enough!!!!
I really, truly enjoyed this one! I wanted just one or two more people to help, I just didn't want the game to end. Storyline, HBO's puzzles were all great. Highly recommend.
December 8, 2013
Fun but not long enough
Great game but could have been a bit more challenging otherwise a very enjoyable game
July 6, 2013
The Apple logo is a trademark of Apple Computer, Inc.