Chronicles of Vida: The Story of the Missing Princess
Join the beautiful demon-huntress, Vida, on her investigation into a series of mysterious kidnappings in Chronicles of Vida: The Story of the Missing Princess! Travelling across the Victorian countryside with her wereferret friend Black, Vida hunts for evil spirits. Her mission is to save the world from the creatures of Shadow, but she has encountered a new challenge. Vida must find a missing princess. Join Vida in her battles with vampires and werewolves in this thrilling Hidden Object Puzzle Adventure!
Fine art and graphic effects
Ten hours of gameplay
Hundreds of hidden objects
Game System Requirements:
OS:

Windows XP/Windows Vista/Windows 7/Windows 8

CPU:

1.6 GHz

RAM:

1024 MB

DirectX:

8.0

Hard Drive:

500 MB
Game Manager System Requirements:
Browser:

Internet Explorer 7 or later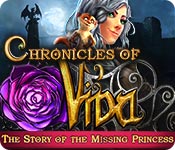 NEW299
The Big Fish Guarantee:
Quality tested and virus free.
No ads, no adware, no spyware.

Reviews at a Glance

Chronicles of Vida: The Story of the Missing Princess
0
out of
5 (
0
Reviews
Review
)
Customer Reviews
Chronicles of Vida: The Story of the Missing Princess
47
47
Wow! Gotta Love This, HO Gamers!
BASED ON ONE HOUR DEMO I loved this game almost immediately. The MAIN MENU gives you 4 ILLUSTRATED options for LIGHTING, as well, in OPTIONS you can set the GAMMA. Excellent start! The intro was interesting and eye catching. The backstory was well told by VIDA, your character, and I was looking forward to finding out what was going on. I have to say upfront, the GRAPHICS are NOT GOOD (on my large monitor). INTERESTING, ATTRACTIVE, but NOT HIGH QUALITY. There are also black screens between scenes. After a few minutes of playing, I just DIDN?T CARE. This is an almost PURE HO GAME. There is an ADVENTURE COMPONENT, but it?s nothing much. The getting around is INTERMEDIATE DIFFICULTY. 90% of the game is HO SCENES. They are drawn in a fantastical style that can make it DIFFICULT to see SOME ITEMS, and the low quality doesn?t help, but it is still FUN. They are not interactive. There are also A FEW MINI-GAMES, but they are outnumbered, so far, 2 HO to 1 PUZZLE. What makes this game SO MUCH FUN is the CHARACTERS. There are EXCELLENT LIP SYNC?D VOICOVERS, and subtitles, BOTH of which can be TURNED OFF. But there?s no way I?d do it. VIDA, the Huntress, and her not-so-cute COMPANION, are in a constant BATTLE OF WITS. And they are FUNNY. Other characters are also amusing. Exactly what everyone is up to is really INTRIGUING. And why do I have a bad feeling about this Count? There is an INTERACTIVE MAP that shows you active areas and HO scenes in each location, and when an area is cleared. It is NOT A JUMP MAP. HINT is really INTERESTING. Outside HOS, it offers you a picture of the areas around you, with ITEMS TO BE FOUND there, or TO BE USED there. Very unusual. There are also ACHIEVEMENTS and COLLECTIBLES. The collectible stars give you AN EXTRA TYPE OF HINT. I know many REVIEWERS will oppose me on this, saying the GAME is TOO EASY, and POOR QUALITY. HO GAMERS, IGNORE THEM! Try this game for yourself. I?m having the best time I?ve had in a stand alone SE game since ages!
May 21, 2013
Stole my heart, warts and all
So many issues, such a great game. First thing you may notice about Chronicles of Vida is the length of time it takes to load the initial screen. Now this may just be my computer, but the first time I moved to a new screen, it took so long I thought the game had crashed. If you stick with this wonderful new offering, you'll have to get used to this because it seems to apply wherever you go, whether you're moving forward or backward or simply zooming in on a puzzle or HO scene, of which there are a lot. Next thing you may notice is the difficulty in clearly understanding the voice acting -- we have two characters here, our heroine Vida and her newfound ferret sidekick Black, both apparently of Eastern European descent, and they have a tendency to swallow their words. Fortunately, the game displays the text of their conversations, so you learn to live with it and it actually grew on me. You also may notice the abundance of hidden object scenes -- yes, this is mostly a hidden object game with the occasional item to use or puzzle to solve. And the HO scenes are not the most well-lit scenes you'll ever come across -- fortunately, you're given the option at the outset of adjusting screen brightness. Finally, if you begin in easy mode as I did (I dislike click penalties), you'll find the game holds your hand a bit much, but you can change modes at any point in the game. So why five stars? The game is absolutely gorgeous. With graphics that reminded me of wonderful titles like Torchlight and Trine, this game held me in its thrall from the start and its flaws soon became virtues. Long load times between screens? Well, if it's in the service of such beautiful art, so be it. Mumbled dialogue? How can I hold that against such lovable characters? (I've got a weakness for blue-haired girls.) Dark hidden object scenes? Very well, then. I found this to be a captivating game, and I'm grateful that Big Fish chose to release it as a standard edition.
May 21, 2013
For Hidden Object Games lovers!
This is such a cute game. Sometimes I want a break from the more difficult HOG/adventure games and just want to not have to think so hard- and I've always loved HOGS. This game has lots of hidden object scenes! The graphics are good, not crystal clear in the HOG scenes, but so far I've found all the objects with only one hint. Love these fairytale type games.
May 22, 2013
Where can I get a Wereferret?
I really enjoyed the demo of this game so much that I am getting it! Lots of Hidden Object scenes and although they were not interactive, they really put me to work trying to find the items...much more fun and rewarding for me. It was challenging but not over the top, the mini games were good and not too hard so I got frustrated into skipping them and I loved Black & Vida! His comments were entertaining and I kept poking him just to amuse myself. The game intrigued me enough and kept me busy so I can't wait to continue on whether or not I find the princess!
May 21, 2013
Great Value!!!!
I give this game 5 stars because for 6.99 it was a great value. It was very challenging and made you think which is a good thing. It lasted a long time which is unusual for 6.99 games. I kept thinking it was over but it kept on going.When I did get frustrated it was because I had overlooked a doorway or another passage.I don't listen with sound so that didn't bother me and I did play the easy way. Even with that it was still challenging. I'm very happy with this game!!!
May 23, 2013
Good game!
Good art and Interesting story!
May 22, 2013
One of the very best!
It's been a long time since I've enjoyed a game as much as I enjoyed this one. Wow! Some players may not have appreciated the voice-overs, or the slightly slow loading between scenes, or the cut scenes. I LOVED everything about this game. I found myself enchanted by the heavy accents of the voice-overs, because they fit beautifully with the story. I was really challenged in the game, and had to use the skip button a couple of times on the puzzles. I also had to use the hint button a few times in the HOS's. Not to worry, the hint button recharged quickly. I loved the beautifully painted scenes, the labrynth, and especially the little wereferret that accompanied me and all of his opinions! An absolutely fabulous game for me.
June 16, 2013
Really a HO game with a twist
Different type of game. It is a HO game with an adventure. Seems to be geared for the younger crowd. Has voice over and the music and graphics are good. Has lots of voice over, talks for all the reading. I found the HOS to be a challenge because lots of the items are small and hidden goon in the scene. Lots of in them. The puzzles are not bad at all. Had somewhat of a map. The hint button works good and had a fast recharge. There was a good flow to the game with out too much running around. Again lots and lots of HOS.
May 21, 2013
Entertaining, Mostly HOS
BASED ON HOUR DEMO You are a demon hunter that has been asked by a count to come and investigate kidnappings. On your way there, your carriage is attacked and you must continue to make your way to the castle. Along the way, you pick up a snarky were-ferret companion. --2 play modes (you are unable to change modes once selected). I played on easy, but found it still very challenging as there seemed to be no sparkles for interactive objects (but most were easily seen without sparkles. Had to use a hint to find a couple). --plays in widescreen --adjustable gamma (which I always like. I prefer the game screen a bit lighter than most games have as a default). --Jump map, which comes in handy. There are markings on the map for places of intrest, but I found them very little help, and couldn't rely on them (mostly they pointed out where puzzles or HOS were...which wasn't my issue. I could find the puzzles, but needed to know where to get items to active puzzles. --14 acheivements......which is NICE for a SE --Voice overs. Accents are a bit thick, but there are text bubbles --Mostly HOS with a few puzzles thrown in here and there. I think I did 3 easy puzzles and 5-6 HOS in my hour demo. HOS are not interactive (at least none of the ones I encountered in the demo were). --hint button fills quickly on easy and is usable outside of HOS, but is a bit different than any game I've seen. It shows you on a screen shot of the area you are standing in EVERYTHING you can do there...even if you don't have an object to compete a task yet. --skip button seemed a bit slow for me, which is fine, I rarely skip puzzles. Overview. The story line is interesting, and the your character and the ferret talk back and forth quite a bit. The ferret says some pretty funny things. As I said, this is mostly a HOS game, with a few puzzles. HOS are pretty clear, but some items are small and VERY blended into the surrounding. In my hour demo, I made it to the 1st HOS in chapter 2....so game length might be decent. But, as there is no guide, I have no idea how many chapters there are. The info that BigFish states in the game description says "10 hours of game play"....which is a very lofty statement and it will be interesting to see what full reviews say about length. All in all, if you like HOS over puzzles/minigames, then this one is most likely right up your alley. As for me, I prefer more puzzles than HOS, but I still would recommend you at least give it a try before passing it up.
May 21, 2013
Do I love it or hate it? Just can't decide!
Based on the demo... I love it because: - it has a jump map - it has achievements - it has Mr Black, a humourous little helper, with whom you have much conversation - the screen brightness is variable at the start and in the options - the storyline is intriguing I hate it because: - even for me, a 'dyed in the wool' HOG fan, there are too many and they are not interactive - picky clicky - only two play modes, I chose easy and it was WAY too easy, too much hand holding (will go back and try hard but fear the opposite extreme) - you can find super hints for the (very cluttered) HO scenes but cannot choose when to use them - Mr Black's conversations began to grate after a while This will, I think, be a long game simply because of the time it takes to complete the HO scenes if you do not use hints, I feel I haven't got anywhere after an hour. But, I have a game coupon so I am going to buy it. Don't think I would otherwise. Definitely try first.
May 21, 2013