Chronicles of Vida: The Story of the Missing Princess
Join the beautiful demon-huntress, Vida, on her investigation into a series of mysterious kidnappings in Chronicles of Vida: The Story of the Missing Princess! Travelling across the Victorian countryside with her wereferret friend Black, Vida hunts for evil spirits. Her mission is to save the world from the creatures of Shadow, but she has encountered a new challenge. Vida must find a missing princess. Join Vida in her battles with vampires and werewolves in this thrilling Hidden Object Puzzle Adventure!
Fine art and graphic effects
Ten hours of gameplay
Hundreds of hidden objects
Game System Requirements:
OS:

Windows XP/Windows Vista/Windows 7/Windows 8

CPU:

1.6 GHz

RAM:

1024 MB

DirectX:

8.0

Hard Drive:

500 MB
Game Manager System Requirements:
Browser:

Internet Explorer 7 or later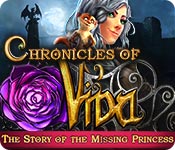 NEW299
The Big Fish Guarantee:
Quality tested and virus free.
No ads, no adware, no spyware.

Reviews at a Glance

Chronicles of Vida: The Story of the Missing Princess
0
out of
5 (
0
Reviews
Review
)
Customer Reviews
Chronicles of Vida: The Story of the Missing Princess
46
46
The Princess Shall Remain Missing
Somehow, I stuck with this through the entire demo. I had very high hopes at the beginning of the game. Nice colors, nice choices of screen brightness, cursor, etc. Well, then the game started. And there it went downhill rapidly for me. You are playing as Vida, who is the destroyer of dark forces. You're moseying along, and your carriage crashes. Gasp. You happen to find a wereferret in a cage and you unfortunately unlock him. I say unfortunately, because he never shuts up. Between the two of you there is constant conversation, or if you mute, constant written dialogue. There is a journal, and a map. This map appears to be a jump map, although I didn't try it. However the map will tell you what you will find at each scene, which inventory items to use, etc. There were 2 choices of difficulty, and I chose easy, as I always do when trying a game. Perhaps of difficult, the map wouldnt be so handy? There are sparkles everywhere. All of this is ok. However, it is a HOS fiesta. There are HOS everywhere. For those who like almost exclusive HOG games, you may like this. The HOS were blurry with small objects. Many objects to find in each scene. No wonder they advertise that the game is 10 hours long. lol. The hint refills quickly. The wereferret is also your hint. Besides for all this is a lagging, and I do mean lagging, cursor. Trying to get into the inventory was a hit or miss. The cursor had to show back up first. This is a no go for me. Not only because of the lagging, but because of the HOS. I don't recommend this game. It needs some fixing.
May 21, 2013
Could Have Been Better
I did the demo for Vida before purchasing, and enjoyed that, as well as got into the story, and wanted to see the end, so I bought it. It's not the worst game out there, but I would have liked to have seem more in the way of cut scenes, and less in the way of "glitches". The scene loading that some mention -- yeah, there's that. Black screen for a bit then a scene loads, not smooth or easy. It takes a while. The transportation map was useful, and I never use those. The cut scenes, where Vida was speaking with her ferret friend, had sound issues on my system. The sound was fine during the game, I heard every snarky comment, but when the scenes came that furthered the story I couldn't hear no matter how high I turned my volume up. The hint system wasn't my ideal way of conveying information, but I used it quite a bit as I wandered from room to room and couldn't figure out what I was supposed to be doing next. (Usually because I was missing some element from somewhere I hadn't found yet.) I liked the story, and was glad I finished the game so I could see where it went, but the slowness of the screen changes and the way the hint system worked made the game a little frustrating for me.
December 13, 2013
LOTS OF HOS
Review based on two hours game play. Animation - None that I saw. VOS - The banter between Vida and the ferret, Black, was humorous. Might get on some people's nerves after a while though. Hint - Fast charge. Random Click Penalty - None HOS - Done in pastel colors but items very small. Was giving me eye strain. Had to use the hint. There seemed to be HOS at every turn. Began to forget what the story was supposed to be about. Great deal of traveling from location to location only to find yet another HOS. Puzzles/Mini-Games - Only counted two in the short time I played. Not a game for me.
July 26, 2013
So much potential and great graphics......but...
The graphics were colorful and beautiful, but not crisp and clear so items were hard to find and some quite tiny. I guess I'm the only one that was EXTREMELY annoyed by the dialogue...it was monotone and what should have been amusing and interesting was just painful....after 10 minutes I shut off the voices....couldn't stand it anymore. The talking was obviously read....not good actors at all, I know, I have a few thespians in my family that are VERY TALENTED. The story line was vague and basic....girl gets taken and is hunted down to be rescued, that's it, BLAH! Took forever to load each scene so the developers weren't savvy enough to program smooth transition. I've played about 2 hours and haven't completed and am struggling to finish because it's such an effort to navigate and the scenes keep overlaying when moving from one place to the next. It would suggest some sloppy programming. I wouldn't recommend this game for anyone just starting out or for those that have older systems.
May 23, 2013
What Do You Get When You Cross A Confusing Story With An Annoying Ferret? This.
This game has got to be one of the worst I?ve played. It annoyed me from the beginning, and I can?t see much point in playing on. Firstly, the storyline is confusing and hard to follow, and I had a very hard time figuring out why I was doing what I was doing. The story to me was very unorganized and uninteresting, and was a huge disappointment. The gameplay is very annoying. The game features a talking ferret that WILL NOT SHUT UP and that is just the start. The hint does not help outside HOS even slightly, and the game has one of the easiest ?Easy? modes I have ever seen I have ever seen, and if you switch to ?Hard? mode, there is a considerable difference. In easy mode, the hint recharges incredibly quickly and there are sparkles EVERYWHERE. In hard mode, the hint takes nearly twice as long and removes the sparkles. I ran in to a HUGE problem with the HOS. Firstly, there were too many of them in my opinion, and secondly, in one scene I had to find a mouse. No matter how many times I used the hint and looked in that direction, the mouse was nowhere to be seen. Thanks for nothing hint! The HOS also had the occasional blurry graphics, and I ran in to one puzzle which I didn?t attempt to solve. Speaking of graphics, there were quite a few instances where they were hazy or unclear, and a few that were clear, so I don?t know what to make of them. My overall impression was it could have been a little better. There is certainly room for improvement. FEATURES - Diary to keep track of events - No map. - Hint and skip- they recharge fast, but the hint is of little help. Changing to harder mode has considerably longer recharge. - Annoying talking ferret that chats with you through the game. - Many achievements, and by many, I mean quite a lot. They ranged from HOS hints to puzzle hints, and had many others. The game started off bad with the ferret, and didn?t get much better. I was really disappointed with this game, and I wouldn?t recommend it to anyone.
May 22, 2013
Not today..maybe a 2.5!
Right to it...graphics are very old school and somewhat blurry. Game play was good, music okay. HOGs were junk piles and a lot of items were very difficult to see (otherwise, pretty straight forward). Liked the ability to change the lighting within the game...very nice touch. Cursor was off center. I don't like custom cursors, so always click them off. The standard was way off course and I had to click numerous times to find the correct spot to pick up an item in the HOGs. I switched back to the custom and still had the same problem...very maddening. The ferret was very annoying and made a lot of extremely stupid remarks. Voice over was okay, but a bit heavy on the accent (maybe it was real). This game did not grab me, was not challenging and did not make me want to buy it to see what happens. A beginner may like it, but not a somewhat seasoned gamer like me. This dev has gone backward. Not for me. As always, try it for yourself and see what you think. We all have different tastes in games and you may find this one quite enjoyable. Thanks for the reviews.
May 21, 2013
Terrible
This game is very slow and hidden objects are hard if not impossible to see. Poor graphics. Waste of time - even if free.
May 21, 2013
Chronicles of Vida: The Story of the Missing Princess
Too many HOG's. Several Items that I clicked on gave me a big X. Later the hint sent me back to that same item. I quit after this happened the fourth time in thirty minutes. If you are a true HOG fan and this does not become a problem for you then I would recommend this game.
May 21, 2013
Too much chat!
There is way too much dialog between the ferret and the girl (your character). The inventory box takes ages to go away once it has been used. There is a black screen that sits there for way too long between scenes. Graphics and sound are good. I wouldn't buy this game. There are better out there!
May 22, 2013
Sigh
This started out great, the graphics awesome, plenty of hogs, too much time lapse changing scenes and using hidden objectsthough. It got monotonous.
May 22, 2013