Nancy Drew: Tomb of the Lost Queen
Enter the Cursed Tomb of the Lost Queen! Egyptologists and archaeologists are abuzz about recent discoveries by a university dig team, but suspicious accidents left the group isolated and leaderless. Is a curse burying their progress or is someone sabotaging their success? Find out as you assume the role of Nancy Drew and uncover the lost secrets buried within the Tomb of the Lost Queen!
Decipher ancient clues and warnings
Reassemble artifacts and solve ancient puzzles
Play games and learn about early Egyptian life as you explore
Play at Amateur or Master Sleuth level
Game System Requirements:
OS:

Windows XP/Windows Vista/Windows 7/Windows 8

CPU:

1.6 GHz

RAM:

512 MB

DirectX:

9.0

Hard Drive:

2326 MB
Game Manager System Requirements:
Browser:

Internet Explorer 7 or later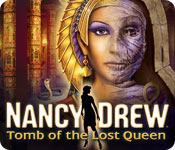 NEW299
The Big Fish Guarantee:
Quality tested and virus free.
No ads, no adware, no spyware.

Reviews at a Glance

Nancy Drew: Tomb of the Lost Queen
0
out of
5 (
0
Reviews
Review
)
Customer Reviews
Nancy Drew: Tomb of the Lost Queen
44
44
LOVE IT
Great ND game. Much more relaxed than some (only hurry up puzzle at end of game) and I prefer the relaxing type adventure game. Pay attention to the dialogue.
June 8, 2013
Lots of fun!
The games were fun and it was challenging to find the answers without it being ridiculously impossible to figure out. Worth the money.
June 2, 2013
Another ND Hit!
The best adventure games out there, imho. I have a hard time finding something to fill the lapses between ND releases that has the same level of quality and satisfaction!!
May 25, 2013
One of my Favorits ND games
There you are settled in as an assistant to a dig. And than things change. Some of the challage mini games are very easy and some you just want to come back to. This has to be one of my favorite games, the next one Deadly Devices is one I could not stop playing the mini games. If you love ND games you are going to like this one for sure.
May 24, 2013
Played Them All and Loved Them All!!!!
Nancy Drew games are very challenging, to say the least. I played this one years ago when it came out and payed full price at their web site, so grab it if it's your cup of tea! This game, as with all ND games, takes many sittings to play and needs patience and determination. The walkthrough, which can be found by a web search, was invaluable to me and easier than the forum here when you're stumped. I cannot stress enough that this is a very different kind of game than the HOGS and adventure games you find here. There will be many Fishies who give this game a bad review because of the different game play, I assume. The game lost a star because there was a limited number of places to explore and I find that a bit boring. Also, the visuals weren't up to par but I guess a desert is a desert! Inside scenes were better. About the time this game came out I decided that this game, and a couple others, just weren't up to the standard I expect from the developer of these games. Maybe they were rushing to get them to the loyal players of ND games maybe there was new people working on them..... who knows?? Right now I'm playing the newest game that was just released, and yes, I was one of those people that bought it prereleased and anxiously awaited the day I could download it and play. I haven't gone into the story or game play because others will do that. I highly recommend Tomb of the Lost queen, especially at this price, to those who can adjust to it and have fun with it. It's not for everyone, so be aware of that before you purchase this game since there is no trial. This is a large file game and maybe won't play well on slower computers.
May 28, 2013
Good but not the best
For a newer Nancy Drew game, this is not the best, but I had fun playing it. I would definitely recommend other Nancy Drew games before this one, though.
August 19, 2013
one of the good ones
I play ND with my 9 and 11 year old children. We have played many, if not all on big fish. This one was really fun but the hint hotline made it almost too easy. We enjoyed the puzzles and storyline. As usual the visual quality was very good. We would recommend this game.
August 10, 2013
Enjoyable but needs a voice-skip option
I read *very* fast. I dislike that there is no way to skip the voice-overs. The voice work was good - I liked the depiction of Jamila, a modern Muslim woman. Overall, enjoyable. Good story, just challenging enough. But too long, because there was no way to move the character interactions aka voice-overs, any faster.
June 9, 2013
Another Great ND Game!
I enjoyed playing this game, however-I did get frustrated with the maze-like aspects of the tomb. I was constantly turning around by accident and getting lost or going the wrong direction. There were a good amount of puzzles (in true Nancy Drew fashion- that were pretty tough to solve) but I like finding objects to use- and this installment didn't have many. There are lots of fun glyphs to decode & overall I gave it 4 stars because It was a little short of a game for what i'm use to with ND games.
June 4, 2013
Good graphic, weak plot
I am very happy to see this game finally being sold in BFG, I have waited for so long as I decided not to buy the game in their official site cos it's twice more expensive. Not only that, the mixed reviews on their site makes me decide to better wait, and I finally got it with free game coupon, so that's really double the deal. I played this game on Amateur Mode, in a span of 4-5 days. I didn't play continuously, only two hours max each time. Here is what I think about this game: GRAPHIC: it was pretty good, they are getting better each time. All things look very realistic, I feel like I am really inside the tomb. CHARACTER: I think none of them are likable. They are arrogant and talk too much. Even the phone friends are boring. Worst, the conversation can't be skipped. There aren't many suspects since there are only 4 on the site and one missing after a while in the game, the rest can be sent to go 'somewhere' and they won't be back for many while so basically you don't really have many people to talk to. MUSIC: I don't really pay attention to it, but I think it is fine. PLOT AND STORY: Not really sure why and how. In the very beginning Nancy is thrown into the desert with sand storm, what's up with that? Aren't we there to solve the mystery of the person who attack Dr. Boyle or are we there to solve the Lost Queen? the very beginning was confusing so it was also confusing throughout the game. There are practically nowhere to go in this game except the tomb and the tent. Plus there is no nighttime, Nancy must be a super woman to stand through all the puzzles and heat and finish the game in just "one day". If you stay in Egypt you will surely want to go somewhere or see (at least) the pyramids. Nothing here. Not much snooping involved either. Dry. We have dictionary to translate hieroglyph but to me the translation looks like it was taken from Shakespearean English and I have no idea what it says, and some of them we can't translate. It's funny that Nancy only translates some hieroglyph and ignore others. Unlike other ND games, this game has zero scary factor. No creepiness of going through an Egyptian tomb and the curse. ND breaks all laws of trespassing and it seems fine in this game. Furthermore, you can actually make a phone call during a sand storm, how 'cool' is that?? INTERFACE: The interface changed for the third time. First it was the stack of books, then it was Nancy's room, and now it's the regular game menu. I kind of miss Nancy's room opening because she will have a case file, but not this time. That's why it's confusing on why it just started like that in Egypt. Who is Dr. Boyle? it was not explained until we further 'snoop' into the game. I don't like scrolling horizontally for the inventory. I prefer the arrow left and right. If you are new to ND game, don't worry about items in the inventory that is unused, some of them will be there throughout the game and is only for reference. MINI GAMES: Wow, talk about exaggeration. This is just way too much. Getting annoying really, one puzzle after the next, and none of them can be skipped, ugh! That's why I can't stand playing more than 2 hours straight on this game because of the amount of puzzles. ENDING: Huh? Probably one of the most not creative endings in all ND games. Disappointment, just like ND's Creature of Kapu Cave. In the end there are still unanswered things, like the water. Or I maybe don't pay much attention to the convo cos they're so draggish. EXTRAS: Outtakes.. umm, I don't know exactly what it is, kind of like concept art but only character is portrayed with background narration. What?? The other extra is spoiler for next game and but to me it does not look very exciting. I will buy it if BFG sell it, because I have to collect all ND games. All in all, if you are an ND games collector, like me, you don't want to miss this one, but if you are looking for a good mystery, try looking for other older ND games. the length is shorter back then but with way better plot and story.
June 30, 2013