Big Bang West
Tame the American Wild West in Big Bang West! Gather essential resources to construct buildings, upgrade your town and prosper as you settle new, uncharted lands. Perfect your town by enhancing infrastructure to attract new citizens and defend against hordes of bandits in this charming and fast paced Strategy game!
Unlockable trophies
Unique and adventurous side-quests
Defend against dangerous bandits
Game System Requirements:
OS:

10.8/10.7/10.6/10.5

CPU:

1.2 GHz (INTEL ONLY)

RAM:

512 MB

Hard Drive:

41 MB
Game Manager System Requirements:
Browser:

Safari 4.0 or later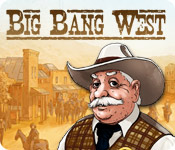 NEW299
The Big Fish Guarantee:
Quality tested and virus free.
No ads, no adware, no spyware.

Reviews at a Glance

Big Bang West
0
out of
5 (
0
Reviews
Review
)
Customer Reviews
Well done town simulation game with one quirk
I actually was very surprised how much I enjoyed the game play in this TM building simulation. The graphics were good but different in that they lean towards the graphic novel style of appearance. The way the levels and difficulty was staggered made good logical sense unlike some other games where the illogical or ridiculous is how to play. The only thing I found frustrating in higher levels is the tutorial never seems to end. The "hand-holding" characters keep popping up to tell you what to do and it was extremely annoying. It became increasingly frustrating when you've already got the hang of the game and just want to play as you see fit but a large drawn character keeps popping up in your view disturbing your field of vision. Such a simple thing made me not purchase the game as I became too frustrated with it to continue. If this wouldn't bother you I think this would be a great addition to any building lover's arsenal.
May 14, 2013
It's Okay
It's a decent TM game. It's not one I overly enjoyed but even in TM games I think it's a personal choice. The object is to meet set criteria, population, buildings, etc within a set amount of days. Meeting the criteria before the set days rewards you with a gold, while not meeting them results in a silver or bronze with the days it took. A challenge that pops up on the left as a "reward sign" I didn't notice nor was it addressed in the tutorial, until I noticed it several levels in. While you can follow how many workers and materials you have from the top, the goals needed in it's own tab at the bottom, as well as materials, level, and workers needed to build, also in the bottom tabs, I couldn't find what the current level of my town was at any given time, which is very important for upgrading and meeting criteria. I could find the current population and the food being produced but not the level of the town. If I was missing this, my apologies, but I looked and couldn't find it. I also found the constant popping up of people on the far right corner constantly telling me something, whether needed or not, annoying and distracting. The game isn't a buy for me but I do think it's one TM players should demo themselves and try. What I didn't like about the game may not be an issue for someone else.
May 14, 2013
old town
I do not know about this one. I am happy because it is not another HOG but I can not totally warm up to it. The graphics is what I do not like, I prefer the softer visual ones. You choose a plot and start building a house or farm, store, ranch, mine etc. Then you gradually upgrade, hire more workers or sheriff that fights off bandits or not....he can get killed and then you must hire a new sheriff. So far that is all pretty neat. You can also do little random side jobs that may or may not fail like exploring abandoned mines. That is not something you actually get to see because it is a task that can get you more money but is done invisible. Music is nice and the old town, old western style is appealing. I just do not like the way it looks so I may pass on this one.
May 14, 2013
Ok game
This is a strategy game at its best. You are out west and have to build up towns. But beware, because in the "info" area in each level you are given info on what you need to build at that level - but not that you need to include what you've built previously as well to keep the population level growing. If you build just the "info" stuff - you will fail each and every time AND you need to figure out if you need a lumber mill or a sheriff's office or a gold mine - you have to figure it all out and believe me, I did a LOT of selling buildings before I caught on to what was happening. The "days" move much more quickly than I can keep up and I love build-it type games. I think this would be fun for experts and definitely not beginners. But glam-ma says try it, that's what the FT is for.
May 29, 2013
Promising Start but Lacklustre Finish
This game actually has promise. I like the old Wild West theme a lot. If more challenging levels can be added and some small improvements made, I'll definitely play it again. The tutorial/hints that appear in every level should be removed. It's irritating and redundant. This carried on until the end of the game and because the game was so short, I actually thought I had finally completed the entire tutorial and now could get to the game proper - only to find no, that WAS the end of the game! A let-down at the end, like I was short changed. I won't recommend anyone to buy it but if you have time on your hands, then play the free trial just to give this game a chance.
June 6, 2013
Wha now?
This game is confusing to me. For example, the lower "popup" speech bubble will tell me my town is low on food but the food level will say 40. Another ex; I'll have a sheriff and the thief rides in and out of town unhindered. Another ex; the speech bubble will tell me to build more houses but technically I do not need more citizens. Occasionally buildings will have what I presume to be bonus materials. One must notice them and click on them. I kept clicking on the lumber icon before I realized it wasn't a bonus, but I get freaked out when I'm trying to beat a clock so do take that into consideration. I had to buy the game just to play it long enough to learn it. I'm still learning it. I thought I had to have 2 sheriffs sometimes at first due to the requirement icons, but that's actually an indication of the required town level which one increases by building available buildings. I think this game has potential and I'll check out version 2 if it's ever made but it's a bit too fast moving yet nothing much is happening. I will say I'm glad for a non HOGame. I guess I'd recommend this game with reservations and with some explanations knowing there isn't enough non-HOG games out there for us.
May 26, 2013
Constant popup a big turn off
This game is of basic to average quality in graphics, storyline & challenge. The constant popup of characters telling you to build more houses etc made me remove this game. If they turned off the annoying popup which appears every couple of seconds it might be more enjoyable but it still comes across as a poorly made game.
May 29, 2013
Recycled from Be A King
If you have played any of the Be A King games, you'll instantly recognize this game. Even the background sounds are basically the same including the dude that says something like "How Many" when you complete a goal. Instead of Knights you have a Sheriffs, the houses and buildings are western in flavor instead of medieval, but it isn't as much fun as the King games and in some places can get pretty annoying. Things that should be in the tutorial aren't - like needing two workers to complete some buildings. There is no difficulty selection, which would be a nice feature. It's not a bad TM game, but it's not as good IMO as it's big brother - Be A King.
May 22, 2013
Save for a daily deal
I just completed the game, all 35 levels with gold. I love these kinds of games so I enjoyed it. BUT it wasn't terribly challenging. I almost always need lots of help from walkthroughs, and I didn't need any help. It also seemed short, there was no story, the graphics were nothing to get excited about. Most games create new challenges and the last half of the game was just doing the same thing over and over. No new kids of homes to build, or better up grades. I was about tired of the redundancy of each level when I finished. Basically there are two ways to winning the levels in gold, once you've got that down, there is no challenge each level is played one of those two ways. Sometimes I just sit there collecting money with nothing to do until I reach the goal.
May 16, 2013
Not as fun as I had hoped.
Having played quite a bit TM games, I was pretty disappointed with this one. Its just okay, nothing special, and I agree with other reviewers about the intrusive tutorial pop ups. The sound, and cute graphics are great, but this is just not that fun to play.
July 4, 2013
The Apple logo is a trademark of Apple Computer, Inc.
The Windows logo is a trademark of Microsoft, Inc.