Dark Tales: Edgar Allan Poe's The Masque of the Red Death
Exclusive
Justice is in your hands in Dark Tales: Edgar Allan Poe's The Masque of the Red Death! A mysterious figure in a red mask has been stalking the streets of a small French town, murdering city officials. The mayor calls you in to help track him down and stop him. But when you arrive, you discover that the townspeople all seem to be cheering for the Red Masque. So who is the real criminal? It's up to you to decide in this thrilling Hidden Object Adventure game!
Game System Requirements:
OS:

Windows XP/Windows Vista/Windows 7/Windows 8

CPU:

1.4 GHz

RAM:

1024 MB

DirectX:

9.0

Hard Drive:

562 MB
Game Manager System Requirements:
Browser:

Internet Explorer 7 or later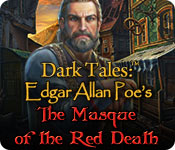 NEW299
The Big Fish Guarantee:
Quality tested and virus free.
No ads, no adware, no spyware.

Reviews at a Glance

Dark Tales: Edgar Allan Poe's The Masque of the Red Death
0
out of
5 (
0
Reviews
Review
)
Customer Reviews
Dark Tales: Edgar Allan Poe's The Masque of the Red Death
32
32
just fun to play and has good flow
I have played all the dark tales and this one is also good. Seems like ERS is putting out lots of games lately and I have notice that they are getting to be the same. Saying that it is still good game. Graphics and voice over is good along with the music. They seem to be getting less of a challenge for me. Maybe I'm betting better. Just seems like you need less help. The HOS are good and they are also changing into interactive ones now. Hint button works good. Good game and worth the money. Good flow to the game.
May 24, 2013
Exciting & New. Choose Your Own Ending!
BASED ON CE GAME COMPLETED I am a sucker for kittens, so I had to buy the CE of this game, with all its cute extras, but always, it?s the game that counts. And this game IN ANY VERSION, is top notch. The most recent of the Dark Tales series, it has all the characteristics that make this my all-time favourite series. Even more BEAUTIFUL GRAPHICS than usual, a nice CHANGE in both the MUSIC and the VOICEOVERS, M. DUPIN as urbane and charming as ever... though not as talkative, perhaps the circumstances of this case depressed him. And the CASE is DIFFERENT from our usual investigations. We are called in by the MAYOR to deal with the rash of murders of council officials perpetrated by a mysterious villain known as the RED MASQUE. What we find is a town on the point of OPEN REBELLION, falling apart around our ears. Starving people waylay us in the street, buildings disintegrate before our eyes. Everyone is living in terror of someone. It will take more than just identifying the villain to bring about JUSTICE. And this new angle is reflected in the GAMEPLAY. Before the game is finished we will have to collect ?justice orbs? which summarise different crimes, then weigh them up in our lady of justice?s scales. Only then can we decide who to arrest. In other words, we CHOOSE THE ENDING. We have several types of HO SCENE to work with. There is the conventional INTERACTIVE LIST, some MULTIPLES, at least one PROGRESSIVE SILHOUETTE (find one to use on the next and so on til you get your inventory item), and some INTERACTIVE SILHOUETTES. In this last, more than half the items require a further step, and being only silhouettes, you are given no indication to tell which needs interaction. I found the PUZZLES QUITE EASY, but that may be me finally getting the hang of some of the standard ones. Though these were mostly ORIGINAL, they were based on similar logical processes. To me, the game seemed LONGER than the others in this series. There was an added COMPLEXITY to the ADVENTURE ASPECT in this one that had me scratching my head several times as to how to move forward. There were also MORE LOCATIONS. While I am by no means sorry that I bought the CE, I believe the SE to be an excellent game, and a MUST HAVE for most players.
May 24, 2013
YOU BE THE JUDGE!
Another fantastic Poe game the difference in the CE vs. SE is mostly the fact that there are no achievements and you don't get to interact with the cute kitten. Detective Dupin has asked for your assistance again, someone in a red masque has been killing the corrupt people of the Mayors office. In this game you literally get to weigh out the evidence with the scales of justice. You will collect evidence in your virtual office against the corrupt Mayor and against the Red Masque killer. You then decide who the guilty party is by putting the evidence on one side or the other, you can change this any time. You also have a camera to take snapshots of each scene that will be in you map as well as in a photo book in your virtual office. The only thing I don't like about this game is the fact that the HOS double up on the same scenes, but they are interactive such as finding a honey dipper to use in the honey jar. The mini games are pretty simple like following the correct cup with a marble in it after the clown tries to shuffle them around, and you must do this correctly 5 times. There are plenty of things to do in each scene and it is pretty easy to figure out what to do with the inventory items but the hint system will show you where to go next in casual mode. Enjoy!
May 24, 2013
The best ERS game ever !!!!
Wow. This was a beautiful and fun game. For any of you older players...The graphics were just right for older eyes, including the hidden object scenes. The game ran VERY smoothly, no glitches or dragging cursors. I did switch to system cursor, but I do that with most games. I was addicted to the storyline from start to finish, just couldn't stop playing! And tons of locations to explore, all pleasant, not creepy or gloomy. (As far as I can remember, and I just finished playing.) Highly recommend !!
May 28, 2013
BEST OF THE SERIES
I see Dupin is now using a cane. Still think he's a total babe! :-D Review based on completed game in casual mode. Animation/VOS = Excellent but of course never for the player. Text dialogue to read. IHOS - Some scenes clear and others a little dark. Norm of small objects to larger. Two types: lists and silhouettes. Repeated. Random Click Penalty - None Hint - Fast charge, gives clues and directions. Puzzles/Mini-Games - Very unique. Enjoyed doing my best not to touch that skip button. lol Fast skip. New Feature - There's a camera on the lower left side. You take photos of every scene you explore then go back to the office and place the pics into the diary. If you try to take a duplicate photo, a message will appear stating a photograph has been taken of that location. Diary - Contains story, clues and the photos you have taken to be used as a Transporter Map. Inventory - Objects used fairly quickly in other locations. List can be locked into position to avoid the constant raising and lowering. Another great feature! This game was awesome and a cut above the previous games in the series. Don't remember who the devs are but keep up the great work. With each game, you're getting better! So fishies, throw in that line and reel this one in. You won't be disappointed. Happy gaming!!!
July 21, 2013
This series does not dissapoint- EVER!
I'm not typically a fan of HOG games, but there are certain ones I will buy because I know they are always super fun and I get my money's worth! This series is one of those! I really enjoyed the puzzles, the storyline, and music. The graphics are clean and easy to navigate. The puzzles aren't too difficult but are challenging enough to make the game fun! I'm anxious for another great installment to this wonderful series!
June 14, 2013
Dark Tales series is another great hit!
Great game! I love to play this type of game. It keeps you interested throughout the whole game. It had tons of places to explore and many different types of games. It even throws-in some familiar games which makes it fun. The music was relaxing and went along with the story perfectly. The game length was good. I loved everything about this game. I look forward to playing the next one.
June 7, 2013
red death
Outstanding game. Fun to be able to choose your own ending. The games seem to be getting more advanced and more challenging.
June 16, 2013
great game
has a journal and map. is as good as the others in the series in my opinion. hint/skip charge fairly fast. played casual, low sound and no sound towards the end. you choose the ending. i liked that. i am sure there will be another. ers seems to be doing a lot of great games.
June 20, 2013
Best ERS Game EVER!
Note: Review is of completed COLLECTOR'S EDITION, with Bonus Content review at the bottom. ~~~~~~~~~~~~~~~~~~~~~~~~~~~~~~~~~~~~~~~~~~~~~~~~~ This, by far, is the best Dark Tales game that ERS has produced. I was not hesitant in buying the Collector's Edition, and I do not regret it. Where do I start with this magnificent game? The story is amazing, and I mean amazing. The story has brilliant twists that I never saw coming and, get this, you get to CHOOSE the ending! By this, I mean you get to choose who is the guilty one! The main story goes like this: A criminal known as the Red Masque is attacking and murdering the Mayor's officials, and you and Dupin are called in to try and figure out who it is before he kills the Mayor. But, you begin to uncover some evidence that puzzles you, and really starts to make you question who is the guilty one. It all leads up to a dramatic ending, where you get to choose who walks away and who is locked up. As the game says at the beginning: ?What is justice? That's for you to decide.? At first, this seemed to me like a classic murder mystery, one that I did not see having many twists, but it's anything but! This is the best story to come from ERS, and perhaps the best ever! The game's challenge is a little bit of easy and hard. Most of it was easy, but I did struggle in certain areas, especially the puzzles. The puzzles were a little bit too hard for me, although I was able to solve some. To my regret, I did skip the majority. The puzzles are a mix of old and new. There are two types of HOS: Classic junkpile and silhouette. They were mostly junkpile with a few silhouette ones in there. I liked both, but enjoyed junkpile more. Both were fairly simple and offered no real challenge. This is basically your average HOPA. There were 3 difficulty modes, and you had the staples (Hint/Skip, map, diary). One thing I did enjoy (although I kept forgetting) was that you had to take photos of the locations with your camera in order to use the map. I found this a nice touch and it made the game more enjoyable. The game was considerably challenging at the start, but got a lot easier as the game went on. The graphics are standard ERS, hand drawn and delightful. Every scene is clear, and the character designs are great. The voice-overs are standard ERS. They weren't bad, but weren't amazing. My only criticism is that this is set in a French city, yet all voices have British or American accents. Here's a tip: French setting, French accents! FEATURES 3 modes of difficulty: Casual, Advanced and Hard. I originally started on Advanced, but switched to Casual. The differences are: Hint and skip recharge times, sparkles and black bar tips. Hint and Skip- both have reasonable recharge times for each difficulty. Diary- Keeps track of events and also holds map. The Diary is used very often. Map- is interactive, but only works if you remember to take photos of every location with the in-game camera. Camera- needs to be used to make the map work. Just click on it and a photo is taken. Scales of Justice- all evidence spheres are stored here. There is one side for the Mayor and the Red Masque. Here, you can review all evidence spheres, and place them in scales to determine who is guilty. BONUS CONTENT REVIEW Once the game is finished, you unlock the Bonus Content. The bonus content includes: Achievements Built-in Strategy Guide Office (where you keep achievements and your kitten) Collectible Cat Items (there are 5) Bonus Chapter Concept Art Wallpapers Screen savers Music Replay HOS Replay Movies Replay Puzzles The achievements and collectibles are fairly easy to collect. The kitten was a nice touch, a really nice touch (I actually spent quite a lot of time in my office when I should've been investigating). The other stuff like the Wallpaper, Concept Art, etc. I don't use. The wallpapers and screen savers are not very good, just locations of the game. The bonus chapter is the BEST chapter of the entire game. It opens up an entire new section of the game, and reveals to you who is really behind all the drama. The BC continues off from the main game, which has a conclusive ending. I absolutely loved the Bonus Chapter. It had a lot of twists, a great story and was wonderful. CONCLUSION To conclude, this is one cracker of a game. I absolutely loved it, and it's one of the few completed games I will give 5 stars. I personally recommend the CE as the Bonus Chapter is amazing, but you should be happy with either the CE or the SE. On the game length: On Casual Mode, I estimate the game to be between 3.5- 4 hours, which is an ideal game length.
November 2, 2013
The Apple logo is a trademark of Apple Computer, Inc.