The Veil of Mystery: Seven Little Gnomes
Seven gnomes wait in silence, holding a secret. Take up the hunt if you dare, and find the path to the Chamber of Fortune in The Veil of Mystery: Seven Little Gnomes! According to legend, Edward J. Smith created a secret chamber deep underneath his estate before he mysteriously vanished. Will you be able to solve this mystery? Become a master explorer, and discover the truth in this exciting treasure hunting Hidden Object Adventure!
Become a treasure hunter
Avoid deadly traps
Beautiful graphics
Solve unique riddles and mini-games
Game System Requirements:
OS:

Windows XP/Windows Vista/Windows 7/Windows 8

CPU:

1.4 GHz

RAM:

512 MB

DirectX:

9.0

Hard Drive:

505 MB
Game Manager System Requirements:
Browser:

Internet Explorer 7 or later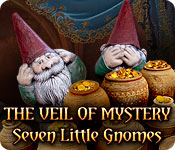 NEW299
The Big Fish Guarantee:
Quality tested and virus free.
No ads, no adware, no spyware.

Reviews at a Glance

The Veil of Mystery: Seven Little Gnomes
0
out of
5 (
0
Reviews
Review
)
Customer Reviews
The Veil of Mystery: Seven Little Gnomes
58
58
Great game
Played it twice......a few glitches. Loved the storyline and the HOS weren't easy. Morphing objects, more than one in some scenes. Hint help was good
July 8, 2013
Get past the video - excellent story
THIS REVIEW IS BASED ON THE FULL VERSION. The storyline is very engrossing. You are following in the footsteps of a gold miner who hid his treasure somewhere in his estate. Previous attempts to find said treasure drove the searcher insane. The story uses a theme similar to Agatha Christie's 'ten little indians' but with garden gnomes. It is actually quite ingenious. The puzzles so far have all fit in nicely with the story. I am playing this story on hardcore mode and it has been challenging. I find myself having to revisit scenes quite a bit to search for the piece that I missed during my first, second, third, and maybe even fourth pass, which is what I expect from a good puzzle adventure. It tests my desire to solve and challenges me to think beyond just the part of the picture in front of me. I do not understand the irritation with the graphics. They aren't 3D, but I do not consider this a deal-breaker. I am more about storyline and level of challenge. They could be anime or cartoon for all I care, as long as the story is good and the puzzles fit and make sense, I am happy with the game. One thing I will say, the voice acting is very good. I was surprised at that. The sounds also fit well with the ambiance. I haven't completed the game yet, it is that challenging on hardcore mode, and I am looking forward to the rest of Memorial Day working my way through the game.
May 27, 2013
A GOLDEN JOURNEY!
What's so bad about this game? I will admit there are some annoying features in this game, but I actually enjoyed the demo and will probably use a credit on it! Way back in the day a mysterious man visits the owner of the house you bought, and entrusts him with a locked box. The owner decides after 23 years that nobody will return for the box so he opens the box and finds pages of riddles and clues to find gold that has been hidden on his property. The previous owner went mad trying to decipher the riddles to find the gold. Now you have embarked on this golden journey as 7 dwarfs must be found, each one with a riddle leading to the next dwarf! The annoying aspects of this game are the fact that you have to actually click on the inventory box to make it pop up, every zoom in box has a lock and key at the top left that I have no idea what it's for, you have to read your journal after solving puzzles or opening up something because there is no dialog to tell you about what you need or find, and when you pick up an inventory item it is very touchy as to where you put it on the scene. However, I liked the 36 morphing items, many of them in the zoom in areas, I liked the dark eerie feel of the game. The HOS are dark and some items are difficult to find but I liked the challenge. There are several mini games, some of them required you to figure out a simple riddle such as the fish pond finding 6 red 4 gold etc. This is a SE and I didn't expect much and was pleasantly surprised by the morphing objects, and I was entertained, try this games demo with an open mind knowing it's a SE, I think you might just like it as well, enjoy!
May 27, 2013
Not to Bad Really!
Despite the mostly bad review i decided to try this game anyway. i personally liked this game and luckily had a free game coming. the morphing objects are not harder to find then other ho/adventure games i have seen much worse. the graphics not to bad and u can see...the only reason some ppl said hard to find or see is maybe they need glasses or better computers lol the vo not bad nor annoying like some games. and not alot either. the clues for the fish pond are clear except for the "white" which are not really white they r the ones with the red on their heads took me 20 min to figure out that lol it is worth the download time to try it :) i gave it 4 stars because the work and effort that was put in the game i really would give it a 3.5 rounded up. there may be an issue with the mouse moving back just close out the game and restarted it and it was fine. ik this is considered a "technical issue" but not everyone will have this issue. also at the mail box may take a few times with the scissors. this game has some issues which could be fixed. idk if all of this comes under review but i think they should so ppl reading reviews will know what issues they may have. hope you lil fishies give it a try :)
May 27, 2013
Fun
I enjoyed the demo and will be adding this to the buy list for payday. Found 2 of the gnomes during the trial period after the 2nd one was found the diary frozen and displayed only a black page. I closed the game and restarted and all was fine. Graphics are a bit muddy but it is suppose to be haunted/abandoned location so this did not bother me. I enjoyed the basic Hidden Object Search. The background music(?) is a bit strange with what sound like static radio or tv announcers breaking through did not understand that but feel it added to the haunted atmosphere of the location. Looking forward to completing this game.
May 27, 2013
Seven Little Gnomes - I Liked It - Review Of Completed Game
Story: You just became the owner of a run down house and take on the venture of the previous owner trying to decipher the riddles and clues to find the 7 gnomes. One clue leads to the next gnome along with finding the gold that was hidden on the property many years ago. 3 play modes: Casual, Advanced, Hard. I played advanced mode and there is an option to turn off sparkles however I still had sparkles for the HOS. Journal: Keeps track of notes and some puzzle clues. Also up at the top keeps track of your game play time. There is no map. There is widescreen at least for me as this filled my 20 inch monitor just fine. There are voice overs. HOS: There are quite a few scenes. All found by word list and there is a little interaction but not much. Puzzles: Most of them the usual run of the mill found in many games however I came across some unique ones that I've never seen before anyway. Hint/Skip: Takes a few minutes to charge up. Hint is helpful outside of HOS as you only have to click on it once and it will direct you to where you need to be until you get there along with show you what needs to be done. On the skip for puzzles it will also add 15 minutes to your playing time. There is also 36 morphing objects to find. My overall impression: I really enjoyed this game and found myself engrossed in it immediately The story made me think of Agatha Christie's "10 Little Indians" but 7 gnomes used for this story.. The graphics for me were just fine. I had no problem with them but did find some areas on the dark side which is what I would expect with an eerie/creepy setting with the run down house. I also thought the voice overs were really good however thought there could of been just a bit more. The HOS while there are quite a few scenes and some visited several times which I don't mind as after all this is a hidden object game and some I would even consider Sanford & Son junkyard however I only needed a couple of hints here. I do wish these would of been more interactive. The puzzles to my surprise since I'm not really a fan of the puzzles but some I found to be quite fun especially the fish in the pond one. I did skip a couple however. I did run into a glitch in the game where I had to restart under a different profile but after that little difficulty but I did get hung up a couple times where to go/do next and while there is no map I found the hint to be very helpful. While some of the HOS were visited more than once I still thought this game had quite a few different locations to go to. I also liked the balance of HOS, puzzle and adventure though I will say some won't because like I said there are quite a few HOS. I did like how the game keeps track of your play time and finding the morphing objects. I found them all. Most were easy to locate while a few not so obvious to me anyway. There are just a few things I really didn't like about this game and that is once a close up of the area has been completed (the magnify glass) to examine an area and/or use the inventory I wish it wouldn't of popped back up again. There is no need for that since there is nothing to do there. Sometimes it closed like it was suppose to and sometimes not. This should only pop up if there is indeed something to do. Also I don't like how the game adds 15 minutes to your play time. I just wish all developers would put a hint/skip with no waiting and let the game player decide when they need to use it as it doesn't have to be used. This should be up to the game player. After all they are the ones playing the game. As for game length about 6 hours for me. May be more/less for you. Overall a 4 stars from me. Thank you Big Fish and developer for a very good game here. I hope to see more from this developer. As always, give it a whirl and decide for yourself.
May 29, 2013
I really liked it....based on 1 hour demo
I really liked this game! The puzzles are challenging, the story not bad, and HO, while not interactive at least were interesting and made some sense. It reminds me a bit of the first ravenhurst. Morphing objects are a side thing, not the whole thing. That's good! Puzzles are great, story is fine. I like the creepy background noises, for me it keeps the atmosphere intense. I like that it wasn't "go here for no reason, then backtrack 30 times for no apparent reason. It seems like at the end of the hour the graphics in the HO's became poorer quality, but rushing production is never a good thing. I'm sure I couldn't keep up and perhaps the demands are unreasonable? Dunno. What I do know is I liked it.
May 28, 2013
Creepy Hidden Object Game
I enjoyed playing this game. I would describe it as Old School. I thought the graphics were okay, the music and background noises were creepy enough to add to the general feel of the game and definitely suited the overall atmosphere. If you are a fan of hidden object games then give the trial a go and see what you think.
May 28, 2013
Could be longer, but glad I bought it!
Finished! I enjoyed the morphs (my absolute favorite thing in games); found the HOS not too difficult for the most part, but some items were almost hidden beneath the inventory bar, or were too indistinct to be seen without the hint (like something that was supposed to be under or inside a net -- couldn't see it at all!#; the puzzles were entertaining. What this needs #in my opinion# is an interactive map, a locking inventory bar #this one is way too sensitive and just keeps bobbing up and down at the wrong times#, a separate volume control for the voices #I am not a fan of speech in games and try to buy games that allow me to mute just the voices so I can still enjoy the music, environment and special effects sounds), the ability to leave a puzzle and return to it instead of having to skip the puzzle, and a walkthrough!! Progress through the game was nicely done as far as being able to pretty much deduce where to go, although I found it annoying that sometimes it looked like there were still things to do at a given location in a room or whatever, but there was never a need to be looking at the spot again; the scenery was pleasant. Would have loved to played longer...hope this game company will come up with a sequel or other similar adventure but make it longer.
June 25, 2013
Had a lot of potential, but...
I played approx. 45 minutes. Really enjoyed the atmosphere; hints were helpful. Some good puzzles. The biggest drawback was too many HOS. I'd keep clicking (no penalty) just to get them over and actually try to enjoy the plot. Why do so many game developers use HOS so much? Ruined it for me.
May 27, 2013