The Veil of Mystery: Seven Little Gnomes
Seven gnomes wait in silence, holding a secret. Take up the hunt if you dare, and find the path to the Chamber of Fortune in The Veil of Mystery: Seven Little Gnomes! According to legend, Edward J. Smith created a secret chamber deep underneath his estate before he mysteriously vanished. Will you be able to solve this mystery? Become a master explorer, and discover the truth in this exciting treasure hunting Hidden Object Adventure!
Become a treasure hunter
Avoid deadly traps
Beautiful graphics
Solve unique riddles and mini-games
Game System Requirements:
OS:

Windows XP/Windows Vista/Windows 7/Windows 8

CPU:

1.4 GHz

RAM:

512 MB

DirectX:

9.0

Hard Drive:

505 MB
Game Manager System Requirements:
Browser:

Internet Explorer 7 or later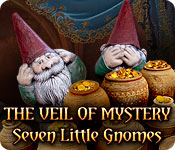 NEW299
The Big Fish Guarantee:
Quality tested and virus free.
No ads, no adware, no spyware.

Reviews at a Glance

The Veil of Mystery: Seven Little Gnomes
0
out of
5 (
0
Reviews
Review
)
Customer Reviews
The Veil of Mystery: Seven Little Gnomes
58
58
Wonderful Surprise!
Solid game with no videos and unwanted extras to bulk up the package - just good gaming. Environment sounds and soundtrack were excellent. I usually turn them off after a few minutes, but not this time. Artwork was overall very good - though some HO scenes were kinda dark and fuzzy. Mini-puzzles were new and interesting but not impossible. The Diary filled in the rest of the story nicely instead of using videos or voiceovers - well done! There are morphing objects here as well, but I didn't find them all - guess I'll have to play again. As I said in the title - a wonderful surprise to find a developer who stays with what is important and doesn't bother with bells and whistles to distract us. As to playing time? I took my time and needed over six hours total to complete the game. I definitely recommend this one!
January 2, 2014
Too Bad, Had Alot of Potential...
Seven gnomes wait in silence, holding a secret and it is up to you to take up the hunt and find the path to the Chamber of Fortune. According to legend, Edward J. Smith created a secret chamber deep underneath his estate before he mysteriously vanished. Finding what lies beneath that chamber is your goal and soon this game becomes a treasure hunt filled with dark dangers. The storyline, voice-overs along with the music are actually the only redeeming element in this game, eerie and haunting with great sound effects. Visually, the graphics are poor, hand drawn cut scenes with dark and blurred graphics that make finding objects very difficult. Overall the game is dark but I did like the artwork, the ones that I could actually see. It is too bad because the game has much to offer. With three play modes to choose from, a HOPA that has you playing one HO scene after another, blended in with mini-games that are simple to play and some tricky puzzles to solve. You have a diary that offers clues and poems that you find along the way. The Hidden Object scenes are junk piled with no interactions. Unfortunately the blurred graphics make some items almost impossible to find. As an extra treat you have 35 morphing object to detect but as there are no achievements, I really dont know what they will offer. YOu have a clock that times you and everytime you skip a puzzle, 15 minutes are added. Again, with no achievement or scoreboard, what is the point. This could have been a brilliant game to play, whatwith the storyline, the music which I simply loved and the errie atmosphere. However, visually, the developers have really gone off mark and I doubt that this game will be popular. I got as far as inside the house and decided to call it a day. Perhaps if I have an extra credit on hand, I may just use it . The storyline is interesting and I am curious to find what exactly is the treasure. It is too bad though, the game had potential.
May 27, 2013
Gnomes mystery uncovered
All the many bad reviews on this game nearly put me off but for such a good bargain I couldn?t resist the temptation. The storyline, I guess, is the strongest reason to play the game: this is a really compelling and engrossing experience. Even despite the fact that it was reminiscent of Agatha Christie?s ?10 little indians?. Finding the mysterious treasure made me spend around five hours playing on casual mode. However I am not sure the game will appeal to core players. Plenty and plenty of HOS ? just the right amount for a HOG lover like me. Puzzles can be skipped and that will add to your timer (no-no, the game is not timed ? it just shows your playtime, that?s all). I must admit there was nothing out of the ordinary in the puzzles ? I imagine the puzzle-crazy guys won?t be tempted with this. My special mention goes to the sound effects: VOs were quite of the standard and not overdone or overacted. The music supported the creepy atmosphere. I was fortunate not to come across the glitches of the game, but if I were a developer, I would give more attention to the graphics which was rather mediocre. It could be appropriate if I played the games some years ago, but now it seems dull and dated. Add to this dark and blurry cut scenes ? and the fun is spoilt. Anyway there dozens of the games hundreds of times worse than this and if you are looking for something to fill your lonely evening ? give a try to the Gnomes.
June 18, 2013
Little Gnomes Could've Done With A Little Improvement
Review based off 48 minutes of the demo. The game glitched out and I had to manually shut down before finishing the remaining 12. I should start off by saying this was better than I expected it to be. I went in with the impression it would be silly, cheesy, and underwhelming. Although it does suffer from some of the 'spooky' mystery tropes, the game play was decently enjoyable. Cut scenes could use some sharpening, but are for the most part ok. Voice overs are fine, but some of the commentary while playing is redundant and obnoxious. Also, if you are a fan of finding extra morphing objects in random areas as you play, then you will enjoy this commonly employed feature. The HOS are very old school which some players may enjoy. The objects are less pronounced from their backdrops and are harder to spot which may present a welcome challenge for some. However, for people like me with iffy eyesight, this became tedious and time consuming. A few of the HOS aren't very well lit, most likely under the pretense of location, i.e. cupboard, closet, etc. Others were washed out, like the bathtub HOS. This only added to the poor visibility and frustration. For future games I would like to see brighter, more defined HOSs. Transitions between areas and even zones you zoom in to interact with were clunky and slow. You actually have to click on the word 'inventory' for it to come up. This wouldn't be a big deal if it weren't right at the bottom of the screen. It created a frustrating problem when the game wanted to interpret my clicks as a request to back out of an area instead of opening my inventory for a needed item. Also when playing these sorts of Adventure HOGs I prefer a zoom in area to close off once I've completed everything in it. Otherwise I end up wasting time revisiting every single place the cursor becomes a magnifying glass when I'm stuck and retracting my steps. I realize this could add to the challenge for some and is probably more of a personal preference, but I thought I'd make note of it. The puzzles weren't anything new if you play these types of games often. I don't think I can accurately comment on the storyline as I only played through the demo, but I can at least say I was moderately interested. Overall this game was just ok, but I won't be purchasing. I didn't see enough to warrant the use of a credit.
May 27, 2013
Glitches
Looks like it could be a fun game but it's full of glitches and hang ups. I've purchased a lot of games from Big Fish and this is the first one that I have ever had problems with. They said there was an update just after I purchased so I deleted the original and I'm even having a problem downloading the upgrade. The game kept getting hung up in the carriage every time I clicked on it after the initial investigation and had to ALT-CTR-DEL to get out of it, so I stayed away from there. Some people were having problems in the bedroom but I think I managed that one ok, now I'm stuck in the kitchen....the "hint" keeps taking me to the kitchen cabinet but there is no HOG there and nothing I have in inventory works with it. In the forum there seems to be an awful lot of people that are having the same problems in the same areas of the game so I'm thinking this is more a programming problem than user error or system issues. Well, if I can get the update to download I'll update on whether these issues have been resolved.
June 15, 2013
I had Fun
Even though the graphics remind me of older HO's I still had fun. Nothing to much to brag about. It had morphing objects which some I think did not morph at all. The puzzles were simple and nice. Great beginner game. Even though I am into harder more deluxe games I still enjoyed this one.
May 30, 2013
Veiled in mystery - gnome from gnome
Hmm.. yes the game was ok. I got it on a freebie so would have been annoyed if I had to shell out for it directly. Graphics - a bit questionable at times- some of the HO seem very dark and difficult to make out the objects. Had to use the hint quite a bit especially when searching for the last object and couldn't see it anywhere. Gameplay - reservations about this too - you seem to use strange objects to solve spurious puzzles. Sometimes it makes some sense, other times it's guess work or use a hint. Hint takes you to next action to take - it doesn't just hint. Morphing objects - I have seen better; some are difficult to spot as the edges of the screen seem so dark and misty. Music - that's ok - adds to the creepy atmosphere. Premis- storyline - rather strange and seems forced to fit rather than flow with the gameplay. Some things appear to be done out of sequence which is a little confusing. You look at the diary and wonder if you've missed something important, then the game fills it in much later! Overall- a little disappointing - could have been so much better. I did want to find out about the gold though so I will finish the game. Probably not a ideal game - especially if you pay for it. In two minds whether to recommend it.......
May 28, 2013
Had Potential
I thought this game looked like one I would buy, but it just never seemed to grab me. It was just an "ok" for me all the way around.
June 2, 2013
A Great Game ... But Glitchy & Badly Finished
Nice Graphics, Sounds & Decent Length Of Game Play ... Worth A Voucher At Best As The Game Tends To Be A Bit Glitchy And Lacking Some Final Finishing Touches ... And The Ending Seemed Very Abrupt ... Would Be Good To See What This New Developer Can Come Up With In The Future As There Were Some Nice Game Concepts ...
June 2, 2013
basically undecided
I have only played the demo and still trying to decide if I will use a free game for it. as others have said I really want to like this game but it is odd. I don't use sound so can rate that but it is dark so finding things is a litte tricky at times. I didn't find many morphing objects, maybe I just kept forgetting to look but they were not popping out for me and even though I found gnomes I couldn't take them or do anything with them so that just confused me. not sure what is supposed to happen when I find them. so basically I just can't decide on this one. not even sure if I shouild click yes or no on the recommend, I wish there was a maybe option.
May 29, 2013