Chronicles of Albian 2: The Wizbury School of Magic
The Wizbury School of Magic has been burgled and the thief is on the loose! It's up to you to follow the clues and track down the culprit. Collect items across campus and sell them at the local shop to rebuild Wizbury in time for the coming Magician's Guild inspection. Meet a quirky cast of wizards, witches, students, professors, ghosts and ghouls. Upgrade every last part of Wizbury, from the drawbridge to the dirigible. Seek out hidden secrets across campus and even try your hand at spellcasting in Chronicles of Albian 2: The Wizbury School of Magic!
Hidden objects change each time you play a scene!
Meet a full cast of hilarious characters, fully voiced!
All-new unique Seek & Sprint mode
Game System Requirements:
OS:

Windows XP/Windows Vista/Windows 7/Windows 8

CPU:

1.0 GHz

RAM:

512 MB

DirectX:

9.0

Hard Drive:

184 MB
Game Manager System Requirements:
Browser:

Internet Explorer 7 or later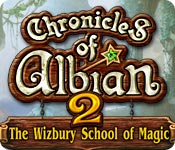 NEW299
The Big Fish Guarantee:
Quality tested and virus free.
No ads, no adware, no spyware.

Reviews at a Glance

Chronicles of Albian 2: The Wizbury School of Magic
0
out of
5 (
0
Reviews
Review
)
Customer Reviews
Chronicles of Albian 2: The Wizbury School of Magic
38
38
another great "chronicles" game
you are called to the wizardry school to find out who has stolen the gold. hint/skip charge pretty fast. there is a diary. played casual, low sound. there is a "click" penalty of not being able to control the cursor for a short time. graphics are really great!!! sequel????? i believe so.
July 6, 2013
Fasinating!
Different. Very interesting. It takes thinking and some memory. You do go between rooms to solve problems but there are clues along the way. I have never played a game like this before but I am loving it. It is long and somewhat complicated. I have not finished it yet but I WILL keep going.
June 12, 2014
different but fun. Not the greatest
The graphics are ok could be better. Music and voice over ok. Lots of dialogue to listen too. The HOS are different and the puzzles are not hard. HAs a map you get collectibles so you can go and get coins to buy things to use thought the game. Has achievements which makes you feel good. Has a magic wand to use and help. Not sure who they geared this game to, kids or adults. Not a bad game but I'll pass on buying it.
May 26, 2013
They're Always After Me Lucky Charms !!
I'm a big fan of the world of Harry Potter and playing this game felt like jumping into the pages of one of my favorite books. By moving about the castle and grounds you are able to accumulate wealth by finishing tasks in each scene which include HOS, puzzles and interactions with items in inventory. At the beginning, you receive a spellbook, wand and map. The map allows you to jump between various scenes instead of moving via arrow. The wand is used to cast various spells after you've learned them. After you've finished a scene you are able to do business with a cheeky leprechan and get money for upgrades to the castle. If you don't fix up the castle, the big wigs will close its doors. We don't want that. Other interesting features include: ~ fairies hidden in the scenes that will eliminate a random object from your list ~ gold reward for finding several items in a row without making a mistake and for clicking items quickly after they glow or hint is used ~ crystal ball HINT button allows you to choose which item you'd like to find ~ gems hidden around the castle ~ pay gold to skip a puzzle There are many ways to customize gameplay. I would recommend using one of the two pointy cursors instead of the crystal. I found that some thinner objects were hard to activate otherwise.
May 26, 2013
HOG Loaded With Fun Features, Sweet Kids? Game
BASED ON ONE HOUR DEMO Unlike many other fairy tale and magic games such as the Princess Isabella and Awakening series, I don?t think this game is likely to appeal to the ?kid? in us all. It?s just a little too twee for that. It really is for the youngsters ? probably pre-teens. But it?s a GREAT game for the RIGHT AUDIENCE. It?s got LOADS OF FUN THINGS TO DO: ? List of HIDDEN OBJECTS to find in every scene, CHANGED EACH TIME YOU RETURN. ? INTERACTIVE items where you may get a close up to find your items, or you may have to complete an easy PUZZLE. ? COLLECTIBLE gems, 6 in each scene. ? FAIRIES that when found find one item on your list for you. ? ACHIEVEMENTS, some of them MYSTERY ones. ? Sell your items to the local shop to GET COINS. ? BUY UPGRADES to improve the school. ? WALLPAPERS of each room, unlocked when you first visit. ? Use your MAP, SPELLBOOK, and MAGIC WAND to help you, as well as HINT. You can also: ? CHOOSE one of three CUSTOM CURSORS. ? CORRECT for ASPECT RATIO. ? Use SLIDERS for VOICE, FX, MUSIC, AMBIENT. ? AUTO-ADVANCE the DIALOGUE. There is a HUGE amount of DIALOGUE, at least at first, so this last is a big help. I didn?t like the ?cut and paste? GRAPHICS, and found some things hard to see because they were small, but then I?m not 12 anymore. I cannot adequately explain why I think this is strictly kids? stuff; perhaps because the STORY and the way it is EXPRESSED is pretty simple. You arrive at the Wizbury School of Magic just in time to discover that all the gold meant for renovations has been stolen and you offer your help to collect money and rebuild. To the younger crowd, I think you?ll love this! Us old fogies will have to pass.
May 26, 2013
Something fun for a change!
This is a very simple little game. Yes, the graphics are very old school and very cartoon like, but clean. A lot of talking, which you can click through. HOGs are not hard, but do take some thought when searching for items. Games are not difficult either. Music is okay but gets a bit annoying after while, so I just turn it way down. Voice overs aren't bad, but some comments are a bit silly. Nice jump map. Hint is helpful and fills quickly. Not a lot of instruction, but easy to figure out. Very much like Gardenscapes and Antique Road Show. I enjoy this type of game, earning money to upgrade and buy things. Of course, it is all HOGs. This story line is a little different, which is nice. You have to find six jewels, which can be a little challenging. There is a little fairy to find in each scene, who will eliminate one of your find items. I save the fairy for last and use it if I can't find something. This is one of those games that is relaxing. Nothing dark and gloomy (so far), and fun. A nice change of pace. I did enjoy this game and will use a credit to purchase. I think most all level of players will enjoy this one...especially if you liked Gardenscapes and Antique Road Show. As always, try it for yourself and see what you think. We all have different tastes in games and you may not care for this one at all. Thanks for the reviews.
May 26, 2013
Albian 2
I found the first Chronicles of Albian to be enjoyable, I find myself liking this one much more. Admittedly, the voice overs are on the corny side (I can see quite a bit of influence taken from Harry Potter), but it does help in the overall flow of the game. The music is pleasant and NOT overpowering, scenes are beautifully illustrated and the HO's and in scene puzzles are entertaining, engaging and, at times, very complex. The only problem I would have to voice about the HO scenes is that (and I have noted in other reviews) some objects are almost too small to see, even in the enlarged view. All in all it is a fun game and is a nice challenge even to advanced players. Don't discount it before you try it, that's for sure!
May 27, 2013
SOLID SEQUEL
You get a lot in this SE: Achievements, wallpapers, 3 custom cursors, select volume for ambience, voices, sound effects and music, auto-advance dialogue ability, hidden gems to find, select 4:3 aspect if you don?t want stretch screen, a spellbook, and hidden fairies to help you find objects in addition to using a hint. Lovely locations, pleasant voice overs and soothing music. Storyline: The gold needed to upgrade the school before the new terms begins has disappeared. Gameplay is a lot like the original Chronicles of Albian. The HOS are the actual entire locations, with ability to play close up in some areas, so some items will be somewhat small in comparison to the surroundings. Yet, most objects will be easily seeable. You will also encounter several tasks which are recorded in your spellbook. A very nice game, well put together.
May 28, 2013
WIZARD IN TRAINING!
You are going to The Wizbury School of Magic with your Godmother and all of the gold for the schools upgrades has gone missing! This is a really good game for kids or anyone who just wants to relax and find hidden objects. There are spells to cast with your magic wand, and achievements to earn. Each scene has 6 gems to collect for extra gold and a fairy to find that will take with her one item of her choosing. After you collect all the items you will sell them to earn money for the schools upgrades. You will use inventory items along the way to repair things, open locks etc. The down side is that between scenes is takes forever to load and you have to repeat the same area a couple of times, other than that its a relaxing and fun game. Enjoy!
May 29, 2013
Good game but liked the first one more
I was glad to see this game because I enjoyed the original Chronicles of Albian .It is not a high tech power game, you are not rushing against the clock , trying to save anyone from death or the world will end game. It is a relaxing, take your time and enjoy game..
May 26, 2013