Weather Lord: Hidden Realm
Command the powerful forces of nature to free an island of an evil scourge in Weather Lord: Hidden Realm! As you make your way across a once lost land, you'll restore its villages, free its people and battle ogres, golems and Yeti scum. With the elements in your hands, a sword at your side and a little magic in your pocket, no one will be able to stop you on your march to victory in this thrilling Time Management game!
50 levels
Five weather elements
Game System Requirements:
OS:

Windows XP/Windows Vista/Windows 7/Windows 8

CPU:

1.4 GHz

RAM:

512 MB

DirectX:

9.0

Hard Drive:

328 MB
Game Manager System Requirements:
Browser:

Internet Explorer 7 or later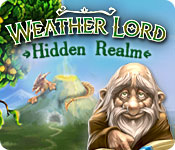 NEW299
The Big Fish Guarantee:
Quality tested and virus free.
No ads, no adware, no spyware.

Reviews at a Glance

Weather Lord: Hidden Realm
0
out of
5 (
0
Reviews
Review
)
Customer Reviews
Weather Lord: Hidden Realm
53
53
Great little TM game that's just short of greatness
I enjoyed this fun TM game despite it falling short of greatness. There weren't any technical glitches, it involved very little learning curve and it's accessible to all levels. There were however just a few misses that stop it from being great. Pros - Easy to master game functions - Some strategy required on mid to high levels to achieve gold - Quick movements with palpable, fun game play Cons - No difficulty setting (I achieved gold on all levels within 3 days) - Brevity (relates to point above, not necessarily the number of levels) - No bonus or additional challenges after achieving overall gold (IMO this should be included on ALL games, not reserved solely for CEs) - Replayability Overall Fun variation on standard TM fare with inclusion of weather theme as strategy challenge. Spot on for beginner-intermediate. Limited challenge for advanced. Short-lived fun for $7.
May 31, 2013
Great Game
But not for me - lol. This is a game where you are the weatherman - literally. You are on an island inhabited by ogres and you are taking over. You have to find the weather artifacts to get the weather you need going (because we all know it's not always sunshine and butterflies) and find wood, food and gold, hire workers and a soldier to fend off the ogres while you build and repair various buildings, etc. This has all the fun and variety of a "build-it" type game with the added action of needing the weather to assist you. I do not believe this is good for beginners because I'm fairly good at build-it type games and this one had me - I just was not fast enough to keep up. But, that's why the FT is offered so this glam-ma says please go for it.
May 29, 2013
Great Little TM Game
I didn't particularly like the first game in this series and passed on it but after playing the demo for this one only 30 minutes I decided it was a personal buy for me. As many have stated, it is a gather, build and advance TM game that requires a strategy as you progress through the higher levels. I like the elements feature, as it's very different from what I've encountered in other TM games. While the tutorial isn't great, if you don't turn off the "Show Hints" option, it will help you as new aspects are introduced. It's a timed game with no Relaxed option but you can finish each level, and can replay any that you want to get the gold on. While it may not be every TM player's cup of tea, I liked it. With the few decent TM games that are ever offered, this one was welcome to me as something a bit different from the others; battling various beasties. Demo it and try it for yourself. You might like some of the unusual aspects of the game that would make it worthy to you as a buy.
May 30, 2013
Better Than Most TM Games!
Like many other reviewers, I did not like the 1st version...BUT this one is great! The game is challenging without being frustrating.....interesting and really fun! You should try the demo....then be ready to BUY! I bet you will.....:)
June 8, 2013
Little sad
My first ever review. I only ever play TM games and certainly don't consider myself an expert but I was a little disappointed with this game. Fantastic graphics and concept but I don't think it was too hard. There were a couple of levels I needed to replay a few times to get gold but on the whole it doesn't build to the same level of difficulty as some TM games. A good game but not a great game.
June 7, 2013
Hints
Love this game but the first time you need to play it with hints on...otherwise you won't know what to do! Extremely challenging, for me anyway. I will be buying it as soon as I get a credit lol.
August 18, 2014
I enjoyed this game
Lot's of fun to play, I actually completed the game much sooner than expected. I liked having to add rain/sun to grow your food or freeze a lake....that was different but fun. A few levels had to be replayed to attain expert time. I'm a HUGE fan of time management games and enjoy the challenge of getting the best time I can. Overall, I liked this game and purchased it immediately following my free 1 hour play time.
June 19, 2013
fun but confusing
No voice over or music Graphics are good No hint button in this game. The directions to me were a little confusing at first. Lots of reading to do at the beginning and at the end of each segment. Pretty much a kids game and they may not get it without adult help. Cute game just not that great on directions for the younger crowd. Lots to do and get for money and food but and running around to get it but was not what was needed at the time. I think it may be to hard for a child to play and get the achievements with out help.
May 29, 2013
Better than the first one
I remember playing the first Weather Lord, and disliking it greatly. It seems the developers did a major overhaul here. This is a builder-time management game. In addition to collecting resources, you can also use weather elements, such as sun, wind, rain, etc. to help grow your plants, clear fog, etc. There is a timer, however, you can keep playing past when the timer runs out. You are able to click ahead for tasks. The tutorial was sketchy at best. The goals for each level are not real clear... not all your goals for the entire level are seen when you first start a level. The graphics are ok, however, they could have made things a little bigger (and my eyesight is perfectly fine lol). It appears that there are 50 levels. For me, it was an ok game. Nothing earth shattering. I continue to wait for a good TM game that grabs my attention. This game however, will definitely please some TM fans.
May 29, 2013
What's wrong with sequels?
We have seen it again and again. The developers come with a fun concept and this novelty is what lifts a perfect ordinary game into something special. So, the developers take that title, take all their bells and whistles, dump the fun concept, and make a humdrum game, undistinguishable from a lot of other games. The first Weather Lord game had a fun concept. Clouds, sun, rain, wind, they were resources to be bought, combined, and chased all over, because they behaved like weather elements and strayed all over the place. So, each time you needed something, you had to figure out where it was. That kept you on your toes. Well, the second game dumps the "strayed sheep" concept. You still have weather to use, but it is not a resource that takes any effort, you just point to it. It does not stray, it just goes where it was supposed to go, and then return to base. All you have is anohter humdrum time managment game, less exciting than ohers, less humorous than othres, less complicaed tand challenging than others. It is OK, but not a game you would love. It is one that you would play, and then forget all about it.
August 31, 2013