Weather Lord: Hidden Realm
Command the powerful forces of nature to free an island of an evil scourge in Weather Lord: Hidden Realm! As you make your way across a once lost land, you'll restore its villages, free its people and battle ogres, golems and Yeti scum. With the elements in your hands, a sword at your side and a little magic in your pocket, no one will be able to stop you on your march to victory in this thrilling Time Management game!
50 levels
Five weather elements
Game System Requirements:
OS:

Windows XP/Windows Vista/Windows 7/Windows 8

CPU:

1.4 GHz

RAM:

512 MB

DirectX:

9.0

Hard Drive:

328 MB
Game Manager System Requirements:
Browser:

Internet Explorer 7 or later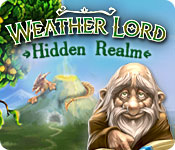 NEW299
The Big Fish Guarantee:
Quality tested and virus free.
No ads, no adware, no spyware.

Reviews at a Glance

Weather Lord: Hidden Realm
0
out of
5 (
0
Reviews
Review
)
Customer Reviews
Weather Lord: Hidden Realm
53
53
TM fans rejoice---This ones's a Winner!
I was not a fan of the first Weather Lords game, so I didn't get too excited when I saw this one. I was pleasantly surprised to see that they did a complete overhaul of the original game, and added a fun storyline to boot! I enjoyed this from beginning to end. I purchased it as soon as the trial ended. Hope BF brings us more like this one! Loved it!
May 29, 2013
WATCH OUT FOR THE OGRES!
Yep, I like this one! This is a TM game that has a lot to do and it also has different things to do as well. You have to collect the normal resources, food, wood and gold, but you need to use weather elements as well such as clouds to water your garden, sun to dry up swamps and to forge weapons and wind to clear away fog. You need to construct buildings for housing workers, saw mills, forges and sun towers to fight the ogres. You will hire warriors to fight the ogres and you must keep to the task list and construct the correct buildings. The graphics are good and it is a very addicting game. Enjoy!
May 29, 2013
I ALMOST did not get this game because I so did not care for the first weather lord game?. What a mistake that would have been
I ALMOST did not get this game because I so did not care for the first weather lord game?. What a mistake that would have been! I have been going back to play all of my previous TM games because they are so rare on Big Fish.. This game Is w3onderful! Graphics are not stunning but not cartoonish either. I never read the story line on games, so not sure about that one. I did enjoy the incorporation of the weather into the building game? Very nice change of pace. If you are a TM Fan, this is one not to miss!
May 29, 2013
Smite The Ogres !!!
This was an extremely fun and amusing little game with high addictive potential. The characters are adorable. The sound effects are entertaining. The level of challenge wasn't too hot or too cold...but JUST right. Each level assigns various tasks that need to be completed before the time runs out. Tasks involve gathering enough food,wood and gold resources to build homes, processing factories and defensive towers and to repair/destroy important structures. Warriors are at the ready to defend the area and rescue citizens/allies. Additional artifacts allow you to harness 5 weather-related powers to assist you in your adventures. There are tabs to explain the Awards,Artifacts,Heroes and Buildings as well as the 6 categories of awards that can be earned for farm, gold gathering, repair, rescue,building and warrior-related tasks. Good Times!
May 29, 2013
Weather Lord
Totally LOVED this game!! So happy that BF put out a TM game instead of another HOG. I actually thought this was another HOG but to my surprise, this game is so enjoyable to play, the graphics, the music, the levels .. PERFECT!! So many things to build to help you along the way (the wind, the cloud, the sun) to get the gold on every level. I've played about 5 minutes of this game and its already in my collection of TM games! If you love TM games then your surely going to love this one! BIG HIT on this one BF!!
May 29, 2013
love builders, love this too
wow,,, i love it,,,,has what we builder lovers clamor for,,, can continue after timer,, chain tasks, looks like there is going to be a lot of diff buildings, cute graphics,, 50 levels, achievements,, what more could we ask for..
May 29, 2013
Very Good Game
Everyone is entitled to their opinion and mine is: I can't see anything to complain about. I suppose if you have never played a time management game before, then the tutorial could be more detailed, but having said that, I have not encountered any difficulty and that was after switching the tutorial off! Some players have stated that the game is boring, some players, like me think it's great. So, my advice is play the free 60 mins game and make up your own minds.
May 29, 2013
Thank you Developers
My review contains just a couple tiny hints about game play. What a great surprise to wake up to. Game play is smooth. As stated by other reviewers, you can chain your tasks so you're not waiting. I really like that workers can gather pumpkins and wood from the trees at the same time. Think ahead and use the sun to dry up the swamp before you get there so you're not waiting also. The tutorial gives sufficient directions, but you'll find that you may have to play through a level before you find out which buildings you'll need the most, then replay. I expect the levels to get harder as you go with new things to discover. The only thing I would change is more emphasis on the workers like their little faces and personalities.
May 29, 2013
Cute Cute Cute!
I just love these games (don't like timers, but you are not penalized) great graphics and something new on every corner! TRY IT YOU'LL LIKE IT!
May 29, 2013
A True TM Gem
Weather Lord 2 was a delightful little adventure full of fun, challenge and strategy. This game was fast paced in the sense of little worker's movements and completion of tasks, which can be chained. Even though I had to replay some levels for the right strategy to achieve gold, I was never stressed...ok, just one level had me a wee bit anxious but I got excellent advice in the game forum. The strategy is integral in this game, more important than speed in my opinion. The weather icons that did so much of the work were unique and I loved this aspect. The little rain cloud watered the trees and pumpkin patch, the sun dried out the swamp and melted ice, the little wind whirly-gig icon blew the fog away and the black lightening cloud was used in the fighting towers, as were the other weather icons. You have an alter that can be activated to increase the workers speed and several other helpful actions. Each level is different and none have miles and miles of rock, trees or obstacles to clear so the paths are clear to see...thus it moves quickly and no problem or annoyance if you want to retry for gold. My comments are after completing Weather Lord 2...I adored this game and yes, I'm off to play it again. I was thrilled to see so many others enjoying this gem, let us hope there will be a sequel, soon!!!!
June 6, 2013