House of 1000 Doors: Serpent Flame Collector's Edition
Exclusive
Return to the House of 1,000 Doors to save mankind from annihilation! Giant snakes have burst out of the Earth and are wreaking destruction across every continent. Your mission: travel back in time to four different epochs to gather the elements needed to activate a machine that can destroy the ancient beasts!

This is a special Collector's Edition release full of exclusive extras you won't find in the standard version. As a bonus, Collector's Edition purchases count toward three stamps on your Monthly Game Club Punch Card!

The Collector's Edition includes:
Thrilling bonus chapter
Desktop wallpapers
Concept art
Integrated Strategy Guide
Game System Requirements:
OS:

Windows XP/Windows Vista/Windows 7/Windows 8

CPU:

1.6 GHz

RAM:

512 MB

DirectX:

9.0

Hard Drive:

898 MB
Game Manager System Requirements:
Browser:

Internet Explorer 7 or later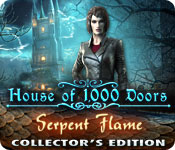 The Big Fish Guarantee:
Quality tested and virus free.
No ads, no adware, no spyware.

Reviews at a Glance

House of 1000 Doors: Serpent Flame Collector's Edition
0
out of
5 (
0
Reviews
Review
)
Customer Reviews
House of 1000 Doors: Serpent Flame Collector's Edition
107
107
Giant Snakes... Save us Kate !!!
I must say first, thank GOODNESS Kate has changed out of that blue dress !!! LOL. Oh I have enjoyed all 3 of the House of 1000 Doors games and this is no exception. The HOS are few and sort of interactive and fun. There are morphine objects to find, which I saw one reviewer state you can turn off the clue which makes them easy to find? I haven't looked into that yet. There is a jump map and a great hint button if needed. A journal records your journey. There are puzzles/mini games which are good. The graphics and sound are great. Nice and clear. Kind of the same type of gameplay as the other 1000 door games ... you get keys to visit 4 portals and save the doomed world from giant serpents. I did not get to the bonus chapter yet, and would love to know how long it is. Although the game play is quite easy to moderate, it is a great game. One to just kick back with and enjoy. A buy for me. :)))
June 6, 2013
Better than the last one
I thought it was a good game, definitely better than "Palm" but the ending to the main game was abrupt and incomplete. Once you complete the tasks you are supposed to go back and talk to the shaman but the game just ends and goes to the bonus game if you have the CE. Same thing, the bonus game only seems random to main game. Still, it was a fine play. I like having the map showing where areas of interest are and that you can jump there without walking back and forth. I also like that it shows you which areas have the extra objects still to collect but you can turn that off if you want.
July 17, 2013
Not as good as the first or second
This misses a 5 rating in several ways. 1. There is no way to turn off the awful voiceovers, I kept having to hit my mute button to avoid them. 2. The beyond objects are ridiculously easy to find, there is no challenge. 3. The prize for finding the beyond objects is 4 boring "swap the tiles" pictures. 4. The bonus game is creepier and more interesting than the regular game. 5. The developers disappointly did not develop the "House of 1000 Doors" theme much further in this episode, it lacks the originality of the first. However, both the regular and bonus games are a decent length. The HOS and "replace the object" scenes are okay, the minigames pretty easy, you can use the map to skip from place to place, and you can turn off the hints in the map.
July 10, 2013
House of 1000 Doors
Nice game. Very good graphics. Interesting Storry, even if I do not like snakes. Accompanying well made game cinematics. Unfortunately, some puzzles are illogical. But still a great game.
June 7, 2013
house of 1000 doors. serpent flame
Good game but I missed the beautiful music of Konstantin Elgazin.
June 14, 2013
Eh.
This is not a GREAT game. Many of the mini-games have the same concept.......boring, too. And often, you just don't know what to do next without having to dig into hints and strategy.
June 12, 2013
Interesting enough to finish but didn't blow me away...
I am a sucker for any game with time travel in it which is why I gave this game a try. I found the demo interesting enough for me to want to buy the game, but after that I got a bit bored while I was playing the first time travel location. I made myself push through, and found the game more interesting in the three other historical locations visited, but never really felt hooked on the game and my playing of it was spread out over a week. If I really like a game I will finish it in a day or two, but such was not the case here. I have deleted games without finishing them if they bore me too much, and I thought about deleting this game when I was bored with it, but I am glad that I gave it more of a chance and played until the end, even though I found it to be disappointing. I will not go into specific details of the ending, since I don't want to spoil anyone here, but I did find it to be too abrupt, and I think that people who buy this game as an SE will be especially disappointed with it. Although, I am not sure how much the CE bonus chapter adds to the ending, since I have yet to play it (I just finished the main game before writing this review), but I did take a look at the bonus game and it seems unrelated to the ending of the main game. This game has a lot of locations. I liked the interactive map (I prefer to have one in the games I play) and I think there would have been too much running around in this game without it. Use of the map is optional, so if you would rather run around and not use it, you can do that as well. I also liked how there were two kinds of hidden object scenes. They alternated between the more traditional kind of hidden object scene where you find the object on your list, and a different kind where you figure out where the object on your list goes in the scene, it made it more interesting, especially since I am not a huge lover of hidden object scenes, and prefer the puzzles and adventure aspects of games like this to doing lots of hidden object scenes. I played the first game in this series a long time ago, and don't remember much of what happened in it, but that didn't matter since I think you can enjoy this game without having played the previous games in the series. What I do remember from the first game is that it had a lot of hidden object scenes. The hidden object scenes were more spread out in this game, which I prefer, and near the end it felt more like an adventure than HOG, since there were very few hidden object scenes in the last time travel location visited, which I also liked. There were lots of puzzles, and most of them throughout the game were fairly easy and I found most of them to be enjoyable. I like puzzles better than hidden object scenes, but if you like hidden object scenes better than puzzles you might be disappointed with the amount of them in this game, especially since there are so few of them near the end.
June 21, 2013
A Disappointment
I loved the House of 1000 Doors series and had great hopes for this, too, but it was nowhere as much fun or as interesting as the previous games. The drawing of the main female character was as lacking as ever, but the storyline was not interesting, either. The extra chapter of the collector's edition was definitely not worth the extra money--you're just sent hopping all over the place to complete the searches without much rhyme or reason: you definitely need to refer to the map to find your next location because it seems this chapter is just meant to fill up extra time to charged the collector's edition price. When I was finished, I really felt no satisfaction or enjoyment in playing this game. It was well-drawn as usual, but nothing else seemed better than OK.
June 22, 2013
Good, but got stuck part way thru
I did like this game, but after playing for many days in my spare time, I ended up stuck about 3/4 of the way thru, there was an item I was supposed to pick up and missed. After a while that particular area of the game was closed off and no longer available, leaving me unable to progress any further. A little frustrating.
June 23, 2013
Didn't catch my interest.
This game is part of a series. I loved the first in the series with one objection....way too many scenes going back and fourth. For that reason, I wanted to give this game the benefit of the doubt and try to count the things I liked and didn't like. When they say 1000 doors...they mean it. This theme was not interesting to me. It starts with a usual cut scene to set the mood....so if you like demons and flames erupting through the streets and seeing buildings crumble not just in your town....but over the whole world, then jump on in. The level of darkness started like a black eye. Kate...the ever "only" heroine that can save the planet finds herself in a floating room in a morphing house similar to past games. After two easy steps to get out of the room, a new part of the house appears with a young woman calmly telling her the world in coming to an end "Isn't it awful?" She tells Kate a few things and tells her someone is waiting outside in the "garden"??? A man is sitting in the pouring rain on a bench on the a precipice overlooking the edge of fire and destruction. Happily next to him are three bunnies munching on whatever is left to eat on the landscape. There seems like nothing to do but go see a stranger that saved Kates life but is lying unconscious in a morphed "room". I counted about 14 actions that I needed to do and find objects in order to complete them. I had about four items in my inventory and none of them were helpful. So...the journey begins.....up and down and back and fourth. This is the part where a game loses me. I want to move and jump into solving something or find information that will catch my interest right away. Being faced with the destruction of the whole world was just more than a leap I was interested in taking. I felt exhausted and I had not even unlocked the gate to the next level. For those that like trophies and morphing objects, this game has it. Hopefully the game gets better after the demo ends....but for this gamer, the subject turned me off more than anything. The challenge was hard, I felt it was just tedious. I would score it lower if I was scoring for my own benefit, but I know this will be appealing to quite a few game players. Try both demos and see which is a better fit. Neither did it for me.
September 19, 2013
The Apple logo is a trademark of Apple Computer, Inc.