House of 1000 Doors: Serpent Flame Collector's Edition
Exclusive
Return to the House of 1,000 Doors to save mankind from annihilation! Giant snakes have burst out of the Earth and are wreaking destruction across every continent. Your mission: travel back in time to four different epochs to gather the elements needed to activate a machine that can destroy the ancient beasts!

This is a special Collector's Edition release full of exclusive extras you won't find in the standard version. As a bonus, Collector's Edition purchases count toward three stamps on your Monthly Game Club Punch Card!

The Collector's Edition includes:
Thrilling bonus chapter
Desktop wallpapers
Concept art
Integrated Strategy Guide
Game System Requirements:
OS:

Windows XP/Windows Vista/Windows 7/Windows 8

CPU:

1.6 GHz

RAM:

512 MB

DirectX:

9.0

Hard Drive:

898 MB
Game Manager System Requirements:
Browser:

Internet Explorer 7 or later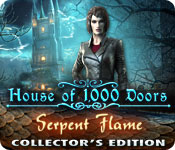 The Big Fish Guarantee:
Quality tested and virus free.
No ads, no adware, no spyware.

Reviews at a Glance

House of 1000 Doors: Serpent Flame Collector's Edition
0
out of
5 (
0
Reviews
Review
)
Customer Reviews
House of 1000 Doors: Serpent Flame Collector's Edition
117
117
Where Adventure meets Hidden Object!
House of 1000 Doors is back and has opened it's doors to new and exciting worlds. This 3rd sequel has amazing graphics, looking more like an Adventure style while the game play is more hidden objects, finding objects, puzzles and beyond objects without mind bending challenges. I gave the 4 stars as expert level played more like casual with little to no challenge. I believe it's a game meant for awesome and relaxing fun developed by vivid imaginations. While Serpent Flame doesn't have the surprise as the 1st in its series; the graphics and music more than make up, draws gamer into the story line and opens some very cool horizons to explore. Everyone is there--Simon, Sammy, Amanda and an exciting new face has rescued and carried our heroine, Kate, to the house during a time of world chaos. This is where our story begins. Beyond objects (40) are easy to spot as arrow turns to a grasping hand. Interactive map is quite helpful and needed as there are several tasks to complete in each scene which require back tracking. The diary is a quick summary of events, so not a lot of reading required. It is truly beautifully drawn and I love all the players, however, I just miss games that took days and weeks to complete. Enjoy! -Mama Mia-
June 6, 2013
The Cobras Have Taken Over World Wide - Review Of Completed Game
Hidden Object Puzzle Adventure which is the 3rd in this series. It is not necessary to play the other 2 in this series. This stands alone on it's own. Story: You take on the role of Kate once again but this time you are saving the world from giant cobras that are turning the world into ashes. You're rescued by an unknown young man who takes you to the House of 1000 doors. He's unconscious however can still help you with a mental connection. There is a widescreen/full screen option: I had to click the widescreen one for it to fill my 20 inch monitor and graphics were stretched just a bit 6 chapters where you also find 40 morphing objects throughout the main game. 2 play modes - Casual/Expert: I played expert mode. No sparkles but there are black bar tips. Hint/Skip charge up in about a minute. Hint is also helpful outside of HOS. Journal: Keeps track of notes along with some puzzle clues. Map: Is transporter and shows where you are, where there are things to do and if there are any morphing objects in that location as you will see an "eye" on the map if there are any. Once found the "eye" will disappear. HOS: Some found by word list and some scenes you have to put the items back into the scene. I didn't always find these to be too easy as some objects look a bit like the background along with the "sun beam" light distraction . Some scenes a bit on the Sanford & Son junkyard pile side. I also found some of the "put back in the scene" a bit tricky. I did use a few hints here. Puzzles: The usual run of the mill found in many games but just to name a few: Pull the ropes in the correct order, swap the pieces to form a picture, slider puzzle, etc. Level of difficulty varied for me. If you are a puzzle lover however will more than likely be easy for you. Skipped a few of these. My overall impression: This definitely seemed more adventure to me than HOS and puzzles but I really liked the balance. I also loved the map and so glad it was available to use. I definitely could of done without the snakes (more like giant cobras) but they didn't really bother me too much as they looked giant cartoon type cobras. I still found the story very intriguing and played this straight through. I also liked the characters the usual ones Kate, Gabriel, Simon and the boy. The voice overs well done. The graphics along with the cut scenes I thought could of been better as for me they were stretched just a bit to get the game to fill my screen. Then the sun beam light shining through even on some of the HOS. Not bad but definitely not great. If there are going to be anymore House of 1000 Door games which I hope but please improve this. I do have a one more criticism about this game and that is once a close up of the area has been completed (the magnify glass) to examine an area and/or use the inventory I wish it wouldn't of popped back up again. There is no need for that since there is nothing to do there. Sometimes it closed like it was suppose to and sometimes not. This should only pop up if there is indeed something to do. When it did close on it's own there was also a small delay in doing so. As for the ending this wrapped up quite nicely for me. You may or may not agree. Bonus chapter not needed in my opinion. Bonus Chapter: There are some new areas in the game to explore but some are the same as the main game. The HOS are also interactive along with the "put back into the scene." I really thought this was well done and felt like a "bonus" chapter to me. Other CE extras: Strategy Guide 9 wallpapers 20 cut scenes 10 music tracks 20 mini games 4 puzzles Main game: 6 hours using some hints/skips but not a lot. I also located all 40 morphing objects. Bonus Chapter: 1 hour 45 minutes: No hints. Skipped a couple of puzzles. Overall 4 stars from me. Thanks Big Fish and developer for a very good game here and definitely long enough for me. More than glad to add this to my collection with the other House of 1000 Doors games. As always, give it a whirl and decide for yourself.
June 7, 2013
Not Perfect, But Fun.
Although I found this a very entertaining game, with excellent graphics and sound, along with the voice overs which were superior, there is still the problem of these games being too easy. I don't want to continually be in that comfort zone where is everything is handed to me. I know it's fun, but so is a little mental challenge once in a while.
June 6, 2013
Abrupt ending
I have the other House of 1000 Doors games and was excited to get this one. I bought it even though the collectors editions are usually not worth it and that was true with this game too. pros: The music added to overall ambiance, scenes were clear and crisp, finding the morphing objects wasn't as annoying as some games. The mini games were mostly interesting, I didn't skip any of them. The miss naming of objects in HOG was much less then the other games, I really hate it when a head of cabbage is called lettuce just to name one. The map is wonderful, saves tons of running around, and to have the morphing items on it really helped keep me focused to find them which I am inclined to forget about sometimes. Cons: The figures of Sammy, Simon, and Amanda were more stilted and their speech was much worse then the other games in this series. I was under the impression that the inhabitants of this house were spirits so I am not sure why they are seeming to grow up and get older, I may be wrong. There were misspellings in the journal that I find to be just poor editing. The ending was totally abrupt and without conclusions of the other games, we are not even sure if she made it back out of the house of 1000 doors, I expected more since the person on the other planet said she was to come back and talk about things, never happened. The bonus chapter was a rehash with slightly more information of the game, I guess I expected it to be an ending. I don't like the push towards making collectors editions to find the endings of games, the full game should be in the regular edition, and just bonuses in the collectors editions. This is the second time I have run across this, and can't figure out why BFG is ruining games this way, if they are more expensive to produce then charge a little more instead of making people pay double to find out the ending of the game, I have been with BFG for over 5 years but will not continue it this practice continues. Over all, I think the game was too short, much shorter then the other two in the series, maybe because most of the games and HOG were much easier then previous games. I did enjoy the match the object HOG parts as something different.. I would recommend playing the other two games, if you haven't, before this one, since there is little explanation of what is going on as a stand alone game.
June 26, 2013
Fun, but nothing new.....
I wasn't fully enamoured with this game. To me it just seemed to lack that something special. Still enjoyable, but will quickly blur out of memory. Graphics, cut-scenes, voice-overs were all excellent. It did occasionally lag on my computer but i assume will be fine on newer ones. I think the basic problem for me is that yet again the puzzles were too easy. The recent games just have no challenge at all to them. Great for thoughtless relaxing, but at least a slight challenge would be better than none. This game had a storyline that flowed well although not particularly captivating. It was a decent length. It had all the things necessary for a CE quality game. Bonus chapter was not essential to the main game, and was POV of another character - and frankly i thought rather boring and a waste of time. Would definitely recommend, but probably lean towards the SE version.
August 18, 2013
Pretty nice game!
I actually enjoyed this game quite much. The game itself is full of 3d movies, which some of you might and some other might not like...I've seen the player which I don't really like (especially as I am a man), but it didn't bother me. Graphics were quite nice - very sharp with nice colors. The game went fluid until I entered the portal, then the framerate dropped heavily (though I have pretty good computer), but it didn't bothered me neither. The worst thing about the gameplay is that too many locations are available at every point, along with too many items in the inventory - I was confused where to go from time to time. Beside these flaws, the game was really nice, and entertaining experience - if these flaws were avoided, it would be a full 5 star game.
June 29, 2013
Oh! poor collectors edition!
I wonder if anyone else is annoyed with bonus content. For the price of a collectors edition to have, in the bonus a repeat of the regular play. Never had this in any, of these games. To me it's a rip off. Member am I, wrong or right.
June 8, 2013
Nice 4.5 star game!
I see what Valdy means by the "light beams." They are a little distracting and make the graphics look a little fuzzy in some spots. However, I did not have difficulty seeing what I needed to see. On the whole, the graphics and game play were nice, music okay. I like the HOGs, clean and fairly easy to find objects. For some reason, I like the way this dev sets up the HOGs and the follow through when you find an item (silly, I know, but I like it). Games not difficult. Voice overs are nice (always a plus for me), except that the "native" speaks exceptional English for a native. Sounds like he went to Oxford for his education. Wish all devs would use jump maps..extremely helpful and a huge time saver. Nice SG and hint system is very helpful as well. The one thing I didn't care for was the fact that you could not "click" through the dialogue. Yes, you can skip it, but I like to read through it faster than they speak it. Even with the music and the speaking, this game is farily quiet. Nothing jumped out at me yet, but I'm sure it will. Especially since there are snakes. The only extras I found are the morphing objects, which I like. I have the other two games in this series and really enjoyed them. I like this one well enough to also purchase this one to add to my collection, even though it is a CE and I swore off CEs. I have 2 credits that I will use for this one. I think this game will appeal to all levels of players. However, try it for yourself and see what you think. We all have dfferent tastes in games and you may not care for this one at all. Thanks for the reviews.
June 6, 2013
Giant Snakes... Save us Kate !!!
I must say first, thank GOODNESS Kate has changed out of that blue dress !!! LOL. Oh I have enjoyed all 3 of the House of 1000 Doors games and this is no exception. The HOS are few and sort of interactive and fun. There are morphine objects to find, which I saw one reviewer state you can turn off the clue which makes them easy to find? I haven't looked into that yet. There is a jump map and a great hint button if needed. A journal records your journey. There are puzzles/mini games which are good. The graphics and sound are great. Nice and clear. Kind of the same type of gameplay as the other 1000 door games ... you get keys to visit 4 portals and save the doomed world from giant serpents. I did not get to the bonus chapter yet, and would love to know how long it is. Although the game play is quite easy to moderate, it is a great game. One to just kick back with and enjoy. A buy for me. :)))
June 6, 2013
Love this series/developer
This House of 1000 Doors series is great. It has everything. HOPs with twists and interactive parts, morphing objects, clever puzzles, a map that transports you?..the only down side is the animation of the human characters--really poor; and they are a little wordy. The story is complicated with lots of scrolls to read and long winded explanations of the dire tale you are living through. But the rest is really great. I haven't finished yet and am already preparing for the next installment.
August 7, 2014
The Apple logo is a trademark of Apple Computer, Inc.