Detective Agency 3: Ghost Painting
A terrible chain of mysterious events and cold blooded murders is revealed during the investigation of an old haunted mansion. Investigate the reason behind the disappearance of a painter and solve a cold case that has left a frightening trail to the present in Detective Agency 3: Ghost Painting!
Brilliant in-game videos
Brain teasing mini-games
Game System Requirements:
OS:

Windows XP/Windows Vista/Windows 7/Windows 8

CPU:

3.0 GHz

RAM:

1024 MB

DirectX:

8.1

Hard Drive:

348 MB
Game Manager System Requirements:
Browser:

Internet Explorer 7 or later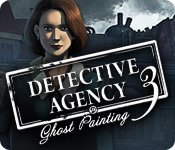 NEW299
The Big Fish Guarantee:
Quality tested and virus free.
No ads, no adware, no spyware.

Reviews at a Glance

Detective Agency 3: Ghost Painting
0
out of
5 (
0
Reviews
Review
)
Customer Reviews
Detective Agency 3: Ghost Painting
41
41
Horrible....
I totally agree with the other reviewers on this. You can't see very much and I found my self squinting in every scene. Even the locations that were not HOs were very dark and everything is tiny. The play is too simple, in my opinion. We have come to expect a much higher level of challenge and interest than this game offers...there is not very much interaction with anything. I only came across one puzzle in my trial time...admittedly I didn't even finish the demo...and it was way too simple to be interesting. The only good thing I found was that the hint recharged fairly quickly, which is useful as I couldn't get through even one HO without a hint; objects were so tiny and obscured by the darkness. The story is not bad and as there are no voice overs, you can read the dialogue quickly and advance it with a click. I didn't mind the music, which was of the eerie ilk. Overall, I can't justify spending even a coupon on this....the eye strain is just not worth it.
June 3, 2013
Sad excuse for something to do in the rain
This game was horrible, it made no sense. Plus I never knew that wax was spelled was. Someone should really field test these games before they are released on an intelligent public. There is no way I would purchase this game, even with a coupon, or because of the lack of anything better to do. I could twiddle my thumbs, and it would be just as fun.
June 3, 2013
From The Big Fish Attic - Review Based On Demo
Story: You take on the role of Detective Cayce to find the missing artist Mr. Willsingham. 2 play modes: Both had sparkles for HOS along with black bar tips. The only difference is the hint takes a little longer on the hard mode and puzzles are supposedly harder so I just played the easier mode. No journal or map. No voice overs as there are subtitle boxes that you read and click through. Some of the dialogue is read from the bottom of the screen. There is sound and music to the game. There is some "adventure" to this game meaning you do have to explore the areas carefully as everything you need isn't so obvious at times. HOS: I came across 5 during the demo. Found by word list. I wouldn't consider these interactive as for some of them which are not highlighted by a different color like they are in some games but anyway you just have to open up something like a box or move something out of the way. I also thought these were Sanford & Son junkyard piles. I used a couple of hints here. Inventory: When you find some of the items they do combine and do that automatically. Puzzles: I only came across one during the demo and that was just to get an arrow to move face direction West. No problem there. Hint/Skip: Charge up quick. Hint is also helpful outside of HOS. You do have to keep pressing it until you are where you need to be. My overall impression: Well I'll start by saying I'm usually into the detective type of games and also don't mind the find missing person while yes it's been done many times along with some games that even appear to be a little dated however this game must of definitely been sitting up in the Big Fish attic of games and just now dragged out and dusted off. I haven't played the other Detective Agency games as I see this has a 3 in the title of it but if they are anything like this one I'm glad I missed them. In one area in the game outside of the house there are two orange directional arrows showing which ways you could go however I found shortly into the game you could also go in other directions so I didn't understand the necessity of them two orange arrows as those were the only areas I saw them in the game my downloaded version here anyway. The graphics for me were just dreadful. Too dark in some areas along with a washed out and grainy look to them. The story line I had no problem however I felt no sense of urgency to find Mr. Willsingham. At first I couldn't hear the sounds in the game very well so had to adjust it within the game and well the sounds and music didn't seem to fit the missing person theme at least for me. I just found them downright annoying. When I realized there were no voice overs which didn't take long well I cut this off. The game play I just found to be very clunky and no it's not the computer here as my computer handles the rest of Big Fish games just fine. Trying to use inventory was just clunky and weird. I had to try several times for a couple of the scenes so the item in inventory could finally be used. Oh and fishing pole scene it never would accept the fishing pole as it told me either I still needed one or it was a bad idea. Well I'm gonna have to insert that alien emoticon from the pond here. Overall I'm sorry Big Fish and developer. I appreciate the effort here by the developer however this game is dreadful and needs to go back to the Big Fish attic. There's just nothing about this game that gave me the impression I should continue past the demo. I did play until the demo time ran out cause I thought it just might redeem itself and get better but no it didn't so Mr. Willsingham will just have to stay missing as far as I'm concerned. I also wouldn't purchase this at the $2.99 price or even use a coupon code that was ready to expire. Sorry but 1 star is the best I can do for this. This is definitely a no go for me. As always, give it a whirl and decide for yourself.
June 3, 2013
Let Just Paint Over This Ghost & Be on Our Way!
Based on Demo: Agree with the negative reviews & don't understand where any of the positive reviews came from. Poorly drawn graphics that look like they were drawn by a, not very good, 1st yr art student. Definitely NOT up to date but more on the cartoonish side with a flat, one dimension rendition. Story drags along, ever so s l o w l y, with way too much needless back & forth. Music is awful & repeats & repeats ad nauseum. No voice overs & a lot of dialogue. The sparkly journal becomes annoying VERY quickly. Also, BF & devs need to do better quality control when using so much dialogue. The grammar & HO translation is just plain awful. HO & mini games are the usual variety though the mini games could have used better instructions. . All in all I can't think of one redeeming factor for this game except for the ability to hit the DELETE button!!!
June 4, 2014
Why Even Bother ???
Dark, impossible to see, horrible game. Why even release a game like this?
June 3, 2013
AWFUL
There is no other way to describe this game. It is truly awful. I do not believe it has any redeeming virtues.
July 25, 2013
Terrible
I couldn't even finish the demo. The clincher was the spelling mistake, made me wonder why it was not checked before release. Thank goodness for the one hour trial.
June 9, 2013
Wasted time!
Very disappointed in the graphics! Might have been a fun game if it would not have cut out so much as I was trying to play!
June 4, 2013
A STINKER
Never! DON'T GO HERE...........
June 3, 2013
goast painting
SORRY NO!!! NOT TO USUAL LEVEL
June 3, 2013
The Apple logo is a trademark of Apple Computer, Inc.