Nancy Drew: Tomb of the Lost Queen
Enter the Cursed Tomb of the Lost Queen! Egyptologists and archaeologists are abuzz about recent discoveries by a university dig team, but suspicious accidents left the group isolated and leaderless. Is a curse burying their progress or is someone sabotaging their success? Find out as you assume the role of Nancy Drew and uncover the lost secrets buried within the Tomb of the Lost Queen!
Decipher ancient clues and warnings
Reassemble artifacts and solve ancient puzzles
Play games and learn about early Egyptian life as you explore
Play at Amateur or Master Sleuth level
Game System Requirements:
OS:

10.8/10.7/10.6/10.5

CPU:

1.6 GHz (INTEL ONLY)

RAM:

512 MB

Hard Drive:

2257 MB
Game Manager System Requirements:
Browser:

Safari 4.0 or later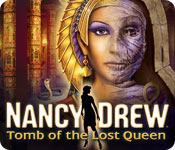 NEW299
The Big Fish Guarantee:
Quality tested and virus free.
No ads, no adware, no spyware.

Reviews at a Glance

Nancy Drew: Tomb of the Lost Queen
0
out of
5 (
0
Reviews
Review
)
Customer Reviews
Nancy Drew: Tomb of the Lost Queen
48
48
I've played them all & this is one of (if not THE) Very Best!
I have been a Nancy Drew fan since I was a child (quite some time ago now) & I have played all of this developers ND series of games (although I always pre-order straight from the developers - sorry BF I can never get myself to wait even for your much reduced price offering). That being said I can honestly say that this episode is one of (if not THE) very best (imho) and very worth the minimal cost! I paid more than double the BF price and would happily do it again. I know that without the trial it is difficult to get an idea of the game & whether or not you will enjoy it. In this instance I think "fear not" because this game has something for everybody; exciting story that keeps you guessing, mystery with unconventional & challenging puzzles, 2 levels of difficulty, involving storyline, unique characters, creative & entertaining achievements, an in-game hint system, Easter eggs & more. I rarely take the time to write reviews but for very special games and this is one. Give it a try & see if you agree!
May 21, 2013
Great game (quite a few puzzles in this one)
I've only 3 old ND games yet to play and this is a really good one. I've just finished playing this last week and I paid more than double than this and it is worth it. This has the new interface and you will note that there is a journal! So your note taking you used to have to do on all previous ND games is now WAY reduced. Some ND games don't have that many puzzles in it, so for those that hate puzzles and especially cryptograms there are quite a few of them in this game. And like all ND games you can't skip them. I love Egypt and mummy's etc so I loved the story and I learned a lot - that is the theme throughout this game. - especially Nefertari. Like all ND games (when there are some) the BF still do the achievements and ND games always do the best achievements - a mixture of fun ones and weird ones! You can't see what they are until you are finished so if you want to know what to find, look it up online. There are also easter eggs in this game (do something expected you get a literal easter egg in game) which are so fun to find. If you pick amateur mode, the puzzles are slightly easier, you get a fuller task list and can get hints by phone (in game). I've played some previous ND games in amateur/junior mode and it's still challenging. I love that the DEVS don't insult our intelligence and actually give some puzzles that take some puzzling to work out. But I understand some people don't like puzzles and just like adventure, so be aware there are a lot of puzzles in this game. I'm giving it 5/5 for hardness as I do think it's a challenge with those puzzles. Remember it's a manual save button like the other games so save often but there is a 'second chance' button if you make a mistake which means it will take you back to just before you made a mistake. The only nitpicking I'm doing is that I think ND games should be fullscreen and not have black bars down the side which is why I'm taking a point away. So if you love cryptograms (among other puzzles), want to do some excavating in a tomb in Egypt and do some sleuthing - have fun!
May 21, 2013
Nancy in Egypt! Finally!
I played this when it first came out, and I was initially unsure about the new user interface. In my mind, the previous one is perfect. I have gotten used to the new one, but it's too much like all the other games nowadays. However, the game itself is a good Nancy Drew mystery. In this game, Nancy has to figure out who attacked Jon Boyle and whether the mysterious tomb is really the one where legendary queen Nefertari is buried. As always, there are many puzzles, lots of hieroglyphs to decipher (which, actually are "skippable" - you can automatically "solve" them, if you are totally fed up) and lots of clues to pick up from different people. I've been replaying it recently, and it has struck me how hilarious all the characters are, cracking jokes all the time - not intentionally, mind, just their metaphors are so funny! The best one, of course, is prof. Hotchkiss, a legend of ND games! :D It is very interesting, and a bit educational, like the old games were, there are some books to read about ancient Egypt, scenery is very beautiful and the music really creates the mood. (As always, I only have good things to say about the music and sounds.) I really recommend it to people who have already played a few of the ND games, maybe not the first one to try. Requires lots of patience! I am fascinated by ancient Egypt and was really looking forward to this game, I wasn't disappointed. The new UI did bother me for a bit, but this is another good, solid, and quite light "treasure hunt" game in the great series. tuskel, sincerely
May 24, 2013
A polished Nancy Drew
I have played all the Nancy Drew games on Big Fish, and this is a brilliant addition to the series. This one seems to be much more polished than the previous ones, with a new and very easy to use interface, better graphics, and really nicely animated characters. ND games have always been pretty good at lip synching the characters, and this one is even better, a great touch. It's good to see a recurring character back, even if she is a little verbose at times. So it's the usual set up, Nancy is sent off on assignment, and lo and behold, trouble seems to have followed her again (never go on holiday with this girl!). Using our detective skills we have to get to the bottom of things, by talking to and gleaning information from the characters, keeping our eyes peeled for clues, and engaging those little grey cells to overcome puzzles and challenges set in our path. The characters are well rounded with individual personalities and temperaments, so if in doubt, go and talk to them some more. You have a few you can only reach by phone, so it's worth remembering to use their knowledge too. As well as hieroglyphs to decipher, this is packed with puzzles. Helpfully, you don't have to make as many notes in this one, as Nancy seems to have finally decided to use her journal more, and you have the phone on your camera to help you too. The puzzles are all fitting, and all have a logical reason for being in the game. The clues are all there to find, it's just a case of piecing them together. Any Lara fans out there might recognise one of the puzzles. The 'in game' game proved to be rather addictive, and you can pretty much play it whenever you want. The footprint of the game isn't too big, and you have a map to help you get your bearings, particularly helpful when you discover new areas. I played on amateur so I had the checklist too, but I did use outside hints from time to time as Bess is pretty useless, as are the hints you can read on the phone. You can earn awards, which you only see when you've completed the game, and there are some Easter eggs to be found, but I shall say no more on that. All in all, a fantastic Nancy Drew. A great balance of detective work, puzzles and character interaction, with plenty of Egyptology thrown in.
May 26, 2013
Another great Nancy Drew game!
Once again, Her Interactive, Inc has done it again. Tomb of the Lost Queen is a great adventure game that takes you to Egypt. As usual in most Nancy Drew games, you have at least 4 people to question, and friends you can call. However, unlike most of the games, this one only has one minigame that you can play at your leisure. You will learn a lot about Egyptian culture as well as the Egyptian queen Nefertiti. Long-time ND fans will recognize a new opening menu. Another big change is the way the levels are labeled. Instead of Junior or Senior Detective, you now play as Amateur or Master Detective. Master detective now has basic hints in the task list, while Amateur Detective has a complete task list with suggestions and your inventory is shown on the bottom of the screen instead of opening up a window. All in all, this game is a wonderful addition to your game collection. I would highly recommend it to any ND fan as well as anyone who enjoys a great adventure and/or Egyptian history.
May 21, 2013
Nancy Drew at her best!
This game is awesome. I bought it a few months ago. It's not terribly challenging, but will juggle your brain from time to time. As always with ND games there's a lot of talking and walking, but in such great surroundings I didn't mind. Well...the surroundings mainly being Egyptian tombs :-) but that's right up my street :-)
May 22, 2013
Fun Escape to Egypt!
Well you can't go wrong with Nancy Drew games. I am constantly trying to find similar games to Nancy Drew. This one is especially fun. It is like taking a mini vacation to Ancient Egypt. You wont be disappointed. Fun and difficult puzzles, unexpected surprises, great character development, and beautiful graphics. You feel like you are actually inside an Egyptian tomb.
May 21, 2013
Amazingly Awesome!!!
I love playing the Nancy Drew games because they are games that take time and aren't over in one day. This Nancy Drew especially was amazing the scenery and people looked so real and the puzzles were fantastic and challenging which I like. This story line was great because it wasn't like a typical Nancy Drew because it was a more believable story line than most others. 5 Stars!!!
May 26, 2013
Overwhelmingly Superior!
This game, done in the new format, is one of the best "Nancy" endeavors I have ever played. It is in my top 5 Drew adventures. There is connivance -- thievery -- double-crossing -- a wealth of Egyptology -- excavations -- secret tunnels and tomb passages -- and even a hidden cobra! If you enjoy the study of ancient Egypt, as I do, you will enjoy this non-stop thriller of a game. The new graphics and sound are the very best, and the voice overs are top notch. I can't say enough good things about this WINNER!
July 22, 2013
Challenging and instructive
This was my first Nancy Drew game, and I probably should have started with a less challenging one as it was quite hard to get into the gameplay at first. Once I got the hang of it, though, I derived a lot of satisfaction from solving the challenging puzzles, many of which forced me to think laterally and really exercise my brain. The artwork is superb, the characters and dialogue are well-drawn, too, and the actors' voices were excellent. I also loved the way the game was peppered with interesting factoids about Egyptology. I'm hooked now; can't wait to unravel another Nancy Drew mystery.
February 7, 2014
The Apple logo is a trademark of Apple Computer, Inc.
The Windows logo is a trademark of Microsoft, Inc.