Namariel Legends: Iron Lord
A terrible Iron Lord has descended upon the prosperous nation of Namerial. With the help of a powerful and menacing legion of mechanical soldiers, he has conquered this once thriving state, and it is up to you to escape from prison, reach the base of his fortress and solve the mystery of his dark power! Be the one to face the dark ruler and destroy the source of the Iron Lord's power. Exciting adventures, true courage and a mysterious world await!
Escape to a world of excitement and fantasy!
Explore 50 various game locations
Earn countless achievements!
Game System Requirements:
OS:

Windows XP/Windows Vista/Windows 7/Windows 8

CPU:

2.5 GHz

RAM:

2048 MB

DirectX:

9.0

Hard Drive:

3355 MB
Game Manager System Requirements:
Browser:

Internet Explorer 7 or later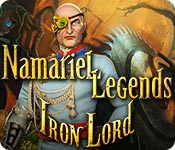 NEW299
The Big Fish Guarantee:
Quality tested and virus free.
No ads, no adware, no spyware.

Reviews at a Glance

Namariel Legends: Iron Lord
0
out of
5 (
0
Reviews
Review
)
Customer Reviews
Namariel Legends: Iron Lord
96
96
VERY NICE AND ORIGINAL GAME NO HO
Love this game: graphics, characters, originality. Maybe not hard difficulty but this is kind of game that makes you smile from the beginning to the end. Very good length with achievments... I think that the last achievement is obtainable with the expert mode.
June 8, 2013
Missed the HOS
This game has it all except the HOS. There was plenty of scenes where they could be placed. The puzzles were great and since I only will spend 10-15 minutes playing time on them becauseI get bored and will skip.
June 7, 2013
adventure game
this is an excellent game to play no hos excellent story line real adventure this is a must buy game
June 10, 2013
fun hidden object
this is a refreshingly good game.storyline absorbing,game play and graphics good. this game is different from other hidden object games and i thorughly enjoyed the demo
June 5, 2013
A Real Adventure for Some
Im giving this five stars because I found it kept calling me back to play until I reached the end and having done so I felt it had been a fun and satisfying journey. The downsides which will make it not for everyone are easy to find and include:,lets see, music you will ignore or turn off, a hint system which will not get you past stalls of 'nothing to do here' everywhere if you miss something(in this case look up the video walk-throughs), steam punk graphics and more mechanical devices to repair than you might see in about any other game, no hidden object scenes to vary the rhythm of finding things and assembling them and solving puzzles, and absurd moments in the plot, which stated baldly is nothing special, kingdom overrun and oust the usurper, moments such as a shower by a character which seems to correspond to an hour or more of real time, and then there is no interactive map. For some these will be enough to make it impossible to enjoy, But it has a fascination, as other reviewers have said, which drew me into the game more deeply than most games do. The various goals of the quest to overcome the Iron Lord acquired a rare urgency and intensity for me and may for you. I do not in any case know another game much like this. By the way the name Urfin which appears in the story I suppose to be taken from the Russian continuation of the Oz stories "Urfin Jus and his wooden soldiers" which has a parallel of plot. The developers, Shaman Games, however are not Russian but Ukrainian and I hope they will make more games for us with this level of fascination and if possible with some technical improvements. (sound,hints, map etc )
December 11, 2014
Something different
This game really appealed to me because it's not a run-of-the-mill spooky adventure game. First, it has wonderful quirky steampunk graphics reminiscent of Machinarium - one of my all-time favourite games. Second, it challenges you by not holding your hand too much, thus encouraging you to work things out for yourself. The hint button will tell you where to go next, but no more than that, and there's no map either - or sparkles. Sometimes it's a little hard to figure out what to do next because the solution to a problem is ingenious and requires a bit of lateral thinking. One aspect I really like is that you can put tools and equipment to unusual uses, like using a crowbar to prop up a switch. I've often found it frustrating in other games when you can only use tools for one purpose, which isn't what you'd do in real life. Third, it has a logical and engaging (if simple) story line. My only (slight) gripe would be that some of the tasks/puzzles are a little too easy. I'm a big fan of PlayRix for their excellent Royal Envoy time-management games. I'm pleased to see they can bring that same quality to the Adventure genre, and I hope they make more games like this. All in all this is an unusual and engaging game. I'd thoroughly recommend it.
December 1, 2014
Pure FUN!!! No HOS!! :)
Review of the completed game: This is such a fantastic game!! Beautiful, surrealistic surroundings. Wonderful cutscenes and well animated characters? This all justifies the quite long download file (1,4 GB). You can choose from 2 modes. There is no map, but you won?t miss one, as found items are used soon - not much back and forth. Directional hint. You may lock the inventory. The journal is very useful; documenting your story progress and including an encyclopedia of the creatures you?ve met. 12 achievements to earn. Attached to the inventory, you?ll soon get a mindscope, a device for reading the mind of people or creatures. And there is Jim, a cute little robot, helping you to get things, which are out of reach for you! It is a pure adventure-game with lots of interesting and some new, not too difficult minigames/ puzzles. There are NO hidden object scenes!!!! This game provides you at least 4 hours gameplay (8 chapters) in casual mode!! This is quite long, if you consider that there are no HOS, which are always stretching a game? High recommendable, especially for beginners, as it?s not too challenging but great fun and worth every single penny/ cent!!! :)
June 5, 2013
Really Fun Adventure
BASED ON DEMO That is: NO HO SCENES & NO PUZZLING PUZZLES EITHER I am not usually into these mechanical steam punk sort of games, but this one isn?t like any of that type that I?ve seen. It is as much FAIRY TALE as it is ROBOT INVASION. There is a VERRRRY LONG intro that gives us the backstory, but it?s EXCITING and ATTRACTIVE and has wonderful MARCHING MUSIC to set the OMINOUS scene. The kingdom of Namariel is invaded by robots led by the evil Iron Lord. We see the palace destroyed, the king humiliated, the queen fleeing. Heart rending stuff. Turns out, though, that this is all a show on your uncle?s mechanical music box. Or is it? Your uncle is an INVENTOR and it is to him the king turns to for help. We are to go on a quest to seek out NOSTRAMUS, the seer who foretold the catastrophe. We never get to leave even, before the Iron Lord?s minions capture us and throw us into prison. Now we must ESCAPE and RESCUE our uncle, and make the JOURNEY to Nostramus. We?ll have HELP along the way. We have a gadget which allows us to READ MINDS, a cute little ROBOT assistant to go where we can?t, and a strange SQUIRREL-LIKE critter who follows us around and is quite useful. There is a lot of CUT-SCENES in this one, enough to really bug some people, but I found them fun. They are FLAWLESSLY DRAWN and the VOICEOVERS are EXCELLENT. Lips are out of sync, though. All the ARTWORK is HIGH QUALITY and IMAGINATIVE. The few PUZZLES so far have been VERY EASY, while the ADVENTURE ITSELF a bit more DIFFICULT for me. This was at least in part because I couldn?t COMPREHEND the mechanics. But HINT is DIRECTIONAL, so I made do with that. NO MAP. I never even thought to look for SKIP. I don't think the game has one. I like this game. I think it will appeal to those who usually like steam/mechanical games, but has a WIDER APPEAL, including those who enjoy a good FANTASY game with just a dash of *cute* as well. It'd be EXCELLENT for ADVENTURE GAME amateurs (which includes me).
June 5, 2013
Kingdom attacked by an iron army, will you save it ?
Played the whole demo, regular - 2 modes, regular, expert - Voice overs - Notebook - No map - 12 achievements to be gained throughout the game - Shortly after starting the game you assemble a mind reading device. It goes at the bottom right of your screen, pretty useful with animals ! - A little later you get a little robot who will help you through tricky situations, it goes at the bottom left of your screen, next to the notebook - Hint is extremely useful - No H0 - Mini games are good and not over difficult - Good graphics - I got black bars at the top and bottom of my screen A peaceful kingdom is attacked by an iron army, only the baby princess escape the castle. With the help of your uncle you try to save the kingdom and the prisoners. A very nice game, which is a nice change. Well worth a punch card credit.
June 5, 2013
Cartoon Puzzler game
Based on the demo, I am impressed with the game play of this release. Cartoon-like graphics but animated smoothly, most of the time; this is not pixar standard but good nonetheless. It is a puzzle game with the player finding things to do to meet certain challenges and then finding the bits or completing a puzzle to activate them or, as is often the case, find that you need another piece to complete that you haven't found yet! The characters that speak have voice over and text but the animation is rather like those japanese kung-fu movies where the lips move and speech come later and doesn't seem to tie in at all with the movements. Anyway, that aside, I found the game challenging enough without being infuriating. Some of the actions seem slightly illogical- I found myself doing one puzzle when I had no idea why I was doing it! That was revealed a little later when I had collected some of the other things I needed for the puzzle. Some amusing moments in the demo - Guardian/Uncle has mechanical leg which needs oiling regularly..... Strange squirrel/cat-like animal that you have to mind-read...Mechanical robot that can be distracted by a film of its leader... Venus fly trap that can be enlarged to defeat a flying robot.... I guess there are more later in the game which looks quite large in size. Less that good bits... speech synch- but this is just a minor bugbear- no map, so no quick moves to where you need to be - this entails a lot of back and forth, revisiting puzzles/challenges to final complete them. Diary rather limited in scope and detail - a reminder rather than a hint or help. Hint recharges quite quickly on the regular level though. All in all, I recommend this game
June 5, 2013
The Apple logo is a trademark of Apple Computer, Inc.