Untold History: Descendant of the Sun Collector's Edition
Exclusive
Confront an ancient evil and uncover your true destiny in Untold History: Descendant of the Sun! You spent your whole life believing that you were an orphan. But one night, your world is changed forever when an unexpected visitor arrives with a startling revelation – you are the fabled Descendant of the Sun, rightful heir to the most powerful artifact in the world! But as you set out to retrieve it, you find yourself confronted by an ancient evil willing to do anything to get the artifact for itself. Each step of your journey will bring you closer to your true destiny in this gorgeous Hidden Object Adventure game!

This is a special Collector's Edition release full of exclusive extras you won't find in the standard version. As a bonus, Collector's Edition purchases count toward three stamps on your Monthly Game Club Punch Card!

The Collector's Edition includes:
Realize your true potential in the bonus chapter
Stunning concept art
Gorgeous wallpapers
Remarkable musical soundtrack
Game System Requirements:
OS:

Windows XP/Windows Vista/Windows 7/Windows 8

CPU:

1.8 GHz

RAM:

1024 MB

DirectX:

9.0

Hard Drive:

707 MB
Game Manager System Requirements:
Browser:

Internet Explorer 7 or later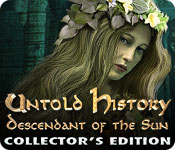 The Big Fish Guarantee:
Quality tested and virus free.
No ads, no adware, no spyware.

Reviews at a Glance

Untold History: Descendant of the Sun Collector's Edition
0
out of
5 (
0
Reviews
Review
)
Customer Reviews
Untold History: Descendant of the Sun Collector's Edition
53
53
Good game
I like playing this game. It has something exotic in it as it makes you feel in a far east country. The music is ok and the puzzles are challenging.
June 16, 2013
A Nice Enjoyable Game ... But A Little Short ...
Enjoyable Style Of Graphics, Pleasant Music & Effects, Nice Video & Voice Bits ... This Game Has A Very Logical And Relaxing Style Of Game Play ... And It Flows Very Nicely ... The Bonus Chapter Is A Nice Addition To End The Story ... Plenty Of Adventure Without Too Many HOGs Which Were Uncluttered ... The Puzzles Were Creative, But Perhaps A Few Too Many ... The Game Is Far Too Short To Justify A CE Price, But Was Worth Getting At Half Price ... I Can Think Of Many Old-School Fantasy Fiction Movies With Monsters And Magic That Would Work Well In This Same Kind Of Game Style ...
June 15, 2013
Not bad... but not good!
The prophecy came true: Aarya, the girl who will bring the light back, will have to find and protect the scroll of Herios. Games nowadays are extremely well developed, challenging and exciting. There are a very wide range of options, so when we come across a game not so well done, discourages! I found this game weak, because although they look interesting, is a little slow, does not encourage: lack excitement, adventure, music, challenge ... The story does not bring much new, mini games neither. Two play modes It has diary and interactive map Interactive HOS Known mini games Sometimes, in HOS, even clicking the object does not disappear ... delay to run correctly. Game is not challenging. Well, I played half an hour and gave up. Try the free trial and see for yourself. Recommend the free trial.
June 15, 2013
I Liked It But For A CE Only 3 Stars - Review Of Completed Game
(Hidden Object Puzzle Adventure) - More on the adventure side. Bonus review at bottom. Story: You take on the role of Aarya and are the fabled Descendant of the Sun, rightful heiress to the most powerful artifact in the world! You set off in search of 4 talismans to save mankind. Widescreen -- Deselect aspect ratio in options. This did work for me and filled my 20" monitor just fine and didn't appear to be stretched for me. This may or may not work for you. Casual/Expert Mode - I played expert mode. There are sparkles and black bar tips on both modes. Hint/Skip take 1 minute for charge up on Casual and 2 minutes on Expert mode. I also didn't need the hint as far as getting lost or what to do in the game but tested it out to see what it would do and it is helpful outside of HOS as it will direct you in the location you need to be going if you are not in an area where something needs to be done. Journal: You will get this shortly into the game as this keeps track of story. Map: A total of 25 locations. This is transporter and shows where you are as there are circles on the map and the one with "yellow" is where you are. Areas with "green" exclamation points are areas where there are things to do. HOS: Not a whole lot scenes in my opinion. All found by word list and some on the list are interactive. I didn't find these to be on the Sanford & Son junkyard pile side. I also had little to no difficulty here. Just used a couple of hints. Puzzles: At first not too many but then more as you move along and the usual run of the mill such as: slider, rotate rings, repeat sequence, etc. I did skip a few of these. The rotate the rings and repeat sequence with the mole got on my last nerve. My overall impression: Well I'm gonna start off with the positive at least for me anyway. I really welcomed a different location and culture as this game is oriental themed. I found this refreshing and different from what I usually play. The graphics for me were quite well done. I had no problem with them. Are they the best or one of the best I've ever seen in a game? No but liked them. I also liked the balance of HOS, puzzles, and adventure though I will say I didn't find it very challenging as far as the HOS and getting lost in the game on what to do/go to next which was just fine for me today cause I wasn't looking for something very challenging. The game play was smooth for me. I didn't encounter any clunky game play. I also loved the map. The ending of this game comes to a satisfactory conclusion. The bonus chapter is not needed. Now for where this developer could improve: I'll start by saying if Big Fish didn't have their buy one get one sale while I enjoyed this game for the most part I would of skipped the CE and waited for the SE and the reasons? I rarely refer to a strategy guide in a game and I didn't need it for this game but if I did I'm sorry to report but this one is a mess. This doesn't list any chapters and the print is so tiny best get out the magnify glass. Play modes: On the harder mode shouldn't be any sparkles or black bar tips. Should only see this on the casual mode. I thought the voice overs were really good except for one lady and the few animals I found downright annoying and glad they didn't last very long. Oh but no fellow fish in the pond if you are not into the "dress up" of animals well you can relax no "dressing up" animals here. The story started off very intriguing but was getting way too "out there" for me when the talking animals started popping up. This could of been worked on some more. Widescreen: While I didn't have any problem with this but just from reading some people still had the black bars down the side and well the year is mid 2013 - no excuse for this. This widescreen has been around for quite some time now. Last but not least, for a CE no collectibles, achievements, morphing objects. Bonus Chapter: This is a new story. A total of 9 locations all new ones. Different from the main game. This seemed to be more puzzles and adventure. Not very many HOS. To get to the bonus chapter however at least for me this is how it worked. I clicked on bonus chapter but it stated I had to complete the main game first which I already did. I'm inserting that alien emoticon here from the Big Fish pond. In order for me to get to the bonus chapter, I had to go to the main menu like I was starting the game for the first time, click on play and then the bonus chapter. CE content: ? Strategy Guide ? Bonus Chapter ? Music ? Wallpapers ? Concept Art Main game:4 hours. Bonus chapter: 1 hour Overall 3 stars from me. I really appreciate the developer's effort here and this is a good game overall but could of spent some more time on this one. I hope to see more from this developer and with some improvements as I mentioned. Thank you Big Fish and developer. I'll still recommend the game because what's important to me as a CE may be things you don't care about so at least give the demo a whirl and decide for yourself.
June 15, 2013
they missed the mark on this one
They need to go back and remake this one. The graphics are not that that great. The HOS are ok and some are interactive. Hint button works good and has a map. The puzzles could be better and new. There is just a lot missing in this game to make it interesting and good. Maybe the SE will be worth the money but not this one.
June 15, 2013
Not My Cup Of Tea
Based on trial You are the girl of an ancient legend, and it is up to you to collect five parts of an artifact. Right at the beginning you are informed you are adopted and you are told to bolt the door to your room. Even though you do this...a man (grandfather I think) manages to throw the door open, and then, right before your eyes, he is murdered by, I believe, his brother. And so the adventure (and I use the term loosely) begins. Two levels to choose from; casual and expert Optional tutorial Nice voice overs but the characters lips don't move, which personally annoys me HOS are crowded and only have one or two items that are slightly interactive From an artist's point of view, the actual artwork is lovely with lots of detail, but there is very little animation so it gets boring very quickly Interactive map lets you jump from place to place Puzzles are pretty standard As far as I played, there were no collectables. All in all, I wouldn't buy this game as a CE, maybe, big maybe, I would purchase it with a free coupon if it was a SE As with any game...play the free trial before you decide
June 15, 2013
Not Much Happening Here...
This is really a "bare bones" CE. You get all the usual extras along with a bonus chapter, but that's it. For someone that can't afford the cost of a CE it would really be in their best interest to wait for the SE to come out. Insofar as the game goes, the graphics aren't the best that I've seen but aren't all that bad once you get accustomed to them. The music is ok. The storyline is ok as well. The game has a hint/skip function that charges/recharges in a reasonable amount of time. My biggest "beef" with the game is the fact that it isn't done in chapters, but rather one long continuous chapter... which makes for a strategy guide that is clumsy to use. The strategy guide "resets" itself once you log out of the game, and so you have to find out where you left off each time you log into the game for a new session. This becomes a bit aggravating because you have to "surf" through multiple pages before you find the proper place... it's almost like scanning one long run on sentence. But the game does have a map that transports you from location to location. In addition, areas that have actions to perform are listed on the map as well. Pair those two things with a decent enough hint system, and the strategy guide becomes less of a factor (I've only referred to the strategy guide a time or two). This is not the best game that I've played, but it's far from being the worst. It gets an "ok" rating from me.
June 15, 2013
Just Ok
This is not a bad game, but not a wow factor; especially for a CE. I liked the music and thought it fit the story/graphics well. There's an interactive map, and a diary. One big problem was it didn't cover my whole screen. There was about a five or six inch of black on one side of my screen, and an equal amount of the game cut off on the other side. I've had this happen before with a couple of other games I've played. It doesn't matter what the setting is, it stays that way. Have any of you ever had that happen? My screen is 22 inches and most games cover that well. But I played the whole demo anyway. I didn't like that the scenes were mostly dark; why must it always be night time in most games?? The hint was ok, and it's a good thing there's a map because there's a lot of going back and forth. The map is good, it tells you where action is needed, etc. The HO's are ok, a bit cluttered but not hard to find the objects. Same with the puzzles...just ok. I might have bought this if it were a SE, and showed the whole game on my screen. I would recommend trying this game.
June 15, 2013
NICE BUT UNASSUMING GAME
BASED ON FULL DEMO A refreshing CHANGE of LOCATION & CULTURE is the most immediate and distinguishing feature of this game. Set in PERSIA? With a strong EASTERN/HINDU feel, this game is not at all what we?re used to seeing. Unbeknownst to you, you are the legendary Descendant of the Sun, and having come of age, must make a journey to retrieve a powerful relic of which you are the rightful keeper. The grandfather you never knew you had is killed whilst giving you instructions on how you must fulfil prophecy, but manages to give you one of five amulets that will protect you from evil. Now you must find the other four. From what I?ve seen so far, nothing about this game warrants CE status, which is a shame, because as a stand-alone SE, where expectations are not so high, I think it would be far MORE SUCCESSFUL. It is an EASY & SIMPLE HO PUZZLE ADVENTURE. The number of HOS & PUZZLES is about evenly balanced, with each HOS visited twice. The HOS are mildly interactive LISTS with nothing to distinguish them. The GRAPHICS are the CUT & PASTE kind, which I personally detest, but it must be said, it is very WELL DONE here. Cut scenes are clear and again well done but unexciting. MUSIC is nice, VOICEOVERS well done. There are a lot of LITTLE PUZZLES & MINI-GAMES that require brain power without causing headaches, and what I?ve seen were ALL ORIGINAL. With an INTERACTIVE JUMP MAP that shows you ?hot spots? and a DIRECTIONAL HINT, the ADVENTURE side of this game is pretty EASY. (I should point out, the SG looks very poorly put together, and difficult to read due to poor definition.) There is also a JOURNAL where you keep the notes you find whilst searching around. There is nothing apart from these notes to collect. COLLECTOR?S EDITION EXTRAS are the BONUS CHAPTER and GALLERY. In all ways this is a PLEASANT BUT UNEXCITING game, with nothing much to recommend it as a CE. When the SE comes out, I expect I?ll rate it higher, but in the meantime,as a CE...
June 15, 2013
Not Too Bad
Game seems a little slow though it had a lot to do. Hard to explain that one. Maybe it was too easy instead of slow. Graphics were smallish. The voice overs were very good. The scenes were nice but seem a little on the small side. Had some critter interaction. Interactive map help me to know where to go next. Puzzles were fairly easy. HO's were very easy. Beginners will love it.
June 15, 2013
The Apple logo is a trademark of Apple Computer, Inc.