Untold History: Descendant of the Sun Collector's Edition
Exclusive
Confront an ancient evil and uncover your true destiny in Untold History: Descendant of the Sun! You spent your whole life believing that you were an orphan. But one night, your world is changed forever when an unexpected visitor arrives with a startling revelation – you are the fabled Descendant of the Sun, rightful heir to the most powerful artifact in the world! But as you set out to retrieve it, you find yourself confronted by an ancient evil willing to do anything to get the artifact for itself. Each step of your journey will bring you closer to your true destiny in this gorgeous Hidden Object Adventure game!

This is a special Collector's Edition release full of exclusive extras you won't find in the standard version. As a bonus, Collector's Edition purchases count toward three stamps on your Monthly Game Club Punch Card!

The Collector's Edition includes:
Realize your true potential in the bonus chapter
Stunning concept art
Gorgeous wallpapers
Remarkable musical soundtrack
Game System Requirements:
OS:

Windows XP/Windows Vista/Windows 7/Windows 8

CPU:

1.8 GHz

RAM:

1024 MB

DirectX:

9.0

Hard Drive:

707 MB
Game Manager System Requirements:
Browser:

Internet Explorer 7 or later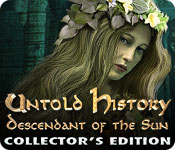 The Big Fish Guarantee:
Quality tested and virus free.
No ads, no adware, no spyware.

Reviews at a Glance

Untold History: Descendant of the Sun Collector's Edition
0
out of
5 (
0
Reviews
Review
)
Customer Reviews
Untold History: Descendant of the Sun Collector's Edition
53
53
I loved this game!!!!
I played the demo and I am definitely going to buy the full version. The locales are different, not the kind you'd see in the rest of the HOPA games out here. A lot of work has gone into creating these mesmerizing scenes which create a completely different experience. The music and storyline also add to the overall immersiveness. I went through the reviews and was surprised to see the amount of flak this title has taken. Thats probably because Indian storylines are not for everyone. But this one is most certainly for me!
June 17, 2013
Quest Tale Retold from an Indian Perspective
Despite the oxymoronic title, I absolutely loved this game. While I don' t care for oversimplified challenges, I generally play these games for the story. This one is set in the rural non-coastal areas of the Indian subcontinent anywhen from 75 years ago to the present. While the basic themes are, of course, universal, the cultural referrants range the entire spectrum of historical influences. There is no new style of puzzle but the lush locales, the many different animals, and the cultural differences made the game enjoyable. I am frankly very bored with stories set in Europe, particularly eastern Europe and Central America. We have a whole world and even outer space to digitally move through. Let's Go!
June 17, 2013
Great game!!!
I was lucky enough to get the Beta sample and was waiting for this game to be available. And, now it is and it's better than I thought it was going to be. Enough people have told you what the game is about - just play it - you'll love it!!!!
June 18, 2013
Wow! This is a Keeper!
I don't usually review, but this game deserves kudos, in my opinion. I won't go into what's there, or not there. That's been done by others. What I will say is - the artwork is really good, the story line is interesting, the games and HOs are doable, and the effort that went into creating the game is obvious. I really hope to see more from these developers. Thanks, for a job well done!
June 22, 2013
EXCELLENT GAME! If you like HOPA, you'll LOVE this one!
I'll not be doing my usual, word-y, review of this game, since the whole game is downloading, and will be ready to play before I get done! Cannot wait to get back to it! First of all, the GRAPHICS are something to be seen to be believed! Perfectly clear [I used the aspect ratio adjustment for mine, but I think they'd be just fine if this isn't adjusted for, too], crisp and clean, and beautiful colors!! Thank you thank you thank you, Developers and Big Fish! Really, even if HOPA games aren't your "thing," I'd still suggest downloading the trial just to see these graphics! The storyline is significantly different than the usual, too, and very engaging. [I won't go into detail, because if you're reading this, you probably read the info from Big Fish that describes it!] I became completely engrossed while playing the game, and although I knew just a few minutes into it that I'd be buying it, instead of stopping the trial like I'd normally do, to go ahead, buy it & download it - the hour flew by before I knew it!! Just a couple technical things: I LOVE the fact that even tho' I chose the "casual" mode to play the trial [something I always do for the 1st hour] - it was SO great that even though there were glints where there was a HOS that showed as soon as you got to that screenshot, the other items that required an action DIDN'T glint right away. In fact, at first I thought it strange that the only glints were for the HOS, until I took too long to locate an item to pick up, and so I saw it glint, too. I thought this "feature" was great.... not everyone that chooses "Casual" wants the screen lit up like a Christmas tree as soon as they go to it! Gives us a chance still to find things on our own, and then just gives that extra nudge in the right direction if we seem to need it. Let's see, game has finished downloading, so one last but not least, thing: the SOUND was also great --- and this coming from someone that 99% of the time only listens to the game for a short portion of the trial, then mutes it all to listen to my own music... Not just the background music, which was totally appropriate, and got me further engrossed, but also the voiceovers during the cutscenes were great. I actually kept the game's sound on the entire time - again, I'm totally amazed at this game! Thanks again to all who developed and distributed this game - so truly creative of the graphics & sound departments, especially! More like this, please!!!
June 15, 2013
Most Gorgeous Graphics on this Website
Very talented developers. Best graphics on this site. I was blown away by the stunning beauty and various cultures depicted in this game. It is well thought through. The puzzles are fun. The HOPS could be more interactive. By clicking through the dialogue (which is the only slow part of this game and too slowly spoken by the actors who mispoke the word sword) this greatly speeded up the game. This is a wonderful game and I highly recommend it.
June 16, 2013
Beautiful Game
This really is a beautiful game. I've played it at my daughter's house a I was babysitting and I enjoyed it. The graphics are beautiful and clear, the story is interesting enough for a Hidden Object Adventure and the music is good, I didn't feel the need to mute it, which I usually do when I'm playing a game for more than an hour.. Thank you devs, for your good work!
June 17, 2013
Happy Father's Day BFG Dads!
A breath of fresh air and a terrific Father's Day present for true adventure-type loving gamers! Totally unique in every way for a HOPA. Ah! Any game with a hookah in the first hidden object scene is okay in my book. I was pleased to discover more interesting HO objects, puzzles and adventures set in this Middle Eastern backdrop other than the same-old-same-old. Definitely an immediate buy for this veteran gamer to add to my Collection. BFG, you never stop with the surprises! More games like this, please! If you could also slip some different Adventure games onto the Site, would be awesome! Happy Father's Day, BFG Dads! Enjoy! -Mama Mia-
June 15, 2013
Fun Hidden Object Game
I love this game I cant wait to own it
June 18, 2013
SLOW START BUT LANDED IN MINI-GAME HEAVEN!
BASED ON COMPLETED GAME + BONUS chapter in Expert, 2nd of 2 modes, no sparkles and some black bar hints. SUMMARY This one was slow to get started and I almost lost patience and gave it up. -- I AM SO VERY GLAD THAT I STAYED WITH IT. After that initial frustration, came mini-gamers' delight! They were plentiful, clever, beautifully packaged and with wide variety. The initial disappointment was lack of original or interesting artwork and quality of graphics. With the exotic Middle-East as a back drop how could there not be lush, sensuous, and ornate artwork to draw us in? How could there not be crisp, gorgeous graphics? Somehow the boat was completely missed with scenes surprisingly "flat" and utilitarian. The graphics were nothing special either. I am sad to say they were fuzzy in places and some HOS were a little dark around the edges. What a waste! All that aside, it still gets a high rating because of the quantity and quality of the mini-games. This is one I could play again and I don't typically do that. All that said, for me this game is: HIGHLY RECOMMENDED FOR MINI-GAME LOVER People into iHOS might rate this as average because there weren't many and though there were multiple types, none seemed special or interesting. People preferring adventure might rate this game even lower as there didn't seem to be much in that department. GAME CONSTRUCT STORY: The gamer is heir to mighty cool artifacts and stuff but must go through Zodiac, Runes, temples, camels, sand, and all kinds o' ancient evil in order to inherit. The bonus chapter picks up where the main game leaves off. It took a couple of hours (note that I am a slow player and don't skip mini-games), keeping up with a variety of fun mini-games. TOOLS: ---------- --Journal: Yes. It is one of the first things collected and comes in handy a couple of times for mini-games. --Jump Map: Yes. Nice and concise with visuals. --Sassy Side-Kick: Nope. THANK YOU! --Gimmicks: Nope. Nothing fancy anyway. The Heir collects amulets but doesn't use them as a tool to ward off evil. --Hints: didn't try them, so can't say. Sorry. --Strategy Guide: Ok. It was tough to find the right place a couple of times. Every so often comes a game that keep pace with game progress-would have been nice here. COLLECTIBLES/ACHIEVEMENTS: NO. For some lack of morphing objects, achievements, and collectibles are the kiss of death for a CE. I am ok without these as long as the rest of the game and bonus chapter deliver. ACHIEVEMENTS: NO. -At least I didn't find any. This is ok by me, but I know some ACCESS: Doors were opened typically by keys, not futzing around with a string of random shapes that lead to opening a door. -Some mini-games opened doors and chests. HOS: There were two types which I always appreciate - Interactive list and progressive silhouette. The art was fine but not great and some of the terminology was off. MINI-GAMES: As said, these were colorful, fun, with a lot of variety in type and difficulty, though most were easy. The cursor became a rotating die whenever a puzzle was available. ADVENTURE: Yes, some, but probably not enough for hard core folks. There is a fair amount to find and with no sparkles some are pretty subtle. WHY IT'S NOT 5 STARS: LACK OF EYE CANDY: The art/graphics just weren't the best. There were no scenes that drew me in making me stop to look at beauty or fine details. What a waste of a beautiful locale. INTERFACE CUMBERSOME: The cursor was cool but tiny for my middle-aged eyes. Normally, I appreciate getting away from those giant clunky boot and pointers that seem to take over the game, but this cursor was a bit small. I got used to it and to the fact that (maybe on my system only) it took a couple of clicks sometimes to get an item recognized. BALANCE BETWEEN HOS, MINI-GAME, ADVENTURE: HOS lovers will likely not be drawn to this one as it doesn't have beautiful, detailed, interesting HOS and there aren't very many. ADVENTURE lovers will probably avoid this one too as there doesn't seem to be much of that. MINI-GAME lovers on the other hand should be happily engaged for hours of FUN, FUN, FUN! -------------------------------------------- THIS IS A GOOD GAME, WORTH THE CE PRICE FOR THOSE WHO LOVE MINI-GAMES.
June 23, 2013
The Apple logo is a trademark of Apple Computer, Inc.