Portal of Evil: Stolen Runes
Exclusive
The gates to another world will open soon! You can stop the impending disaster - if you track down the stolen runes! Vanessa is the only heiress of Abraham Van Helsinga, a member of the secret order of light guarding world peace. And now she has to find the stolen runes that were sealed inside the gate, behind which lurks an ancient evil.
Game System Requirements:
OS:

Windows XP/Windows Vista/Windows 7/Windows 8

CPU:

1.6 GHz

RAM:

512 MB

DirectX:

9.0

Hard Drive:

687 MB
Game Manager System Requirements:
Browser:

Internet Explorer 7 or later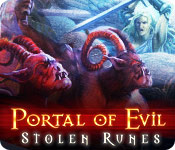 NEW299
The Big Fish Guarantee:
Quality tested and virus free.
No ads, no adware, no spyware.

Reviews at a Glance

Portal of Evil: Stolen Runes
0
out of
5 (
0
Reviews
Review
)
Customer Reviews
Portal of Evil: Stolen Runes
22
22
Super game!
I absolutely love this game. The dialogue's aren't too long, the story line is very intriguing (in my opinion) and you also have a map which let's you know where you still have work to do + it allows you to travel quickly between different parts of the game without going back and forth like a headless chicken. You can also choose to use a custom cursor or not which for me is also a great bonus. Overall I really recommend this game
June 13, 2013
excellent
I played the demo everything excellent look like house of 1000 doors and sacra terra, I purchased the SE not CE I still enjoy
August 31, 2013
Not what I expected.....Even Better!!!!
This game was so much more than I thought it would be, and I have to say I was pretty entertained for a good 4 hours. There is a map, and it not only shows areas of interests, but teleports as well. There are interactive HOG, and HOS where you place the objects in the scene too, ( which I love) The graphics were wonderful, and the cut scenes were fantastic with great dialogue. I honestly had a tough time finding anything to say that I didn't like. The HOS were spaced out enough to be enjoyable, and not too many which can be ANNOYING! Its a fun game that all level of gamers will love! Happy gaming gamers!
June 15, 2013
Good Hidden Object Adventure!
I really liked this game. The story was good. The graphics were good. Not too many HOS, in fact it was the right amount for me. The puzzles were fun and not ridiculously hard. I can't of one negative. I enjoyed this game very much.
June 28, 2013
Wonderful Addition to Stories of the Van Helsing Family!
Any fan of adventures that include members from the Van Helsing family should really enjoy this game! You begin the game as the granddaughter of Abraham Van Helsing, who has suddenly disappeared! Following notes and clues from him, you must solve many puzzles in order to discover who has betrayed the Order of Light and is attempting to construct an Army of Vampires, Werewolves and other such creatures. I truly enjoyed the fact that this game took ordinary mini-games and added a twist to them! You certainly have to use your mind in figuring out many of the mini-games. The graphics, sound effects and over all storyline are great! The only thing I was disappointed about, was that there are currently no other games under this series! :( I feel that this line could certainly support many adventures under this title! I happily give two thumbs-up for this game and recommend it to any one who enjoys a nice adventure! Good luck to you all! ~Elizabeth aka Elizabeth1975
October 25, 2013
Excellent HO/Puzzle Game
One of the best games I have played. Excellent game play and story line. Graphics excellent.
August 4, 2013
a good adventure game
More of a adventurer game than a HO game. Intro is cool and the graphics are great. The CE was a pretty long game so this should be also but with no bonus chapter. Sound and music were creepy' Not much for HOS or puzzles. The HOS were visited more than once so you it make them easier the 2nd time. Puzzles were good some harder than others. Some I have not seen before. Some instructions were not so good. There was a map and the hint button works good. I would get this one and not the CE.
June 7, 2013
FEARFUL FUN
BASED ON ONE HOUR DEMO & SG DEMO First, the INTRO really gets your attention in this game, and the ATMOSPHERE of tension and fear continues even once things quiet down. While I remember, the MUSIC & AMBIENT sounds are REALLY ominous, and some of the best I?ve heard, adding to the tension. There are muttered incantations, moans, organ music. The GRAPHICS also depict some FRIGHTENING stuff, and are very PHOTOREALISTIC and clear. Because of the nature of the game, though, they tend to be A BIT DARK. Not all the time, but enough to be noticed. The STORY has us off to rescue our GRANDFATHER, who is a member of the ORDER OF THE LIGHT, and has taken off through a PORTAL to other worlds in order to recover ANCIENT RUNES that are needed to seal the PORTAL OF EVIL. These have been stolen and are now scattered throughout the MANY WORLDS. The first one is quite creepy. As we travel, we will meet characters whose allegiance has to be questioned at this stage, we just can?t be sure of anyone. Our grandfather manages to send us MESSAGE CAPSULES from wherever he is, I never figured out how, giving us CLUES & BACKSTORY. These are COLLECTIBLES of a sort I guess. The GAMEPLAY is balanced fairly EVENLY between HOS and PUZZLES. Based on the SG demo, this balance continues the whole game. There are 2 KINDS of HOS, INTERACTIVE LIST & MISPLACED OBJECTS. The PUZZLES vary in difficulty, but overall were NOT VERY HARD. There seems to be a FOCUS on the ADVENTURE component of the game, but it is not too difficult. The MAP gives ACTIVE ZONES and allows you to JUMP there. The HINT is DIRECTIONAL. From the SG, I got the impression this game isn't very long, but it has plenty of SHORT CHAPTERS. The emphasis is centred around the point and click adventure, though, and there are therefore relatively few HOS and PUZZLES. So it might be longer than it looks. I decided to wait for the SE on this one, and I am glad I did. I?d have been disappointed if I?d paid CE price for a game that is INTERESTING but NOT AMAZING, and without the usual bells and whistles. As a SE, I think this game is just right.
June 7, 2013
ENGAGING ADVENTURE
WOW - The opening scenes and music grab you from the beginning! Story is common (disappearance of relative and you are off to find him/her) but sufficiently uncommon in that the relative disappeared while engaged by a religious organization in a mysterious job. No one has a clue on what he did for them. This makes it much more interesting as you explore a beautiful but well-guarded cathedral and its grounds. Mostly an adventure game. Story keeps you engaged. You can interact with the various people you encounter and the voice overs are very well done. Simply gorgeous artwork. Many, many scenes - so there is quite a bit of back and forth; fortunately, there is an interactive map. Diary includes additional information and clues not necessarily apparent from gameplay. Modes of play: casual and expert. Music isn't the most relaxing near bedtime. Puzzles: not too difficult. Overall, a well put-together game.
June 7, 2013
Not bad for another secret society scenario!
Completed the CE and the demo of the SE. When I first tried the game, it reminded me of a recently popular movie and book, which I thoroughly enjoyed. When I found the ultra violet light used to reveal a secret message on a piece of art, I was hooked, and bought the game. Unfortunately, the original theme did not deliver and I was disappointed. The graphics, sound, animation, cutscenes and music are all excellent and suit the game well. With the standard features of a HOPA, the gameplay need not be described again, except to mention a function of the hint system that makes an already useful transporter map even more effective. As you search for your missing grandfather, a member of a religious order set in a beautiful Cathedral in southern Italy, it turns out only you can restore the stolen Seals critical to prevent the forces of the Underworld from taking over this one. A strong sense of urgency is evoked. Darkness and fear prevail. A good game for a dark and stormy night. It?s another secret society scenario, so you wonder who is really behind it all. Kindly Archbishop Benedict, the helpful Gordon Mills, the hunchback ghost? Could it even be Grandfather Abraham himself? This keeps you guessing and I liked that too. However, as the game progresses, the theme suggested in the demo disappears and the adventure devolves into what I can only call supernatural slop. Four portals take you to four evil realms. You battle frightful beasts and encounter every type of evil creature imaginable, including vampires. Seems to me that the devs couldn?t decide so they just threw in everything. Is a sequel intended? Can?t comment on the ending from the demo but, if it ends as did the main game of the CE, there almost needs to be in order to wrap up the story. I enjoyed the game itself, but did not find the storyline cohesive enough to hold my interest. It was just not what I was expecting. Would have given it 3.5 if it were possible. Some will love this game, others not so much. My enjoyment is always story driven, and personal taste is a major factor in this review. So, as always, I do recommend that you give it a try and decide for yourself!
June 7, 2013