Legacy Tales: Mercy of the Gallows
Strange things happen in and around the dark castle at the Dutch coast. Find out how William van der Decken, famous for his battles against pirates, and his lovely wife Isabelle vanished. What happened to her and why was the captain found dead, dressed as a pirate? Follow the trail of clues to solve this untold story in Legacy Tales: Mercy of the Gallows. Meet the ghost of a sad, young woman who needs your help and start this pirate adventure! Go inside the castle, find your way to the mighty battleship, the Batavia, and unravel the mystery!
Game System Requirements:
OS:

Windows XP/Windows Vista/Windows 7/Windows 8

CPU:

3.0 GHz

RAM:

1024 MB

DirectX:

9.0

Hard Drive:

671 MB
Game Manager System Requirements:
Browser:

Internet Explorer 7 or later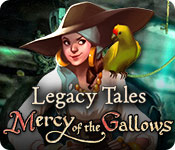 NEW299
The Big Fish Guarantee:
Quality tested and virus free.
No ads, no adware, no spyware.

Reviews at a Glance

Legacy Tales: Mercy of the Gallows
0
out of
5 (
0
Reviews
Review
)
Customer Reviews
Legacy Tales: Mercy of the Gallows
39
39
Great Game
Wonderful graphics and lots of different locations to visit. Not too much going back and forth. I play the easy mode and the game was fun.
July 27, 2013
Fantastic Game
very good game play friends...
August 27, 2014
Really enjoyed it
I think this is a great game. It's the first time I've finished a HOG in one sitting. It has a walkthrough, but I didn't need it. The hint button gives good advice when needed.
June 13, 2014
All of the feels
I'm a sucker for a good story and this is definitely one of my new favorites. The narratives you get every so often as you progress through puzzles only deepens the mystery and intrigue surrounding what happened to Isabelle and her beloved William. I will admit to having shed a tear or two (because I'm that much of a sap) from such an enthralling and engrossing story. As far as gameplay goes it's pretty straightforward; you've mostly got to find useful items to help you explore more of the areas, with a few hidden object scenes in between. The amount of HO's wasn't off-putting either though a handful items were somewhat hard to see and I admit to having used the hint a fair amount of times. The Hint recharges quickly though so this is a plus and the map seems to work pretty well, even telling you such things as if there is still something yet to do in a room, and if there are still coins located somewhere there. Yes, coins! That's a bonus; throughout the game you'll need to unlock treasure chests with helpful items in them, and to do that, you need coins. There are several coins hidden in almost every scene for you to find, and some are a doozy to locate! But I wouldn't go so far as to say that they were frustrating to find. The graphics were very nice and the sound and music, fitting. The voices were far from grating too. I liked playing in fullscreen better than in windowed mode. Some scenes looked a little squished if I didn't. Give this one a go. The gameplay isn't out of this world, but those of you into this genre will have a fun time and the story, while somewhat cliche, I found to be told rather well. In fact, I wish I had bought the Collector's Edition!
June 15, 2013
Sweet old fashion pirates'love story game
Really enjoyed this game. I played the CE but I guess the main game it's the same. Storyline short enough (a letter from time to time- no need to skip) Interactive map, 3 kinds of hidden objets game, coins to find to fill a chest and be able to get clues. music is fine (and it's not often in most of the games)
June 13, 2013
Great Story
Have always enjoyed the graphics style of Youda Games. Drawn, and drawn well. They write a good tale,too. When searching out the coins along the way, the chest closes when you've found them all in a scene so you aren't aimlessly looking. And they play hard but fair in hiding them. It's relaxing and intriguing. Looking forward to their next!
June 12, 2013
A 2nd Look Confirms It, Solid SE
BASED ON DEMO & SG I was a little outvoted on my review of the CE of this game. The consensus seems to be that it is lovely, well drawn, good story. Definitely CE material. I am still not convinced. I think it is GOOD as a SE, and falls short of the mark as a CE. I like the STORY, like everyone else, and the best thing about this game is the way that it is TOLD. A romantic tragedy, with overtones of MYSTERY & INTRIGUE, and we?ve got those ever-favourites, PIRATES. Cartoon-style movies give us back story, and we have a sad ghost who leads us onwards in her quest. The GRAPHICS still show up as DARK on my computer, even INSIDE the castle. From the SG, I see that the STYLE (not a favourite of mine) remains the same throughout. Even the lighter HOS are MONOCHROMATIC. So to my mind, I don?t consider this a ?pretty? game. What makes this game INTERESTING (as an SE) is some NEW IDEAS in the HO SCENES. They are your usual (not very) INTERACTIVE LIST, but in one scene, finding the items on the list entails opening cabinet doors, which in turn opens and closes others, so your items are constantly being REVEALED then HIDDEN. Cool. Later in the game, there is also an HOS where you must find the items in SEQUENTIAL ORDER. I found the PUZZLES quite EASY, and the ADVENTURE quite STRAIGHTFORWARD. For help there is an INTERACTIVE JUMP MAP and HELPFUL HINT. It really is not a challenging game ? which is not a criticism, I like relaxing games. There is another NEW IDEA I like in this game. You must COLLECT COINS in order to open TREASURE CHESTS in which you find ITEMS you need to progress in the game. A little extra fun. So. A GOOD GAME, as a SE, without the CE price tag.
June 9, 2013
REALLY NICE ADVENTURE GAME
I don't usually even try adventure games. Glad I tried this one - I really like it. It is a sad story and has sad music to set the ambience to match. I like that you can adjust the brightness as there are plenty of games which are dark on some computers, but not on others - so the adjustment can take care of that problem. You should find coins in the scenes, which are used later in the game to open chests you find. The graphics and locations are nicely done. There is a lot to do. Since game isn't linear, you can choose to go in several directions. Never at a loss of what possibilities exist - keeps the game moving at a good pace. I really like this game so far and want to find out what happens to the 2 main characters. Think I'll use a coupon since I've not played an entire adventure game of this sort - just in case my good thoughts don't last. Oh dear! If I continue to like it to the end, then that makes 3 kinds of games I have to buy.
June 9, 2013
good game to play but with flaws
This is not your normal game. The dialog is slow at times and you can not speed it up. The game is also a slow game. Not that your slow the speed of the game is slow. You have a small arrow for a pointer and you have to click on everything because your clues do not light up if you need it. Normally you get a hand or something to tell you that you need that item. This does not on my computer. Also I did not get a full screen. You need to find coins through out the game. Has a map. Lots of running around to find things. Remember click on everything. Hint button is ok. The HOS are ok and not often. Puzzles are good and not all that hard. Really not sure if it is a 4 star. Just lots of things with this game not is not your normal game.
June 9, 2013
Relaxed Game for Pirate Enthusiasts
Great game for a rainy day! Based on my experience of the CE and the demo of this version, being a fan of pirate stories will be an asset to your enjoyment level. Captain William and his wife Isabelle vanish from their castle on the sea. The Captain washes up on shore in pirate gear. Your quest is to find out what why. A beautiful castle to explore, a mystery to solve. Sounds intriguing. The premise entices. The graphics are clear and well-drawn, a bit dark but with an option to change brightness. The gameplay is standard HOPA with iHOS (mostly lists), familiar puzzles, notebook, transporter map with task markers, and hint that is both directional and instructional. Coins must be collected to open chests to obtain needed items, and the transporter map indicates whether you have found them all. This is important as a keen eye is required to spot them and they are integral to the gameplay. There is little animation and the story is revealed with the unfurling of scrolls upon which the details are written before your eyes. Here, there are voice-overs, and the dialogue can be clicked and skipped. Unfortunately the British accents are not authentic, which detracts from overall enjoyment for me. The dreary and rainy atmosphere outside is offset inside the castle. Sadly, it is in ruins. I found the game mechanics slow, with sluggish scene changes, and items obtained are held on the screen for second or two before being added to inventory. Just too much plodding and frustration for my taste. The music and ambient sound effects evoke more a sense of poignancy than urgency, and I found myself feeling lulled to sleepiness rather than urged on to solve the mystery. While the game might appeal to a broader audience than just pirate enthusiasts, you really need to be in the mood to just relax and distress for this game to fit the bill. As a CE this game offered little. As an SE, it?s worth a look. Give it a try and see for yourself!
June 9, 2013
The Apple logo is a trademark of Apple Computer, Inc.