Viking Saga
The exciting adventures of the young Ingolf await you in Viking Saga! When the great Viking King Arnar finds himself cursed by none other than Loki, he entrusts his youngest son, Ingolf with a quest to appease the mischievous God and break the curse. Sailing into the setting sun, Ingolf's drakkar crashes into an island where he must seek out Loki and return a cursed ring. Help Ingolf on his quest by clearing roadways and collecting resources in this adventurous Time Management game.
Travel through picturesque lands
Make friends with a wise druid
Find Loki and break the curse
Game System Requirements:
OS:

Windows XP/Windows Vista/Windows 7/Windows 8

CPU:

1.2 GHz

RAM:

512 MB

DirectX:

9.0

Hard Drive:

264 MB
Game Manager System Requirements:
Browser:

Internet Explorer 7 or later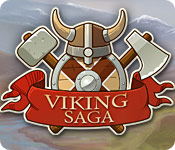 NEW299
The Big Fish Guarantee:
Quality tested and virus free.
No ads, no adware, no spyware.

Reviews at a Glance

Viking Saga
0
out of
5 (
0
Reviews
Review
)
Customer Reviews
Great game, just one complaint.
Why no option to turn off the voices without turning off the sound as well? The game was great, but having to hear the constant, "I will do it!" "I'm already on the way!" "I will get it done!" every time the characters get a new command drove me bonkers! I would have loved a seperate option to just turn off those voices. I ended up having to play with no sound at all.
July 10, 2013
Fun Time Management Game
Very addictive and challenging. The different skill levels keep it interesting and the game required me to plan out my moves which I really liked.
July 4, 2013
I'm Lovin' It!
TM/Strategy games are few and far between these days. I played the trial of this game and then bought it! The only reason I didn't give it a five star is that I either have to listen to the constant chatter or turn the sound off. I like the music but I found the chatter to be annoying after awhile. Other than that I love this game and will have hours of game time.
June 11, 2013
The voices!!!!!
Viking Saga is a standard TM in the same vein as Kingdom for a Princess and Roads of Rome with similar challenges. I really liked the extra challenges supplied by the locals the characters came across. It added an additional dimension not seen in other similar games. I liked the speed of gameplay - I wasn't waiting ages for supplies and the characters moved faster than in other similar games. BFG, if the developers bring out second game please, please, please ask them to include a button to switch off the voices. I enjoyed the game very much except for the, "I am on it", " I am on the road", "It is done", every time you give an instruction. It would probably have been better if the voice-overs had been on the character/local interactions instead of the tasks. If you can live with the incessant voices then the game is very good but I won't be buying this one simply because of them. I only played the demo for 15 minutes and I'd had enough.
June 11, 2013
Pros and cons
First, a Northern Tale knockoff. Loved the music and graphics. Gave it only three stars for visual and sound since the voice overs were maddening with constant "yah, yah" when doing something along with other commentaries every time a play was made which took the fun away. I recommend it for those who never played Northern Tale (this ranks well below it) and don't mind the chat. Has relaxed and timed mode which is a benefit.
June 11, 2013
Annoying and confusing
I agree with the other reviewer about the voices becoming rapidly annoying. In addition, I found the game to be confusing, rather than fun. Even with the directions turned on, it was not always clear what to do, how to use the power tools, or what building to build. I really enjoy Road to Rome #1 and #2, but would not buy this one. I clicked out of the demo before getting halfway through it.
June 23, 2013
More of the same...
A slightly different version of Northern Tale. The way you build/upgrade buildings is different, although not necessarily better or worse. And unlike Northern Tale, this game doesn't allow a multitask/multiclick option. You have to wait until the workers are back at the base before you can assign another task, otherwise you get yelled at with, "There's a problem!" Equally annoying is the fact that the workers talk every.single.time you assign them a task. Shut up already and let me play the game! What I like- a new TM game. There are never enough of them. I will probably buy this when there's a good sale. Overall, it is a fun game that requires a bit of strategy to get gold. What I don't like- - as previously mentioned, the horribly annoying commentary from workers that you can't shut off. For this reason alone, I'm giving it only 3 stars. That is how horrible the sounds are in this game. - no multitask option - hard to plan ahead. You can't mouse over items to see what is needed to complete them until you clear the path to them. - you HAVE to read all the text when you "talk" to another player in the game, or you won't have a clue what task has been added, because they don't always add it to the task list at the bottom of the screen. - if you want to switch modes (normal, hard, etc), you have to completely start the game over; you can't switch back and forth while playing.
June 12, 2013
Roads of Rome meets Viking Brothers
Same old thing for me. I have the ROR series and I enjoy them. Viking Brothers was too much like ROR and this just puts the two together. So it's a no buy for me because I already play the others and this is too much of the same. Can't wait for some other challenging TM game from BF. Thought this would be it, but no. Guess I'll just wait another three months and hundreds of HO games to find something that interests me.
June 11, 2013
Too annoying to play for long
This is a standard "clear the road, build a building" TM game. Nothing here that you haven't seen before. Unlike some other TM games, you can't 'chain' tasks, meaning you can't click a task for a busy character to pick up once he's done with his current task. This forces you to sit idly while your character finishes his work. Also, if you click quickly, the voiceover will say its comments at the same time, making it hard to understand what is being said. I was hoping for something better so will not be buying this one.
June 15, 2013
Annoying, Repetitive, and Flawed
This game frustrated me to no end for a number of reasons. I really WANT to like it, but it's just so badly designed. The visuals and sound effects are top notch, but the flow of gameplay is jutting, inconsistent, and downright clunky. The level goals are vaguely outlined, and the sheer number of different requirements for building makes this game unbearably slow. It is clearly a predecessor to When In Rome, a MUCH better game from the same developer. Sorry, but this is a definite pass for me.
October 26, 2013