Viking Saga
The exciting adventures of the young Ingolf await you in Viking Saga! When the great Viking King Arnar finds himself cursed by none other than Loki, he entrusts his youngest son, Ingolf with a quest to appease the mischievous God and break the curse. Sailing into the setting sun, Ingolf's drakkar crashes into an island where he must seek out Loki and return a cursed ring. Help Ingolf on his quest by clearing roadways and collecting resources in this adventurous Time Management game.
Travel through picturesque lands
Make friends with a wise druid
Find Loki and break the curse
Game System Requirements:
OS:

Windows XP/Windows Vista/Windows 7/Windows 8

CPU:

1.2 GHz

RAM:

512 MB

DirectX:

9.0

Hard Drive:

264 MB
Game Manager System Requirements:
Browser:

Internet Explorer 7 or later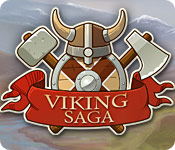 NEW299
The Big Fish Guarantee:
Quality tested and virus free.
No ads, no adware, no spyware.

Reviews at a Glance

Viking Saga
0
out of
5 (
0
Reviews
Review
)
Customer Reviews
Nothing New, I'll replay an Oldie Instead
Based on demo. Someone once wrote in his review of a game that it's time for tough love..... here's my bit of it. Standard TM game is pushing it a bit. It's the same old thing in a new skin. The voices are annoying so I turned the sound off along with the music. I rely on the sounds to know when the boosts are over so lack of sound detracted from gameplay. The bridges, flowers, campfires, fishing docks I found to be way too small and the buildings huge in comparison. Smaller buildings would make room for larger items. The graphics were okay; clear but small as I stated. I just finished Weather Lord and entirely enjoyed myself; new intriguing fun! I'm sure avid fans of this type of game will buy and recommend it but I won't and I don't!! I won't waste a coupon code either!!
June 10, 2013
Unbearable Voices!!
I really love games like this. However, I played two levels and quit, because of the incessant and annoying character voices. Because there is no way to mute the voices without muting all sounds I uninstalled this game and will not be purchasing it. Disappointing.
June 27, 2013
Same old same old....
I have many many TM games and quite a few 'clear the road' TM games I also have other Viking 'clear the road' TM games such as Northern Tale, Viking Brothers. This game seems to borrow heavily on Viking Brothers in the fact that there are two Brothers each with a tale to tell. For me however it didn't seem to be as imagintative as this game, and the soudbytes of 'I'm doing it' etc got very grating very quickly. Also I did object to the use of the word 'midget', which in England (where I reside) is a degrotary term. For me this put me off the game even more so than the 'this has been done better before' game. The word dwarf whilst possibly slightly offensive, is in my mind slightly more acceptable as it invokes 'loveable' story charctars such as those featured in Snow White, and the Hobbit (ok these are possibly not loveable but you get the general gist), for me therefore after hearing the word 'midget' about 6 times in one of the opening cut-screens, and the very 'samey' game play I decided that this was definatly not a game for me, which was a shame really as I was looking for new TM. This though after playing it for around 40 minutes didn't seem to bring anything 'new to the table'. Music/graphics were of equal standard to others in this ilk (actually the graphics were carbon copied of some other games of this ilk (though that could just be my eyes). Overall I can't recommend this game owing to the usage of what I regard as non PC words.
June 10, 2013
Profanity
Didn't realize until after I'd bought it, that there is swearing. I wish Big Fish had a ratings system to tell us if swearing, innuendo, dark subject matter was part of their games.
July 6, 2014
Hugely annoying and disappointing
I agree with a previous reviewer, the voices were *incredibly* irritating. Like that reviewer, I listen to the building sounds when chaining my tasks. Not only were the voices irritating, they were repetitive and often the sound bytes overlapped one another so I couldn't understand what was being said anyway. There was no option to turn off voices and keep ambient sound, making this an instant no-buy for me after looking forward all day to downloading it and playing it. To the developers: You can do better than this. It's a simple, inexpensive piece of work to allow voices to be disabled as well as music. Unfortunately, you've cost yourself a customer for this one, which is too bad, because I've enjoyed your other games.
June 10, 2013
Too much unnecessary chatter
This game might have been all right, but all the redundant chatter, quite unnecessary to play the game, was really, really irritating.
June 12, 2013
Midget is a derogatory term
I thought this game would be like Northern Tale but after playing for a little while I was bored. I also got upset with the use of the term midget and turned the game off because it made me feel uncomfortable. To some that is a derogatory term and has nothing to do with Vikings. Big Fish should filter these games a little better. This is the first game where I feel like I deserve my money back.
June 23, 2013
Relaxed?
I played this for a very long time, through most of the levels, but then I got to the sheep catching level. I was playing this in the relaxed mode. My definition of relaxed doesn't just mean no timer, it means I can take things at an unhurried pace. Obviously who ever made this game doesn't see it that way. You were supposed to capture 33 sheep. I couldn't even get 3. I am so angry I wasted all this time to get to a place where i can't continue. It would be nice if ratings were actually what they said. Until this happened I would have given the game a much higher rating, but this ruined everything,
June 21, 2014