Mystery Murders: The Sleeping Palace
Sophia has awoken trapped in a mysterious bedroom within a strange and beautiful palace. She has no memory of who she is, where she is or how she came to be there. Discover why everyone within the palace has been cast into a magical slumber and uncover the truth behind the mysterious Heart of the Palace. Help Sophia recover her memories, discover her Royal romance and uncover the dark secret behind the Curse of Laroche Palace in Mystery Murders: The Sleeping Palace!
Explore a beautiful and exotic palace
Fabulous hidden object scenes
Lavish and ornate locations
Intriguing story of mystery and magic
Game System Requirements:
OS:

10.8/10.7/10.6

CPU:

800 Mhz (INTEL ONLY)

RAM:

512 MB

Hard Drive:

362 MB
Game Manager System Requirements:
Browser:

Safari 4.0 or later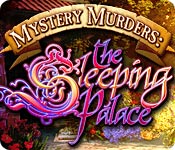 NEW299
The Big Fish Guarantee:
Quality tested and virus free.
No ads, no adware, no spyware.

Reviews at a Glance

Mystery Murders: The Sleeping Palace
0
out of
5 (
0
Reviews
Review
)
Customer Reviews
Mystery Murders: The Sleeping Palace
51
51
Enticing Game
This game is not super easy, I did have to look at the walkthrough quite a few times. It kept my interest. Sometimes I actually knew what to do. This game is much better than the newer games. The hint button was fairly quick. The Hidden Object games were enjoyable. I did not want this game to end (that says a lot.)
December 12, 2014
Another argument for try before you buy!
Ok, Group, I loaded the trial before I read any reviews. Then I played the trial and bought the game, contrary to my usual procedure. And I'm glad I did! Basically you awaken in a strange palace with no memory. You set out to figure out what is going on. Along the way you find out there is a mystery, sabotage, and possibly murder in the palace. The art work is beautifully done. HOS are bright , clear, and still challenging. Puzzles are reasonable, not mind bending and, for a change from several recent games, the instructions were clear. Yes, there are no gruesome characters and there is a lot of light and color, not necessarily bad in a game, contrary to another reviewer's opinion. The length is good, the mystery has plenty of clues, some misleading. I liked the storyline and found it did grab me, unlike another reviewer. Like many games the hint does not lead you by the hand. It will help a little if there is truly something to do in a scene, otherwise it suggests you go elsewhere. This is more challenging, or so I find, unlike another reviewer. The map is interactive and will take you to another location, contrary to what another reviewer said. So once again a great argument for try before you buy. If I'd read all those reviews, I might have missed this gem of a game.
May 8, 2013
May The Force Be With You
Mystery Murders Sleeping Palace begins as you awaken alone in a strange palace and find that everyone else is asleep. You encounter numerous doors and areas that are blocked by a magical force and you must open them to awaken the castle?s inhabitants. It isn?t too long before you figure out that this is a mystery that is loosely based on the Sleeping Beauty theme. The game opened automatically in widescreen on my Windows8 laptop. There are two modes of play ? casual and challenge. The graphics, although lovely and colorful, seem a bit blurry and not crisp. There are voiceovers although there were none during the beginning cut scene and I had a was unable to read all of the dialogue as it quickly disappeared. I got the gist of the story but I am wondering why have voiceovers in the game and none at the beginning when setting the story ? odd. There is a journal and a map that is jumpable. I have found that the hint button is virtually useless unless you are in an area where something needs to be done. If you are lost, go everywhere and try using the hint until it works or you. The game has the requisite HO scenes but they are fairly straightforward. There are many puzzles to be solved and, IMHO, they are the strong point in the game. After a rash of so many dark themed games of werewolves, vampires, and zombies this is a refreshing change. Since the game is colorful and has a sort of fairy tale atmosphere, I purchased the game. I recommend that you try the demo to see if you like the game as much as I do.
May 7, 2013
I really enjoyed it
I always try a game myself however bad other reviews are and I am so glad I did . I really enjoyed it Its a bit of a play on the fairy tale sleeping beauty except you wake up with no memory of what has happened while everyone else sleeps It is your job to uncover what has happened and put things right as you do your memory starts to come back . Although the game has HO's it plays more like a large file game the hint button [which refils quickly ] will not tell you what to do I found revisiting scenes helped ,this is where the interactive map comes in and yes you can just jump to the scenes but the map grows the more rooms you visit. I didn't find anything blurry But some doors have a magic spell on them they sparkle until the spell is removed . I have also played a game by these Devs before so I was used to the way the game plays If you like fairy tales with a bit of a twist then give it a go I can't comment on sound or voices I play with the sound off I am definately buying I enjoy a bit of a challenge
May 8, 2013
Not too bad
Based on the Demo. The wording was a bit fuzzy. I like the brightness of the game, full of color. The music fit the fairytale type feel of the game. The story line is good. The HO are fine. Got a bit frustrated when you cannot figure out the next step but that is what makes the game a challenge. Over all, if you like the fairytale HO, you may like this one.
May 7, 2013
a long adventure game...with a touch of hidden object
TITLE Mystery Murders: The Sleeping Palace Standard Edition full game DEVELOPER Casual Arts produced by Big Fish Games GENRE Hidden Object Puzzle Adventure palace intrigue, murder mystery, fairy tale STORY You are Sophia Fay, a commoner betrothed to Alexander, youngest of the Laroche princes. You awaken in the palace and everyone else is in a deep sleep, except the King who has been poisoned. It's up to you to solve the mystery of the King's murder, restore the Heart of the Palace, and awaken the Royal Family. GAMEPLAY While there are HOs in The Sleeping Palace, it plays more like an inventory-driven adventure game. The HOs are well done, with items woven into tapestries, hidden in wood grain, peeping through foliage, etc. You will acquire many items in your inventory, and some will not be used for quite a while, which makes a nice change from the easier games of late. INTERFACE The map shows your location and is a jump map, but does not note areas of interest. The journal tracks the storyline and lists tasks, as well as checking them off when you've completed them. When you're stuck, checking the journal will often put you on the right track. The hint recharges quickly, but is really only useful in the HOs. In adventure mode, it either tells you there's nothing to do here or points to a sparkly area. SETTINGS Two difficulty levels are available. Overall sound level and music volume can be set separately. There is a custom cursor. GRAPHICS & ANIMATION The background graphics are truly gorgeous, lush and colorful. The in-game animation close-ups are well done. Cutscenes are in the style of a graphic novel. MUSIC & SOUND & VOICEOVERS I liked the music as it was non-intrusive, and changed from room to room. Voiceovers were excellent. Sophia's voice conveyed determination and intelligence, while those of the Royal Family had that note of haughtiness. CONCLUSION I recommend this game for several reasons. First, it resembles an adventure game and really requires you to think your way through things. Second, it's eye candy and a nice change from the dark, gloomy artwork of the vampire/werewolf/ghost games. Third, it's a long game, but none of it is throwaway?the HOs are actually tough (but not because items are small or badly rendered).
June 13, 2013
A Great Game ... Once It Was Updated ...
Good Graphics, Sound & Story Telling Dream Scenes ... I Enjoyed The Challenge Of This Game. You Do Need To Think And Remember Where Things Are For Later ... Not The Kind Of Game You Play If You Prefer Having Your Hand Held All The Way ... The Map Works Well To Jump Around; Saving The Despair Of The Back Tracking And To Get Your Tasks Completed Quicker ... The Initial Release Of The Game Did Have A Item Missing Which Has Now Been Fixed ... The Developer Should Learn NOT To Release A Game Until It Has Been Fully Tested As I Am Sure Many Game Players Will Be Put Off By The Bad Reviews It Has Created ... And I Am Sure That Many Others Have Requested Refunds As I Almost Did, But The Bug Fix Was Implemented Quickly Whereas Other Developers Don't Seem To Bother At All.
May 10, 2013
It's Not Bad
I just finished the demo, and have decided to use one of my freebies to buy it. I really liked the beautiful graphics, bright and light. A welcome change from the dark and gloom that so many games are these days. I like the fairytale type story, and want to find out who killed the king, and what's with the love story. I only gave it four stars because the map, although jumpable to this place, and that,doesn't tell you where action is still needed, There is a lot of coming and going, the palace is huge, so the map is good in that way. The hint is ok in the HO's but useless otherwise. It just tells you to move on, that there's nothing more to do in this place. The journal is a little bit of help in saying what you need to do or find, but that's about it. As a result you don't know just where to go or what to do, so you jump from room to room on the map, hoping to find what ever there is to do there, if anything. That's a bit annoying, but I'm still buying it...I just view that as a challange, and hope whatever games these developers come up with next have better hints and better maps. The music fit the time period but I seldom keep the music on in games, unless I really like it, and even then it can become a distraction after awhile. I think this game is good, and that some of you will like it. I'd give it a try. I almost didn't try it because of the negative comments it got from so many players. But I like to see for myself, and I'm glad I did. Everyone has different tastes in games.
May 8, 2013
Hint system not quite there.
It points to areas, but not to which objects can be used. Had to use the online blogthrough. An interesting story, but not one that hasn't been told before or something similar to it. But good not CE adventure.
June 17, 2013
Ornate, Opulent, Over The Top
BASED ON FULL DEMO First of all, it is ESSENTIAL that you IGNORE THE INTRO if you are to give this game half a chance. The opening scenes and (written) backstory delve into new depths of awful. Definitely felt like something dragged from the vault where it had been lying for eons. The GAME is not that bad. It is PRIMARILY HO SCENES with some older WELL KNOWN & EASY PUZZLES, and the mystery is in finding your way about the palace. That is tough, the palace is huge, but you have a NON-INTERACTIVE JUMP MAP to help. HINT is USELESS outside HOS. Just the ?nothing to do here? message. And even when it does indicate a hot spot, it is not necessarily one you have the inventory items for now. That?s REALLY ANNOYING. I admit the GRAPHICS are not to my taste. They are a strange mix. Some CLOSE-UPS are clearly HAND DRAWN. The HO SCENES are REALISM, CLEAN & CRISP, but are so embellished with gilt and ornate tapestries that, for me, I can hardly focus my eyes - literally. Some of the OUTSIDE scenes are gorgeous. The STORY comes out piecemeal, via the ?Heart Of The Palace?, an entity of mechanical/magical origins which took it upon itself to put all the inhabitants to sleep when a disaster threatened. You awake with no memories of who you are or why you are in this magnificent edifice, but you start remembering pretty quickly. You must fix the ?Heart?s mechanical components. Solve the mystery of who killed the King ? if indeed he is dead. And there is also a ROMANCE to be sorted out between you (a commoner) and the Prince and Heir to the Throne. So you?re going to be a busy girl. Minor details ? my cursor felt draggy in this game, and that doesn?t usually happen with my pc. The HO SCENES are for the most part NOT INTERACTIVE, but every now and then, an action is required, but there will be no indication on the list. While the VOICEOVER was GOOD, there was TOO MUCH CHATTER from our character. AMBIENT SOUNDS, when I turned them up, were WONDERFUL. This is not a game I would buy, but that doesn?t mean I don?t think it?s okay. Many people, particularly HO FANS WHO PREFER REALIST GRAPHICS, will like this game. Good for a Daily Deal for the rest of us.
May 7, 2013
The Apple logo is a trademark of Apple Computer, Inc.
The Windows logo is a trademark of Microsoft, Inc.