Mystery Murders: The Sleeping Palace
Sophia has awoken trapped in a mysterious bedroom within a strange and beautiful palace. She has no memory of who she is, where she is or how she came to be there. Discover why everyone within the palace has been cast into a magical slumber and uncover the truth behind the mysterious Heart of the Palace. Help Sophia recover her memories, discover her Royal romance and uncover the dark secret behind the Curse of Laroche Palace in Mystery Murders: The Sleeping Palace!
Explore a beautiful and exotic palace
Fabulous hidden object scenes
Lavish and ornate locations
Intriguing story of mystery and magic
Game System Requirements:
OS:

10.8/10.7/10.6

CPU:

800 Mhz (INTEL ONLY)

RAM:

512 MB

Hard Drive:

362 MB
Game Manager System Requirements:
Browser:

Safari 4.0 or later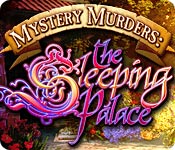 NEW299
The Big Fish Guarantee:
Quality tested and virus free.
No ads, no adware, no spyware.

Reviews at a Glance

Mystery Murders: The Sleeping Palace
0
out of
5 (
0
Reviews
Review
)
Customer Reviews
Mystery Murders: The Sleeping Palace
51
51
Pretty Good Game
In this game, you are a peasant who finds herself in a castle where everyone has been put into a deep slumber by a curse. You have no memory of how you got here, but soon pieces of your memory come back and you discover you were to marry the prince. You meet the "heart of the castle", a mechanical ghost? I'm not quite sure what he is. He has you running around the castle (which is large) to find the things you need to awaken the sleeping castle inhabitants before they die. There is a helpful journal and a map which does transport you, thank goodness. The HOS are well done and easy on the eyes. The mini games or puzzles are simplistic but some make no sense at all. There is dialogue to read but it is also spoken... not bad. This game isn't my type of game, meaning it did not grab me and make me want to continue or find out more. No reason for that, just personal preference. I suggest you try it, you may enjoy it.
May 7, 2013
Boring.... :)
Played the demo of this game and nearly felt asleep, like the rest of the characters in the Palace? Graphics were OK, but a little too colourful in my opinion. 2 modes to choose from. I played casual. Hint refills very fast, but is not very useful, telling you: ?There is nothing more to do here at the moment. You should explore elsewhere?. We have an interactive map. But this also doesn?t help, when you don?t know, what to do next? The journal comes along with a tasklist. Countless hidden object scenes (list) and some minigames are easy to solve and nothing new... A lot of running around with no idea what to do next? No, this time no buy for me...:)
May 7, 2013
So-S0 Game
i played 20 min and could not take it anymore...vo's were ok graphics average, ho's were really tiny and inbedded into pillows and the such...very hard to find. cinamatics were ok not going to spoil it for anyone who likes it :) may get it on sale not sure but so far a no buy for me!
May 7, 2013
GO BACK TO SLEEP!
Granted this is a fairy tale story, everyone in the palace has been enchanted into slumber by the palaces mechanical "heart" because someone has hacked into the core and killed the King, but it is kind of ho hum. The beginning cutscenes are blurry and you have to read the dialog quickly and even the words are blurry. There are a lot of HOS and they have done a good job hiding some of the items. There aren't a lot of mini games and they are easy such as tracing wires from one end to match up with the other end, and putting puzzle pieces in the right place by clicking on two pieces to swap. There are a lot of things to do in each room of the palace but few items in your inventory. The map doesn't tell you where tasks are available, it does however allow you to jump to explored areas. The hint system is horrible, it will only tell you there's nothing to do in this area search elsewhere. For me it was just okay, not great, but not bad either. Enjoy!
May 7, 2013
Confusing, But Entertaining. Needs A Strategy Guide.
This developer has returned with a new game in Mystery Murders: The Sleeping Palace! While this game is nowhere near the standard of MM: Jack The Ripper, I still enjoyed the trial I played (half an hour) The storyline is a bit similar, you wake up with no memory, and everyone else in the palace has been put to sleep. This had great potential, but the gameplay was executed poorly. I feel like I would have gotten in to the game much better had the gameplay been a little better. The graphics were pretty good, as everything was clear and the artwork was well done. Up to date with games these days. The graphics do not leap out at you though. The HOS were a favourite from the last game I played from this developer, and continued to be a favourite in this one. The HOS were great as they were not too hard or too easy. Adding to this, the puzzles were also solvable and in my opinion, were easy. It?s great to see developers taking gamers like me in to consideration. I must mention that I was repeatedly getting stuck while playing this game. The hint would constantly navigate me to places that were useless, and I felt like I was wandering around. In addition, instead of directing me where to go, the game would always say: ?there is nothing to do here? and almost every room I went to had this message. FEATURES - Hint and skip recharged very quickly, but as mentioned above, the hint was hardly ever helpful. I would recommend a walkthrough. - Map is interactive. - Diary to keep track of events. - The game really, really needs a strategy guide, and I cannot stress this enough. I was constantly getting stuck, and this really drags the rating down for me. While I enjoyed the trial, I still think the game had a lot of potential which it failed to live up to. I?d be happy to recommend the trial, but I?m not sure about buying?
May 15, 2013
mixed feelings undecided, can't recommend yet
this is based only on the demo. the game is intreguing and I may buy it with a free game at some point but it is also frustrating. I don't use sound so can't rate that. has a map which lets you jump which is good but doesn't tell you where something needs to be done so not really helpful. the hint just keeps telling you can't do anything here which is frustrating and often the hint keeps pointing to the same place but you can't do anything there like opening a base of a statue but nothing you have lets you open it. however story line is interesting, games are good finding not too hard or dark. with enough of these mixed reviews maybe the game will get updated and really be good?
May 7, 2013
Makes a good game to buy at discount
It was a sleepy game. Was too easy but still plenty to do. Story line was fairly good. Characters where so so. Ho's were also good enough. Puzzles were easy. The story has just enough to make me want to know the ending.
May 8, 2013
Such promise but missed the mark!
Review based on 40 mins of demo:- At first I thought it was going to be a take on the Princess Sophia series, and it sort of was, mixed with sleeping beauty! The gameplay was quite slow and the graphics a bit 'old school'. There were lots of different locations, in fact probably too many at once so it got a bit confusing and although there was a jump map, it didn't really help. The HOs were plentiful in the time I played for and not in the least interesting, puzzles were also very easy. Overall I just got bored very quickly and didn't care who did it, so I deleted.
May 8, 2013
Difficult game
This is a very difficult game, not because of the puzzles, but because of the very poor help system. I am frequently lost and don't know what to do next. So... now 'm bored. Why isn't there a walkthrough BF?
May 7, 2013
This Could of Been A Great Game - Patience Is A MUST For This Game
This review is based on about 2 to 3 hours of game play. (HOPA) Hidden Object Puzzle Adventure. Story: You take on the role of Sophia (the princess-to-be) waking up in a castle that has somehow been enchanted, and everyone (except the king, who may be the victim of foul play) is asleep. Your memory starts to return in snippets the more you explore the castle. As for how many chapters not sure since there is no walk through and the game doesn't indicate. 2 play modes: I played the harder mode. No sparkles. There are gears and magnify glass that come up along with some black bar tips but you also have to explore the areas pretty carefully cause things can be missed including new areas to explore. Journal: Keeps track of notes and also has tasks listed on some of the pages and they are checked off as you complete them. Map: Is transporter, list the name of the locations however doesn't indicate if there is anything to do or not. There are voice overs. HOS: All found by word list. Some slight interaction but doesn't indicate which ones like most games will list them in a different color. Puzzles: I only came across 3 which are doable. There's definitely more of course. Hint/Skip: Very quick on charge up. My overall impression: The demo time of this game was really great for me. The voice overs well done, the graphics really good, the story intriguing, I liked the characters and while I had to think a bit on what to do/go to next not frustrating. The HOS I didn't come across too many. I found these to well done as they're not Sanford & Son junk piles. I got through these with no problem. Now for where this went down the hill for me and that was after the demo time was up and I purchased the game. I suddenly came across way to much wandering around aimlessly trying to figure out what to do next. There are either gears or a magnify glass that would pop up in overkill mode. Most of the time just something to read and when it was read well shouldn't pop up any more and being able to use inventory seemed to be a hit or miss. Very few areas would let me use inventory. I'd go and use the hint which most of the time I found downright annoying as it would either say nothing to do go explore elsewhere or direct me to an area in the scene where inventory couldn't be used as I tried everything I had in inventory and it was a no go. I'm sorry Big Fish and developers but I really tried to stick with this game as I played for about 2 to 3 hours and finally had to stop the madness and pull the plug on this game. I'm all for trying to figure things out on my own but I won't spend no more than 2 to 3 hours on a game getting very little done with it. Now if you are one of them hard core game players this may be easy for you or if you are one with a lot of patience and don't mind spending hours trying to figure things out then this is for you but I've got better things to do. I play games on here for fun and escape not to be frustrated. So overall the best I can do for this game is 2 stars and what a shame as this could of been a great game. I really found the story intriguing and wanted to see how it ended. Way too frustrating for me and by reading the game forum for this game frustrating for some others as well so I'm not alone here. Also I usually finish games I purchase before reviewing them but about 2 to 3 hours was way more than enough for me with this game. I couldn't take it anymore! As always, give it a whirl and decide for yourself.
May 7, 2013
The Apple logo is a trademark of Apple Computer, Inc.
The Windows logo is a trademark of Microsoft, Inc.