Big City Adventure: Tokyo
The latest chapter in the hit hidden object series is here! Explore mighty Tokyo, the world's largest metropolis! An amazing mix of the ancient and ultra-modern will delight your senses. Search for thousands of cleverly hidden items around the historic sites and play a bunch of fun mini-games along the way. Collect 60 postcards containing fascinating and obscure facts about Tokyo and its history, plus, earn 60 cool mementos from the amazing scenes you'll visit. 120 rounds of hidden object and mini-game fun! Start your trip of a lifetime today.
Beautiful art design and sound
Play in timed mode or relaxed mode
Discover Tokyo and its history!
Game System Requirements:
OS:

Windows XP/Windows Vista/Windows 7/Windows 8

CPU:

600 Mhz

RAM:

256 MB

DirectX:

8.0

Hard Drive:

72 MB
Game Manager System Requirements:
Browser:

Internet Explorer 7 or later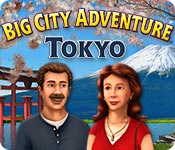 NEW299
The Big Fish Guarantee:
Quality tested and virus free.
No ads, no adware, no spyware.

Reviews at a Glance

Big City Adventure: Tokyo
0
out of
5 (
0
Reviews
Review
)
Customer Reviews
Big City Adventure: Tokyo
60
60
Little better than some of the others
This is a long, repetitive hidden objects game. You and your family are visiting Tokyo, but rather than seeing lots of the sights in this city, you see the same dozen scenes over and over again. There are 60 rounds to the game, so that means that you see the same scene 5 or 6 times. Postcards pop up for each round giving you information about the site you're visiting. These are different each time. So there's lots of reading if you're in the mood. If not, there's a Continue button. There are different objects to find each time a scene is repeated. Most objects are fairly easy to find, but some are very tiny, or else they are the same color as the background, or else they are half off the screen or only partially shown. In between the hidden object scenes there are mini-games. These are also very repetitive, although a little more interesting than in some of the other Big City games. You work jigsaw puzzles over and over, changing pipes around so the water flows correctly, and various other fairly easy games. In some of the other games there has been only ONE skip button for every 6-7 games. With this one there are a couple more skip buttons, so if you get stumped there is a way out. One thing that I found different in this game, which made it a little more interesting to play, was the possibility of earning various awards while you play. If you play the whole game with no hints, if you don't have any false clicks, etc., you get awards at the end of the game. This added a little challenge to the game. You were also collecting gears during the game with the idea that you would use them at the end. This was a little bit of a letdown, because you only used a few of the 20 gears that were collected. This is one of the few Big City games I do recommend because of the extra challenges that were added to the game.
November 15, 2013
At Last! A Few Innovations
BASED ON DEMO I really am not a fan of this series. Big City Adventures are strictly QUANTITY over QUALITY. If I?m going to pay the same price as I would for one of the many spectacular HOPAs there are now available, I think it?s fair to expect a similar level of quality in graphics, game design, etc. from the HOGs on offer. What is preventing the inclusion of CUT SCENES, HIGH QUALITY GRAPHICS and VARIETY from finding its way into HOGs? And I like my HO games, even the PURE HOGs, to have some excitement, mystery, or at least PURPOSE. This latest instalment does not yet show much in the way of improvements, but at least it does show SOME. The FORMULA is the same as it is for all the BCA games. The family go on holiday to a BIG CITY. There follows 3 VISITS EACH to 20 or so apparently randomly selected HO SCENES. These SCENES are GRAPHICALLY mediocre ? although better here than in the previous games. Yes, they are BRIGHT & COLOURFUL, but they are COPY & PASTE graphics, overcrowded and objects are often too small. One of the innovations I like is that within each SCENE there is now a ZOOM SCENE where 3 or 4 objects can be found. It?s the first step towards genuine INTERACTIVITY and variety we?ve seen from this series. The other CHANGE FOR THE BETTER is many more varieties of PUZZLES than in the past. Although they are still simply a transition from one chapter to another, and still fairly simple, it gives them a level of interest than the old games didn?t have. The game still includes those OTHER FEATURES most popular with players. The game is TIMED (but you have the option now of UNTIMED), there are POINTS, COLLECTIBLES, ACHIEVEMENTS & UNLOCKABLE replays. There is definitely improvements here, this game is still as long way short of the quality I look for in a HO Adventure. But it will be a treat for those who love the series. I recommend this game to those people!
June 17, 2013
This series just reminds me of how blind I'm becoming....
I enjoy using these games to give my students Geography and Culture credit. The facts are interesting and the local scenery and objects add to the fun & enriching gameplay experience. There is the option to compete against other players ( or yourself even) for time remaining and points earned scores. A puzzle is added every few turns to break up the HOS. I prefer HOPA games so I wouldn't purchase these for myself but they're highly recommended for teachers.
July 16, 2013
Not their usual quality....disappointing...
I love all the Big City games, primarily for their high color, sharp clarity of their found objects and variety of their screens. this game appeared faded, the objects were 'scratchy' and the screens seemed smaller. The side games were more fun than the actual hidden games and these screens needed more variety. Very poor quality indeed. I have every single game. Icompleted it in 2 days. No desire to linger on the cramped, faded pages. Compare for yourself.
June 19, 2013
Not up to their usual standards
I was really disappointed after playing this game for a while. Big City Adventure games have always been a favorite of mine, so when I saw this game I purchased it right away. Play the demo? No need, these games are always great. Well, I guess I learned a valuable lesson. There is a very good reason for the demo version. This game just did not live up to its counter parts. The hidden object scenes weren't as well done as in the past. The puzzles are the same short easy boring kind. I had thought they would be introducing some new puzzles by now. I also thought the hidden object scenes could only get better and better with their experience. Instead I think they must have had a contest to see who could make the fastest copy of their past games.
June 24, 2013
Big City Adventure
No honor for the series. This game is not as good as the others in the series. There is not much to write, it is unimaginative and boring part.
June 15, 2013
Fun but disappointing .......
The BCA games have always been one of my very favorite HOG games. I wait for the new ones to be released and have purchased all of them. So when I saw this one I was very excited and purchased this one right away. I am kind of disappointed because the graphics are poor and some of the objects are small and impossible to find. This game is not in my opinion nearly up to the regular BCA standards. The storyline and learning factor is still there and the mini games are still fun and simple , so it is still a good game, just not as good as the others.
June 29, 2013
Not up to par with the rest of the Big City Games
I was disappointed in this continuation of the series. I expected Oriental music--What's with the gears anyway. The puzzles were boring. I would not buy this one and I've bought every other Big City Adventure game that's come out.
June 20, 2013
Not a step up in the series
For some reason this edition of the game seems weaker. The graphics are fuzzy compared to the others. The objects are nearly impossible to find at times. Only played through 4 levels and uninstalled. Disappointed because I usually like these games.
June 12, 2013
A Shame
This is a good series and for someone that has never played them they might like it. I think it is a shame that these keep coming out with no noticeable improvements. As others have mentioned, the HOs seem smaller, grainier and more difficult to see (not find, but see). The series should be keeping up with the times and making changes along with the technology, don't let this series fall by the wayside by becoming old and outdated.
June 14, 2013